DIY Floating Shelves in the Living Room
Last week, I took on a fun experiment – could I follow one of my own tutorials for a project that Corey did mostly by himself and achieve the same results?
Basically, am I good enough at writing DIY tutorials that I could make sense of one of my own posts?
You can follow how the entire process unfolded over on Instagram stories (it was so much fun!), but today I'm here to share the results of that experiment…and I'm proud to share that other than a few minor (and one, ahem, kind of major) issues, I did it! I took this tutorial for DIY floating shelving from the living room in our last home and replicated it here…and the results are pretty awesome, if I do say so myself.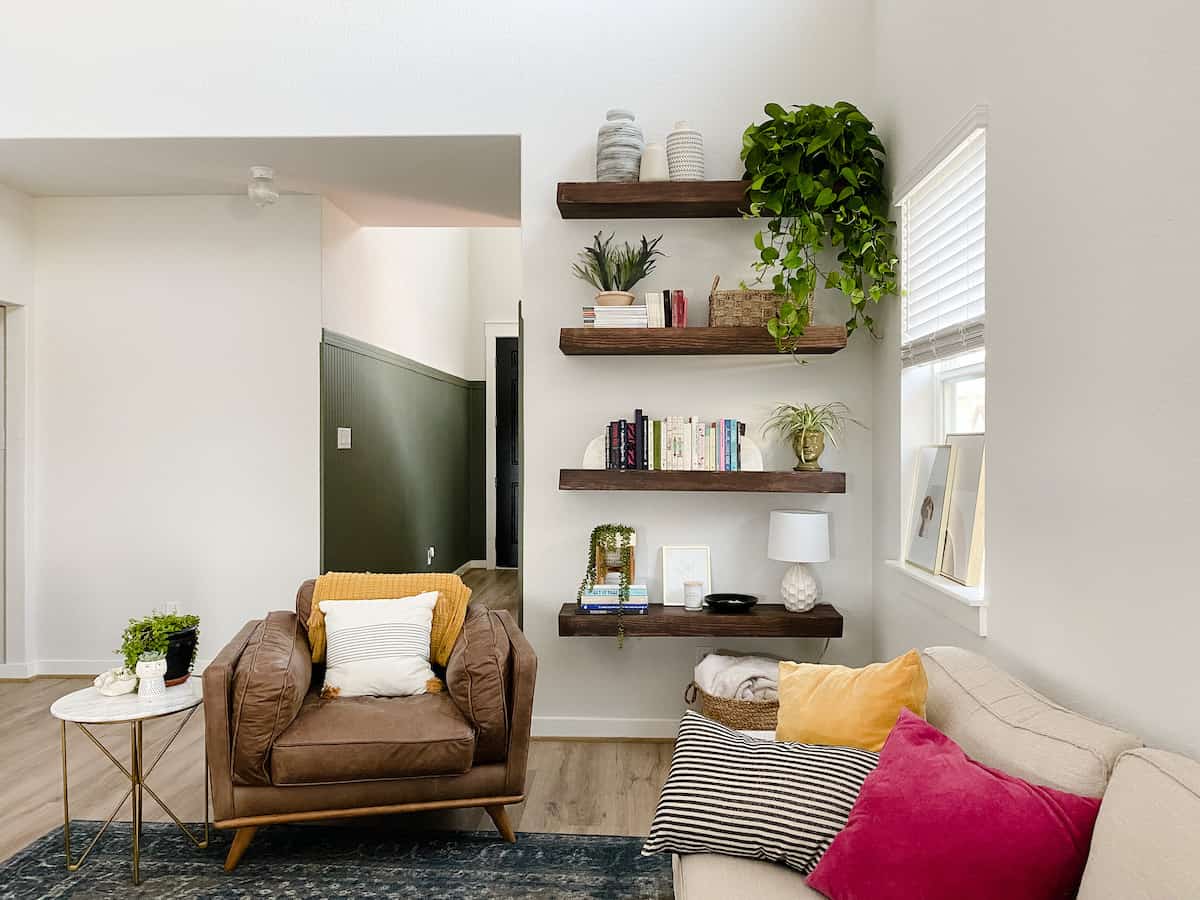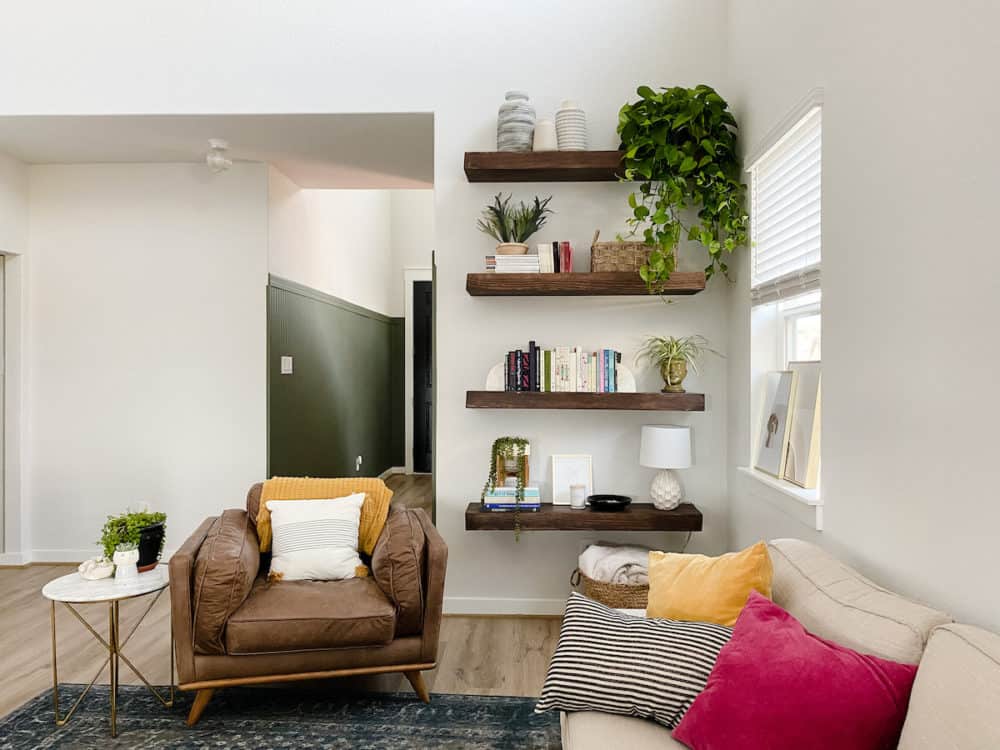 Ahhh! Are you swooning? I'm swooning.
Corey and I have gone back and forth for months about whether or not we wanted to install floating shelves in this little corner of our living room. One one hand, it felt like the perfect spot for some shelving, and we desperately wanted some storage and display space in our still-mostly-blank living room.
Buuuut on the other hand this is the corner where we put our ginormous 12-foot Christmas tree and I didn't want to do anything to make that impossible.
Because, you know, priorities.
But, in the end, we agreed that it's easy enough to scoot the couch down a bit and squeeze the tree in for 6 weeks out of the year, and it won't be the end of the world if the shelves are mostly blocked during the Christmas season.
Again…priorities, right?!
Once we decided that we wanted to go ahead and do the shelving, I couldn't get started fast enough. I was so excited to finally have a place to display our books and decor after being in this house for 7 months with nowhere to put it all, and I knew adding some shelving would make the living room feel much more anchored and settled.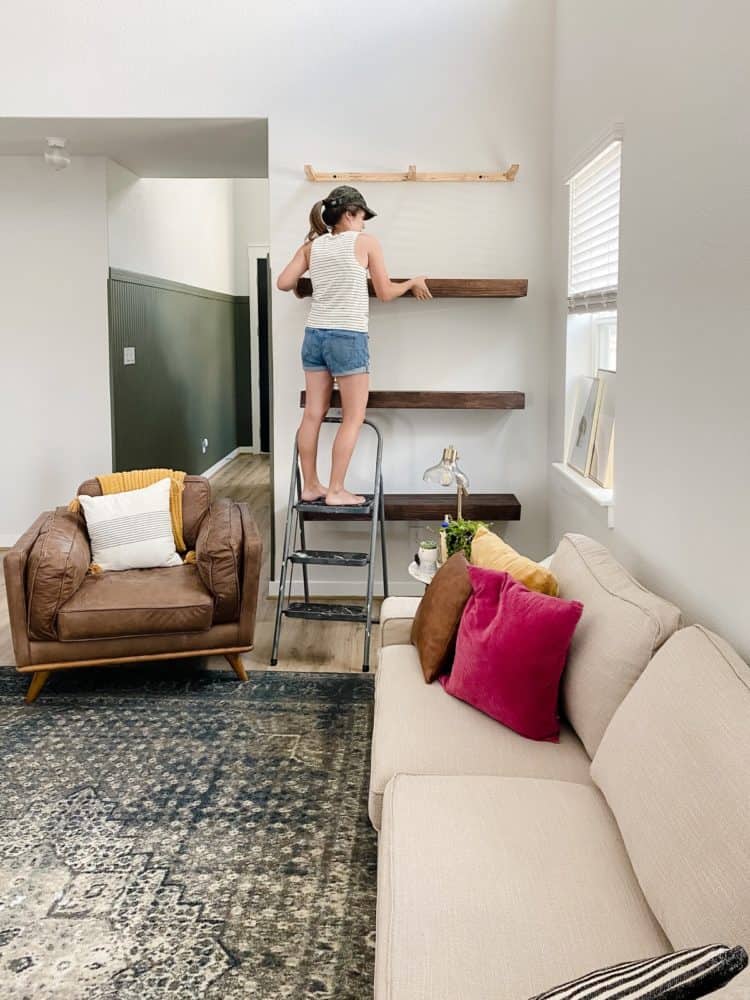 If you want the full tutorial on how to replicate this project, you can click right here for all the details. I have updated the post with all of the little things we learned the second time around, fixed any mistakes that were in it before (you know, like where I told you to buy the wrong sized wood, and then I bought said wood and had to start over when I realized it was wrong), and made sure everything is as easy to understand as possible!
Of course, even more fun that building and installing the floating shelves is styling them! I spent all weekend tweaking and adjusting and adding and taking away until I landed on the placement for everything that feels right – for now.
I also feel like I should publicly acknowledge that I bought a brand new pothos for that very top shelf (because I needed a big drippy plant to hang down!), and I'm 100% positive I won't ever be able to water it without getting our actual ladder out – because I don't think I can reach even with our tallest stepladder.
Sooooo we'll see how long that lasts.
But it sure looks pretty doesn't it?!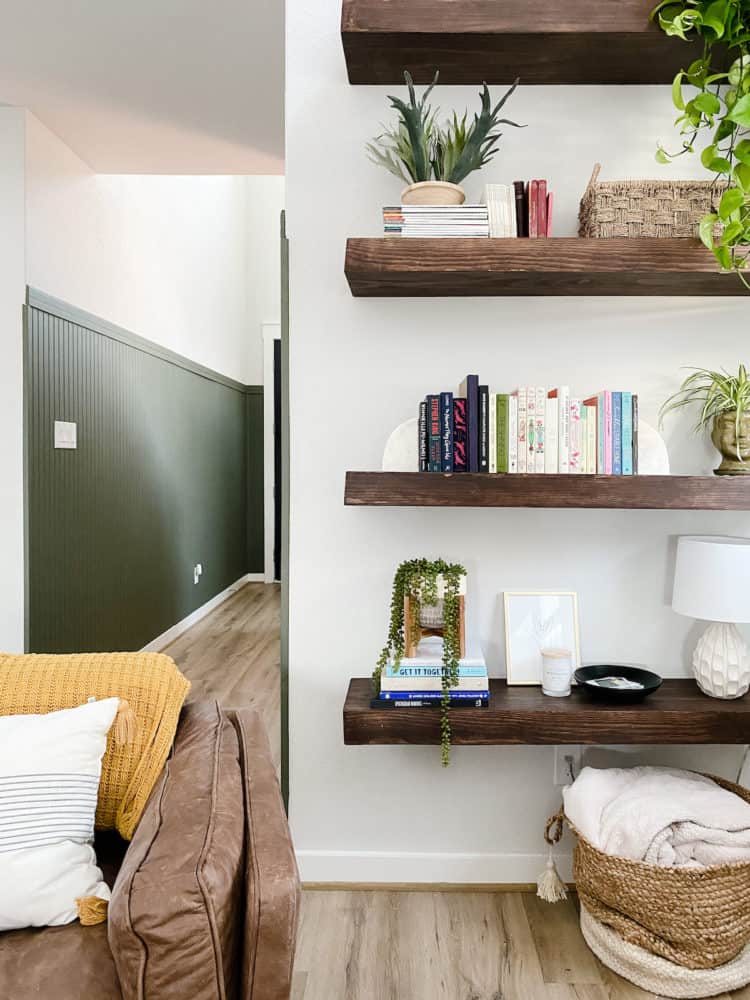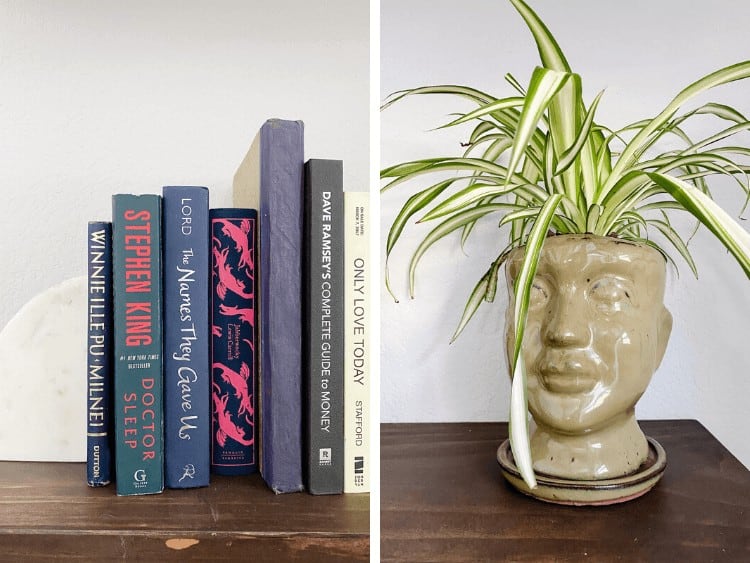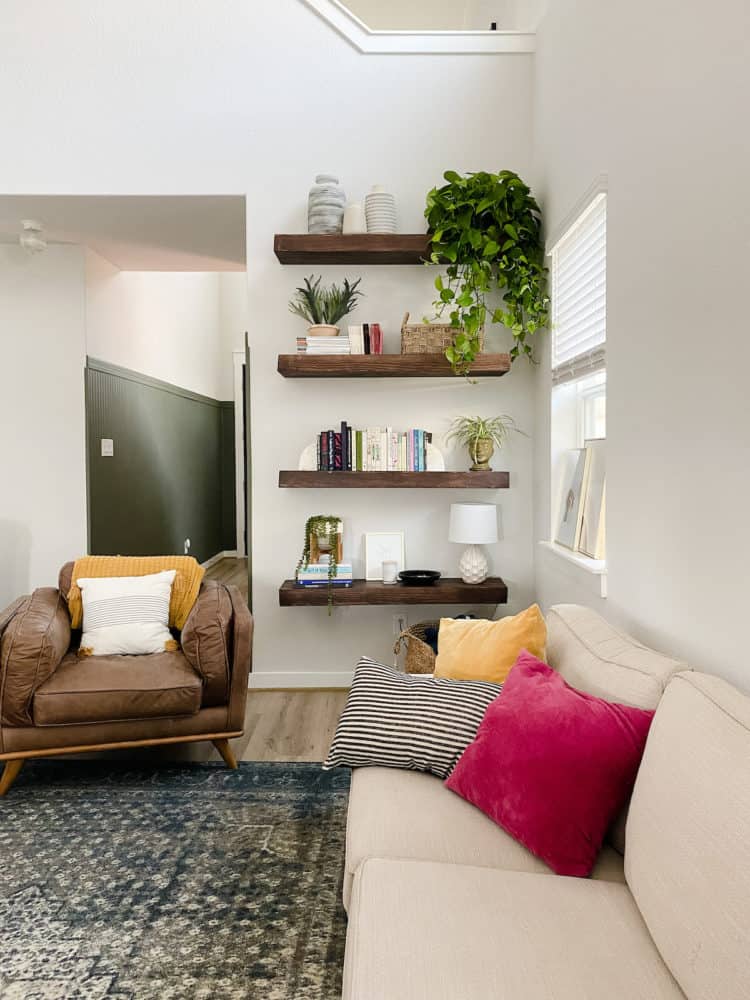 Also, because I know you'll ask, here are some details on the spacing of our shelving:
The first shelf sits about 23″ from the floor. This was a pretty arbitrary number that we chose based on the placement of the outlet, our desire to eventually find some baskets to put underneath it, and pure aesthetics.
The top shelf sits at just over 8′. Again – totally arbitrary. I had Corey hold a tape measure up at various heights until I found something that looked good. I knew I wanted the shelf to as high as possible while still sitting lower than the ceiling in the entryway. I also wanted to be sure the shelf didn't perfectly line up with the window on the other wall (just because I didn't think that would look great).
The spacing for the other two shelves was just determined with some basic math – we took the total height we had remaining (8′ minus 23″ for the bottom shelf), subtracted the total height of all of the shelves (they're each 3.5″ tall, so a total of 14″), and divided the number that remained by three (the number of spaces between shelves). That gave us about 20″ between each shelf.
Shelf spacing definitely is an art, not a science. Don't be afraid to break the "rules" here – I chose to space my shelving quite a bit more than normal (typical shelf spacing is about 12-15″) because I wanted the freedom to store tall vases, books, and even a lamp on my shelf. We have crazy tall ceilings in this room (20 feet!), and I think it's important to use that space as much as possible so the room doesn't feel off-balance. If you have shorter ceilings, you may want to hang your shelves a little closer together.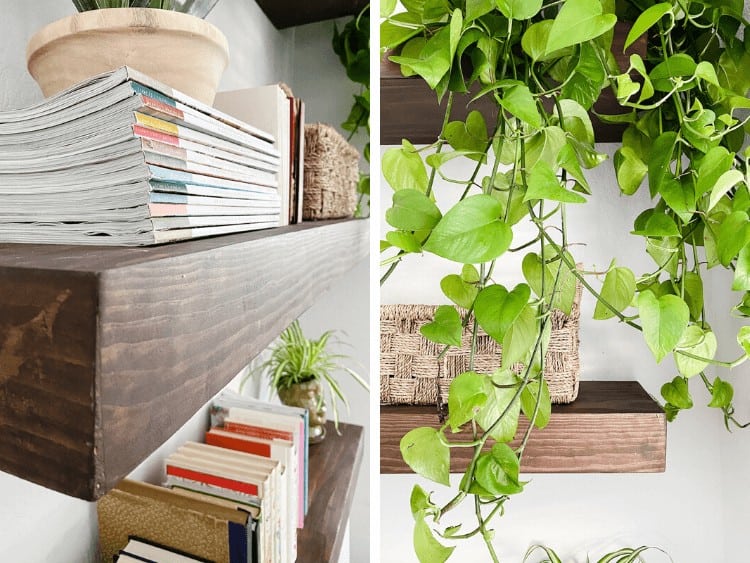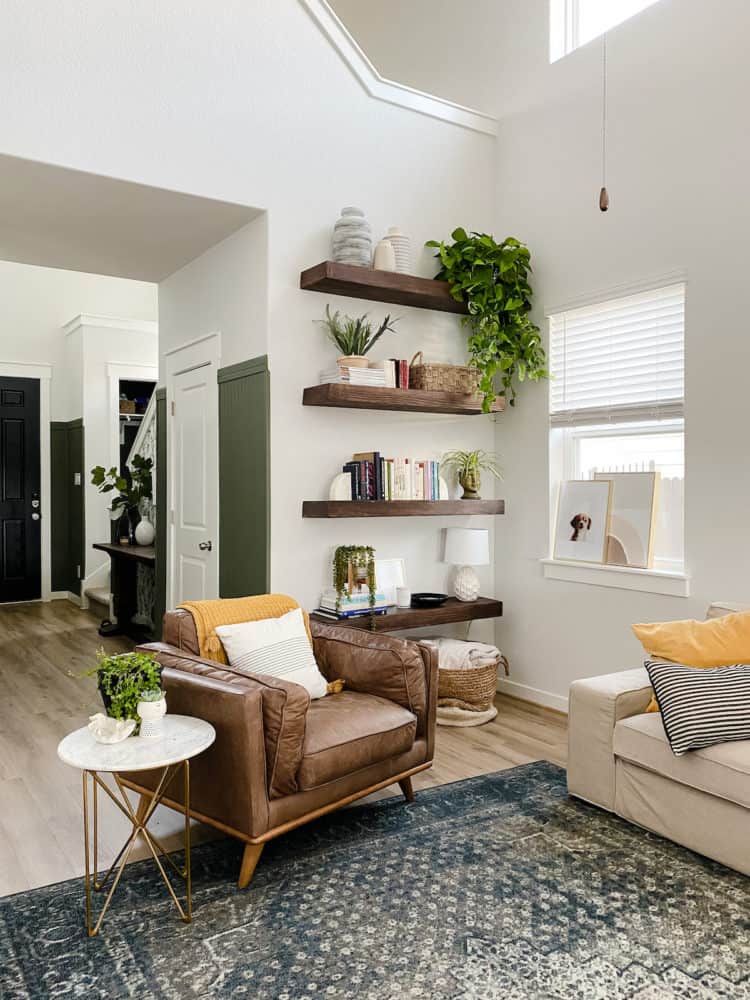 Now that we've got the first official project done in our living room, I feel the floodgates begging to be opened! This space has sat pretty empty and blank since we moved in, and adding these shelves makes me itchy to do more.
What's on the to-do list in here in the coming months? Well, our goal is to install a DIY electric fireplace before fall hits, we desperately need a coffee table, and I'm dying for a rug that's a little more appropriately sized for this space (this one feels too small to me).
Also, I can't stop picturing a huge gallery wall hanging above the sofa but I can't bring myself to start on it because it feels like such a daunting project!
But, for now, I'm just gonna sit on the couch and stare lovingly at my new floating shelves.