I love using pretty kitchen tools and utensils – it makes me more motivated to be in the kitchen, and who doesn't love a cute kitchen?! I'm sharing some of my favorite cute kitchen utensils and accessories today! 
I'm going to teach you the secret to wanting to keep your house clean, getting excited about organizing, and generally falling completely in love with your house again.
Are you ready?
Buy absolutely, incredibly, knock-your-socks-off gorgeous basic tools and accessories for your home.
That's all there is to it.
It sounds simple, I know, but I promise you there is just something about loving the most boring items in your home that makes you want to take care of things. The more beautiful organizational tools I buy, the more I want to keep my home organized. The more I replace my ugly, boring kitchen tools with ones that are beautiful, the more excited I am to cook dinner each night. The more amazing my cleaning supplies smell, the less I complain about cleaning.
It's magic!
I've already shared a few of the cleaning and organizing tools that make my soul happy and that make me a lot more likely to keep my home clean, but the mission I've been really focused on lately is taking my boring kitchen tools and swapping them out for things that make me smile. It's slow going because I'm investing a bit of money in more high-quality things that will last us and really stand the test of time, but it is oh so worth it.
I'm rounding up a few cute kitchen utensils that I'm loving lately here today – some of them are things we already own and some are still on my wish list, but all of them are things that can replace a boring item in your kitchen to make your life a little bit prettier.
And isn't that all any of us want, anyway?
Cute Kitchen Utensils – 12 Basics You'll Love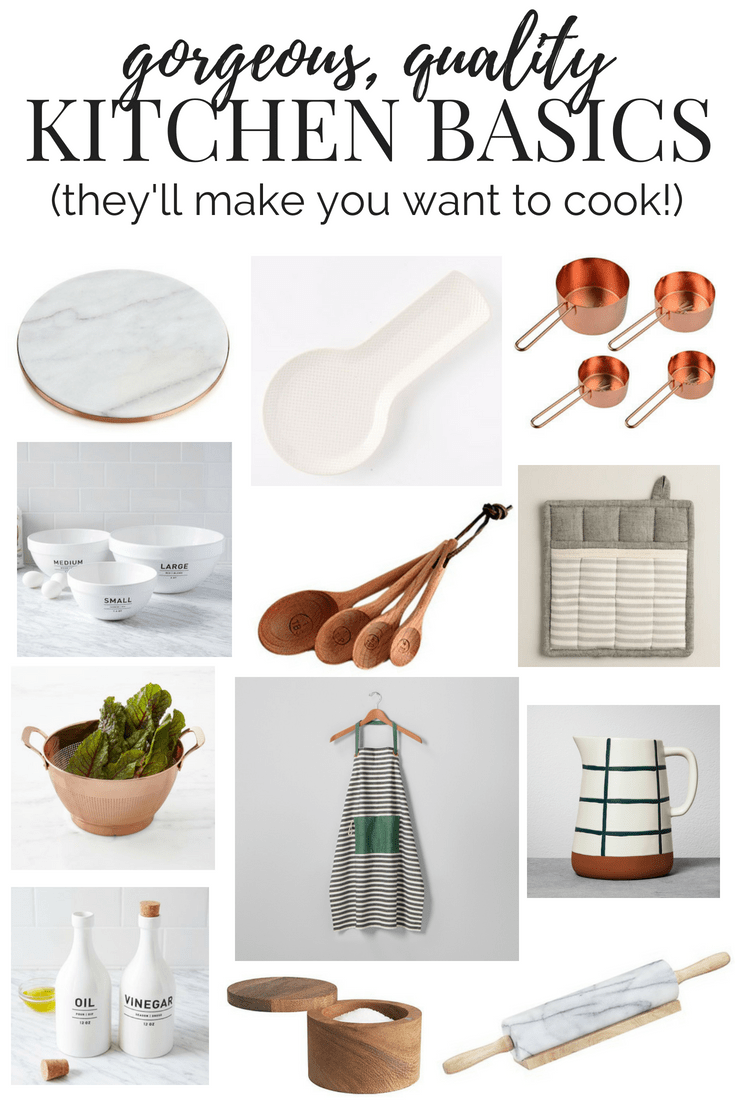 This post contains affiliate links. Click here to read my full disclosure policy.
Copper + Marble Trivet // Spoon Rest // Copper Measuring Cups // Mixing Bowl Set // Wooden Measuring Spoons // Gray Stripe Potholder // Copper Colander // Striped Apron // Stoneware Pitcher // Oil + Vinegar Set //  Salt Cellar // Rolling Pin
How inspiring are all of these? This list seriously makes me want to go shopping and replace basically every little tool in my kitchen right now. I'm thinking the next thing I'll tackle in my kitchen is getting all new food storage containers – I'm so tired of our old, crummy plastic Tupperware tubs.
It's time for something that will make me excited for leftovers.
I'm also currently slowly working on switching out all of our kitchen utensils – things like spatulas and whisks and slotted spoons are a lot more fun to use when they're pretty…and currently all of ours are plastic and ugly. Why not fix it?
It's a small mindset shift and, in all honesty, it doesn't make a huge visual impact in your home. However, these little bitty changes add up to quite a difference in how your home feels to you, and I promise if you start switching the ugly things out for tools and accessories that you love you'll notice that you're a lot happier with your home as a whole.
Try it – you might be surprised.
What are some boring basics in your home that you'd love to trade up for something a little more fun?