If you know anything about me, you know that I am a sucker for a good organization system. I'm always looking for new ways to keep my home organized, and I never met a binder I didn't like.
Seriously, I keep an entire shelf full of empty binders at work. Just in case.
#nerdalert
Anyways. I know I'm not the only one who gets a little excited when it comes time to talk about cleaning and organizing. I wrote a post similar to this last year about how to keep your home clean without a lot of extra effort. To this day it's one of my top viewed posts each and every day, and it's one you guys really seemed to appreciate. I know how you feel, and I'm always looking for new and exciting tips and tricks I can use to help keep my home in order, so I thought this time around we'd chat about organization.
I did a big series on going through the KonMari method last year, and that's a really great place to get started if you're fresh to the organizing journey. That will walk you through the process of getting started with organizing your home, and this post will give you some extra hacks to make sure that once you get organized, you stay organized.
Plus, after my 10 quick tips to get organized, I'll be sharing all of the other posts I've ever written about organizing. Think of this as the complete resource to help you get your home, life, work, and just about everything else organized and in order.
You're welcome.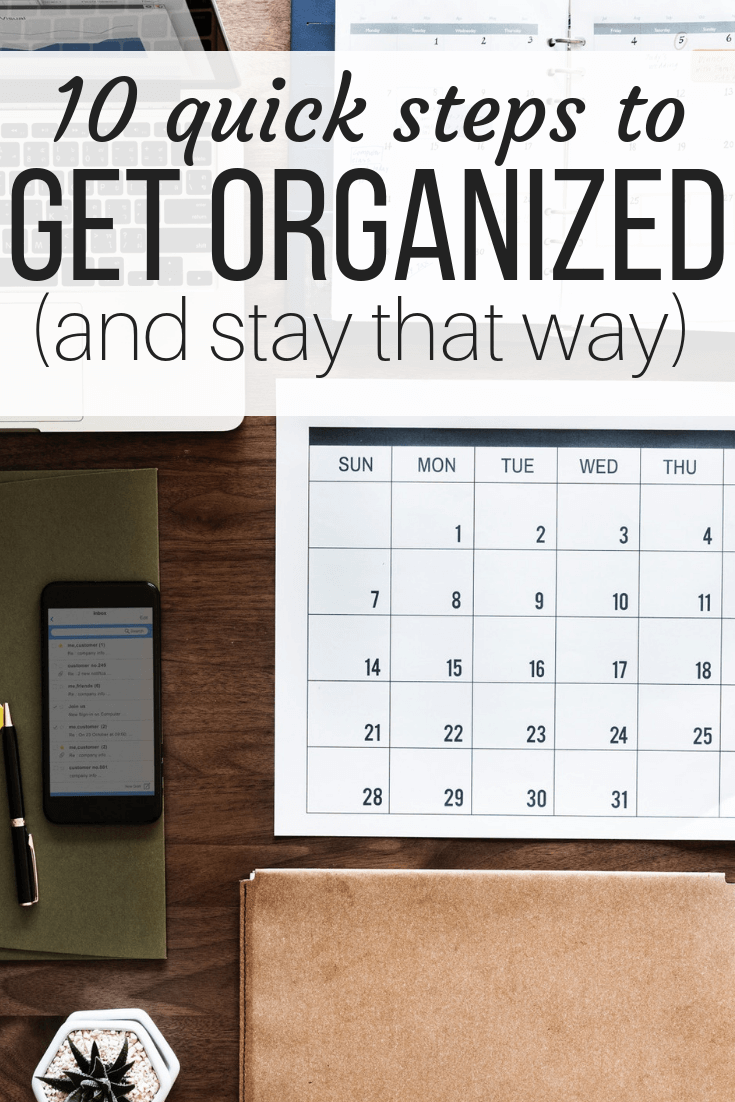 (This post contains affiliate links. Click here to see my full disclosure policy.)
10 Tips to Help You Get Organized
Do a major purge. Corey and I did this last year when we went through the KonMari method of tidying up, and it was pretty (brace yourself) life-changing. We really have kept up a lot of the systems we put into place during that process, and our home feels so much lighter! I do think we'll need to do regular tune-ups though, because there are a few places in our home where I can feel the clutter starting to creep back in. I always recommend purging as a good start for any organization project, because I promise you'll be surprised by how much you have that you're willing to get rid of! If you need some help getting started with that, I wrote a free ebook with tips on implementing the KonMari organization method, and you can get it by signing up for my newsletter!
You've heard it before, but have a place for everything. I know, duh. But really, I forget how important this is all the time. There are a few things in our home (especially in the kitchen) that we use regularly and need to keep, but we haven't ever designated a good home for them so they just randomly float about the house until we eventually have no idea where they are. Now, anytime I notice that something I'm using regularly doesn't have a good home base, I spend a few minutes deciding exactly where that thing will live. Then, I put it there…every time. Sounds simple, but it's one we often forget!
My secret weapon for using organization tools? Make 'em pretty. Maybe it's just me (it's not), but I'm a lot more likely to keep up with an organization system if it's pretty. For example, my current filing system for important blog and tax paperwork is a couple of those filing boxes that are really cute but really small. I shove them on the floor next to my desk and I pile binders on top of them that have other important blog-related stuff. It's not functional for me at all, largely because I have no desire to keep it up or use it regularly because it's just not pretty! This year, I want to buckle down and get a pretty filing cabinet to put next to my desk instead, which will have the added benefit of giving me a little extra surface area to place things on (like the binders that are currently blocking me from accessing my paperwork…). I also keep my jewelry much more organized now that it's organized in a way that's prettier. It really does work, and it makes your home prettier too!
A label maker is your best friend. I use my label maker all the time. It's really great for baskets or bins that aren't clear, and I also use it for binders and folders that aren't already clearly labeled. Basically, if you don't want to constantly be opening something up and looking inside to remind yourself what the contents are, use a label on it. I keep mine in my desk drawer and it's really easy to bust it out and label something when we need to – it's a really helpful system for getting other people in your family (ahem, your husband) on board with your organizing efforts. They can't tell you they don't know where something goes if it's clearly labeled!
Turn it into a routine. When I find that I'm having a hard time keeping a particular area of my home clean and organized, I try to set aside some time to come up with a routine to keep that space clean. For example, we have a bad habit of letting clutter pile up in our bathroom – the ledge by our vanity is practically a magnet for pill bottles and brushes and hair ties, and the floor seems to attract enough dirty clothes to outfit an army. I don't know how it happens. So now, when I get ready for work in the mornings and when I get ready for bed at night, I try to do a quick sweep of the room and straighten up. I grab dirty clothes and put them away, I shove the medicine back where it belongs, and I clear all of the surfaces of anything that doesn't belong there. It takes me all of 2 minutes to do it, and it's second nature now so it doesn't feel like any extra effort!
Don't let yourself cut corners! For me personally, this is one of my biggest roadblocks to staying organized. I'll set up a system, I'll get it looking nice and clean, and then over the course of the next few weeks I'll slowly stop putting things away exactly how they should be, until it devolves back into total chaos. For example, my t-shirt drawer. After I read The Life-Changing Magic of Tidying Up, I started organizing my shirts using her method (which, that alone is life-changing, y'all). It was pretty revolutionary for me, and I had so much more space in my drawers. But over time I started folding them sloppier and sloppier until I was literally just shoving shirts into the drawer and I could barely close it again. I've learned that if I let myself cut a corner on an organization system even one time, I start to take advantage of that shortcut over and over until the whole system falls apart. Now, I force myself to fold my shirts and put them away properly every single time (after all, it only takes an extra 5 seconds or so), and the system works again. It's a beautiful thing.
Ask yourself if it's a battle worth fighting. As much as I love organizing, there are some organization battles that aren't worth fighting. The tupperware cabinet, for example. I don't know what it is about that cabinet, but no matter how hard I try it will not stay organized. We gave up on it once Jackson turned a year old or so because he liked to play in there, and we've never quite gotten it organized again. Same for the cabinet that holds Jackson's plates and cups – he often helps us put things away or get them out of there, so it's really just hopeless. I used to set aside some time every week to get it all organized again, but I finally just gave up on that. As long as the door closes, I'm happy. Now, my mind is less cluttered with the mental stress of worrying about the upkeep of those cabinets, which means I have more energy to deal with other things. It's all about prioritizing!
Teach your family the system. I've made the mistake a few times of organizing something really thoroughly, and then never explaining to Corey how I did it. Then, I get frustrated with him when he doesn't maintain my new organizational system – but he has no idea what to do! This is something that seems to happen most often with our pantry – I like to designate baskets for certain types of food, and if I don't explain to Corey which things go in which basket, the whole system falls apart really quickly. Making sure everyone in your home is up-to-date on the system is key.
Don't try to do it all at once. I tend to get a little crazy this time of year and want to organize my entire house in one go. It's ambitious, but it never actually lasts because I'm not creating habits to go along with my systems – I'm just organizing it all as quickly as I can. Organizing works much better if it's done slowly over time – pick the area that drives you the craziest, organize it as much as is humanly possible, and then work on nothing but maintaining it until it's second nature. Once you no longer even have to think about upkeep with your first area, then you can tackle another. It takes longer this way, but you only have to do it once!
Know what works for you and your family. Over the years, I've learned what types of organization systems work for me and what types don't. For example, I'm not the type of person that can keep my calendar on my phone – I just won't maintain it. However, if I have a paper planner I will use that every single day (see the one I use here). I also know that Corey isn't going to maintain any organization system that requires too much work, so I've done a lot of trial and error over the years to make things as simple as possible so they work for our family. Don't try to use an organization trick that goes against your personality just because it works for someone else – you have to know what's going to work for you!
As promised, here's a bonus list of posts that will help you get even more organized:
Organization Tips & Tricks
If you need even more help, here are some of my favorite organizational tools. I'm not a believer in needing a lot of "stuff" to stay organized, but there are a few key products that make a big difference!
The Best Organization Tools:
What are some of your tips and tricks for staying organized?