I've never really been a Halloween fan. It's just not my idea of a fun holiday – I don't love dressing up in costumes, I'm not a huge fan of candy, and I'm a big wimp when it comes to all things scary. So, not my favorite holiday.
But. I have a toddler. And he's obsessed with Halloween. OBSESSED, I tell you.
He's been talking about Halloween almost nonstop since August, and every single day for the last month he asks me if it's Halloween yet. It only got worse when we picked up his costume a few weeks ago – my mom grabbed him a few different options when they were on sale at Target, and he has dressed up as a superhero literally every single day since then.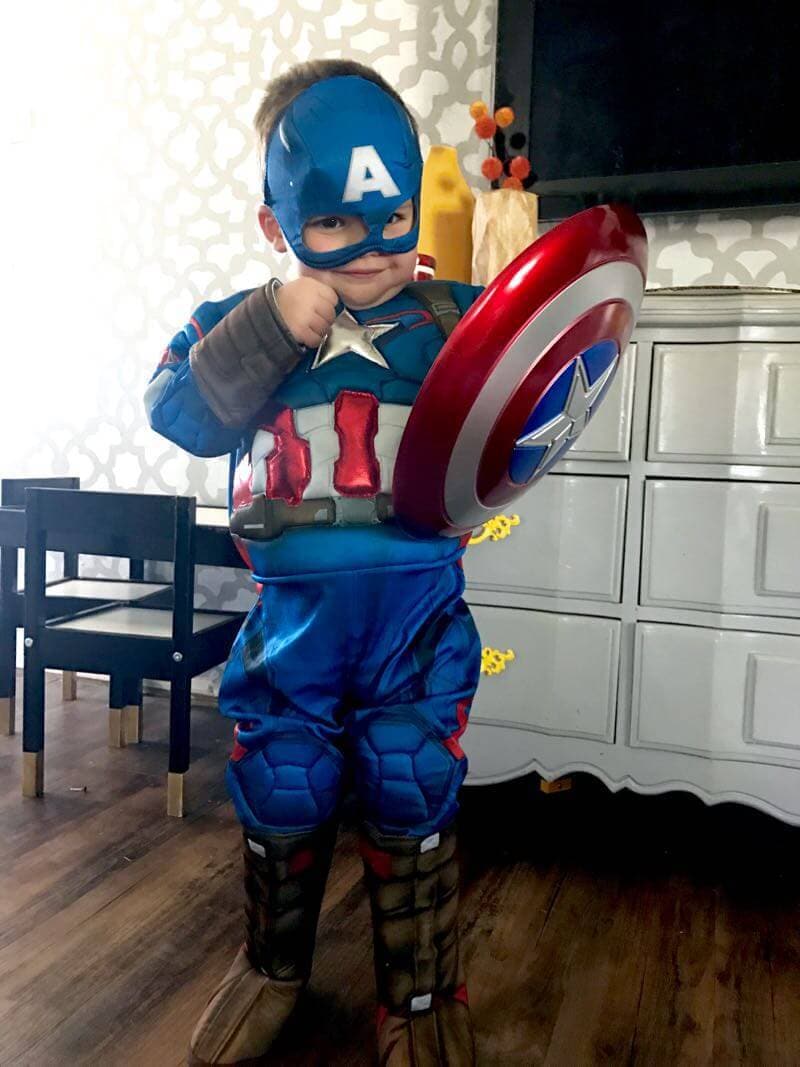 He has 3 different superhero costumes, but his plan is to be Captain America on Monday. He's been consistent on his costume choice for weeks, so I'm pretty confident there won't be any last-minute changes. I cannot wait to see the look on his face Monday morning when I let him know it's finally (FINALLY) Halloween.
Even if I'm not a huge fan of the big day itself, I do love some of the traditions surrounding Halloween – pumpkin patches are my happy place, and I'm always a fan of a good pumpkin carving. So, even though I don't think the holiday is the best, I try to soak up as much of the celebration surrounding it as I can because I absolutely love this time of year in general. This was the first year Jackson has really understood what is happening surrounding the holidays, so it was really fun to take him to the patch and let him help pick out our pumpkin. If we had let him, he would have gone for the pumpkins that are larger than him, but we managed to talk him into choosing a much more reasonably-sized pumpkin. Of course, if they would have let me, I would have brought home every stinkin' pumpkin at the patch but I settled for just one and a few little gourds.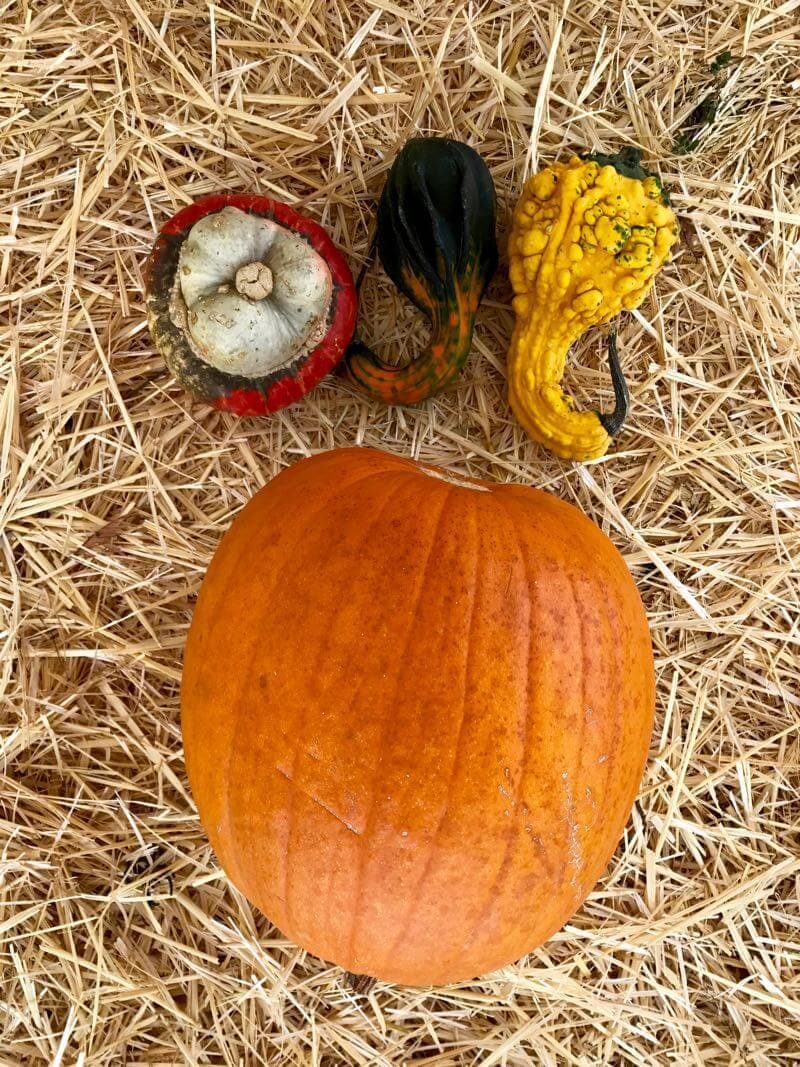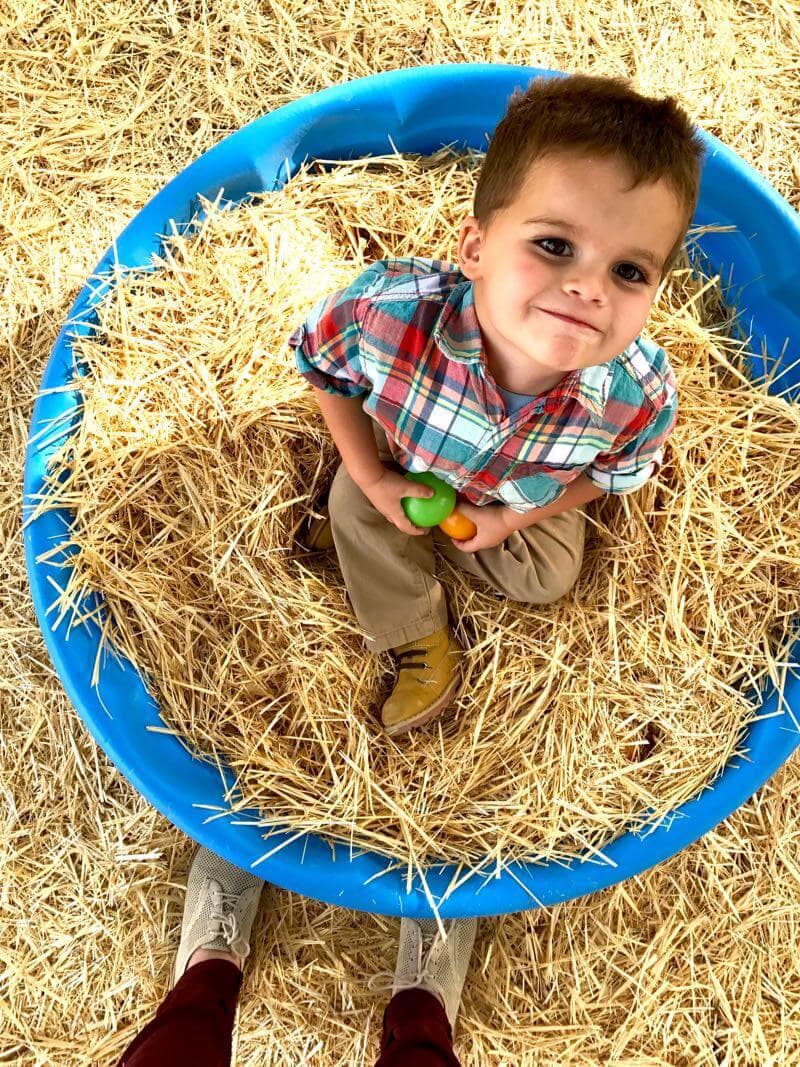 We go to the same patch every year to take photos – this year we were a little disappointed to see that it was smaller than normal (and it's already a really small patch), so I'm not as happy with our photo as usual. But, I can't complain – we still look pretty darn cute.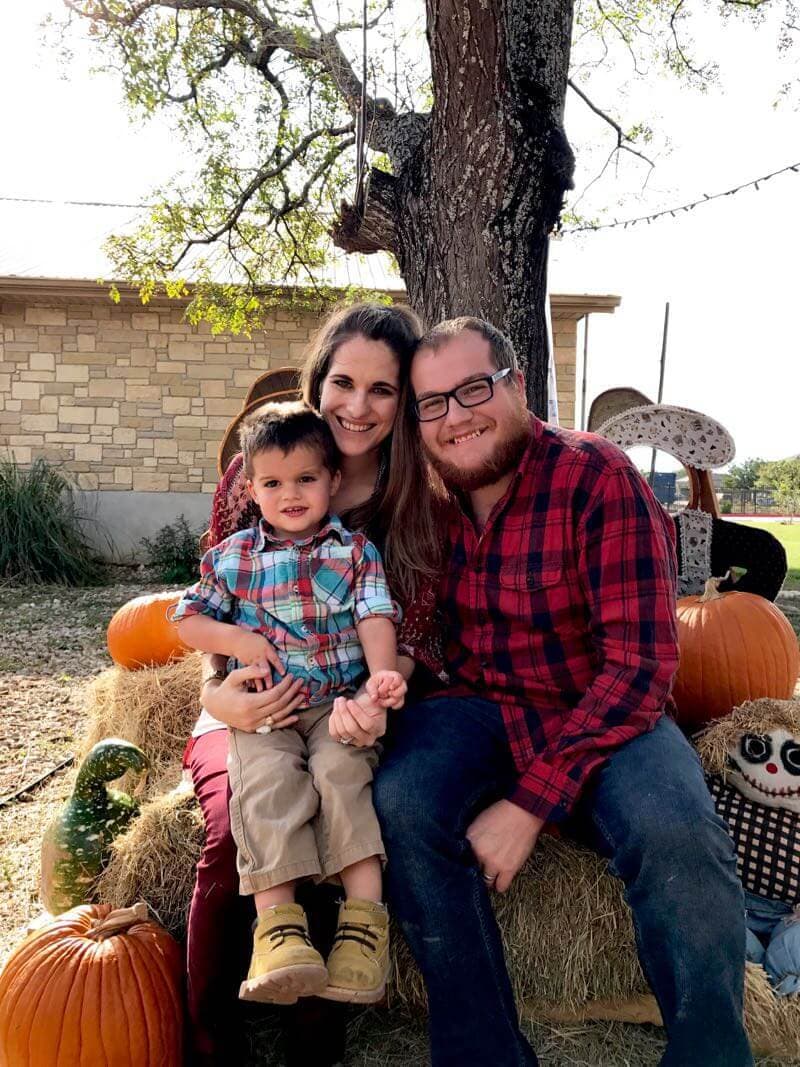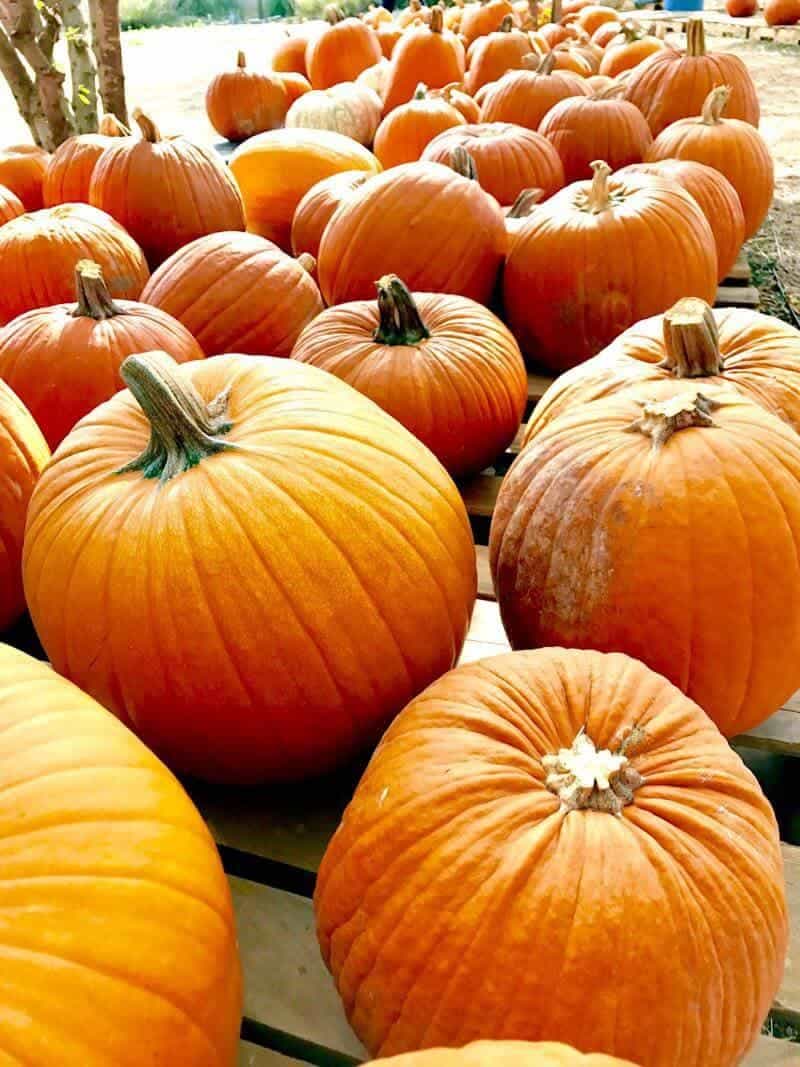 Of course, it's not Halloween until you carve a pumpkin. Earlier this week, we carved our pumpkin and Jackson had so much fun. I let him pick a face for it on my phone (I just searched "Jack-o-Lantern faces" and let him pick one) and we did our best to replicate it. He had a blast helping with all of the steps of the process, and I can't even tell you how much joy there was on his face when we lit it up for the first time. So sweet!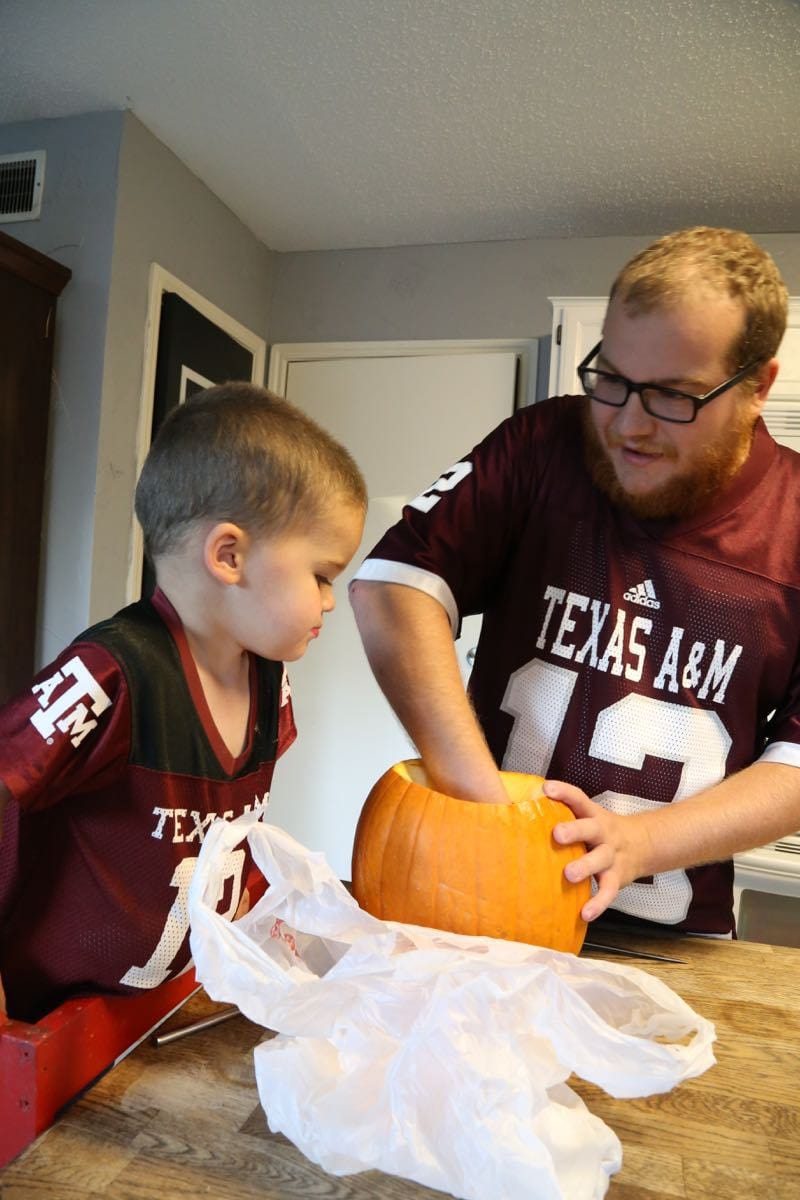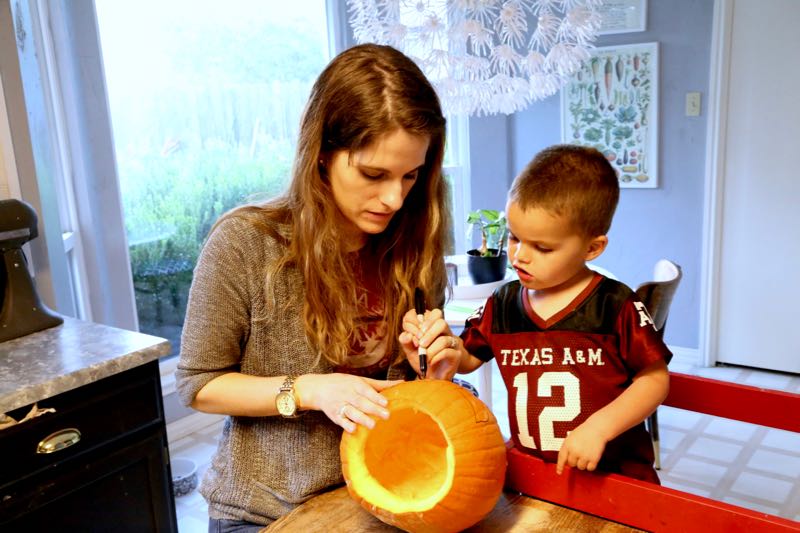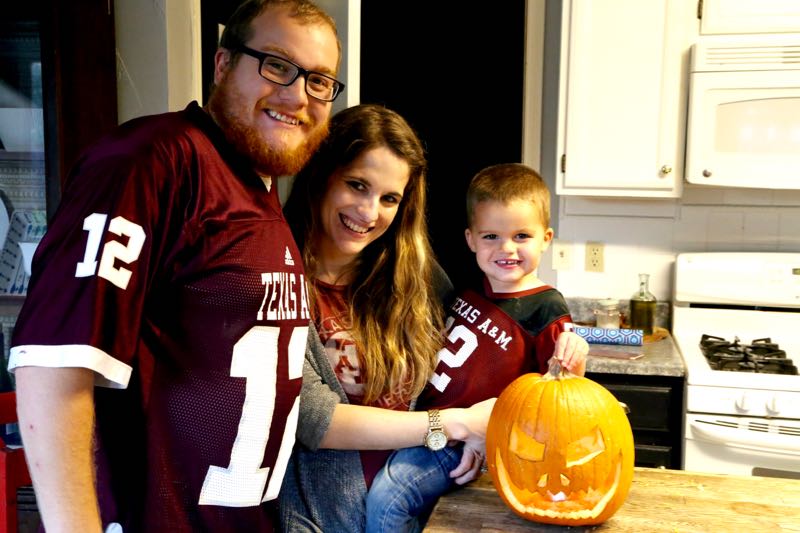 I definitely think this is the most pumped I've ever been for Halloween to actually get here! I'm interested to see how Jackson handles the excitement – he has a tendency to get completely overwhelmed when he's really excited about something and kind of shut down and want to hide. I'm keeping our plans pretty open and no one will be disappointed if he's too overcome with all of the emotions on the big day to actually do anything, but I'm thinking the promise of candy will be enough to lure him out of the house.
Other than preparing for Halloween, I'm spending my weekend cleaning the bathroom, doing some touch-up paint, and finally reinstalling my toilet! The next couple of weeks are going to be busy on the blog, so hold on to your horses because there's a lot of awesome stuff coming your way!
What are your plans for Halloween? How do you feel about the holiday?!