Today just so happens to be the birthday of my favorite person in the whole world.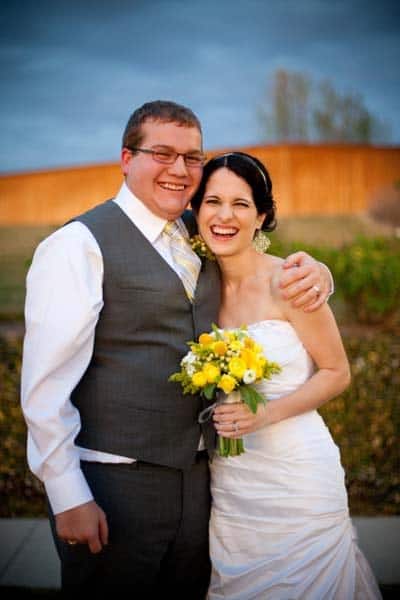 (Yes, it's been nine months and I'm still using our wedding photos all over the place. I paid a fortune for them, I'm gonna use them, dammit!)
Birthdays are a big deal in our house, so I'm so excited to get to celebrate with him today. We aren't able to go as all-out as I like to, because of certain budgetary restrictions, but I'm determined to make his day special nonetheless.
This will be the sixth birthday Corey and I will celebrate together, so in honor of that, here are six of the reasons I love him like crazy:
1. He loves to dream with me. We're constantly talking about all of the things we want to do to update our house, right down to the smallest details, even though we know it will be years before we can start doing big renovations.
2. He humors me and all of my little quirks. There are about a million (annoying) little habits I have that would drive a normal person crazy, but he just goes right along with it. For example, I have a strange inability to sit still on the couch for more than a couple of hours – my body gets antsy and I just can't handle it. So, I'll often move down to the floor to sit or lay down if we've been watching television for a while, or if we're watching a movie. Not only does he not bat an eye when I do this, he'll sometimes even come down to the floor with me!
3. He makes me laugh.
4. He knows me better than anyone else in the world, and can usually tell exactly what I'm thinking without me having to say a word.
5. He cleans the house for me while I'm at work.
6. I completely trust him with all of my heart, and there are very few people in my life that I can really, truly trust.
Happy birthday, love – I hope it's amazing!
I'll be back tomorrow with some inspiration I gathered over our labor day weekend. And next week I promise I'll finally have a house tour of the new digs! But, in the meantime, tell me about your three-day weekend! Was it as amazing as mine?