I never really thought I'd be the type to need a "home office."
I mean, it sounds so fancy.
"Honey, I'm going to work in the office for a while, let me know when dinner is ready." 
See? Fancy.
As a teacher (who refuses to bring work home on principle), I haven't ever had much need for a workspace or desk in our home – it just seemed like a waste of space.
But…things change, don't they? Lately I've been working my little rear end off on blogging and writing, and I've often found myself wishing I had a desk to work at instead of the dining room table. Somewhere I can spread out a bit without taking over the whole house. Somewhere I can work comfortably, stay focused, and get stuff done.
You know – a home office.
We originally talked about putting the office in our bedroom but I've already shared that I don't find that room to be relaxing at all which means focusing in there wouldn't work. Plus, it's right next to Jackson's room and I do most of my work when he's sleeping, which means I'd have to be quiet – and sometimes when that Nickel Creek Pandora station gets really good, you just can't keep it quiet, amiright? 
So now, the plan is to create a little office nook in our living room. We have the perfect spot for it, we just need to actually execute it. I've been Pinteresting (is that a verb?) a lot lately to figure out what I like and what I don't, and I'm seeing some clear trends.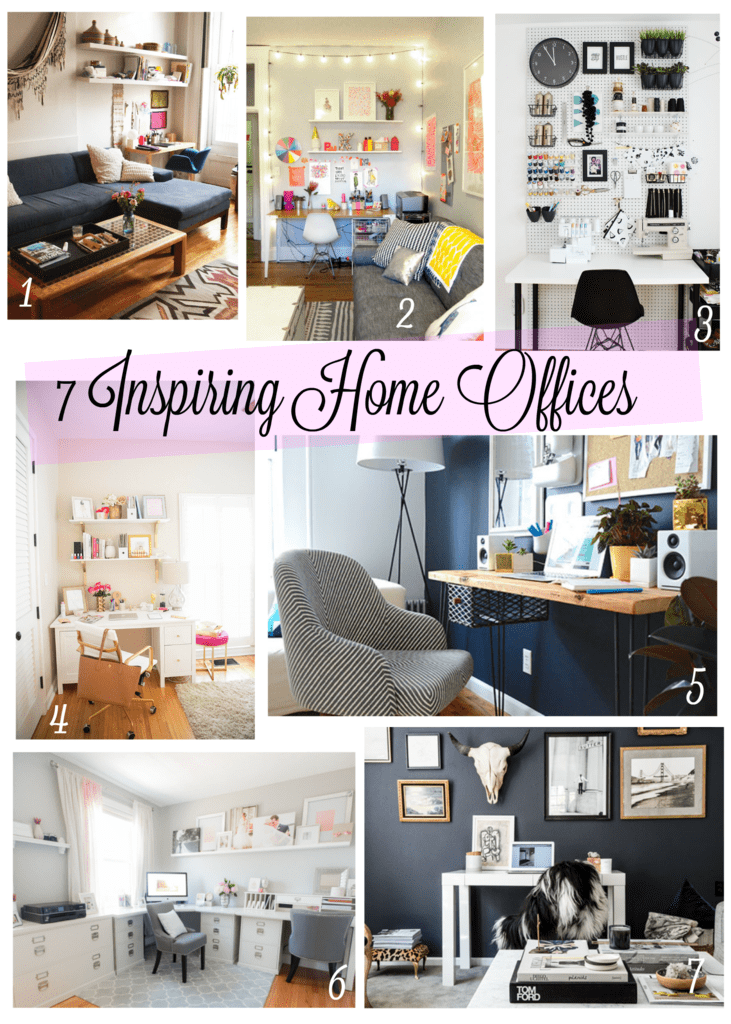 One via Design Sponge // Two via The Glitter Guide // Three via A Beautiful Mess // Four via The Fashionistas Diary // Five via Homepolish // Six via Style Me Pretty // Seven via Apartment 34
When I look at all of my favorite photos, there are a few patterns and things that stand out to me:
They're all very neutral. Not too bright or colorful. Lots of white, black, and gold.
They've all got inspirational art. I need motivation in my life and I really respond well to visuals! I'm all about posting some inspiration above my desk to keep me motivated.
Gallery walls! Who can turn down a good gallery wall?
Also, shelves! I'm seriously considering some small shelves above my desk, because I'm so drawn to them in these photos.
Texture. A lot of these have cozy blankets, textures, and other patterns to add visual interest. It's a perfect way to liven things up when you've got mostly neutral colors.
An awesome chair. Often, I feel like the chair makes or breaks the office area. A beautiful (and comfortable) chair is key!
We've already started some shopping for my new home office, and it's (sloooooooowly) coming together. I can't wait to share once it's all done!
Do you have a home office?