I'm working on adding a small home office area to our living room, and I've been browsing for home office design ideas for a while. I figured it was high time I shared my small home office ideas with you to help you if you're planning one of your own! 
I never really thought I'd be the type to need a "home office."
I mean, it sounds so fancy.
"Honey, I'm going to work in the office for a while, let me know when dinner is ready." 
See? Fancy.
As a teacher (who refuses to bring work home on principle), I haven't ever had much need for a workspace or desk in our home – it just seemed like a waste of space.
But…things change, don't they? Lately, I've been working my little rear end off on blogging and writing, and I've often found myself wishing I had a desk to work at instead of the dining room table. Somewhere I can spread out a bit without taking over the whole house. Somewhere I can work comfortably, stay focused, and get stuff done.
You know – a home office.
We originally talked about putting the office in our bedroom but I don't find that room to be relaxing at all which means focusing in there wouldn't work. Plus, it's right next to Jackson's room and I do most of my work when he's sleeping, which means I'd have to be quiet – and sometimes when that Nickel Creek Pandora station gets really good, you just can't keep it quiet, amiright? 
So now, the plan is to create a little office nook in our living room. We have the perfect spot for it, we just need to actually execute it. I've been Pinteresting (is that a verb?) a lot lately to figure out what I like and what I don't, and I'm seeing some clear trends.
Here's a quick roundup of seven different home office design ideas that I'm loving right now. There are so many fun ways to make a small home office work well for you, and I think that if you really put your mind to it, you could create a small home office in even the tiniest of homes! Check out the ideas below, and let me know if you have any genius ideas of your own!
UPDATE: See my completed home office nook right here! 
Home Office Design Ideas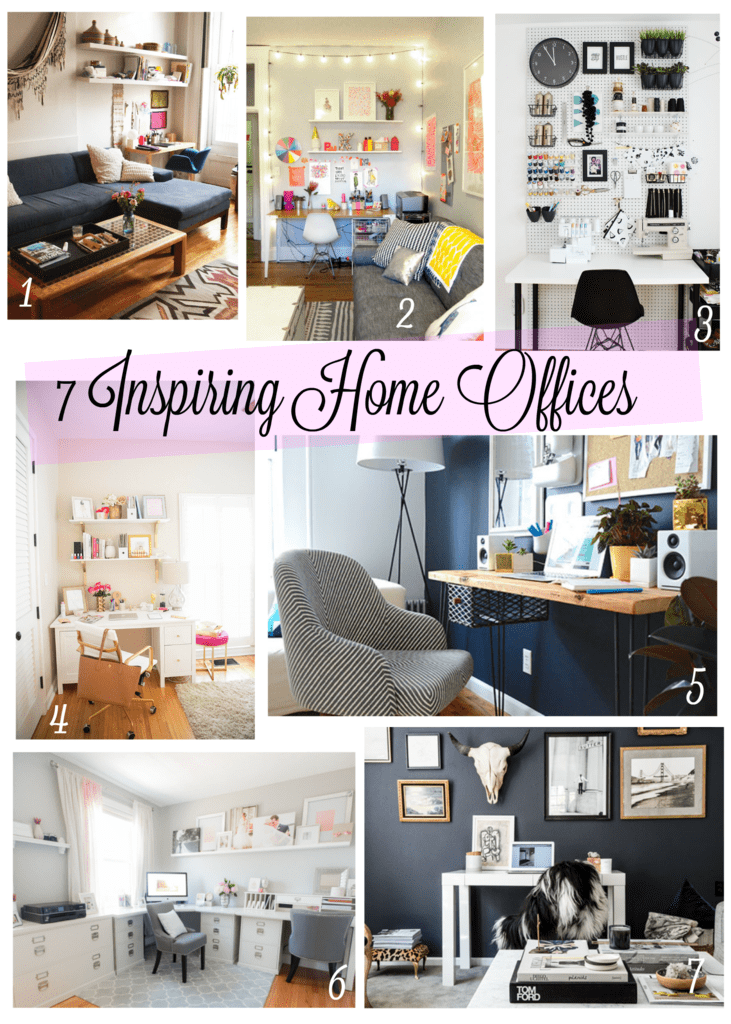 This post contains affiliate links. Click here to read my full disclosure policy. 
One via Design Sponge // Two via The Glitter Guide // Three via A Beautiful Mess // Four via The Fashionistas Diary // Five via Homepolish // Six via Style Me Pretty // Seven via Apartment 34
When I look at all of my favorite photos, there are a few patterns and things that stand out to me – this is typically how I find inspiration! I gather ideas that I love, then I look at them all together to find out what it is about them that I love.
Here are a few of my observations from these small home office ideas:
They're all neutral. They aren't too bright or colorful and focus more on things like white, black, and gold. This is key for a small office space and is a good thing to keep in mind. If you're tucking a home office into a corner of your home, you don't want it to feel like it takes up the whole room! Sticking to neutral and quiet colors and patterns will help your home office design blend right in with the rest of your home.
They've all got inspirational art. I need motivation in my life and I really respond well to visuals! I'm all about posting some inspiration above my desk to keep me motivated, so this is going to be a key element for me. Plus, adding some art is a great way to help the corner office area feel more complete and whole – art is alwyas a good idea.
Gallery walls! Who can turn down a good gallery wall? I'll be adding my small home office to my living room, which doesn't have much art it in to begin with, so a small gallery wall might just be the perfect solution both for adding art to my living room and for making my small home office feel a little more complete.
They've got shelves. I'm seriously considering some small shelves above my desk, because I'm so drawn to them in these photos – plus, they're so functional. I like the way that shelves can add some great visual interest to a gallery wall, so I'll be utilizing at least 1 or 2 small shelves in my corner office area for both design and function.
Texture. When you've got a neutral color scheme, texture is key! A lot of these have cozy blankets, textures, and other patterns to add visual interest. It's a perfect way to liven things up and really helps make the office space feel more complete.
An awesome chair. Often, I feel like the chair makes or breaks the office area. A beautiful (and comfortable) chair is key!
We've already started some shopping for my new home office, and it's (sloooooooowly) coming together. I can't wait to share once it's all done!
Here's a quick roundup of some of the products I'm considering for our office area – hopefully these will help me obtain my goal of neutral, pretty, calming, and functional!

UPDATE: See it here! 
Do you have a home office?