When you're preparing for a baby, the big questions is always what to pack in your hospital bag! I'm sharing my simple hospital bag checklist with you today.
Oh, the hospital bag.
If you've ever had a baby, it's highly likely that you have all sorts of feelings about those two little words. For some reason, many of us become obsessed with the idea of what to pack in a hospital bag, how to make sure you have everything you need for the hospital, and finding the perfect hospital bag checklist to make sure you don't forget a thing.
Something about it kind of feels like the final "can you really handle being a parent?" test.
I mean, no pressure or anything.
Last time around, I did a pretty good job of packing my hospital bag and I really didn't feel like I was missing out on anything. As I've gotten more accustomed to this whole parenthood thing, though, I've thought of a few things that I probably would have appreciated having and had a slightly different hospital bag checklist this time around.
So, if you're not a mama (or aren't planning on becoming one anytime soon), this post may not interest you. But, if you're expecting or just love reading about all things pregnancy, read on for all of the details on what's on my hospital bag checklist, when I packed it, and anything else you might ever want to know!
When Should You Pack Your Hospital Bag?
I don't really think there's a magical "right" answer here, but with both of my pregnancies, I've packed my hospital bag right around 35 weeks. It's early enough that there's little chance I'll go into labor without having my bag packed, but late enough that I never felt like a crazy person for having the bag sitting around ready to go so soon.
With Jackson, there was an added urgency to the hospital bag because I was still working full-time out of the house. I kept the bag in my car after I packed it because I was petrified I'd go into labor at work and not have time to come home. This time around, I work from home so it's not quite as big of a deal. I have the bag packed and ready to go, but I won't put it in my car until it's actually time to head out the door.
One thing I did last time that was hugely helpful (and that I'm doing again this time), is to have a list of last-minute items that I taped right by the door so I can be sure not to forget anything. Things like my body pillow, camera, and iPad are used on a daily basis in my house and I can't just toss them in a bag 5 weeks before I go into labor. So, I wrote down a list of anything that needed to be grabbed as we were heading to the hospital, and I taped it near the door. That way, we won't have to search for it in a panic and I don't have to worry about possibly forgetting something because I'm rushing. Also, it's great for if you leave in too much of a hurry and can't grab the things – you can send a friend or family member over to get it for you and they'll know exactly what you need!
Who Needs a Hospital Bag? 
I like to pack one bag for myself, one bag for Corey, and then bring the diaper bag for anything baby-related. I found that we didn't need much of the baby stuff last time around because the hospital provides pretty much everything, but it was still nice to have. Of course, if you're short on space you can easily pack everyone's stuff in one bag – we just typically find it simpler to have our own.
Since we have Jackson, one other thing we did was have him pack a "hospital bag" for himself as well – he'll be staying at our house while we're in the hospital, but there's a chance he'll end up at a family member's house for a bit, so we wanted him to feel prepared for that. It has pajamas, a change of clothes, and a few favorite toys, along with a favorite blanket and stuffed animal. He may or may not use it, but I think we'll be glad to have packed it if we do need it!
The Hospital Bag Checklist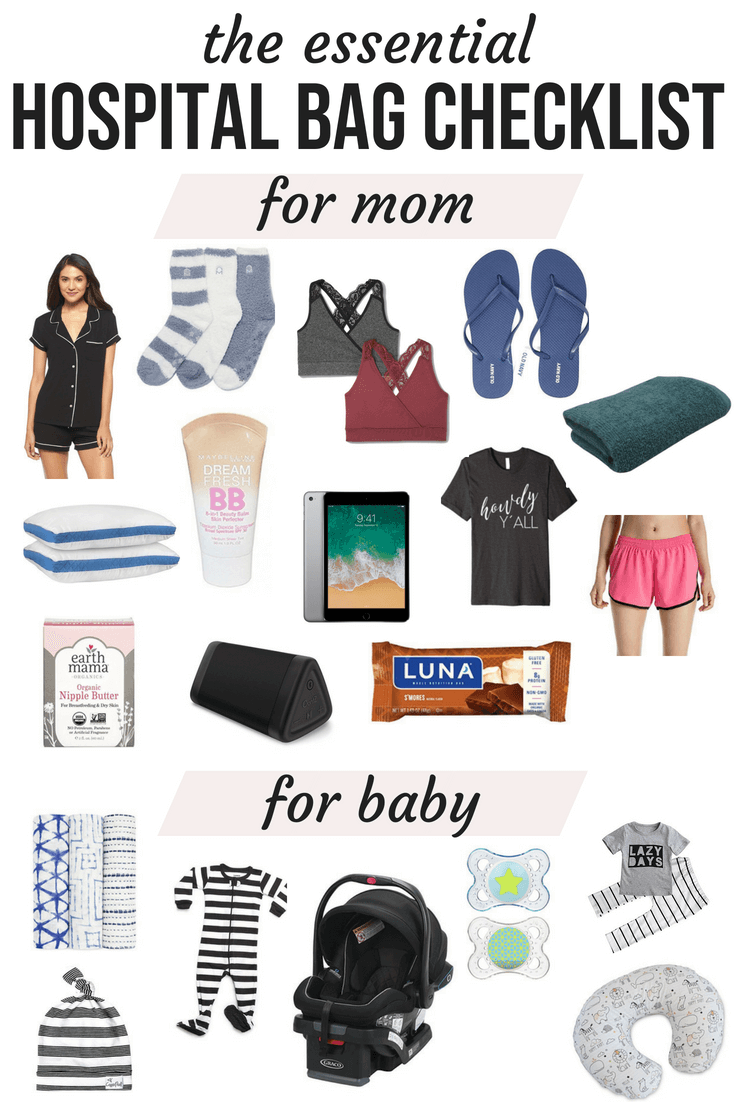 Alright, let's dive into the actual list of things to bring! I created a little collage of most of the things in my bag, but keep reading for all of the details on why I included the items, as well as a few things that aren't pictured.
FOR YOU:
Not pictured: 
Shampoo + body wash.
Toothpaste + toothbrush.
Hairbrush, clips, and rubber bands.
Chapstick.
Phone charger.
Camera + charger.
FOR BABY:
Note: Most of the things on this list require no explanation, so I'm just going to drop the list for you. I will make this note though: other than the car seat, none of this is absolutely necessary. The hospital will provide everything you need for the baby while you're in the hospital, and you really don't "need" to bring anything of your own. That being said, I really appreciated being able to dress Jackson in our own clothing and wrap him in our swaddles – it made him feel more like "ours" and I had been looking forward to using all of this adorable stuff for so long that it felt impossible to not bring it. But, all of this is totally optional! Except for the car seat – you can't leave the hospital without that one. 
FOR DAD:
Not pictured:
Towel (see above)
Pillow (see above)
Other than that, he should pack as if he's going on a weekend trip. Because, he is! He won't really need anything extra and should be just fine with some extra clothes, pajamas, and toiletries.
SHOP THIS POST: 

What did you pack in 
your
hospital bag? Any huge essentials that I missed?