I'm a big planner nerd – today, I'm excited to share my review of the Erin Condren Life planner! If you're looking for a way to organize your life, this post will help you decide if an Erin Condren planner is right for you. 
I've talked with you guys before about how I'm a bit of an organization freak. I'm a sucker for a good planner and I absolutely cannot keep myself organized on my computer or phone – I need to write things down in order to feel like they're actually happening, and I don't do well with any system other than one that I have lots of control over.
I'm just a little bit Type A.
So, when Erin Condren reached out to me and asked if I'd be interested in reviewing one of their Life Planners for the blog, I did a little happy dance and replied with a big fat yes so fast it could make your head spin. I felt like a little kid waiting for Christmas morning while I awaited my planner in the mail, and when it got here I felt like all was right in the world.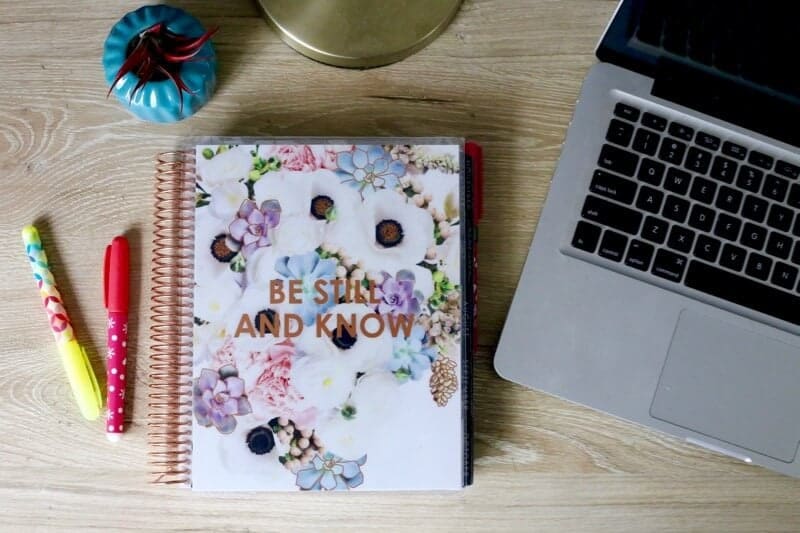 Erin Condren Life Planner Review
Y'all, I've never tried an Erin Condren Life Planner before this, but I'm telling you… I'm a total convert. This planner is ridiculous. The quality is amazing, there are a ton of customization options, and the goodies that you can order to personalize it even further are so much fun. They sent me a box full of fun accessories and add-ons, and the first night I had it I admitted to Corey that I was a little scared to get started putting things in it because it was so awesome and I was afraid I was going to mess it up.
I'm also a bit of a perfectionist.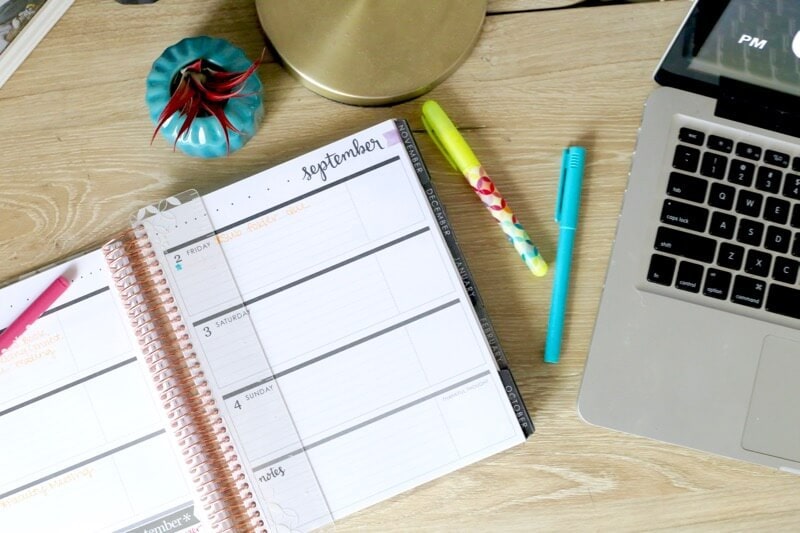 I spent a lot of time looking over all of my options and the cute accessories, and then I finally decided it was time to dive in. I started customizing and then I couldn't stop. I ran out of to-dos and events to put in my planner long before I ran out of steam. I had to actually force myself to stop adding to it because I was afraid I was going to use all of my fun stickers and accessories up in the first week of having the planner.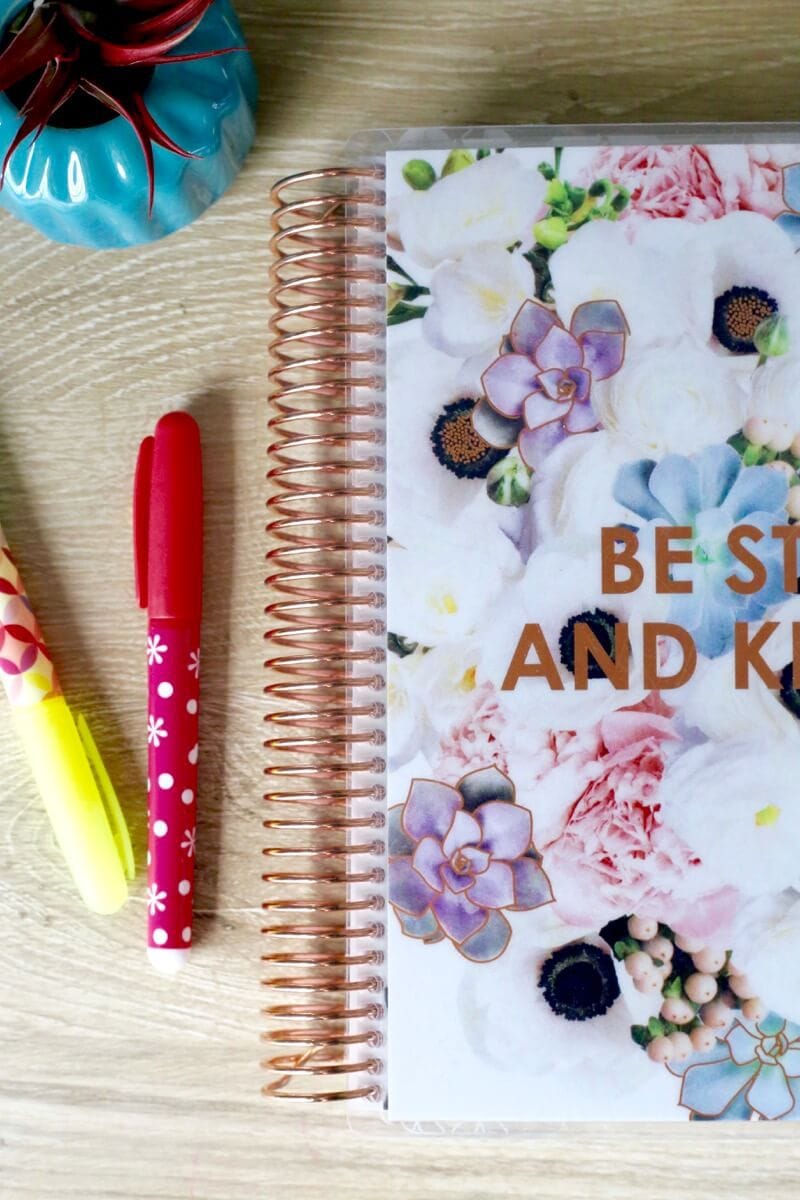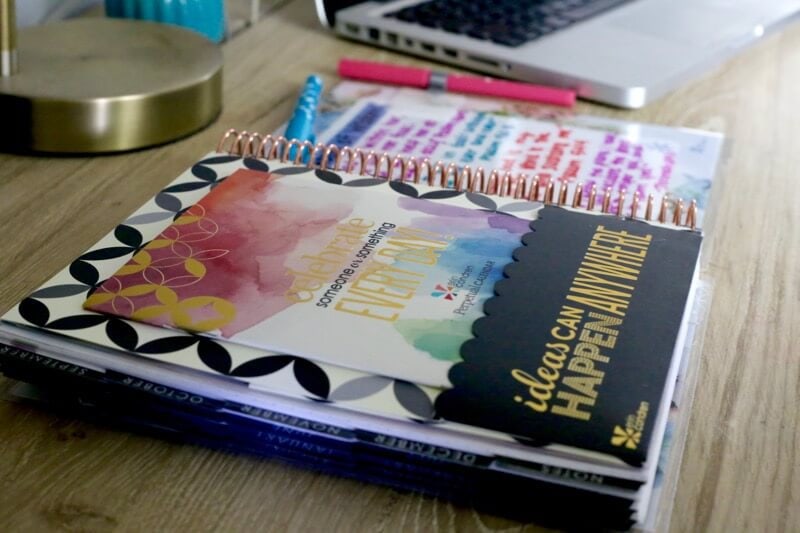 Customizing the Planner
The planner that I chose is the Bloom Rose Gold cover with a rose gold coil (you can choose the color of the coils, you guys!), and on the inside, I went with the neutral color palette (because I like to add lots of color by color-coding my entire life) and the horizontal layout. There's a ton of room to write everything I need to each day, and this planner is so awesome that I've actually ditched my previous strategy of using two different planners (one for work and one for my personal life) and I put everything into this one. It's amazing to only have one planner to keep track of, and I love that everything is in one place now. It's not too cluttered or crowded at all, and the layouts are simple enough that I'm really able to take whatever approach I want to adding my to-dos in!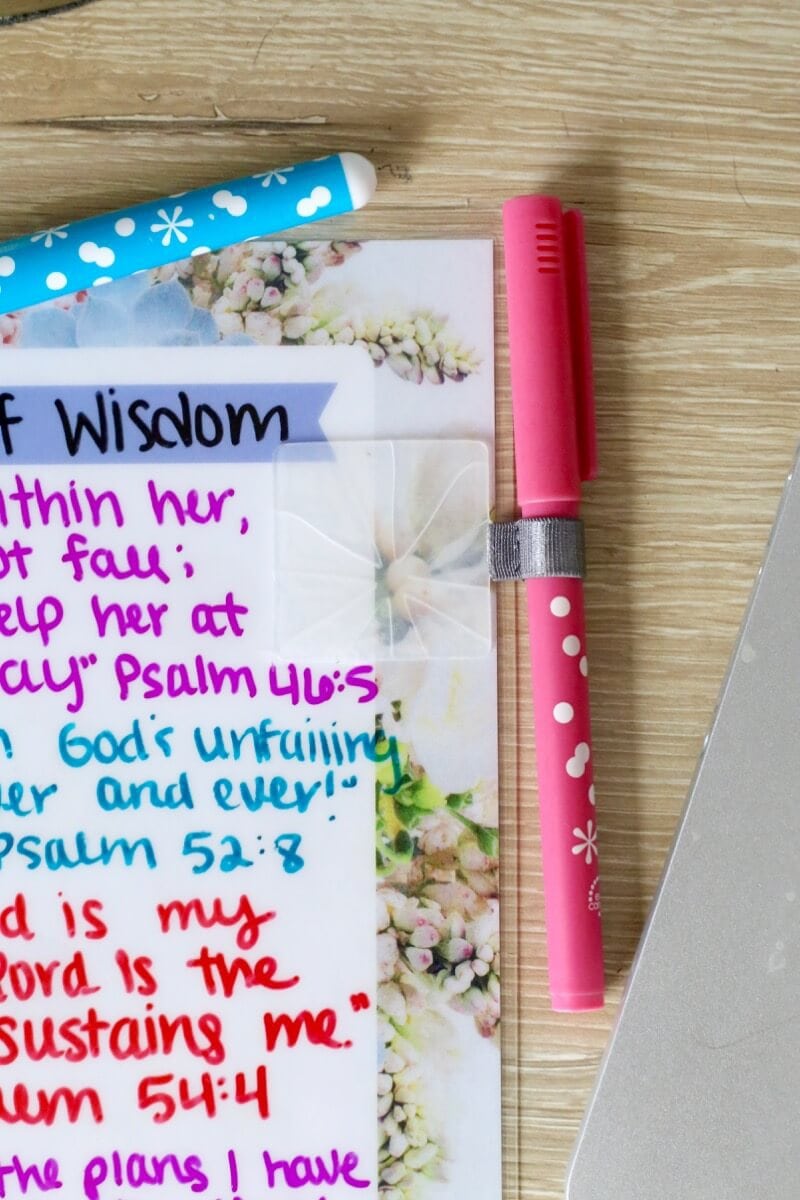 Other than the stickers (so! addicting!), my favorite accessories are the pen holder (which fits right onto the back cover and allows you to attach a pen that's perfectly accessible but out of the way) and the zippered bag that holds my extra pens and washi tape. Oh, and their pens, highlighters, and dry erase markers are also pretty perfect. They're all adorably decorated and they write like a dream. I'm a bit of a pen nerd and I'm more than a little bit picky when it comes to the pens that I write with, but these are perfect.
I'm officially 100% converted to nothing but Erin Condren from here on out, y'all. They're a bit pricier than I normally would spend on a planner, but I hear they have really good sales a few times a year so I'll definitely be watching for those so I can make sure I never have to use another planner. I've been so tired of switching up my planner strategy every year, and these have everything I want all in a neat little package with so many options available for making it my own. There's even a "goal" section in the front where I can keep track of progress towards my goals at work, on the blog, and in my personal life.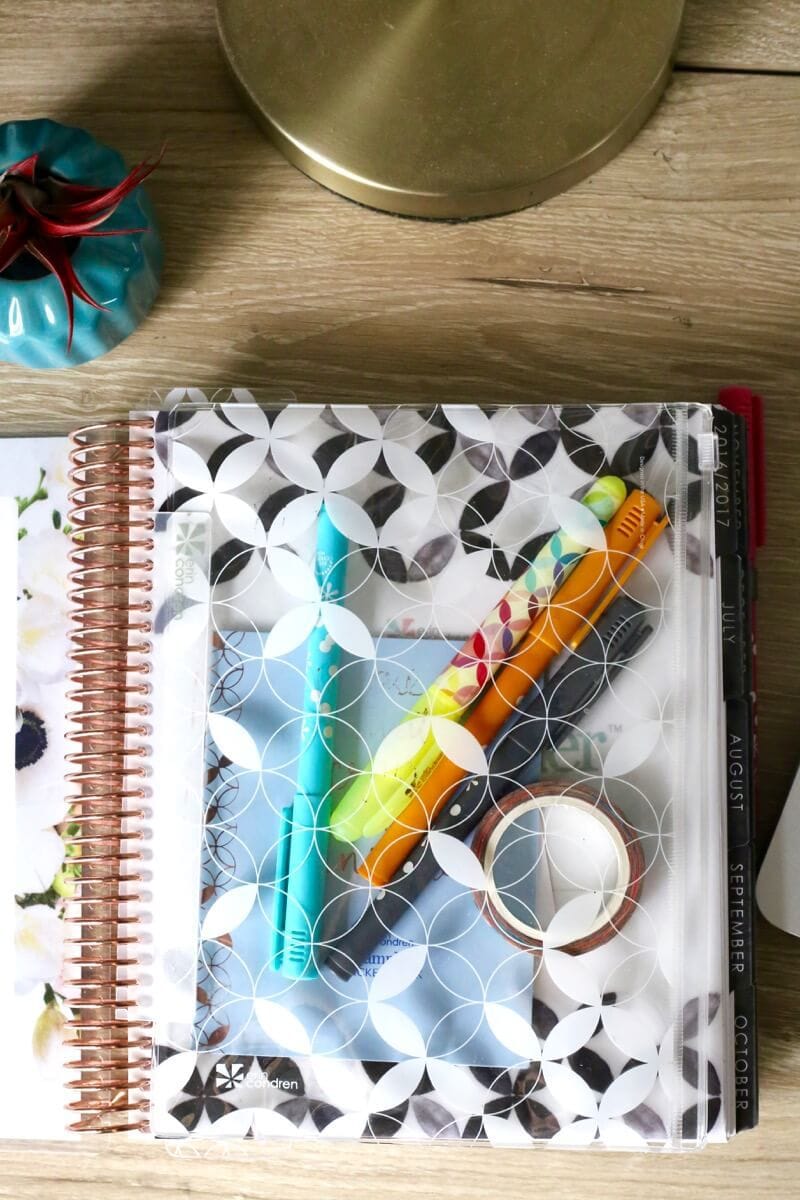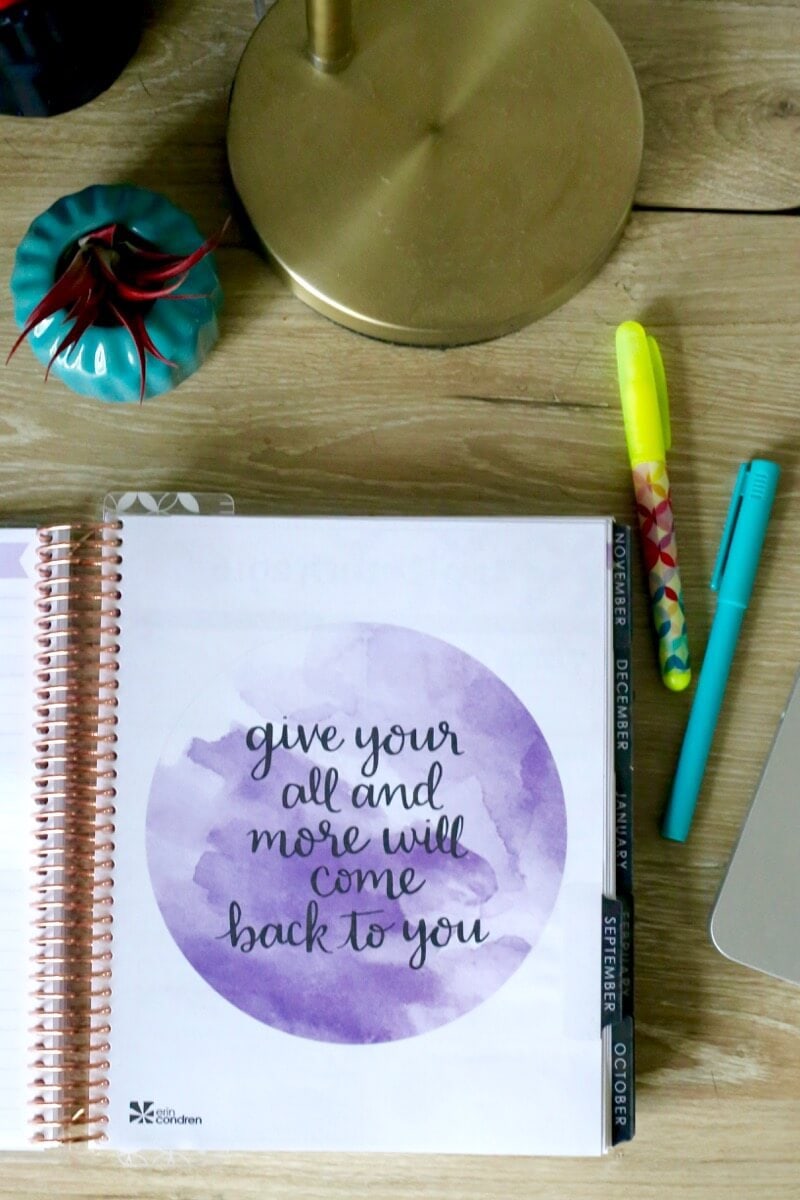 Oh, and if you're anything like I was before I tried this, you might be a little skeptical of the whole sticker thing. I used to see people who used stickers in their planners and roll my eyes – it seemed like way too much work and time spent on making your planner cute when it doesn't make that big of a difference.
I was wrong.
The Erin Condren planners come with some stickers in the back for just about every scenario you can imagine – haircuts, dentist appointments, days off work, etc. As soon as I realized they were back there I decided to try them and loved the way they looked! It makes the whole planner feel a bit more uniform and it's so easy to just grab a sticker from the back and plop it into place – I find that I'm much more likely to notice a sticker on a date than just a handwritten note, so it also makes it more likely that I'm not going to forget whatever it is that's happening that day.
Apparently, I like stickers a lot more than I thought I would.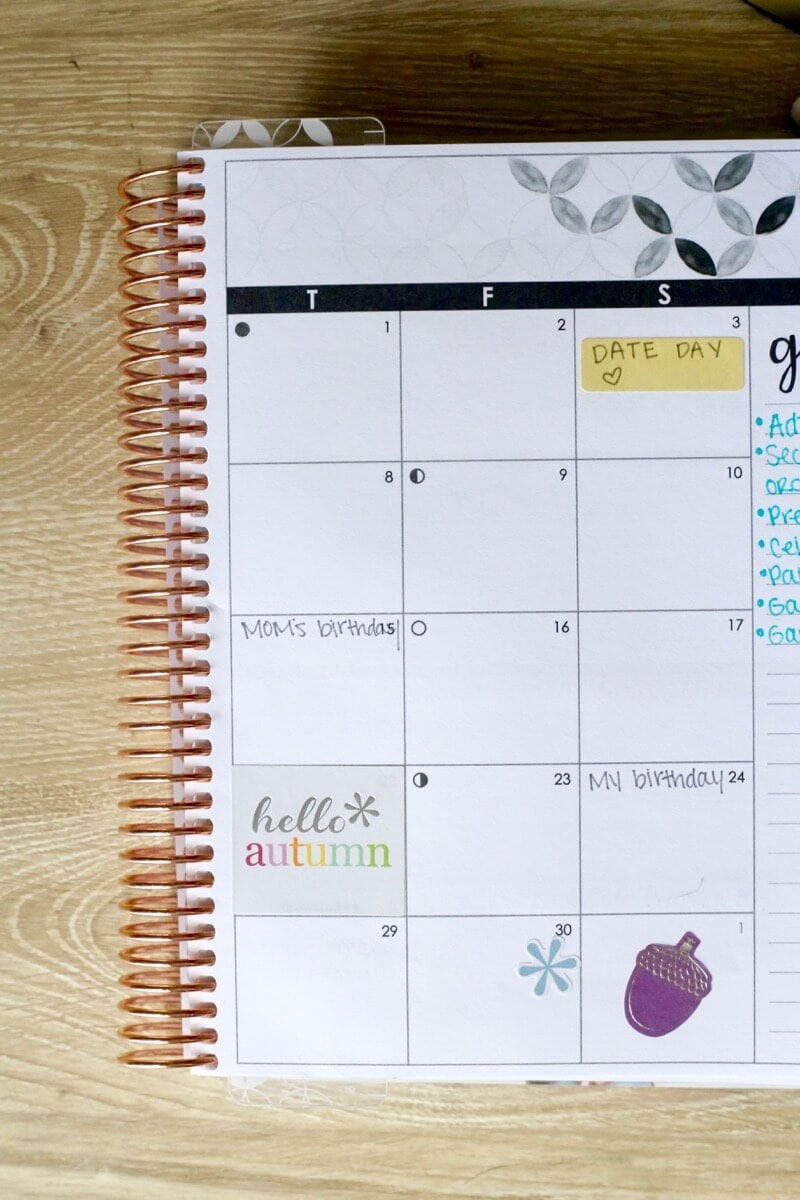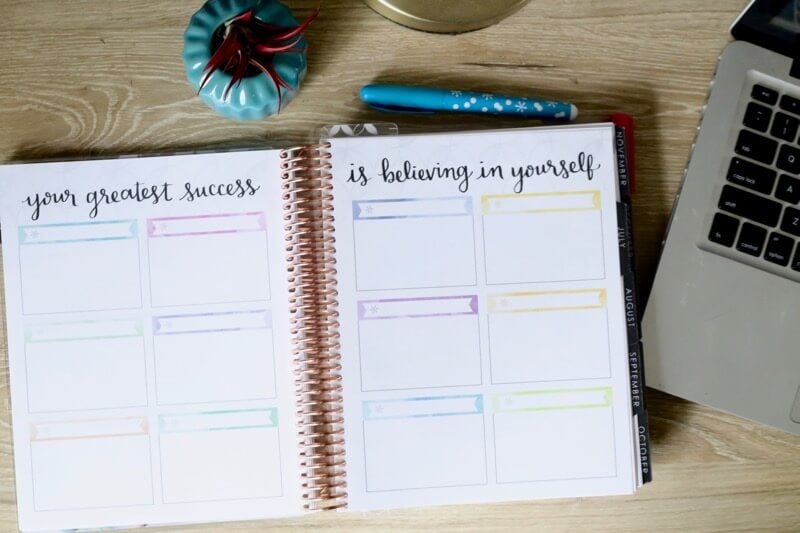 I've been hearing fabulous things about these planners for years, but I hadn't ever gotten around to giving them a shot. I'm so grateful to Erin Condren for reaching out and giving me the opportunity to try one, because I'm hooked!
Have you ever tried an Erin Condren planner before? What's your favorite brand of planner?!
Disclaimer: I received an Erin Condren Life Planner to review for this post but was not compensated in any other way. All incredibly enthusiastic opinions are 100% mine and you know I'd never lead y'all astray. These planners are awesome – promise.