Do you sometimes feel like your living room is a little blah? Need some quick updates that won't break the bank? Here are 5 quick tips on how to decorate a living room on the cheap and without much effort!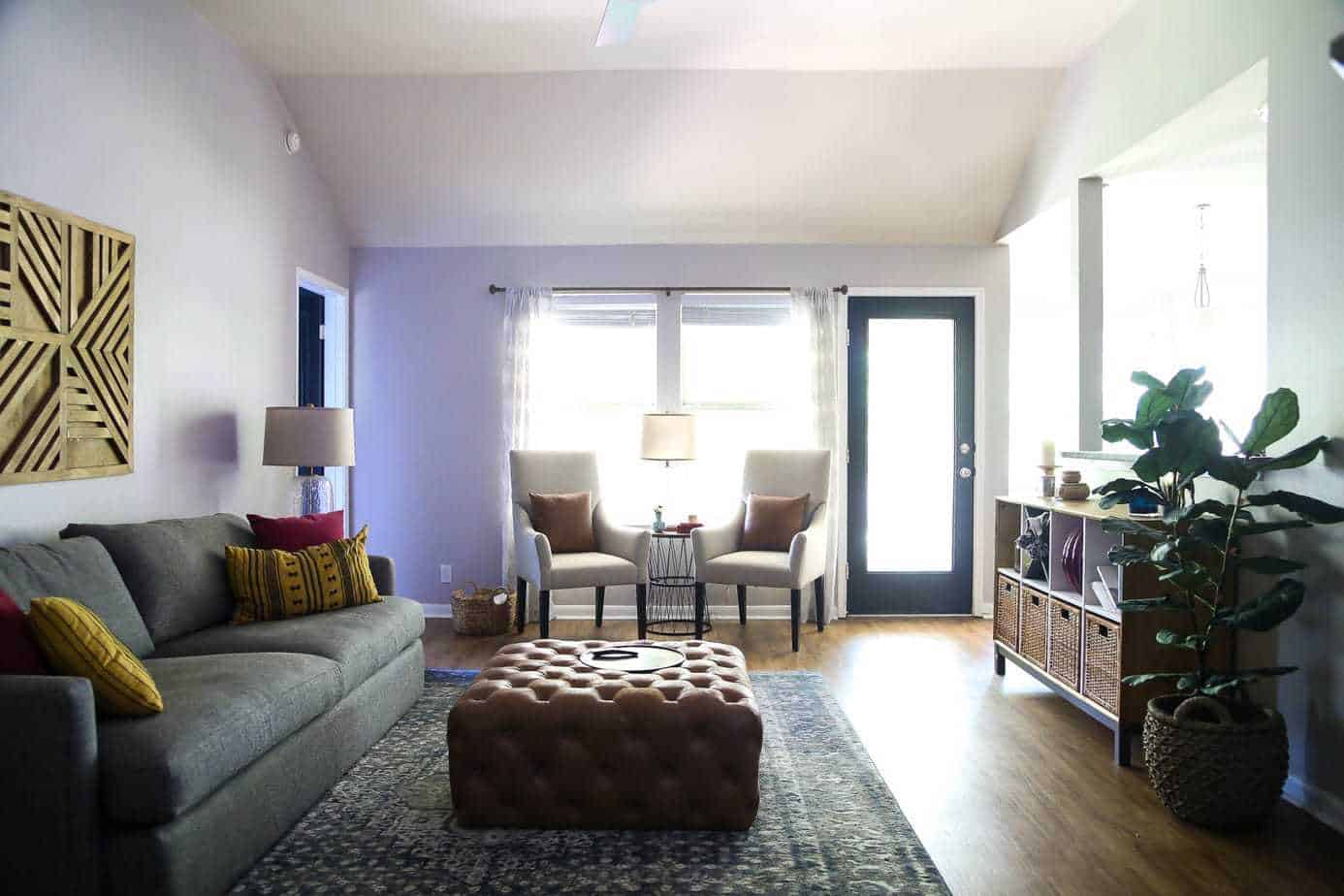 Sometimes I think I have decorating ADD. I get started on Jackson's room, and then I abandon that project to work on the dining room (because, deadlines!), but then I feel like I'm neglecting our room (which we swore we'd finish first), and the poor backyard hasn't been mowed in weeks. Oh, and in the midst of it all, I decide I want to make some changes in the living room because, after all, it's the room we spend the most time in.
It's exhausting, really.
But, sometimes you've just gotta embrace your whims (especially since I have to admit there are probably some nesting urges at work here!) and roll with it. So, this week I made a few quick changes to the living room that I want to share. I've been working on making our living room feel a little more put together, so I'm sharing my top five tips for making things look a little less crazy in a hurry for those times when you're working on 12 different projects at once.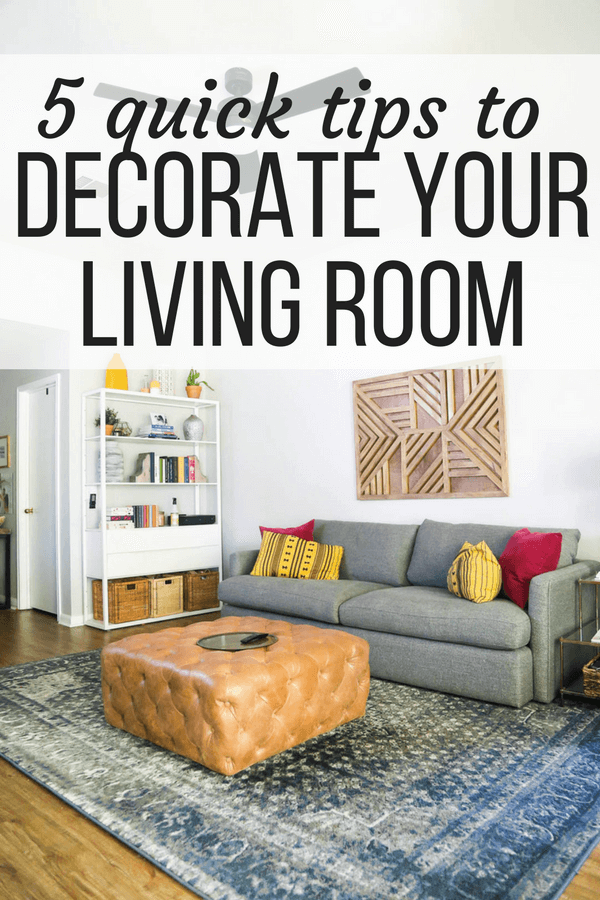 Wayfair sent us products to review for this post, and this post also contains affiliate links.
Click here to read my full disclosure policy. 
How to Decorate a Living Room: 5 Quick Changes
Change your light fixture. I think light fixtures are often one of the easiest, most overlooked changes that you can make to a home. People rarely pay serious attention to the lighting in their house, and that's a huge mistake! We recently (finally) switched out the fan in the living room for something a little more low-profile, and I can't even begin to tell you the difference it makes in how the whole room feels. Wayfair was kind enough to send us this Wade Logan fan, and we're head over heels in love with it. We're still on the fence about if this fan will live in here full time or not (we'd love to go without a fan, but we haven't lived a Texas summer in this house yet, so we're going to wait until the fall to decide if we can skip it). But, for under $200 and a half-hour to switch the fans out, you can have an entirely new look in your living room – and it makes all the difference. If we do decide to move it, this fan will move into our bedroom and we'll get something that doesn't spin to go in the living room.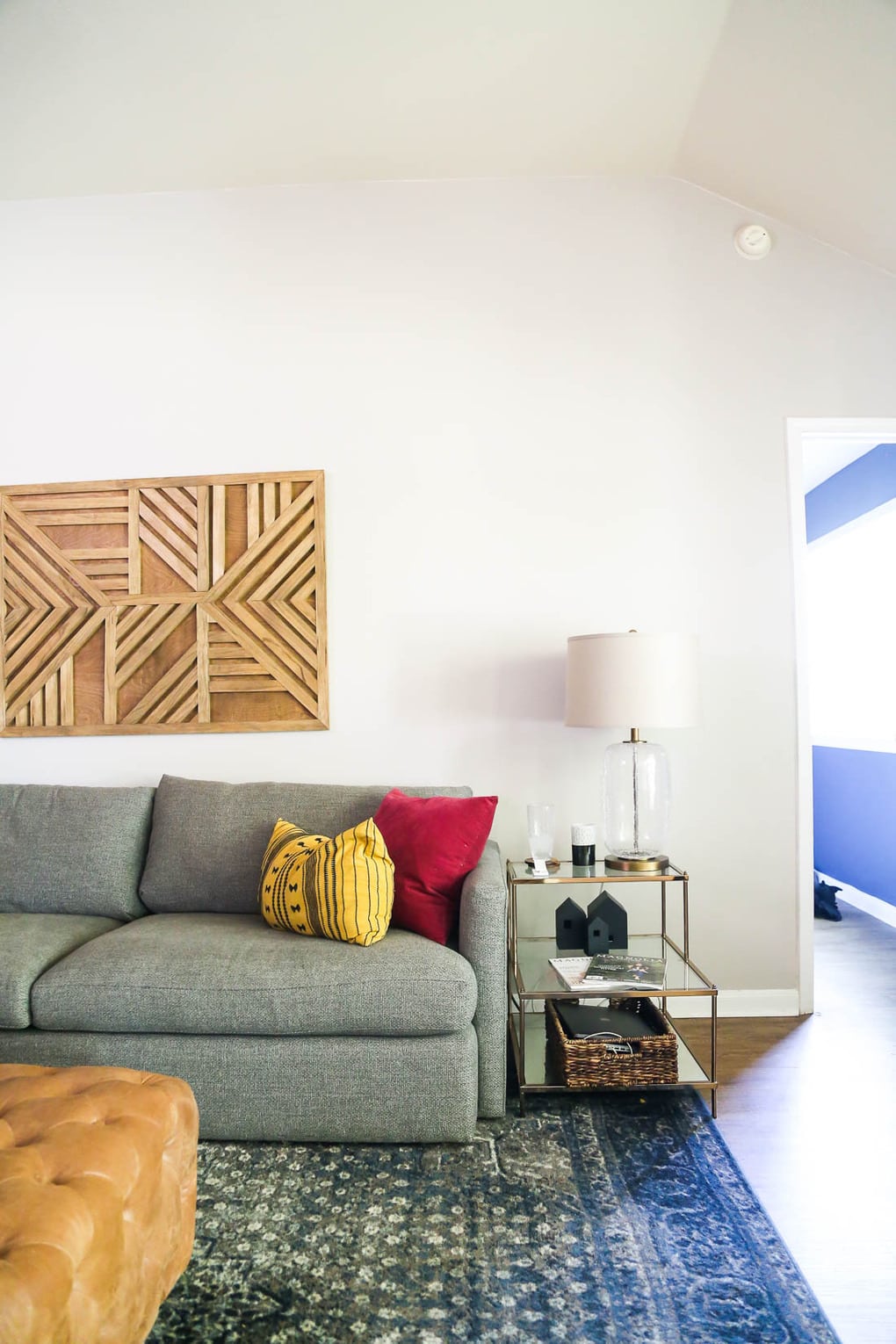 Make sure your furniture is appropriately-sized. One problem we've always had with the furniture in our living room (both here and in the old house) was finding beautiful, appropriately-sized side tables. We like a big, comfy, chunky sofa and that means that some side tables can end up looking a little dinky sitting next to it. Wayfair kindly provided this brass and glass side table for us to try out, and we're so pleased with the change. It's way bigger than the tiny round table that used to be here and contrary to what you might think, in a tiny living room it actually helps to have furniture that isn't too small. A tiny table can trick the eye into thinking there's less space (because you only have room for that itty bitty thing), but the right size table feels much more natural in the room and actually makes it feel a little larger! My favorite thing about this table is that it has three tiers – it means I can plop the essentials (a lamp and some coasters for drinks) on the top tier and still have room on the bottom two for decorations. Right now we've got a basket at the bottom to store our laptops and cords, but I'm not in love with how messy it gets on a day-to-day basis so that may change eventually.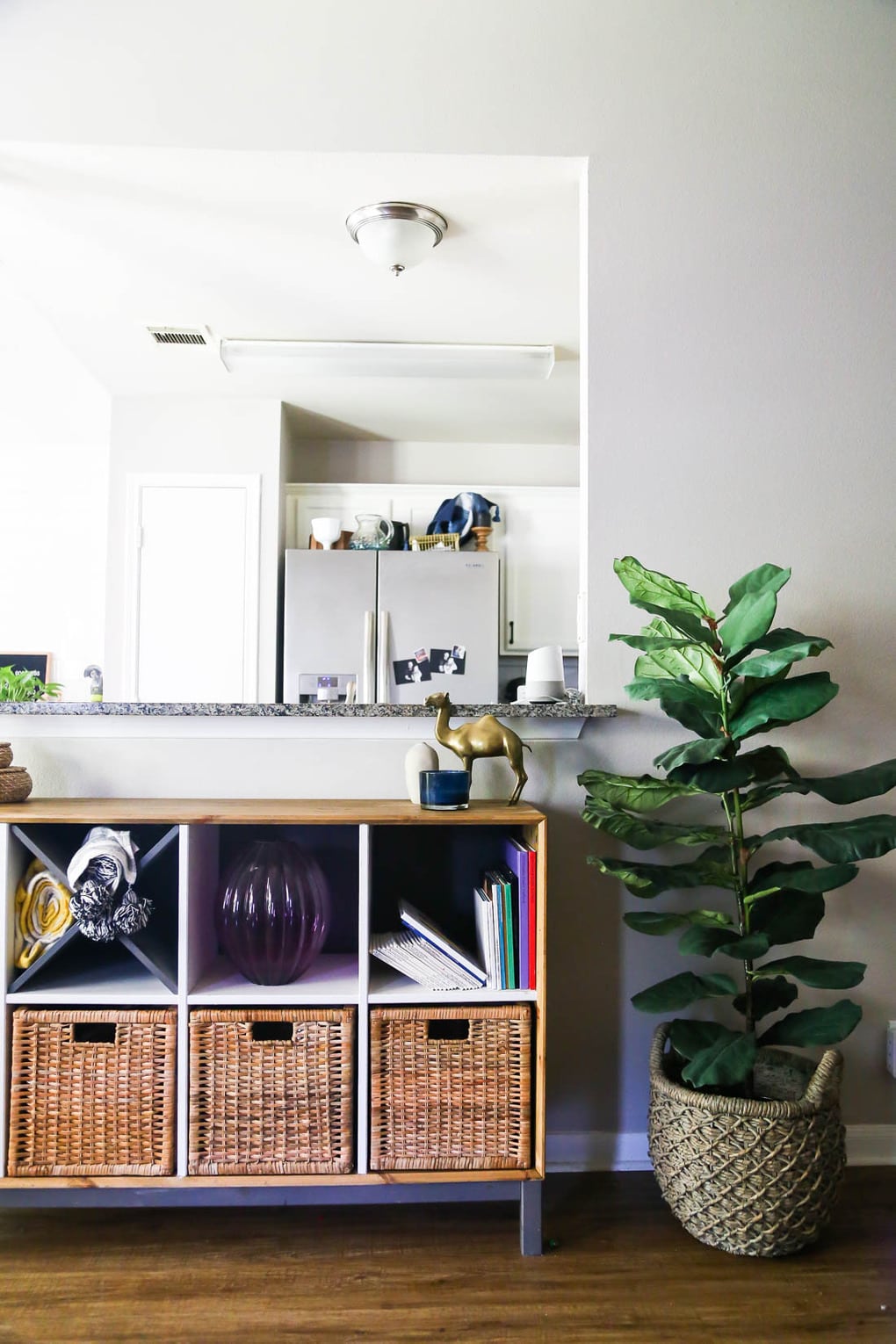 Add a big faux plant. If you haven't learned how much of a difference a good faux plant will make in your room, I'm telling you that you must go get one right now. We recently snagged this faux fiddle leaf fig and I'm so in love with it I don't even know where to begin. I want to buy 10 more for around the house. You can, obviously, go with a real large-scale plant in your living room as well, but I'm a big advocate of the fake kind if only because it makes life just a little bit easier. If you have a spot in your living room that's looking a little bare or if you're just looking for a way to spruce things up a little, just trust me and get a fake plant. You won't regret it!
Make sure you have enough seating. One thing we struggled with in our small living room when we first moved into this house was that there wasn't nearly enough seating. We had our sofa (which we love), but it only seats three, four if you like each other, and that's not a great setup if you want to actually entertain. Once we added in a little seating nook on the other side of the room, it really felt like everything began to come together. If you're feeling like things are "off" in your living room, I'd suggest doing a quick audit to see what your seating situation is like. Can you comfortably seat the number of people you have in your family, plus a few guests? Do you have a weird, empty spot in your room that might benefit from some additional seating? If so, you might want to consider adding a bench or a few chairs to your room. If you want some great options for gorgeous (but not too expensive) recliners, just check out this post!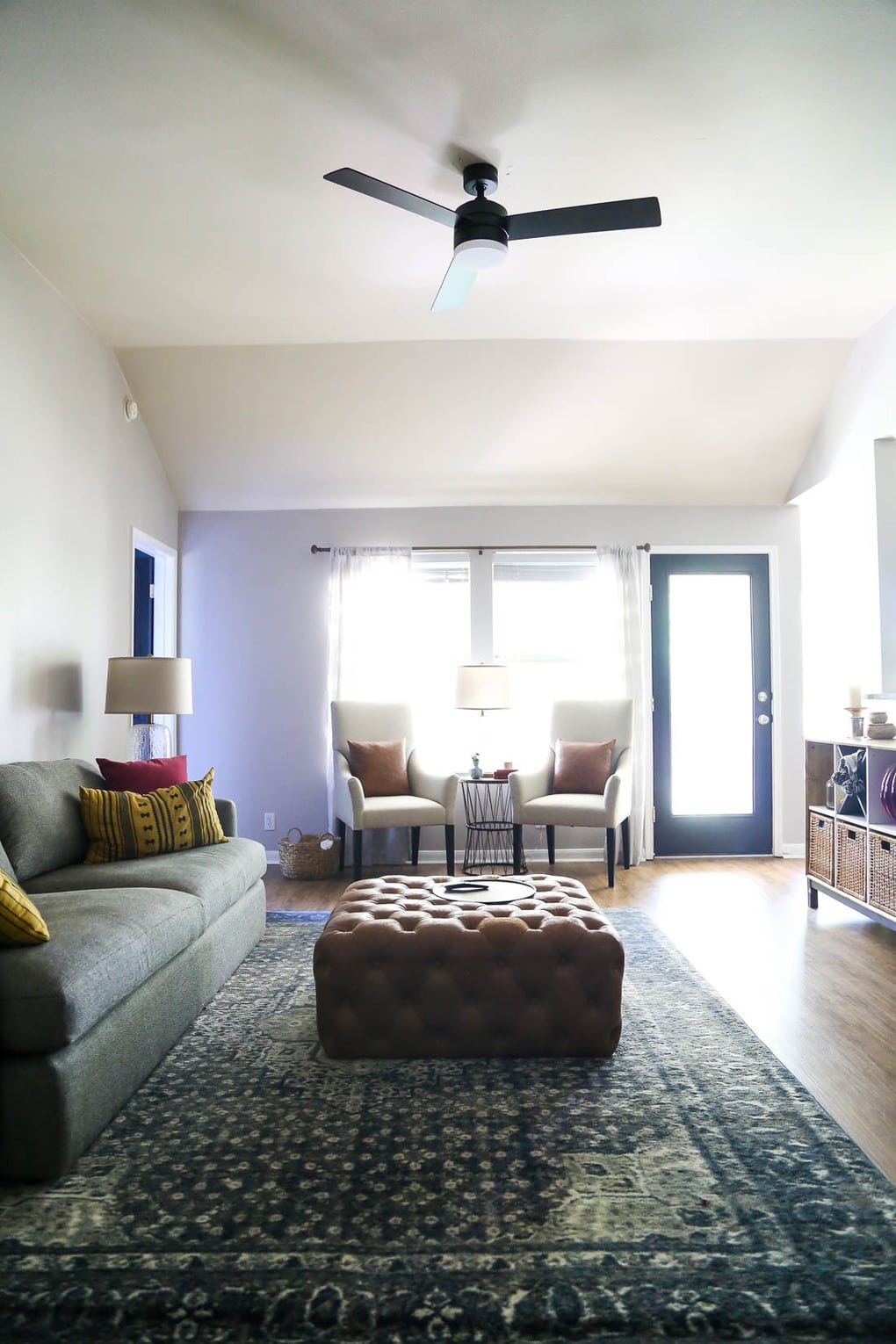 Find a showstopping rug (but don't spend a fortune!). My last tip for how to decorate a living room is to make sure you have an appropriately-sized rug in the room that makes your soul sing. Our dark blue rug is super plush, doesn't show dirt, and I really think it kind of makes the room. We have a lot of neutral stuff happening throughout this space, and that giant pop of color makes a huge difference in how the whole room feels.
I still have lots of things on my to-do list for this space, so it's far from done, but I've gotta tell you that the new light fixture alone is making things feel way better for me!
Living Room Sources
If you see anything you love in this post, here's a quick roundup of all of the items in our living room (some are similar to what you see if I can't find an exact link). Please let me know if there's anything I've missed!