You know how we all have (at least) one space in our homes that is a complete and utter disaster at all times? It's never organized, you dread getting anything from it, and you're convinced there's absolutely no hope.
You have a few of those, right? Me too.
We discussed one of these spaces in my house a few months ago and it's time to talk about another.
I basically have a never-ending supply of insanely unorganized spaces, despite my KonMari-lovin' spirit. I do a pretty good job of keeping our possessions to a minimum for the most part, but small places that are intended to store a lot of different things are my kryptonite. Linen closets, hallway closets, dresser drawers, junk drawers…
Yeah, about the junk drawer.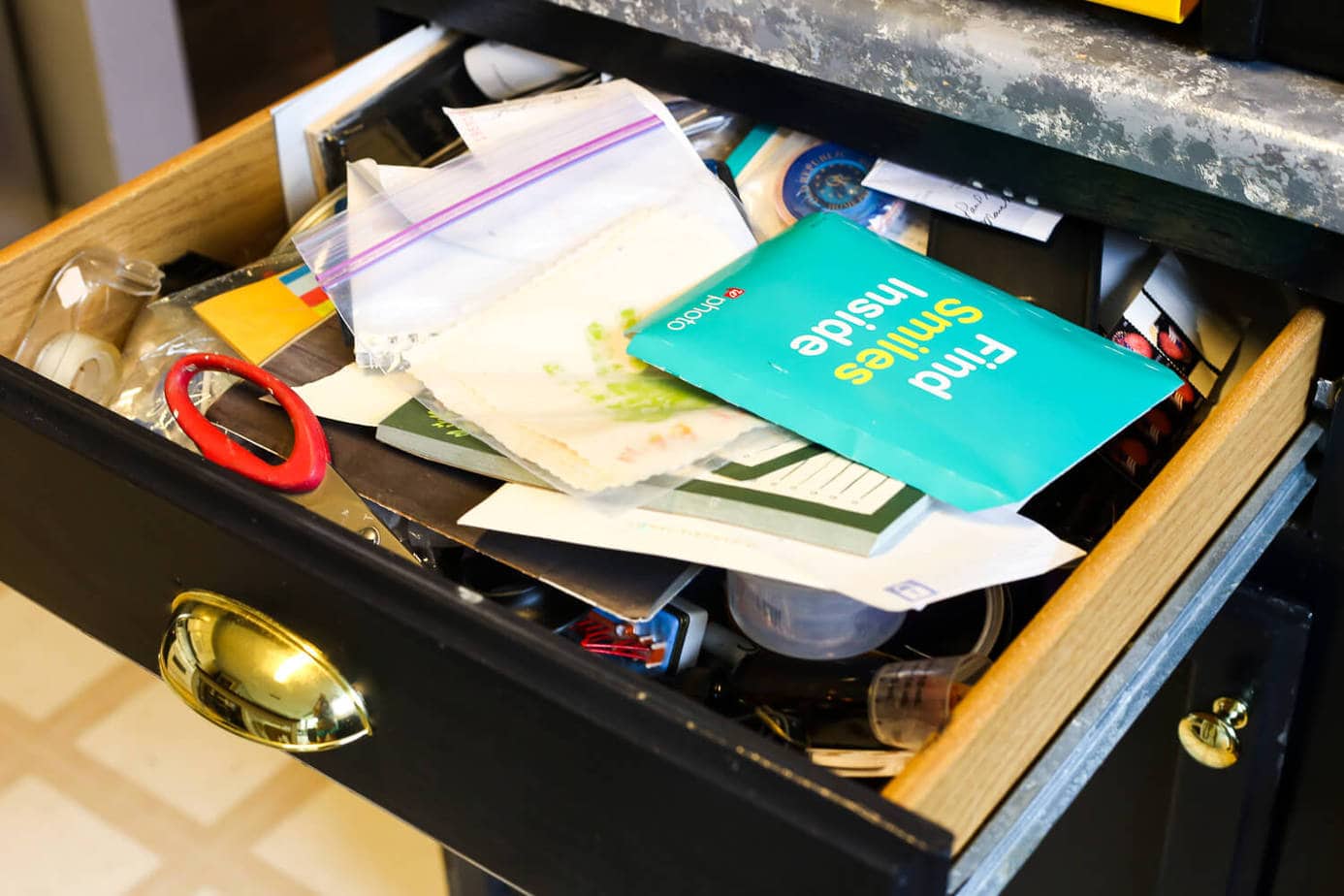 Cute, right?
This drawer was so bad we could barely open it. I kept adding things to it until it reached a point where you couldn't find anything and for all I knew there could have been a diamond ring buried in here and I never would have known the difference.
Wouldn't that have been a fun discovery?
Well, I got it organized. No diamond ring. But it looks a lot better!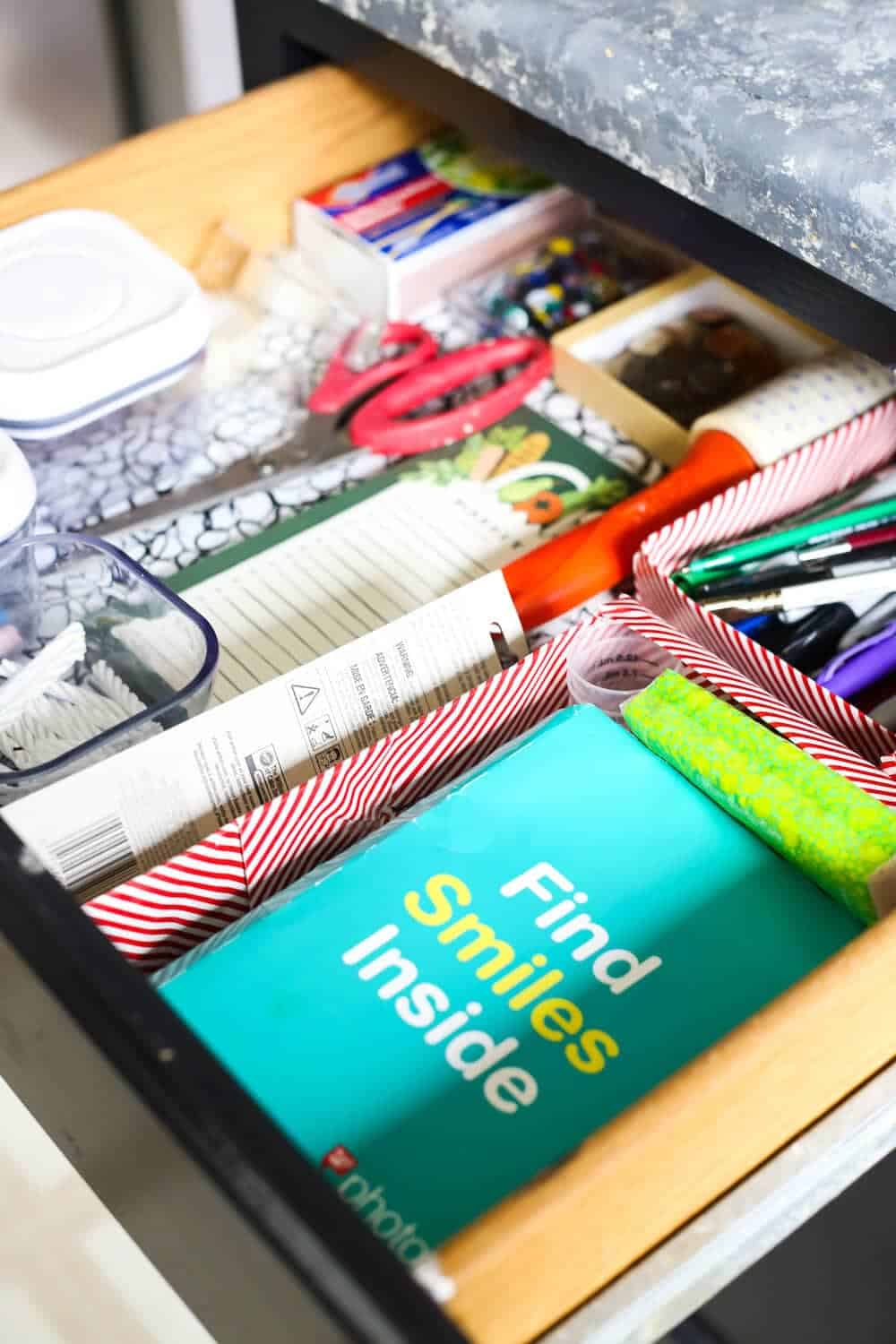 The kicker is that I got all of this organized goodness without spending a single cent. When I'm trying to organize things like this, I find that my first instinct is to run out and buy something pretty to put everything in. It's fun, but it's not really the most practical option, especially when you've got empty popcorn boxes sitting in your pantry just waiting to be turned into an even better, totally custom solution.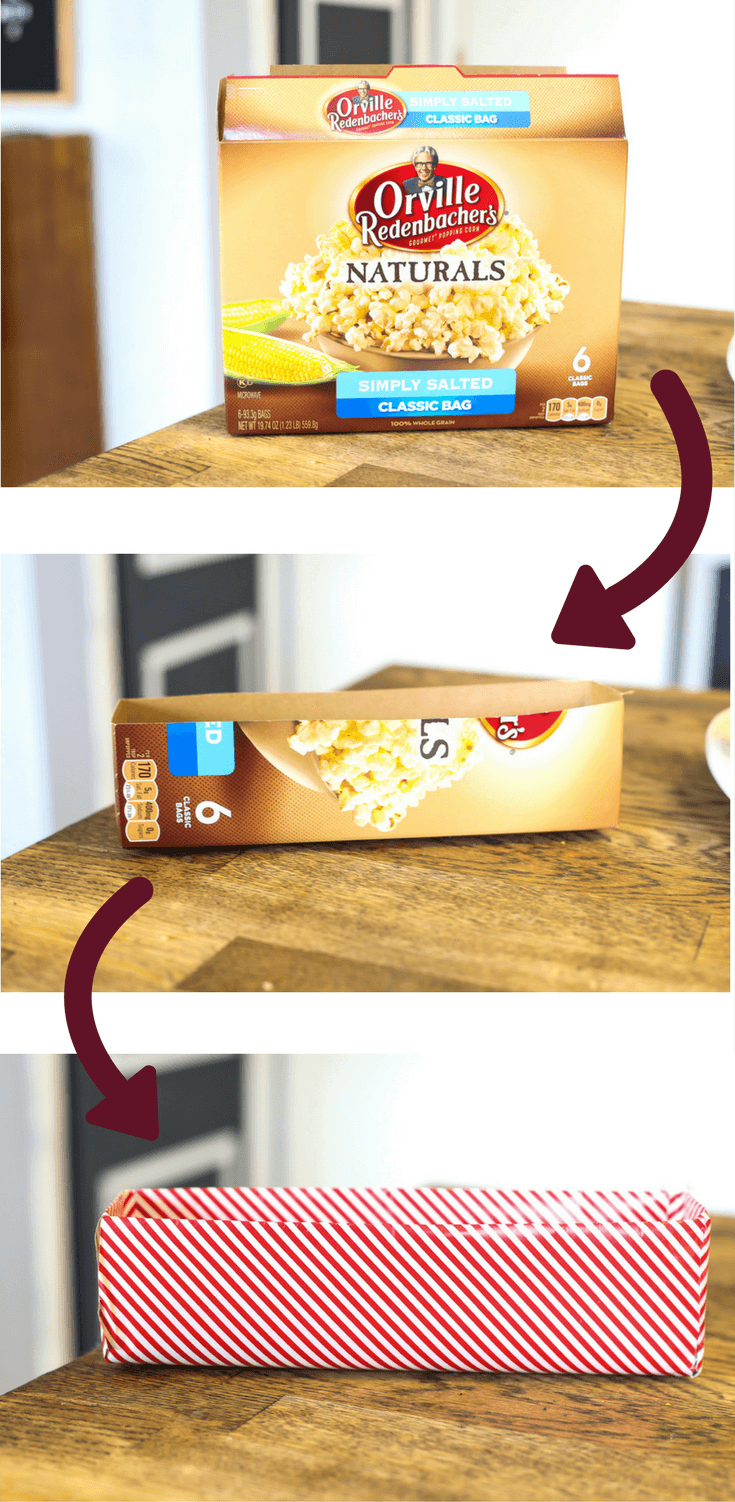 I made three different little boxes to organize everything in this little drawer with old food boxes we had hanging out. A little wrapping paper goes a long way, right?!
Once I had a few boxes ready to go, my next step was to empty absolutely everything out of the drawer. I pulled it out and set it on the counter and just went to town. I'm sure you'll be shocked to know that at least a quarter of the things in there were trash. Another quarter of it was stuff that had a home elsewhere. So, when all was said and done I was dealing with about half the amount of stuff, and I had pretty little boxes to make sure it all stayed organized.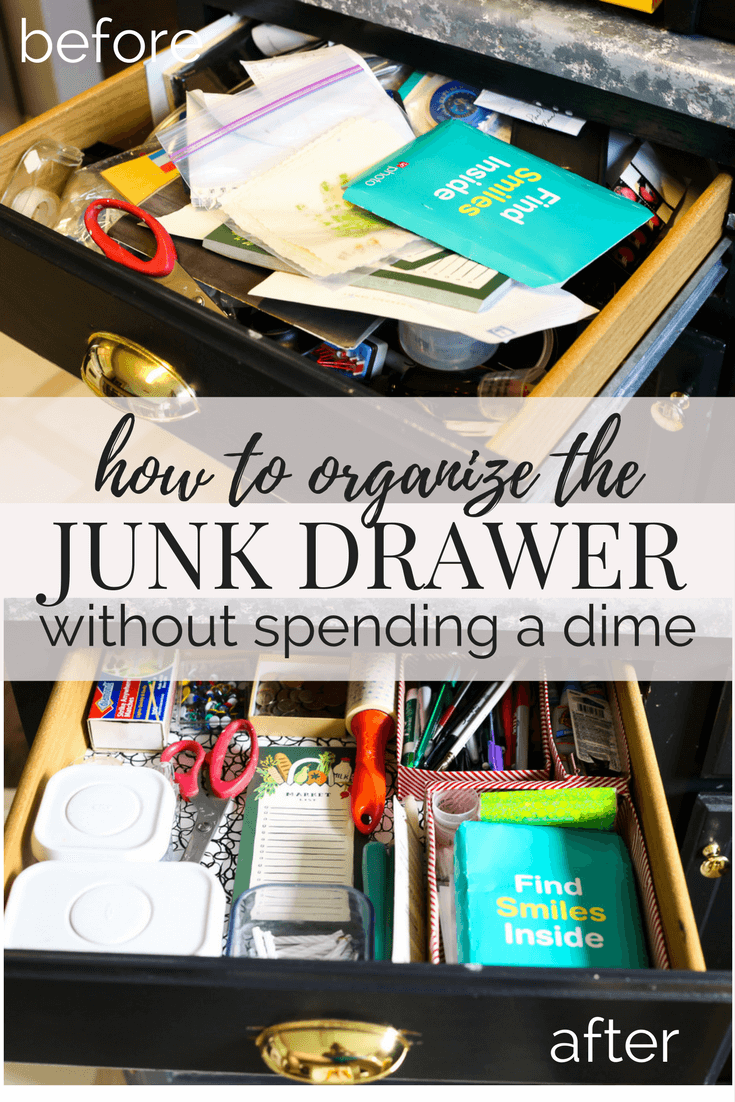 I know it's not the most exciting or revolutionary project out there, but you and I both know that having an organized junk drawer is pretty dang life-changing. Now, when I need a battery I can just open the drawer and grab one. No more searching through trash and pens, poking myself with the scissors, and throwing half of the contents of the drawer before I finally start yelling in frustration, give up, and go to the store to buy new batteries.
What? You know you've been there.
Anytime I tackle an organization project like this, there's always something that surprises me. This time, it was the fact that we have approximately 7.2 million birthday candles. Who needs that many candles? When did I buy these? Why didn't I use them? How did they get there?
Oh, and we also had enough spare change in there to buy a new car, so…yeah. There's that.
I'm pretty thrilled to finally whip this drawer into shape, and I'm keeping my fingers crossed I can keep it that way. It was a fun surprise for Corey when he got home from work and saw that I had done it – he's slightly less excited than I am, but I'm sure he'll see the light soon.
I've still got several spaces that are equally ridiculous in my home that need to be organized, but I'm feeling pretty good about getting this one under control. At some point soon I'm hoping to work on the guest room – since Corey's dad moved out it has slowly turned into a dumping ground for things I don't want to deal with and you can barely open the door now without causing an avalanche. Good thing we don't have a lot of overnight guests?
What is the most unorganized space in your home? Anyone else have a ridiculous junk drawer?