5 Painting Mistakes You Might Be Making
Painting can be overwhelming. Here are some quick painting tips to help make painting your next room even easier. Read on to learn the 5 painting mistakes you might be making.
I've painted a whooooole lotta rooms over the years.
When we moved into our first home, all of the walls were painted a rather, um, interesting shade of mauve. We painted most of the house before we even moved in (which, continue reading to see why I don't recommend that!).
In our second home, it was a similar song and dance. We didn't like the paint color on all of the walls, they were dirty and stained, and so by the time we moved out we had painted almost every single wall in the entire house!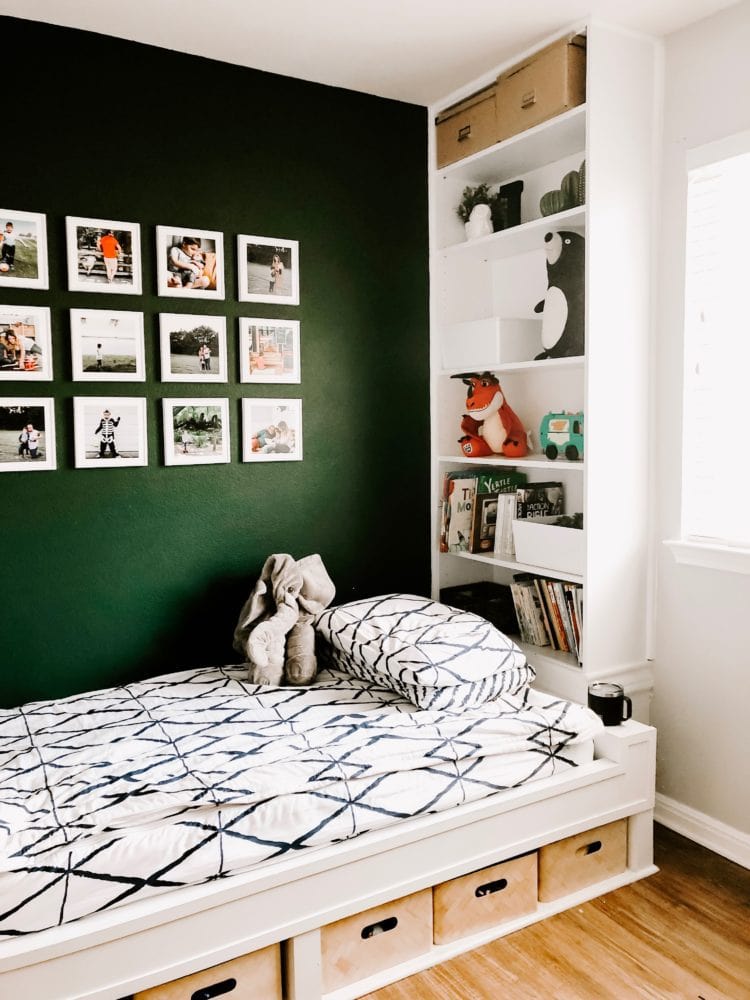 Many times when I talk to friends or other people who are interested in DIY but are still feeling a little overwhelmed, they cite painting rooms as one of the most overwhelming things to do.
What if I make a mistake?
What if I hate the color?
I just don't know what to do!
Well, never fear. I'm here to lay out the 5 most common mistakes people make when painting rooms, and I'm going to tell you exactly how to avoid them. Settle in and get excited, 'cause it's gonna be a day full of learning!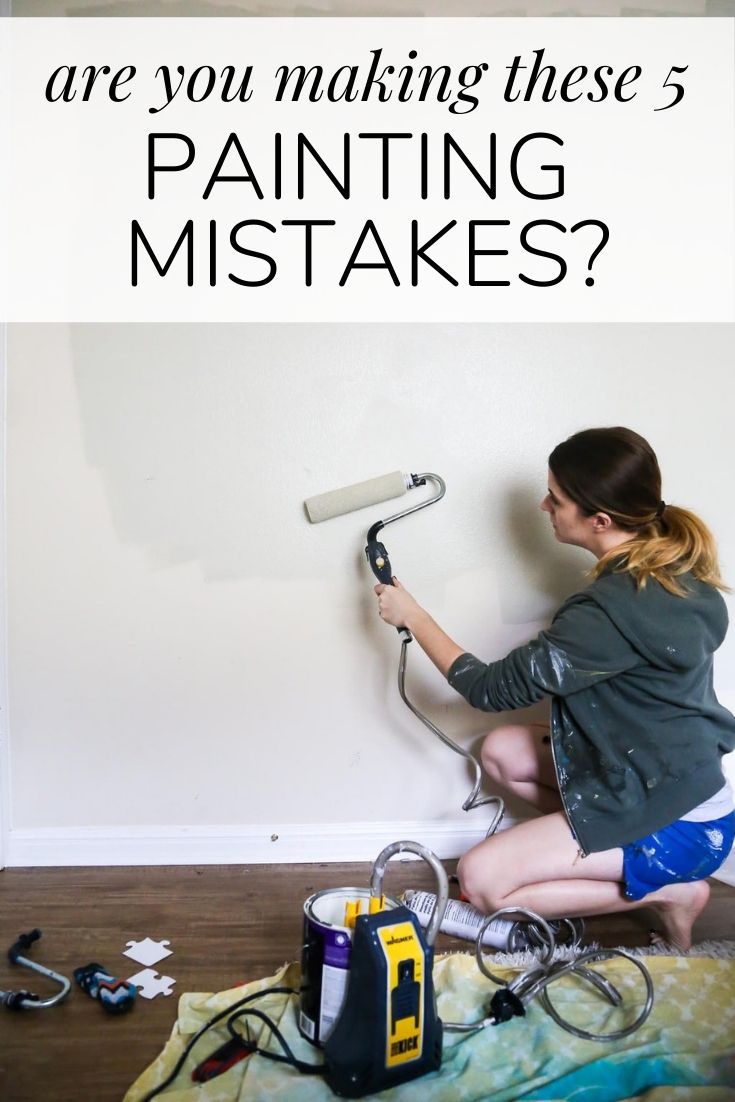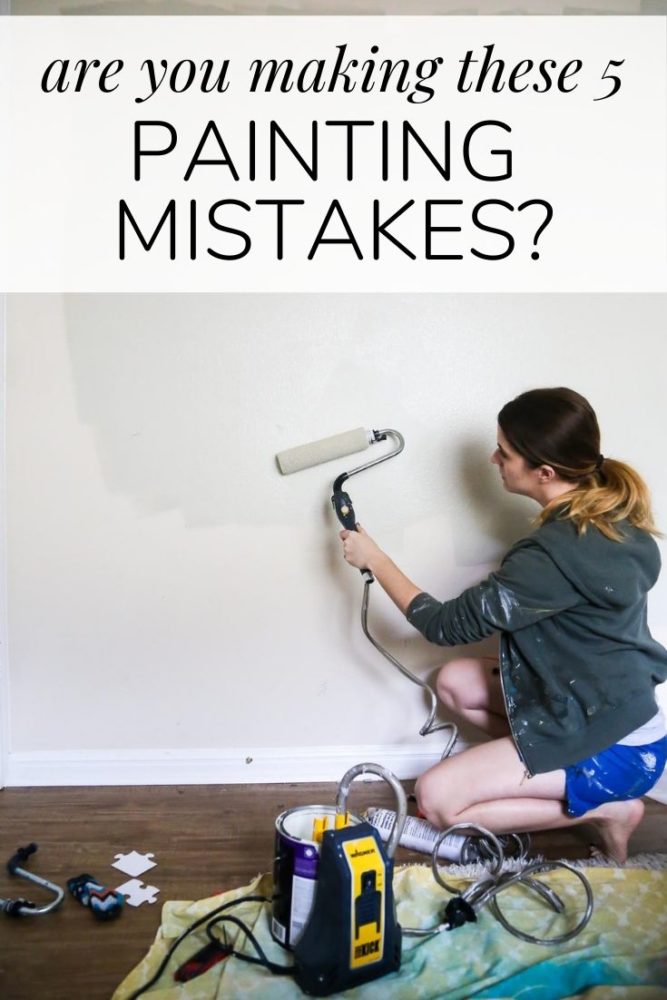 This post contains affiliate links. Click here to read my full disclosure policy.
MISTAKE #1: Not choosing the right paint color.
When you're eager to get started on a room, it's tempting to just pick a pretty swatch from the paint store and call it a day. Don't do that! You may love how a color looks on a piece of paper in the store, but when you get home and actually put the paint on your walls it may look completely different. My favorite example of this is the time that my parents decided to paint their dining room without testing the colors first – they chose what they thought would be a pretty, deep burgundy color…they got home, painted the room, and realized they had ended up with what was a lot closer to Pepto Bismol pink. It's a pretty extreme example, but it happens!
The lighting in your room can play with a color way more than you'd ever guess, and it's vital to bring a color home and try it out before you make any decisions. Thankfully, it only costs about $3 or so to get a sample pot of whatever paint color you'd like at your paint or hardware store, and it will save you a lot of time and money in the long run. I like to grab at least three or four different colors, bring them home, and paint about a 1-foot by 1-foot square on every wall in the room. Why every wall? Because the light is going to hit each wall of your room at different angles and with different intensity, and you may love the color on one side of the room and hate it on the other. Paint your samples and live with them in the room for at least 24 hours or so before you choose your favorite – you want to see how it looks in multiple different lighting situations before you decide, because early morning light may make the color look significantly different than late afternoon light does.
Once you've lived with the colors for a while, then you can make your decision. You may not love any of the colors you choose the first time around – that's okay! It takes time to learn how to choose the right colors to test, and for this room, we tested more than 10 colors before we were satisfied. Take your time choosing, think it through, and be sure you love it before you get to painting.
Bonus tip: I used to pick a paint color as one of the very first things in a room makeover. I've since learned that this is a great way to paint (hah!) yourself into a corner and end up with a room that frustrates you. Instead, center your design around a beloved piece like a rug or piece of artwork, and go from there. Your paint color should be one of the last things you choose, after the room has been fully fleshed out!
MISTAKE #2: Not stirring the paint before you get started.
I know it sounds silly, but I know a lot of people who have forgotten this little step and you're going to seriously regret it if you skip it. Even if you begin painting the minute you walk in the door from the hardware store, you're going to want to take a moment to stir up the paint before you get started. Yes, the store mixes it for you, but it may not be thoroughly mixed and if you don't take 30 seconds to do it yourself you may end up with a lighter color on the top of your walls and a darker color on the bottom! Just stir the dang paint, okay?
The paint store will usually give you a stir stick, but if they don't you can grab a scrap piece of wood to stir it up. I've even been known to sacrifice a pencil in desperate moments! My best tip, though, is to just grab a bunch – like this 200-pack for just $20. It'll mean you never have to worry about it again!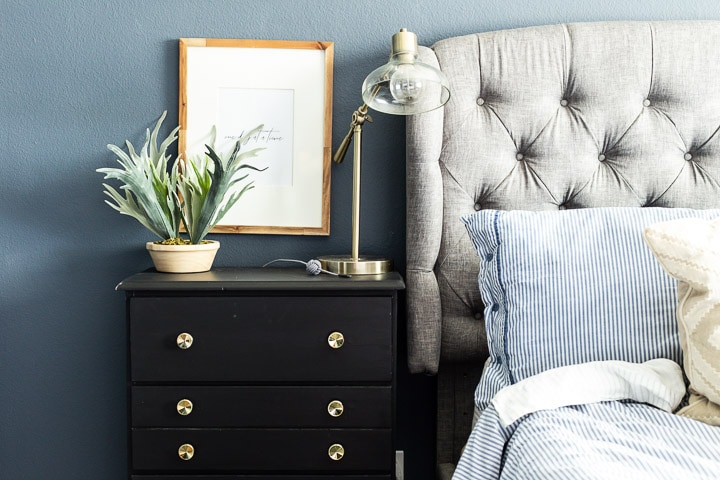 MISTAKE #3: Forgetting to prep the room beforehand.
I've been painting long enough that I'll admit I don't always lay down drop cloths or get too terribly anal about preparing a room before I get started. But if you're a rookie room painter, you're going to want to take a minute to at least lay down a drop cloth on the floor, cover up any precious furniture, and move things out of the way before you get started. Ten minutes of prep work can save you hours of cleaning later if you make a mistake – I'll never forget when my roommate in college spilled an entire gallon of paint on her bedroom floor in our apartment when she was trying to paint the room… it was not a fun job to get it cleaned up!
It has to get messier before it starts to look better. That's just the way it is, friends.
At a minimum, here's what I recommend for painting prep:
Move all furniture out of the way. Moving it out of the room is best, but you can just gather it in the center of the room if that's not an option.
Lay a drop cloth on the floor where you'll be painting. Remember that fabric drop cloths soak up paint, so if you have an actual spill they'll just seep through to the floor below. They're great for drips, but if you're worried about anything bigger, stick to the plastic drop cloths.
Tape off your baseboards, trim, and ceiling.
Wipe down your walls with a damp cloth to remove any dust, dirt, or cobwebs.
MISTAKE #4: Relying too much on painter's tape.
Painter's tape is a wonderful thing to use when you're new to painting and don't want to accidentally get paint on your ceilings – but I'll let you in on a secret: I almost never use it when I'm painting walls. It's my best friend when it comes to painting furniture or painting patterns on things, but I find that for painting rooms it often just makes me lazy.
You see, painter's tape is not infallible. Paint often seeps through in little places here and there, and when you're relying solely on it to help your paint lines stay clean you're going to end up sorely disappointed.
So, what should you do? My best advice is to do a combination. Go ahead and tape off your baseboards and walls (especially if you have a shaky hand). But then, get a high quality, short-handled, angled paintbrush (this one is my favorite) and move with a ton of patience and a steady hand. Pretend as if you're freehanding it, and do your best not to get any paint on the tape.
That way, the tape can act as a failsafe for you if you do make a mistake, but you should never just go wild with the brush and trust the tape to handle it.
Once you're done, pull the tape up right away. If you let the paint dry on the tape, you could end up pulling some up with it when you remove it!
Bonus tip: If you're painting an accent wall or stripes and are using painter's tape to divide colors on your wall, be sure to paint over the edge of the tape with your base color before applying the new color. This seals the tape and helps create a perfectly crisp line with no bleed-through!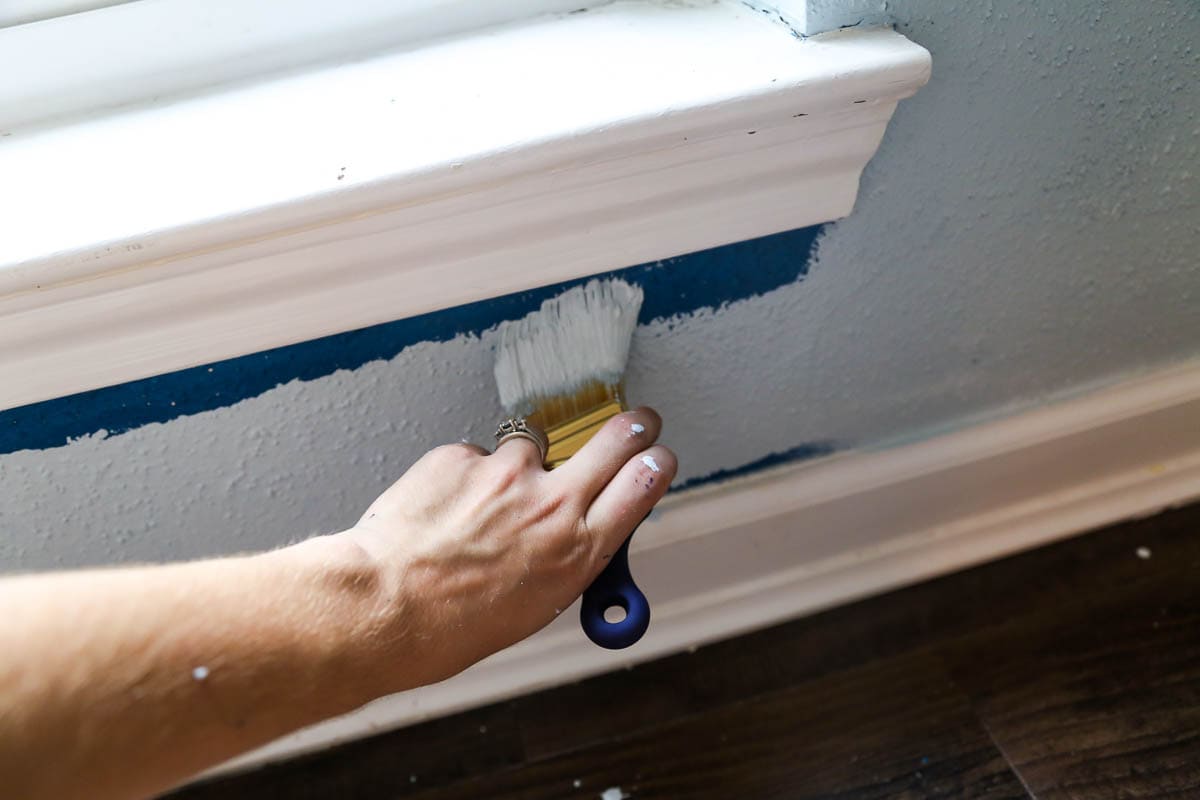 MISTAKE #5: Not taking care of your brushes.
Listen, I am absolute worst when it comes to keeping my brushes clean. Seriously – no one goes through more paintbrushes than me. But, over the years I've learned a few key tips and tricks to make it easier and at least slightly reduce the number of perfectly good brushes that I absolutely destroy.
My first trick? If you're going to be taking a break from painting for more than about 15 minutes or so, wrap your paintbrush and roller in a plastic bag and pop it in the refrigerator. It will prevent the paint from drying and ruining the brushes, and when you're ready to get back to work you can just grab them out and go straight to work. This even works if you're going to be stopping for the night and picking back up in the morning. I've left paintbrushes in the fridge and successfully continued to use them up to about 48 hours later, but that's really pushing it – this trick is really just mean for those times where you need to let your first coat dry for a few hours. If you're going to be stepping away for longer than 12 hours or so, your best bet is to thoroughly clean the brush and let it dry back out before using it again.
The easiest way to clean your brushes is with a good ol' hose in the backyard. There's no way around it – it's tedious, not fun, and annoying. But it's a great way to save some money (especially if you're using high-quality paintbrushes) and prevents you from needing to run to the store anytime you want to paint anything. Of course, there will be times when you accidentally leave a brush out too long and the paint dries out. Don't worry, though – it may not be ruined yet. I have a really simple trick for bringing paintbrushes back to life when they've been left out, and you may be surprised at how well it works.
When it comes to paint rollers, I find that they're generally not worth the effort it takes to clean them. In order to actually be used again, they have to be 100% clean of any traces of paint, and that's often more trouble than it's worth. When I'm feeling particularly budget-minded, I'll take the time to do it after I'm done painting, but most of the time I just toss 'em after I'm done and buy new ones next time I need to paint.
Finally, when it comes to the paint tray, the easiest way to clean it is actually to pour whatever paint is left back into the can and then let the remains dry out in the tray. Once it's totally dry, you can peel it right out – it's oddly satisfying, like the grown-up version of when you used to put Elmer's glue all over your hands in elementary school. You can also buy paint tray liners if you don't want to deal with it – they make a world of difference!
Favorite painting tools
Before I go, here's a quick list of all of my favorite painting tools. I'm pretty particular when it comes to what I use, so you know these are the best of the best!
Now that you know how to paint a room and all of the common pitfalls to avoid, you're ready to do it! Pull all of the furniture away from the walls, pick a good podcast to listen to, and get to work! I find it to actually be pretty relaxing, and I never really mind painting rooms.
Do you enjoy painting or do you dread it?