…remember a few weeks ago when I went against everything I knew I should do and painted our kitchen backsplash white using plain old white paint?
Well, I did it again. This time, I got all crazy and painted the tile on our fireplace. Because it was ugly and I didn't want to look at it anymore. Remember what it looked like?
And now?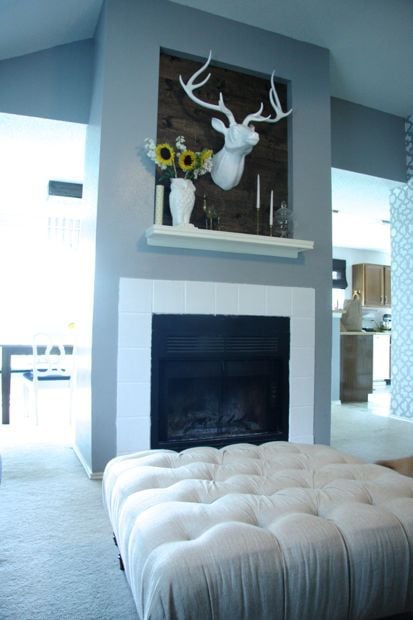 Ahhhh! So much better.
Once again, this probably isn't how I "should" have tackled this project, but it worked well enough on the backsplash that I figured I'd give it a go. There's no real tutorial on how to make this happen – I just painted it with a couple of coats of primer and a few coats of glossy white paint. And just like that, my fireplace tile went from dingy, peach, and clash-y to crisp, white, and gorgeous not quite as awful.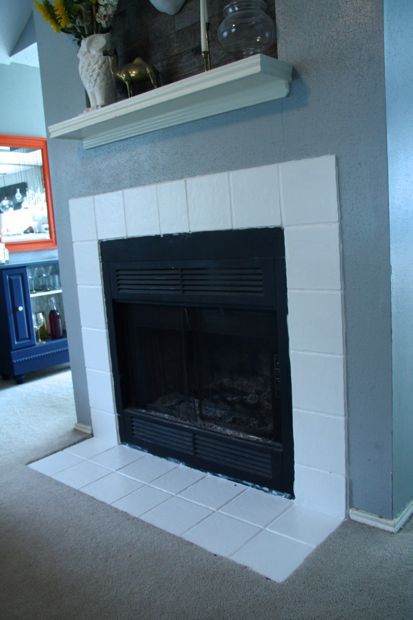 Now, I will say that, just like the backsplash, this is not a long term solution. In fact, this'll be a pretty short term solution – we plan on replacing all of the flooring downstairs by the end of the year, so the tiles on the floor will be replaced pretty soon. The ones on the fireplace itself may take a bit longer, but I'd like to tackle a fireplace makeover soonish so hopefully it won't be long before we can take care of those as well.
Oh, and I do realize there are some splotches of paint on the fireplace surround – oops! Luckily, I think it'll be pretty easy to scrape off, I just haven't had a chance to give it a go yet.
I'm pretty shocked at how big of a difference this (free) little upgrade made. I feel like the whole fireplace looks a lot crisper and brighter, and the whole room looks a little bit better. I'm definitely happy!
What small projects with a big impact have you done lately?