You know how there are those things in your house that are in no way pretty or fun to look at, but they're functional and kind of necessary so you deal with them? You know – things like toilets, trash cans, and televisions. Well, this is one of those things. I swore up and down for years that I'd never have one of these in my house. But I caved…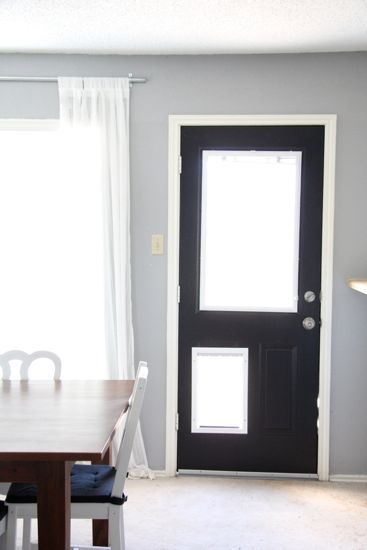 Yup, we got a doggy door.
If you'll remember, our back door used to look like this after we replaced our original door (which is the one that's BACK on now) with a door Corey's parents gave us. I loved all of the natural light, and it looked fabulous, but there was a small issue…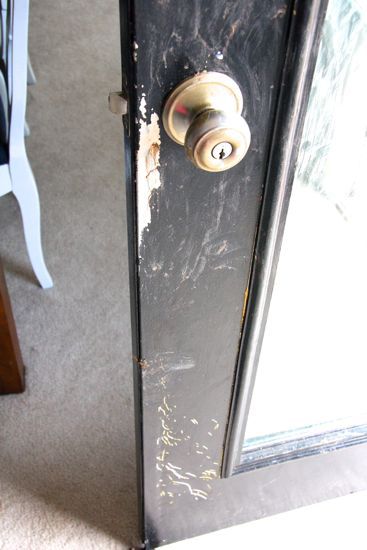 Our dogs had completely and totally destroyed the outside of it with their scratching. Honestly, it was my fault because I rushed through the job originally and didn't prepare the door properly, but in the end I just couldn't handle the scratches. I'd been dying to either fix the door or go back to the original one…and then we got Hadley.
You see, this dog loves to be outside. She's obsessed – which is weird for us, because neither of our other dogs are huge on hanging out in the backyard (especially Cullen, who would never go outside if he could help it). We weren't used to getting up and letting the dogs out as often as she was wanting to go outside and, lest you think we're just lazy, she was so bad that she would frequently ask to go outside less than a minute after coming in.
It was annoying, to say the least.
So, we finally broke down and decided to get a doggy door so that she can go in and out as she pleases. I hated the idea of ugly-ing up our dining room, but in the end, functionality won out.
I'll admit, I was surprised at how easy it was to install the door – I'd imagined it would be some huge ordeal, but all it took was an afternoon and we had a brand new (or, not at all new, but different-looking) door!
First – we tested out the size of the door to figure out how big of a hole we needed to cut, then Corey traced the door with a pencil and got to cutting.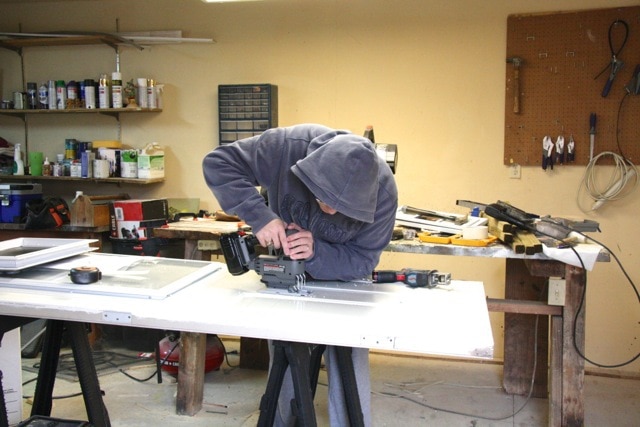 And soon? There was a giant hole in our door.
Not gonna lie – at this point, I was a little freaked out. There's something slightly disconcerting about having a hole in the door you're planning on hanging in the back of your house. But, I powered on and got ready to paint the door. We decided not to paint the outside of the door yet (though I'm sure we will in the future!), and we wanted the inside to be black again, since we loved the look on the other door.
This time, though, I took a few precautions and prepared the door a bit more than I had the last time.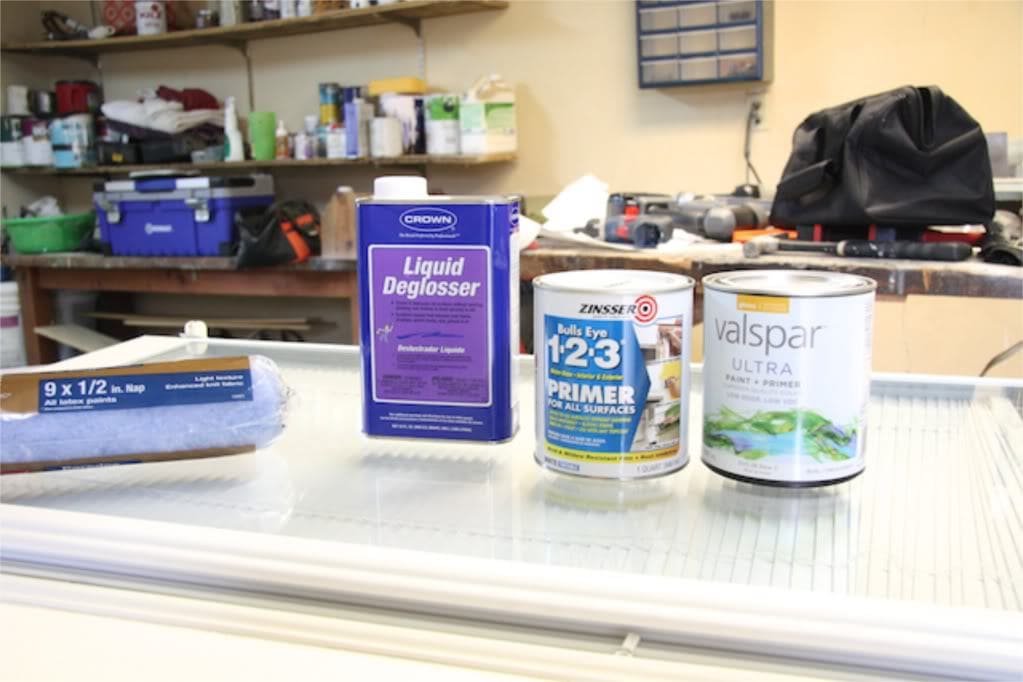 I used liquid deglosser to wipe the door down before I did anything – I didn't see much of a difference after doing this step, but I've heard it's what you're supposed to do, so I did it. The idea is that it cleans the door off really well, and it's supposed to cut down on some of the grime that can build up and help the paint stick better. I also primed it with Zinsser Bull's Eye primer, which is the only primer I will ever use.
A coat of primer and two coats of paint later, and we were good to go. Corey installed the doggy door (all there was to do was put both pieces in and add some screws – no problem!) and then installed the actual door.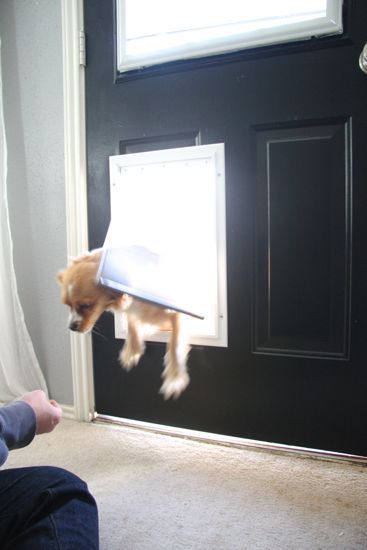 And just like that we had a new(ish) door with a doggy door that would hopefully make our lives a lot easier.
The dogs weren't so sure about the doggy door at first, but with a little coaxing and a ton of treats, they got the hang of it!
We've had the door in for a few weeks now, and the dogs absolutely love it. Cullen (of course) won't use it unless forced, but that surprised no one. Hadley and Ranger, though? They use it all the time, and Corey and I no longer have to argue over who has to go let the dogs out.
And, really? In the end, it doesn't look nearly as ugly as I thought it would.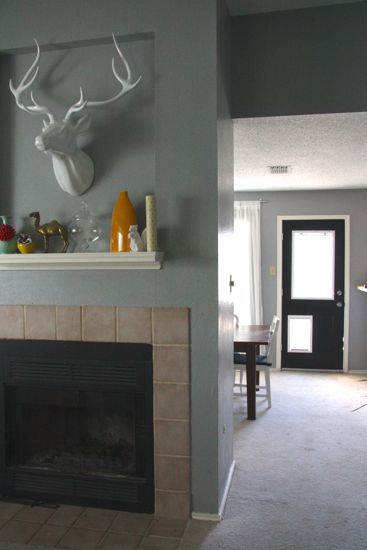 We still have a little work to do to the door – there's a weird glass enclosure over the window that has blinds built into it, and I hate the look of it – but I'm pleasantly surprised by how it turned out. And, really, even if it was super ugly, the added functionality is enough to make me completely and totally love it.
Have you ever done something in your home you swore you wouldn't? Anyone else have a doggy door and love it?