Let me tell you a little story:
About a month after Jackson was born, two years ago almost exactly, Corey and I did something a little, um, crazy.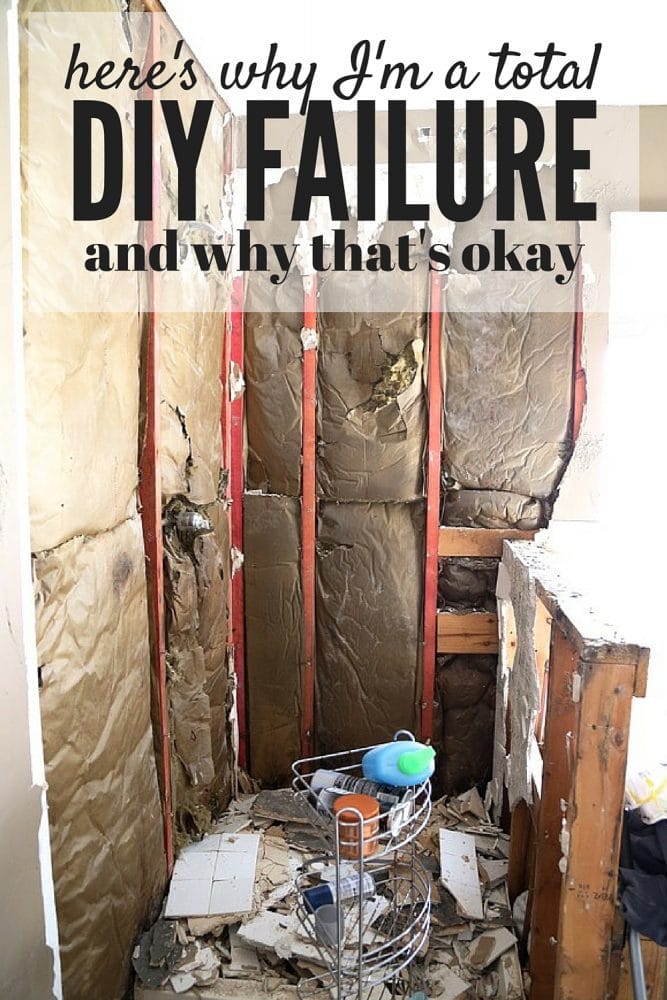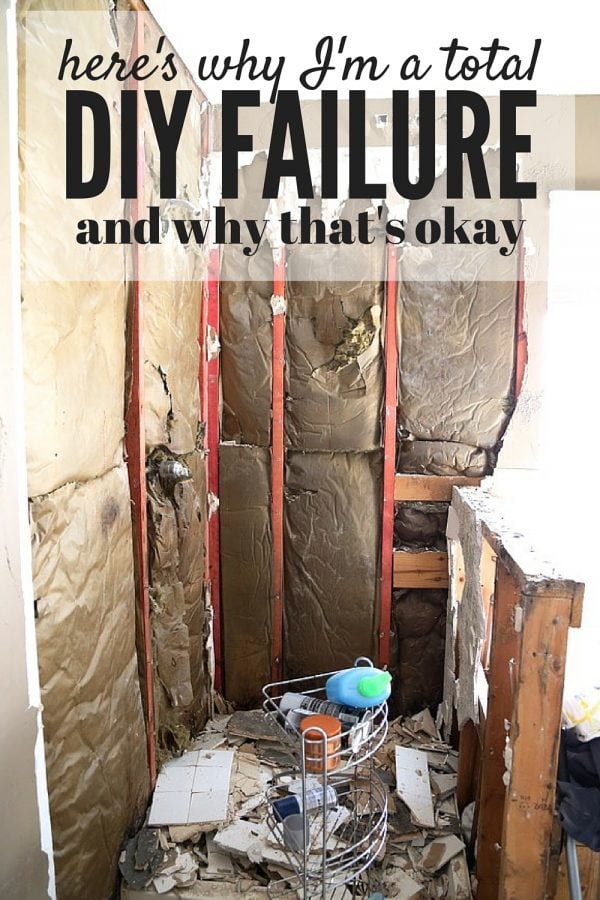 Our shower was having issues due to how it was constructed (they used drywall instead of concrete board), and it had caved in on us a couple of times. So, we ripped it up.
We had every intention of putting it back together over the following months. We figured we'd have a brand new bathroom by the end of summer at the latest.
Guess what?
We haven't touched it since.
No lie. It's been two years and my master bathroom is still in shambles. We have to take showers in the guest bathroom, and I'm reminded of our failure every single time I get ready in the mornings.
But wait! There's more!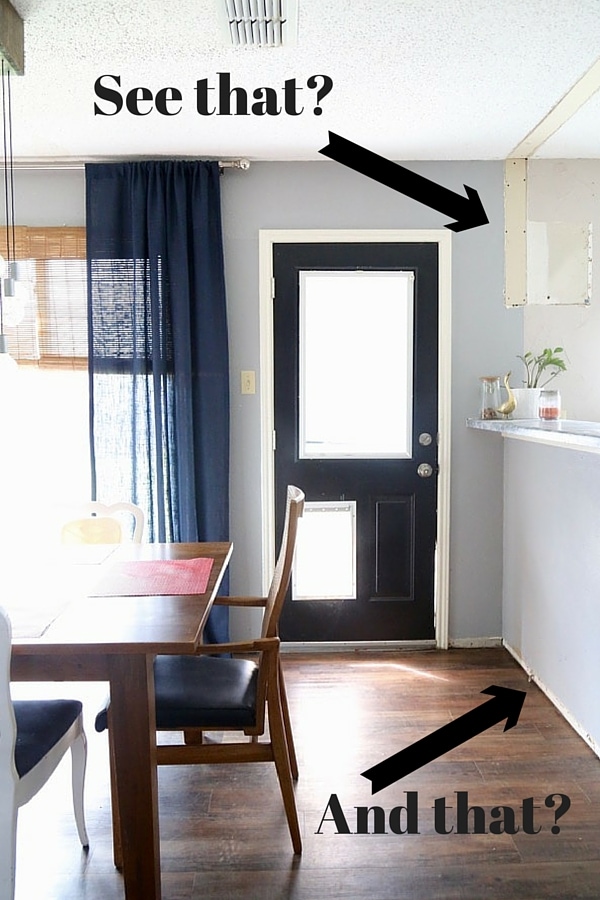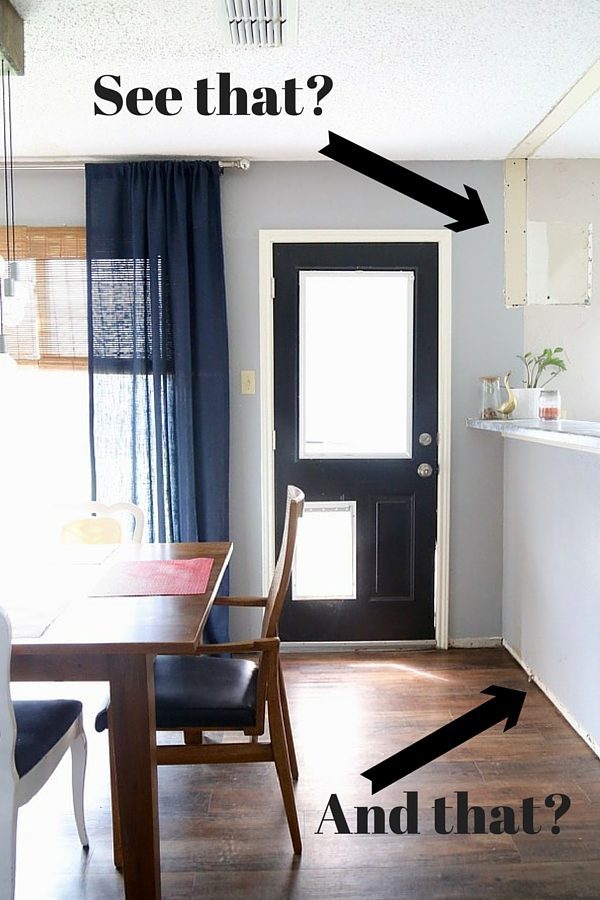 That spot on the wall and ceiling in our kitchen/dining room has been there since we pulled out the upper cabinets that used to be there. When we first moved into the house. FIVE YEARS AGO.
And the baseboards? Never replaced them after we installed the vinyl plank flooring in the dining room room and living room almost a year ago.
Failure, I tell you.
Now, I could keep going. These are just a few examples of the (many) areas in our home that are far (far!) from perfect. Areas that wouldn't take too much time or money to fix. Areas that need attention.
But sometimes? Other things come first. Things like playing with the dogs and family vacations and going for long walks to the park. Things like paying off debt and focusing on my writing and watching Blacklist.
Sometimes life just comes first.
And that's okay.
I'm reminded of the ways that we've failed every time that we look at these little spots in our home that are screaming for our attention. And one of these days, I'll get around to fixing them.
But for now, I'm putting my family, my finances, and my sanity first.
It can be so easy to look at all of the amazing magazines, home decor blogs, and inspiration on Pinterest and feel like your home could never look like those homes. But guess what? Every last one of those homes has some area that's begging for help. An area that makes that homeowner feel like a failure. I'd be willing to bet there's no exception to that – we all have our failures. We all have things that we wish we had the time or money to fix. And we all live with the imperfections and try to ignore them while they slowly drive us to insanity.
So today, I'm shouting my failures from the rooftops to remind you that you're not alone. We've all got 'em. Maybe your failures aren't in your home – maybe there are other ugly spots in your life that make you wince every time you think about them. Maybe it's your job, maybe it's something you said to your kids the other day, maybe it's your wardrobe.
You're not alone.
We're all faltering. We've all failed. It's okay.
The only thing that matters is that you don't let those little failures define you. If I allowed these unfinished spots in my home to stop me from decorating and loving my home as it is, I wouldn't have this amazing work space, this stunning photo display in my dining room, or this kitchen that makes me smile every time I see it. Instead of letting these problem areas define my home, I've created other, beautiful areas in my home so that you barely even notice the issues when you come in (except the bathroom…you can't ignore that). And one of these days, we'll get around to fixing the problems.
But for now? Life comes first.