For months now, I have absolutely detested the throw pillows on our couch.
I don't know why I had such an intense dislike for them, but I've been on a mission to get rid of all of the brown in our living room for a while now. It was still around from when Corey first moved up to College Station and decided that he wanted his entire apartment to be decorated in brown. Gag me.
I've gotten rid of most of it, but our living room was looking pretty ridiculous with the modern gray walls, punchy yellow accessories, and the ugly brown pillows. Ew, ew, ew.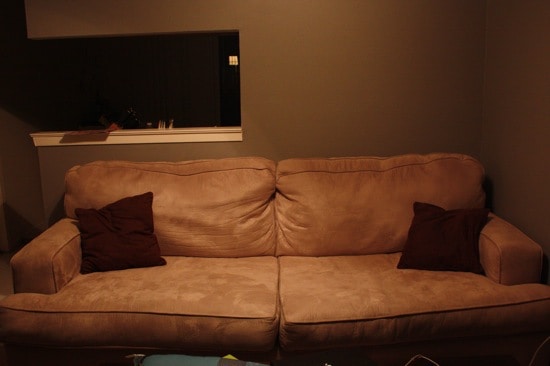 They were just not doing it for me, and they needed to GO.
But, have you ever experienced that phenomenon where you can find tons of cute things when you're not looking for them, but as soon as you start looking there is nothing? Yeah, I had that problem. I've been looking for so long for cute new throw pillows for forever, but I couldn't find anything I liked, and when I did it was $60. For ONE PILLOW. And I just refuse to do that. It goes against everything I believe in. So, the search continued.
In the end, Target is the store that came through for me. As usual. Well, actually, Target & Kohls. We spent one weekend searching around town, and soon enough we had a couch makeover that had me jumping up and down with delight (Seriously. I'm a bit excitable).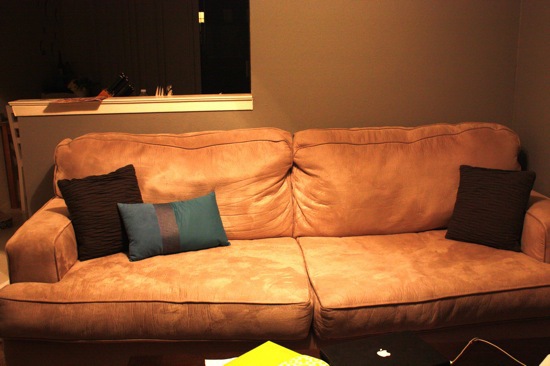 So. Much. Better. I know the lighting in the photo is awkward – I had to adjust the exposure so you could actually SEE the color of the pillows. I hate the lighting of our house. And, I should probably learn how to take better photos.
And guess what? Save for one side table lamp, I've eliminated all of the bachelor brown from our living room! Score! And I already know exactly what lamp I want to get to replace it – I just have to go get it!
Our house is starting to feel a lot more like a home as we continue to make it our own. I can't wait until we actually OWN the house we live in, so we can really customize it.
Do you have anything in your house that you're dying to get rid of?