Are you watching New Girl, aka the most hilarious show on television right now? If you're not, that's a problem you need to fix.
Corey and I have been obsessed with this show from the very beginning – I have a slight (okay, giant) girl crush on Zooey Deschanel and all of the guys in this show are absolutely hilarious. It's just one of those shows that makes me happy.
But that's not why I'm talking about it today. I'm talking about New Girl today because this past week while we were watching the show, I was suddenly struck by how absolutely amazing the apartment in this show is. It's the perfect mix of homey, stylish, and eclectic and I would kill to have a home decorated this beautifully.
Let's start in the living room.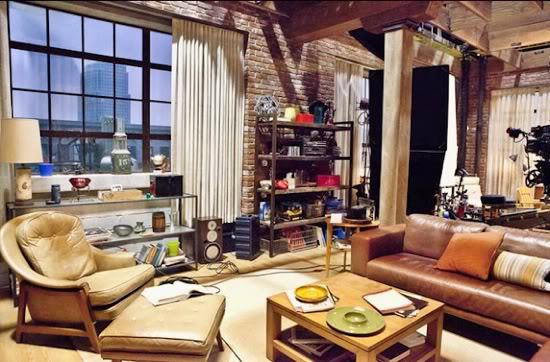 (Source)
Okay, first of all, I can't resist mentioning that window. And that view! Absolutely amazing. But if you can tear your eyes away from the amazing almost-floor-to-ceiling window for a second to look at everything else, you'll see where I'm coming from in my obsession with this apartment.
Where do I even start? The exposed brick walls are amazing, I am pretty sure I need to find an exact replica of the console table sitting in front of the window, and I love the giant, industrial bookcase on the back wall. I am really liking the neutral, earthy tones in this room because they really allow the architecture of the room to shine. Beautiful!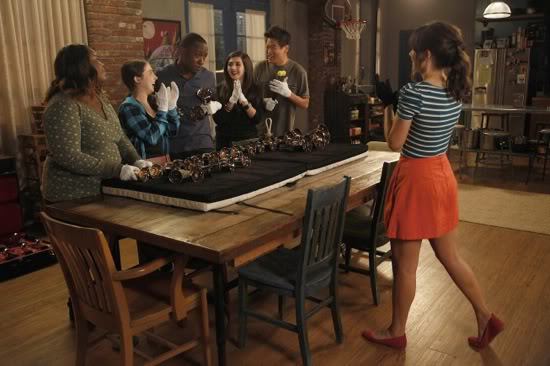 (Source)
Here we have the "formal" dining room. The table in this room is actually what made me want to pause my television just so I could look a little bit closer – it's what inspired this entire post. I love the wood-plank look of the table, and I love how the rustic table top is paired with super industrial iron legs. And, of course, I'm a sucker for mismatched chairs in the dining room, so you know that seeing this thrown-together look for the chairs makes me really happy. It's totally effortless looking and incredibly casual and comfortable, but it just looks so perfect together.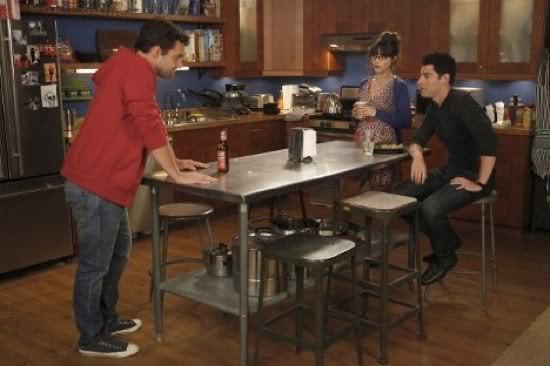 (Source)
Oh, the kitchen. The kitchen in this apartment (as it is in most shows and, really, in real life) is probably the room you see people gathered in the most. There are a lot of things in this kitchen that aren't really my style, like the pale wood cabinets and the purple on the walls, but then again there are a lot of things in this kitchen I'm totally drooling over.
For starters, that island. Ah-mazing. I love how they've put stools on both sides and how not one of them matches any of the others. It's the perfect place for people to hang out and chat and, again, the mis-matched (yet totally coordinated) look makes the room feel incredibly comfortable and home-y. I love the long and shallow open shelving on the back wall and I'm always a sucker for glass-front cabinets.
I'm also really digging the little touches in this room, like the diner-style napkin dispenser on the island. Whimsical, functional, and cute – it's like the trifecta of awesome!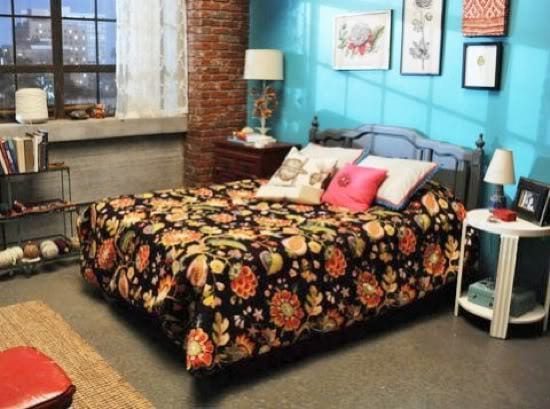 (Source)
And finally, Jess's room. There isn't a single thing in here I am not in love with. The pop of blue on the back wall, the black and floral bedding, and the straight-from-your-crazy-aunt's-house lamp next to the bed. All perfect.
I love that they took an antique-y, not very exciting bed and painted it in the perfect gray – and have I mentioned how much I love that black and floral bedding? I'm also really into the collection of prints above the bed – the vintage flower prints are beautiful, and I love how (this seems to be a theme in this apartment) none of them really match or seem to have a solid theme, but they all go together perfectly.
And now that I've spent all of this time analyzing this apartment, I kind of want to go raid every thrift store within a 50-mile radius so I can replicate this look in my own home.
What have you been inspired by lately? Are you as obsessed with this show as we are? Pretty sure I need Schmidt to be my new best friend.