You can't possibly imagine how much anticipation there is in our house right now for summer. I'm dying for a break from school, Corey is dying to graduate, and we're both ready for some scorching hot days. Call us crazy, but we love the Texas summer heat.
It's definitely starting to feel like summer around here lately – if you know anything about Texas, you know that we don't really get to experience Spring. We pretty much have Winter and Summer. If we're lucky (which we have been for the past week or so), we might get a couple of weeks of Spring-like weather before the oppressive heat rolls in, but that's not a guarantee.
But, no complaints here. Summer means cooking lots of food on the grill (because it's too damn hot to turn the oven on!), spending lots of time at the pool (with a cooler full of beer and Mike's Hard Lemonade!), wearing dresses almost every day (for me, at least), and spending lots of time trying to find creative ways to cool off (like turning the fan onto high and just laying on the floor underneath it – a favorite of mine!). We seriously love summer.
BUT…
One thing we don't love about summer is the dog hair. With the warming of the weather comes the shedding of winter coats. Since we have one dog with black hair and one with very light hair, it's impossible to find clothing that won't show the hair, and we feel like we're constantly coated in it. Not fun.
There's not much we can do for Ranger other than brush him often, but since Cullen is a long-haired dog we decided that we were going to do something about all the extra hair this weekend.
We both really like Cullen with longer hair, but it had gotten to a point where he just looked silly, and I thought that if I found one more Cullen hair in a totally inappropriate place (like in my food, in the shower with me, and in my car – when he hadn't even BEEN IN IT) I was going to totally lose my mind. So, something had to be done.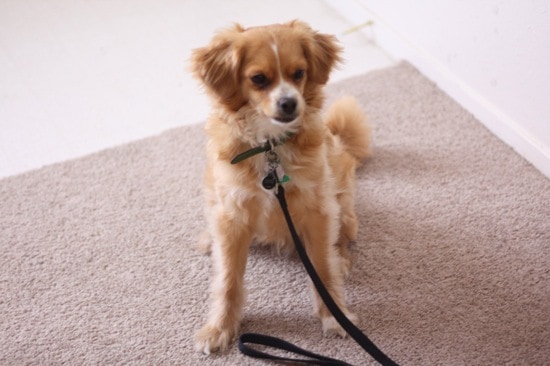 It doesn't look bad at first glance right? Take a closer look at his legs and paws – look at all that extra hair!
It probably also didn't help that about a month ago I took it upon myself to try to give Cullen a nice, short haircut. Let's just say it didn't work out so well and his hair was less than even.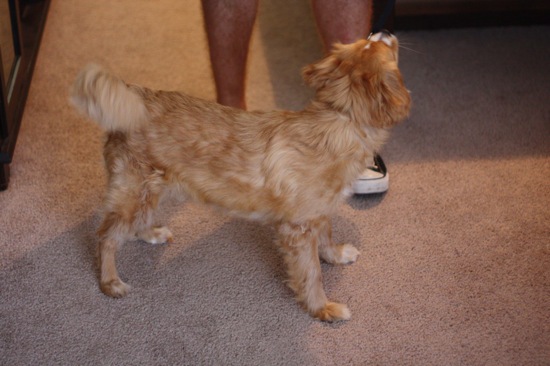 It looks better here than it did when I cut it, but you can still see a lot of unevenness and tons of extra hair!
Usually, I'll just trim off the parts where it's really bad and we'll call it a day. However, the shedding has been driving us crazy and we really wanted to get his uneven cut fixed. So, off to the groomer he went! We decided to cut it really short in anticipation of the warmer weather, and it had the added bonus as a "reset" of sorts for his poor, uneven hair.
We're not quite used to it yet. We've never seen him with hair this short, but I bet it's much more comfortable for him in this hot weather!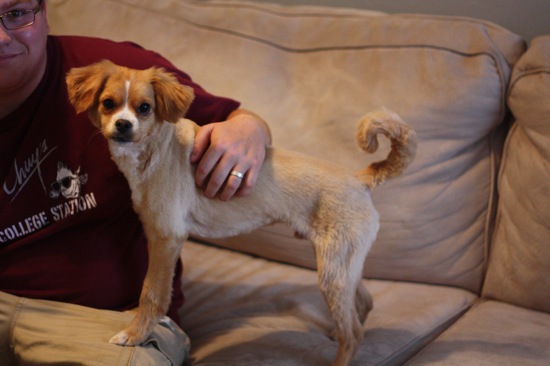 Oh, look! It's even everywhere…what a novel concept. And I can SEE his feet – they aren't completely covered in hair!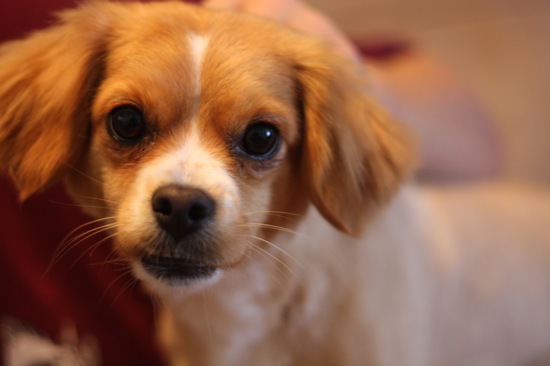 I don't think Cullen's quite sure how he feels about his new look. Usually when he comes home from the groomer, he prances around the house like he's trying to show off how pretty he looks – it's pretty comical, really. But this time? Not so much with the prancing. He seems to be unsure of what to think about having such short hair – but I bet he'll appreciate it when the temperature is in the 90's later this week!
There's also another reason it feels like summer around here to me. I've always used the sumer-time as a chance to do lots of projects around the house, do some deep cleaning, etc. All the extra time I have on my hands always makes me antsy to do some home projects.
And guess what we filled our weekend with?
Yeah, let's just say we have enough blogging material to last us a couple of weeks!
I don't want to give away too much yet, but here's a little sneak peek of one of the projects we took on this weekend: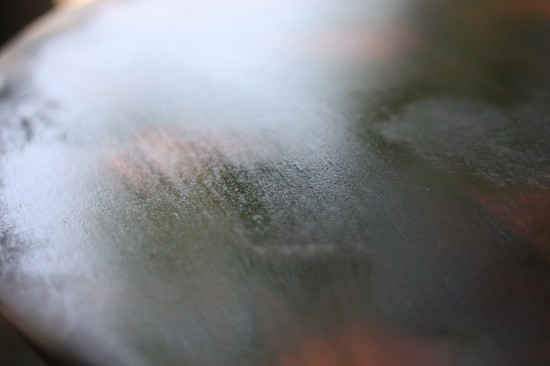 If you follow me on Twitter, you can probably guess what this is! 🙂
I'm excited that summer seems to be rapidly approaching – it can't get here soon enough!
How do you feel about summer? Do you love the heat like we do, or do you find yourself longing for the cooler months?