Stats: At his 18-month appointment, Jackson was 26 pounds, 3 oz, he was 32.5″ tall, and his head is 19.5″ (giant head!!).
Clothing Size: This has been the first time Jackson has sized up before he's hit the age threshold for his clothes! He moved into all 24-month/2T shirts at about 17 months because his torso is so long that his 18-month shirts were turning into crop tops! He's still wearing mostly 18-month bottoms but the 2T ones are getting closer and closer to fitting him properly.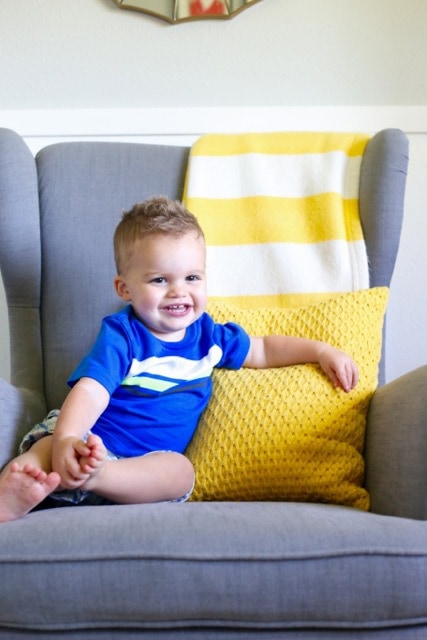 Sleep: We're down to one nap a day – about 12:30-3:00. He goes down for the night at 6:30 and generally wakes up around 7:30. We've had a few difficult days with the one-nap transition – we learned that we absolutely can't try to shorten the nap or push it back, and we have to be very careful to protect the nap (not letting him nap "on the go", etc). The one day that we messed with his nap, it ended up screwing up his sleep for the next three days!
Eating: He's officially a toddler. He seems to subsist on bread, fruit, and air. He's gotten incredibly picky and I don't think he's touched a vegetable in weeks, unless it's hidden in a pouch or smothered in ketchup. Most days we're amazed at how much energy he has for how little food he eats, and we were concerned enough to bring it up with the pediatrician at his appointment, who, of course, told us that we were worried for nothing and this is typical toddler behavior.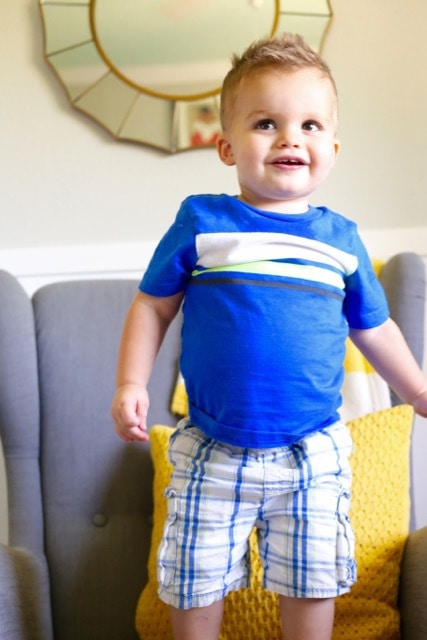 Milestones: His speech improves leaps and bounds on a daily basis. We're constantly shocked at how much he understands and how well he follows directions, and we are at a point where Corey and I can understand about 90% of what he says. He has more than 50 words, and gets more and more emphatic every day when he's trying to tell us something. He's started doing some pretend play and is so helpful with doing chores around the house (he's constantly stealing my broom and mop!).
Things we want to remember: I want to remember the sweet, sweet way he calls my name when he wants me, and the way he wraps his whole body around me every morning when I get him from his crib. I want to remember how eager his is to read and how the first words out of his mouth almost every day are "sit! book!" I want to remember how adorable it is when he wants us to play with him and tries to lift our bodies off the couch shouting "up! up!" and how he doesn't say "yes" yet so he giggles/squeals anytime you ask him a question he wants to say yes to.
Special outings or adventures: So many since he turned a year! The big ones have been trips to visit friends in San Antonio & Dallas, lots of trips to the pool, splash pad, parks, library, and local museums, a trip to College Station, and an upcoming cruise!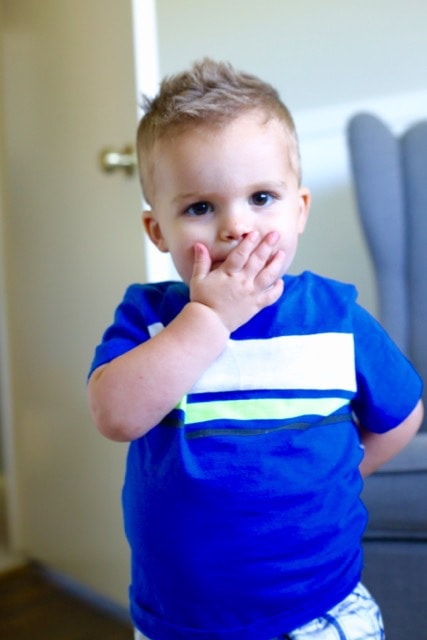 Blowing a kiss!
Favorites: His favorite toys are books, Duplos, and anything he can put into other things (like pom poms and pieces of vegetables that he puts into/takes out of various bowls while I'm cooking dinner). He's going through a mommy phase and won't let me out of his sight most of the day, and is obsessed with his grandpa (my dad – anytime we talk about him he starts whispering "pa pa pa pa pa pa" and looking for him). Corey and I love to play blocks with him, to watch him learn new things, and the fact that he can actually tell us what he wants.
What we've learned: We've learned that almost all toddlers go through a picky phase (he was such a good eater, we thought we'd avoid it!), we've learned how important it is to protect nap time, and we're constantly learning how to handle tantrums and crazy toddler behavior.