Now that I'm officially working from home full-time, I'm learning that I really need to have keep things organized in order to really be able to stay on top of things. I'm a bit of an organization freak, and when things get messy I find that I can't focus on anything.
I created this cozy little office nook in our living room a while ago when I first started to take blogging seriously and needed a good spot to work, but I was really working there pretty infrequently (since I had a full-time job), and so it really just needed to be a spot to land – it didn't have to be super functional.
But now? Well, now I spend a whole lot more time working at my little desk and I'm finding that I really need to keep it pretty organized if I want to be able to focus on my work. I still don't do all of my work here (I always indulge myself during Jackson's nap time and work from the couch while I catch up on The Walking Dead), but I spend a fair amount of time here and when it's clean, organized, and all in order I am way more productive than when it's messy.
I've made a few little changes in my nook since I first put it all together, and I thought I'd share a little update for you on what I've done.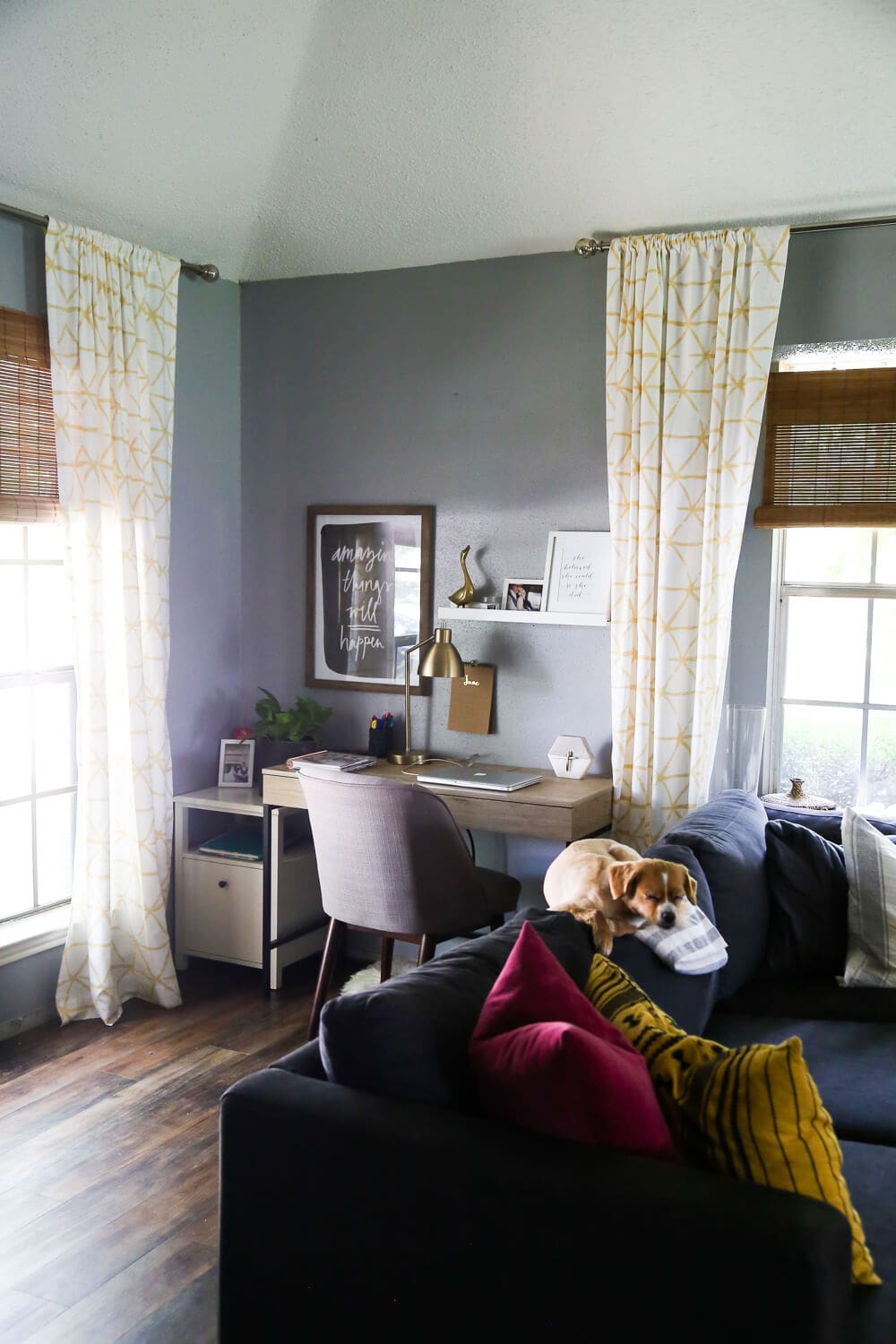 This post contains affiliate links. Click here to see my full disclosure policy.
For the longest time after I set this nook up, I just had a little file box in the corner to hold important papers, but as the blog grew I very quickly outgrew that system and realized I'd need something with a lot more space. This little filing drawer ended up being perfect – it's cute, so it isn't an eyesore in the middle of my living room, and it adds a little filing space and some desk/shelf space in my corner to help me stay organized.
Another thing I did to help this nook feel a little calmer and easier to work at is I got rid of the extra visual clutter. I had added some  cute word art and cork boards over here a while back, but the more time I spent working over here the more I found myself craving a calmer environment without all of the visual distractions. Once I took those down, I noticed a big difference in my mood when I was working over here and my ability to stay on-task.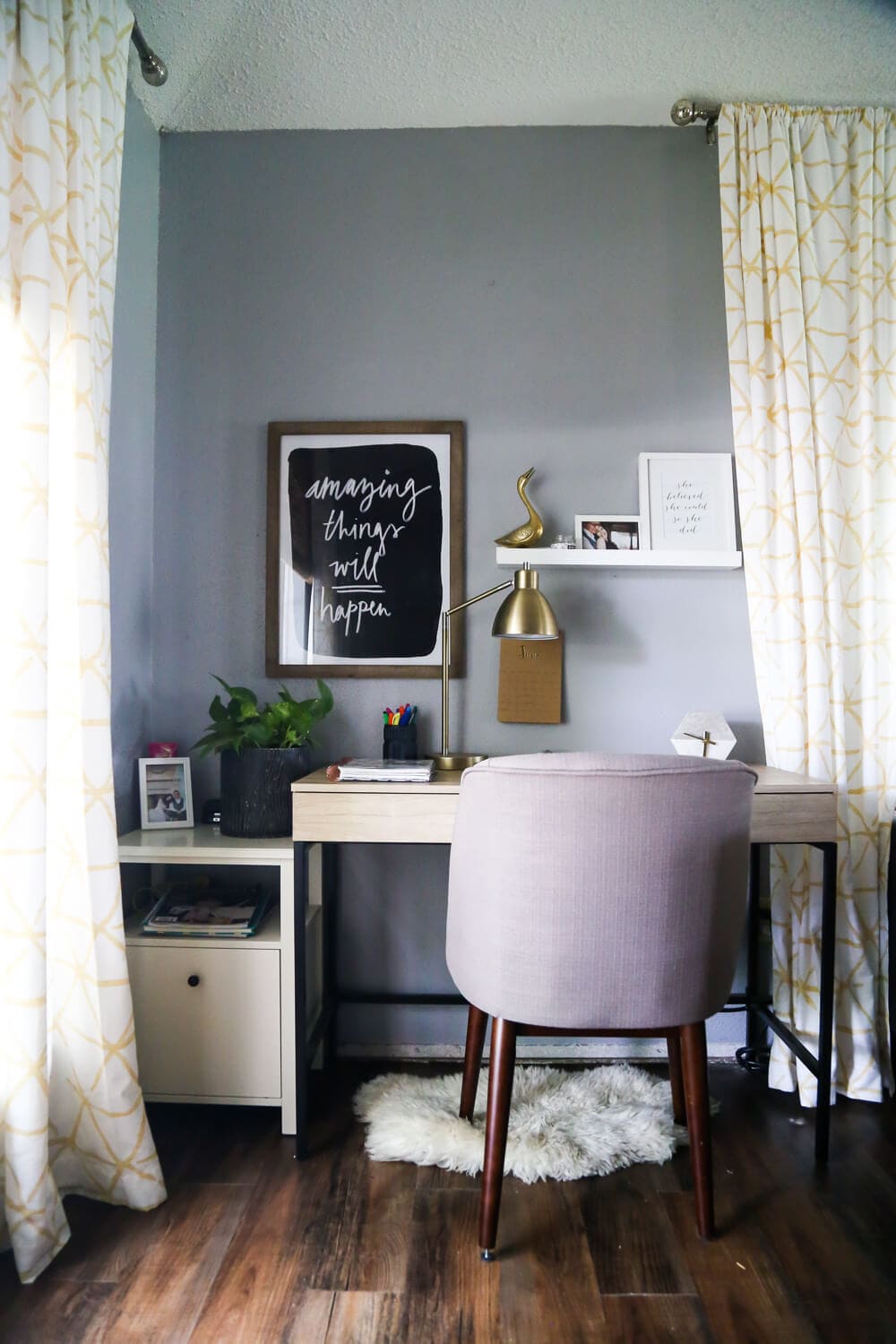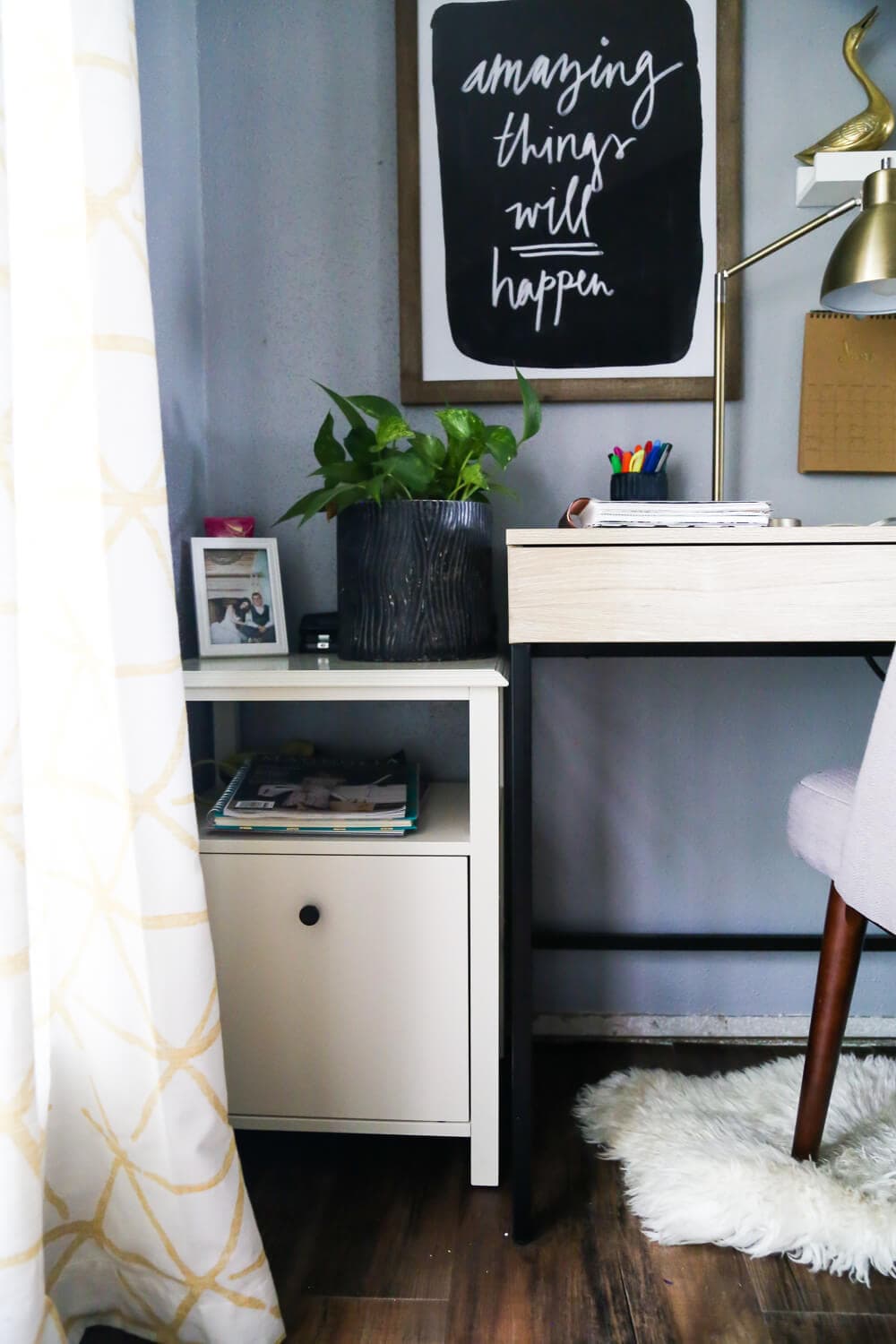 (Please ignore my baseboard-less floor. It's on the to-do list.)
Another silly little thing that has really filled my home office nook with a little bit of joy is the plant I added. I don't know what it is about having an actual, living plant sitting at my desk that just feeds my soul, but it's a wonderful thing. It took me a long time to get on the house plant train (because I kept killing them), but I seem to have finally hit my stride with keeping most of my plants alive, and now they make me so happy.
I still would like to swap out the tiny calendar I have on the wall for one of those large desk calendars. I always love the modern, block-y design of them and now that Jack and I are home all day together I feel like we always have a million things going on – it would be nice to have a large calendar (other than my planner) where I can jot things down and keep track of what's coming up.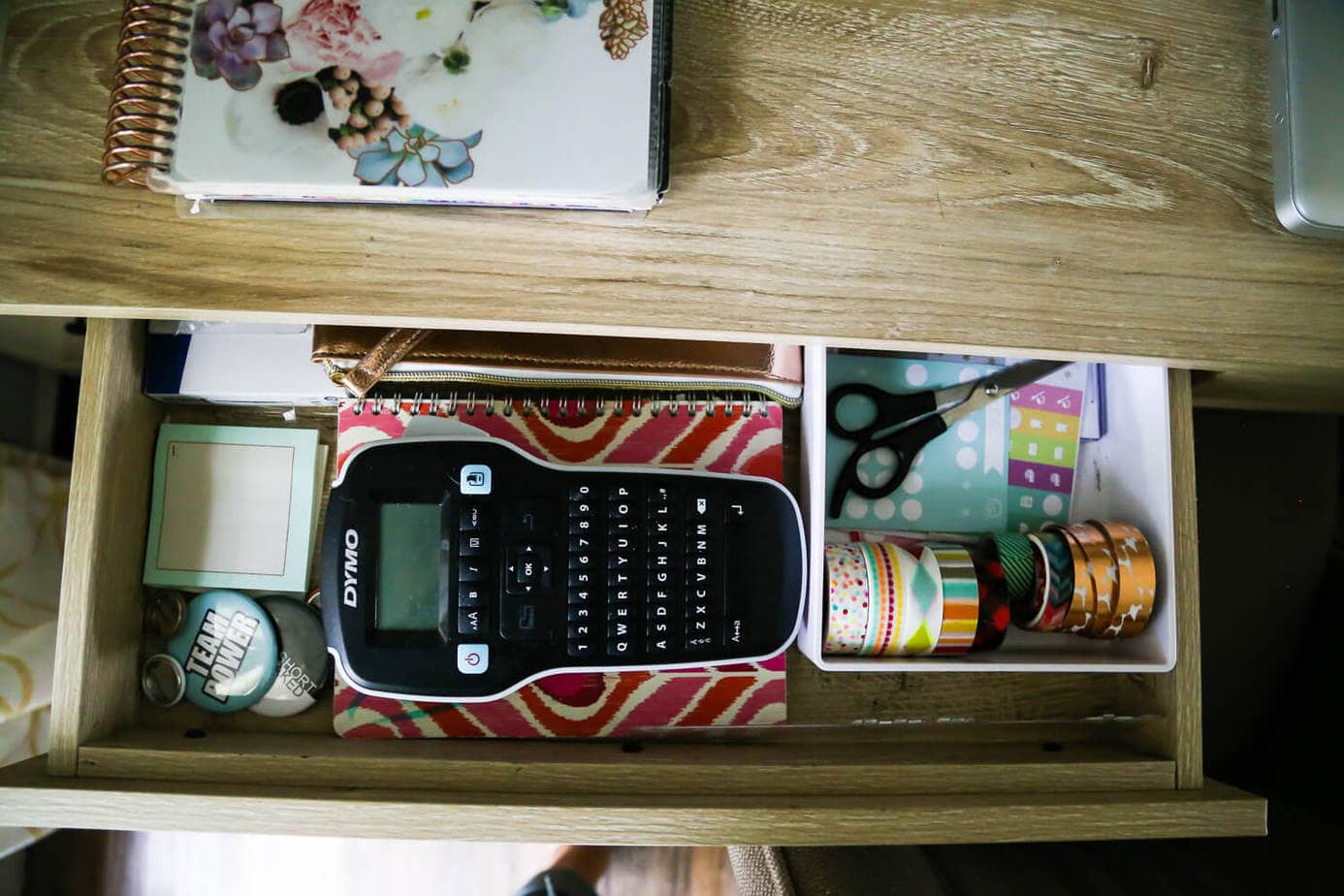 The drawers are the area of this desk that have given me the most grief since I got this desk. I adore the desk I chose for this space, but it's very small and the drawers are teeeeeeeny-tiny. I have quite a few things I need to access on the regular, which means that these drawers can fall to pieces pretty fast. A couple of weeks ago I finally sat down and forced myself to get them totally organized and so far it has held up really well! It's kind of like I learned with my junk drawer – when everything in a drawer has a very specific place it's a lot easier to keep it all organized.
(Doesn't all that washi tape make you swoon a little? It's my weakness – I'm a hoarder.)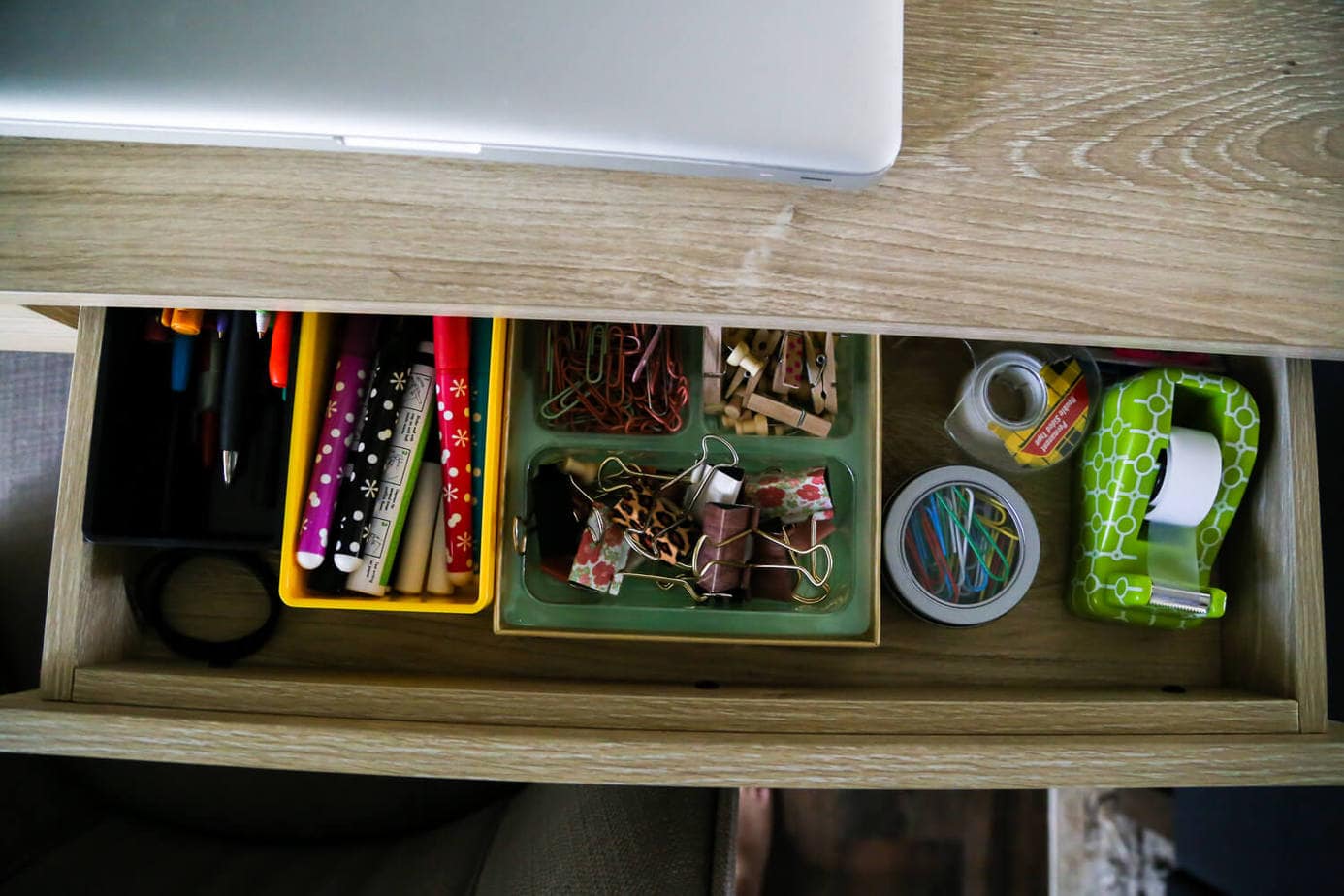 There's just something about a hyper-organized drawer that gives me goosebumps.
Just me?
(Yes, I'm aware, I have issues.)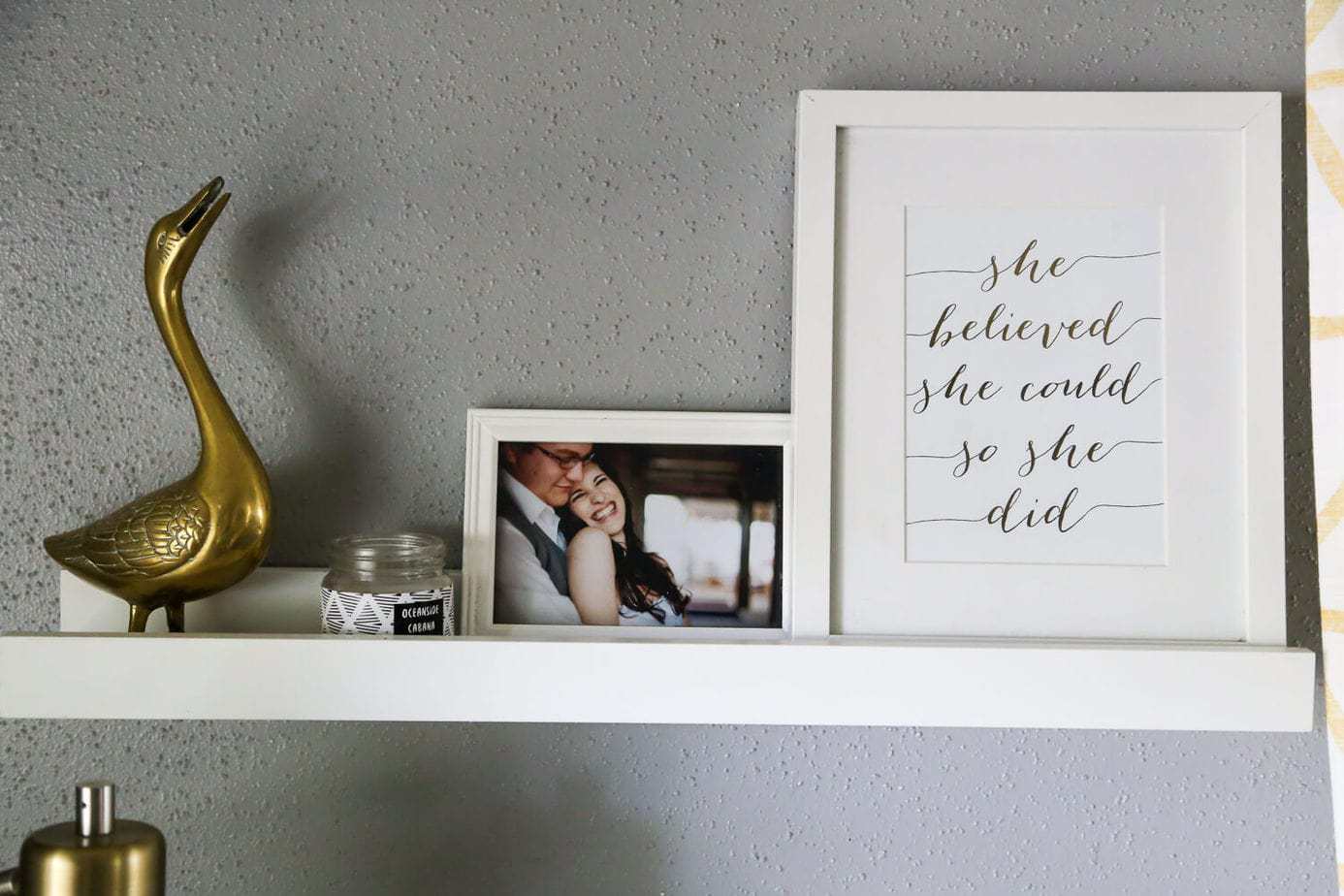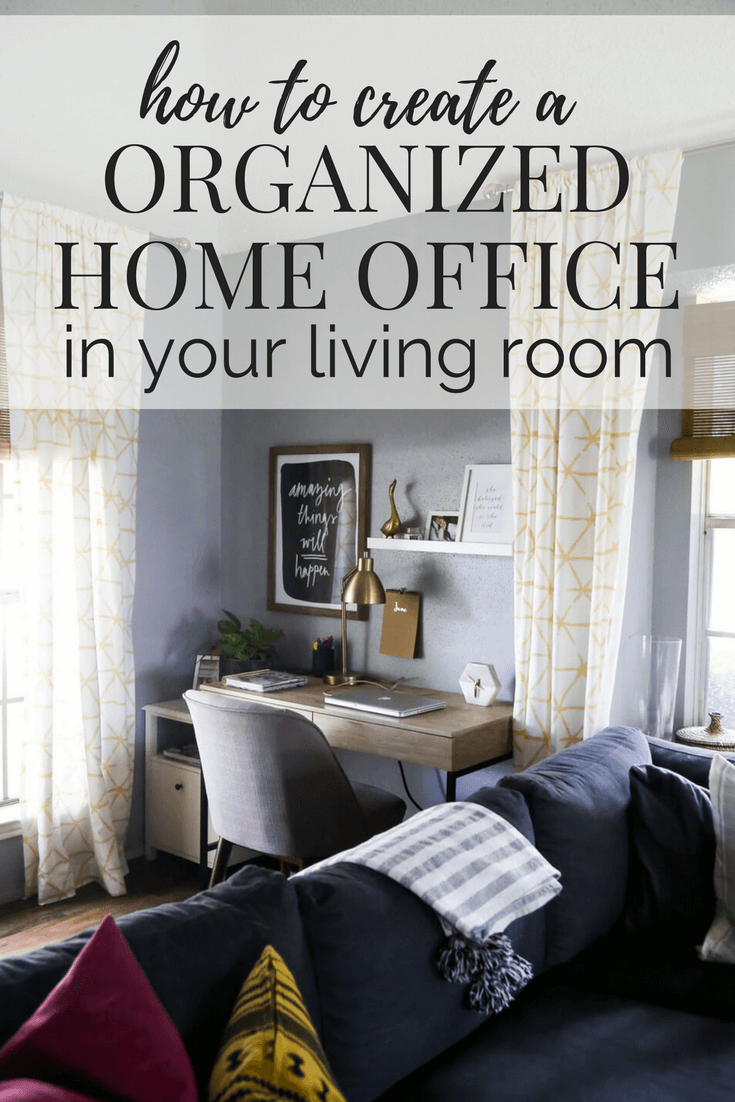 If you want to know more about anything in my miniature home office, I've tried to link to as much as possible below. Let me know if I missed anything that you want more information on!