When we moved into this house, we knew pretty quickly that there were some things that were going to need to be changed fast. We both have a pretty modern style, and some of the '80's style fixtures and details just weren't doing it for us.
Take, for example, the lighting.
There isn't a single light in this entire house that we think is actually worth keeping, and most of them are bad enough to actively annoy us. There were even a few that we disliked enough to replace within about 24 hours of moving in.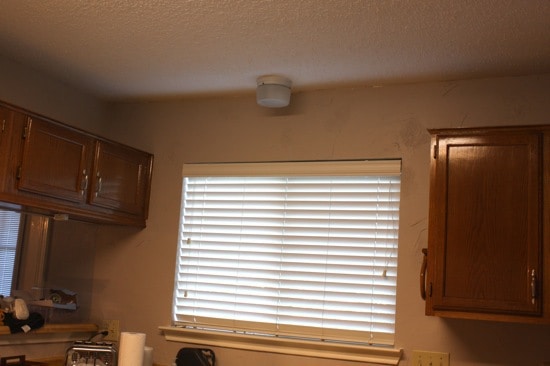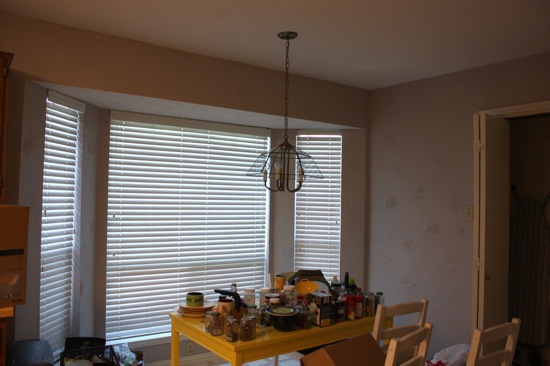 Both of those are in our kitchen and both were taken the day we moved in, which is why it's so messy. The light above our kitchen table was easily the second most offensive light in the house (the worst is in the dining room and is yet to be replaced), and the one above the sink wasn't horrible – just boring. We figured we both spend quite a good chunk of our time in the kitchen, and it's already pretty outdated, so if we could take a few small steps to make it more tolerable, it would totally be worth it.
So, before we had really even begun unpacking we headed out to Ikea to see what we could do about those kitchen lights. A few hours and less than $75 later, we came home with two new lights that are much more our style.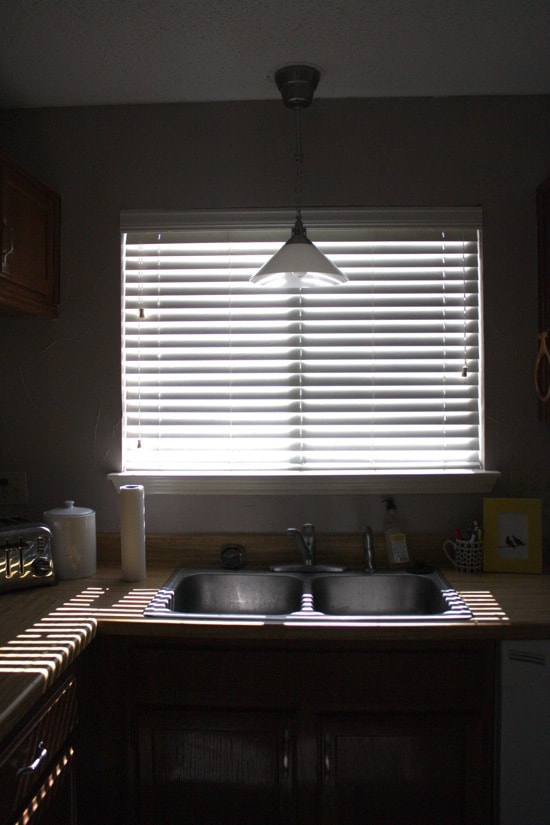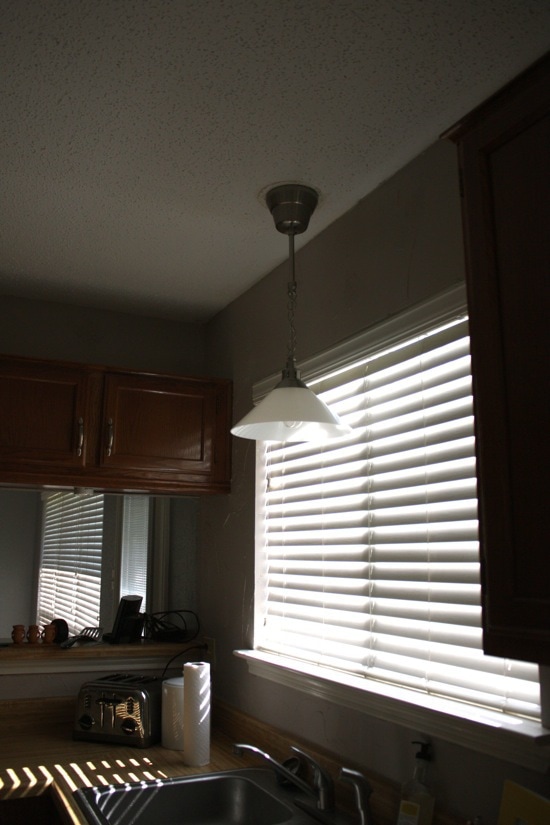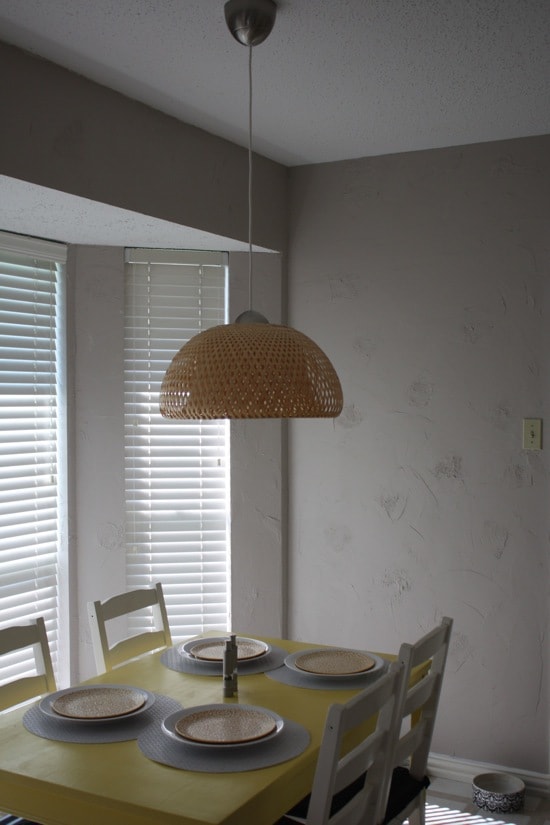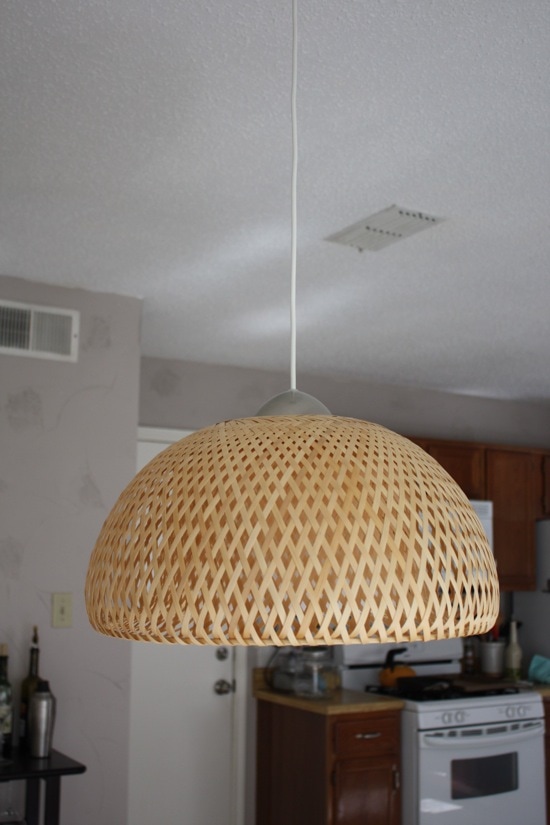 The one in the bay window looks a bit silly with out current table, but we have plans to replace that table eventually so it'll fit in a little better.
Now that the lighting situation in our kitchen is improved (minus the giant florescent light that we can't wait to get rid of), this little giant monstrosity in the dining room stands out even more.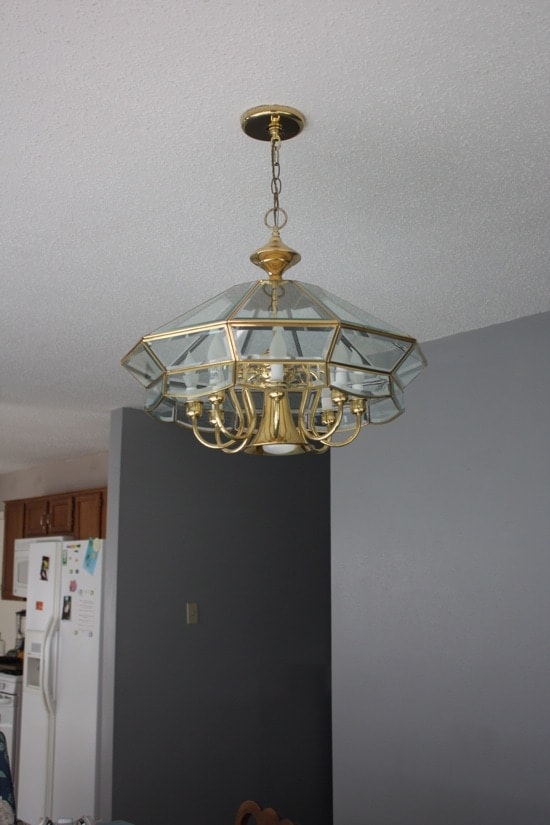 Ew. It's much larger than it looks in this photo, and there are no words to describe how much we hate it. Unfortunately we have to put replacing that one on the back burner for a little while longer, so we get to stare at it for a few more months.
There is one more light we replaced soon after moving in, and to be honest it was probably one of the least offensive ones in the house. It was, however, in a room where we spend a lot of time, and there was a very good reason that we decided to replace it.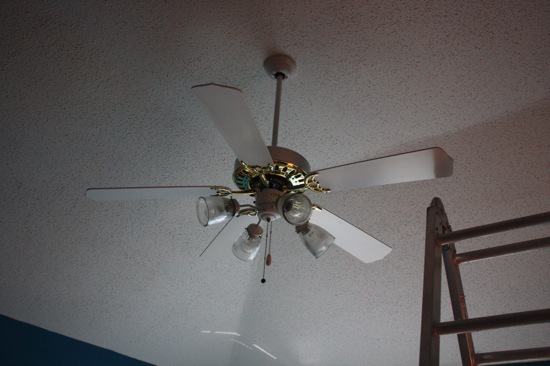 That would be the fan in our bedroom. The problem? There wasn't a separate switch for the fan and light, so if we wanted to turn the light on or off, we had to use the cord on the light itself. (Remember, we live in Texas and with 105 degree heat every day, there is no way we're turning the fan off for any reason!)
So say, for example, that I was walking into the bedroom one evening and wanted to turn the light on. The fan is already running because we never turn it off, so I have to walk into the (pitch black) room, climb up on the bed, and stand up to turn on the light. I'm not exactly the most graceful person around, so on my way to the bed I ran into about seven different things and probably fell over at least once.
It didn't take long for me to get sick of doing that.
It would have been expensive to add a second switch to the wall, so we simply bought a fan that came with a remote, which we keep hung on the wall next to the light switch. Problem solved!
And, I have to say, it doesn't hurt that this fan is much more attractive than the other one was!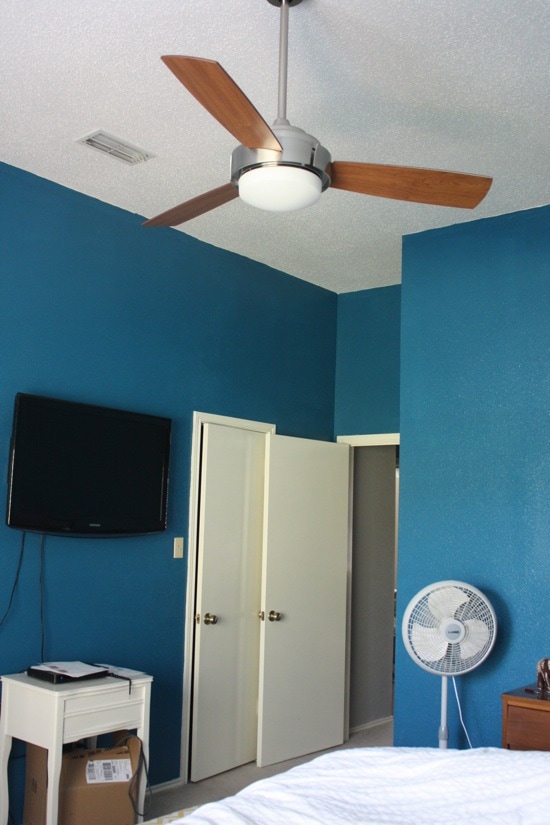 There are still a good seven or eight lights we need to replace in the house (including the spotlight in our master bathroom that shines directly on the toilet… ??) but we feel pretty good about the progress we've made so far!
Are there any features of your house that you'd love to get rid of?