Pantries are ugly.
There's really no way to get around it, right? They hold all our food, they're almost impossible to keep organized, and let's face it: most food labels and containers aren't really attractive.
It probably doesn't help in our situation that our kitchen is already far from our style – in fact, if we're being honest, it's downright ugly.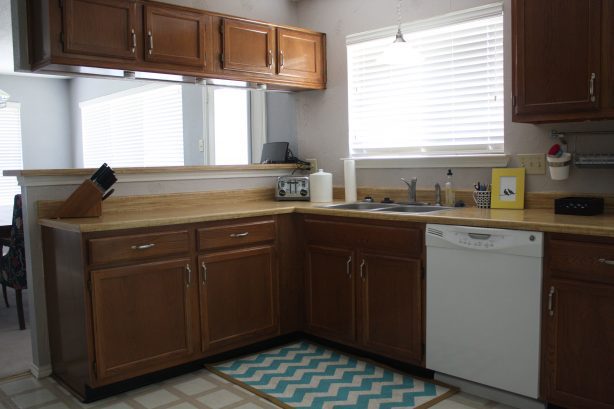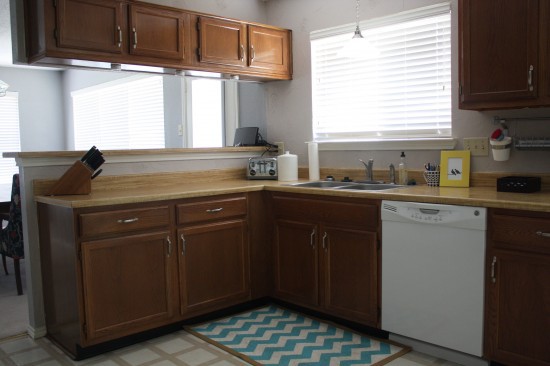 We know we won't be able to do anything about the kitchen for a while, because it's going to be a very large and expensive project, but in the meantime I want to do everything I can to make this place a little more tolerable.
Yesterday afternoon, I finally got sick of looking at a bland and boring pantry in a dreary and ugly kitchen and I decided to do something about it. I'm a big believer that every corner of the house can (and should) be personalized and made as pretty as possible, so I knew there had to be a way I could do something small to the kitchen to make a big enough impact that would make me feel a little better about it until we could take on a bigger project.
Here's what we were working with in our pantry before: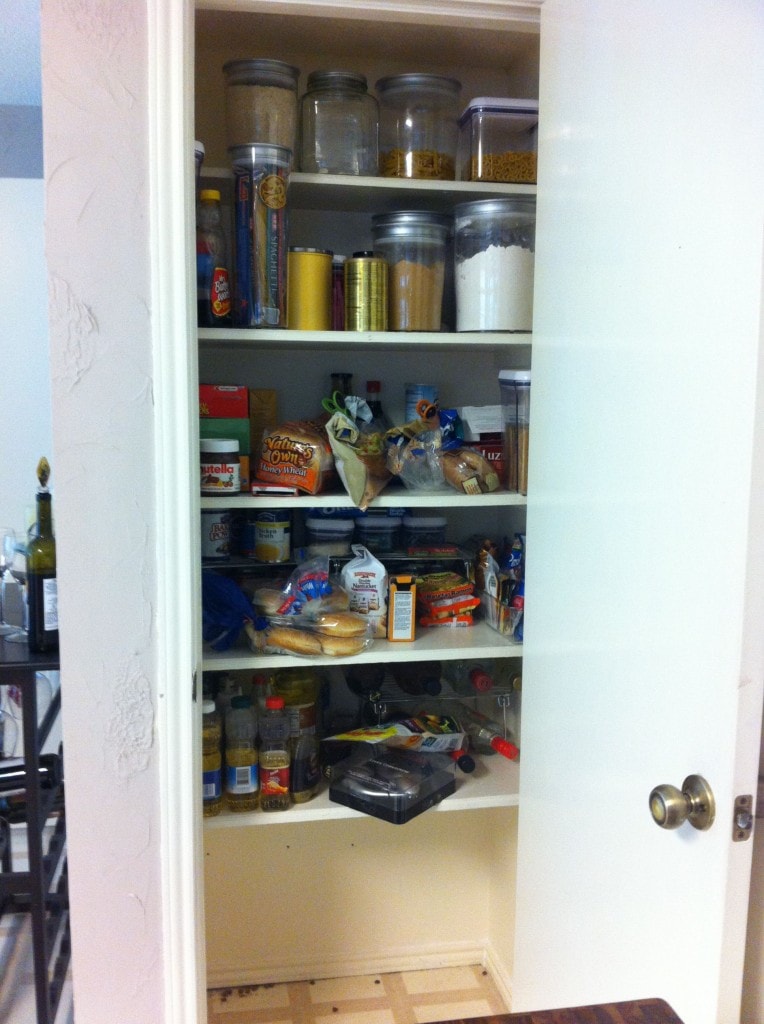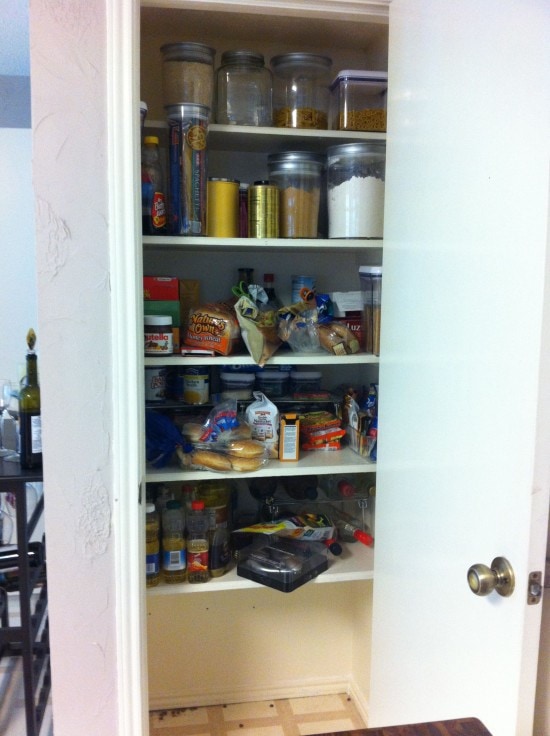 Thank goodness paint can fix anything.
Corey and I are total paint hoarders and we have all of the leftover paint from every project we've ever done (plus all of the sample containers of the paint we didn't choose to use on said projects) so I was in no way lacking for choices of what color to use once I decided I was going to paint the pantry.
I knew that I wanted to make the pantry a blue color of some sort, and I had quite a bit of paint left over from when I painted our kitchen rug. However, that exact color was a bit too bright and pastel-y to use on the whole pantry so I needed to darken it up a bit. After searching through our paint supply for a few minutes, I settled on a deep navy to mix in with the light blue – we had a sample pot of it from when we were deciding on a color for our bedroom walls, and it was the perfect color to bring a little more drama to the pantry.
I got to mixing, and soon enough I had the perfect light-but-not-too-light, slightly moody, very pretty blue to make our pantry a bit more interesting. Less than two hours later I had a whole new pantry.
Before: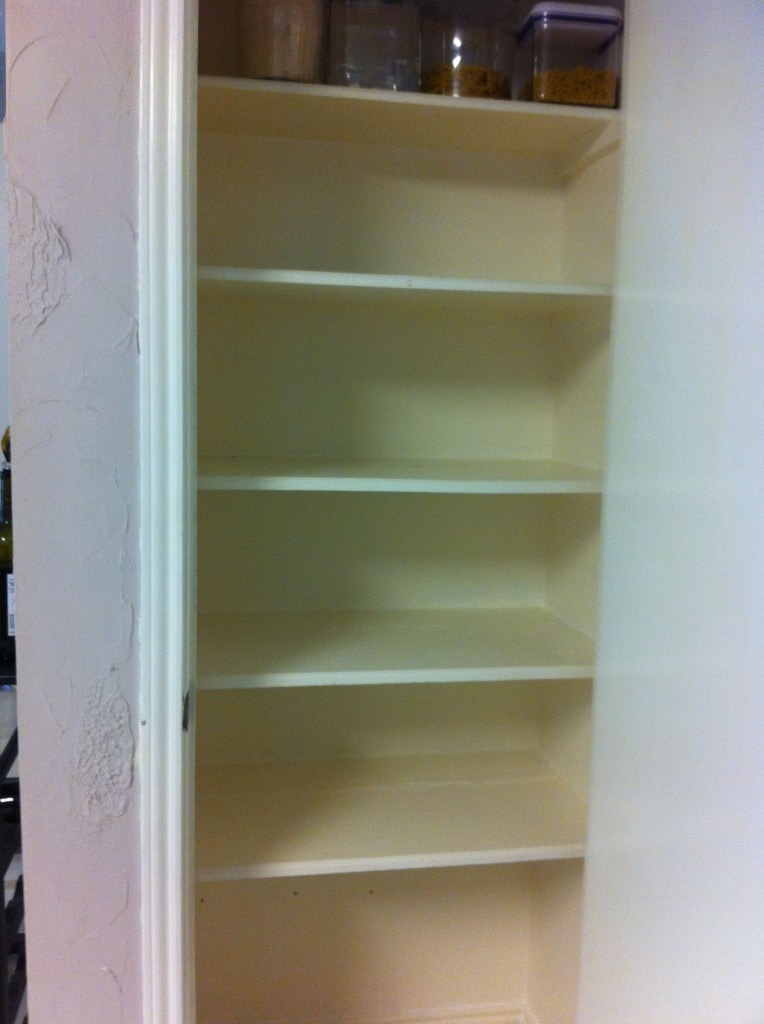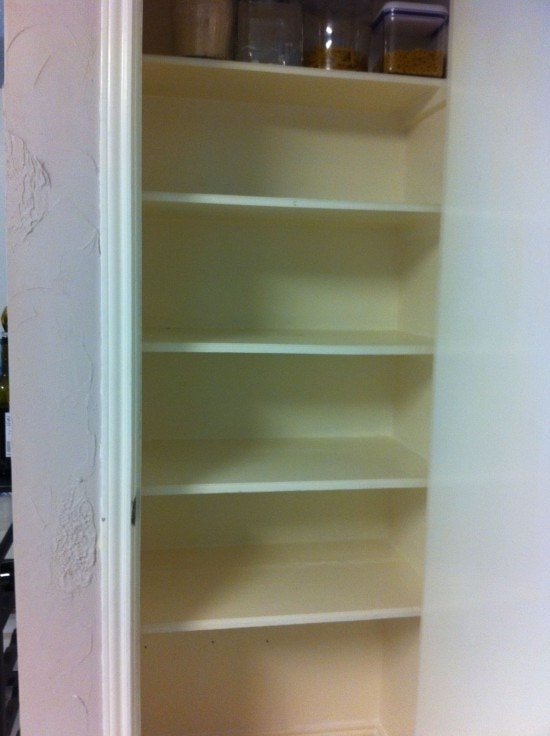 And after: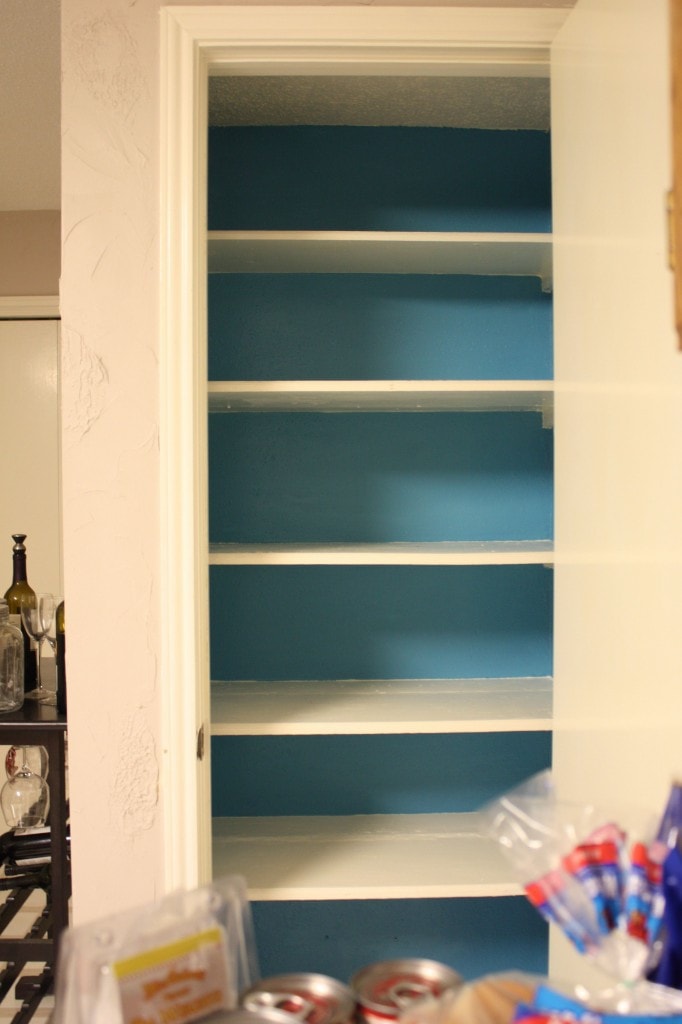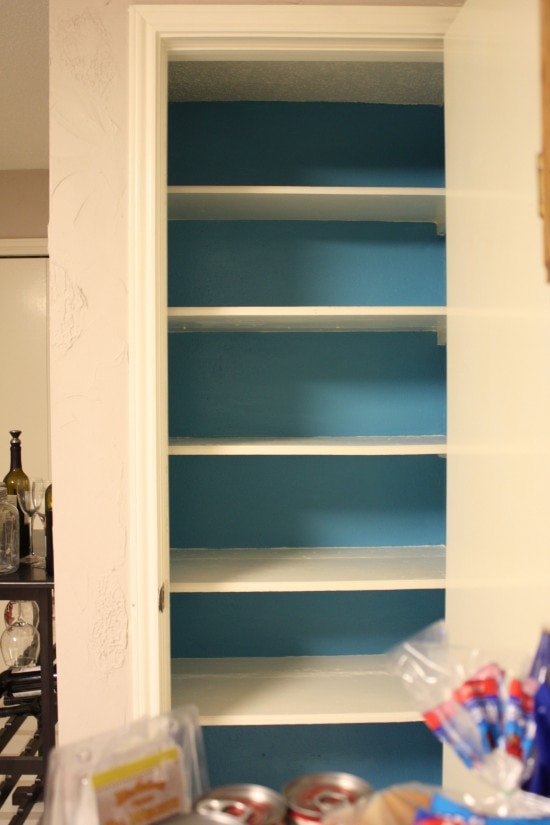 Oh so much better.
Corey and I went through all of the food that was now covering our kitchen before putting it back in – it always amazes me how much useless food one can accumulate over the course of a few months – and then loaded the pantry back up in a much more organized way.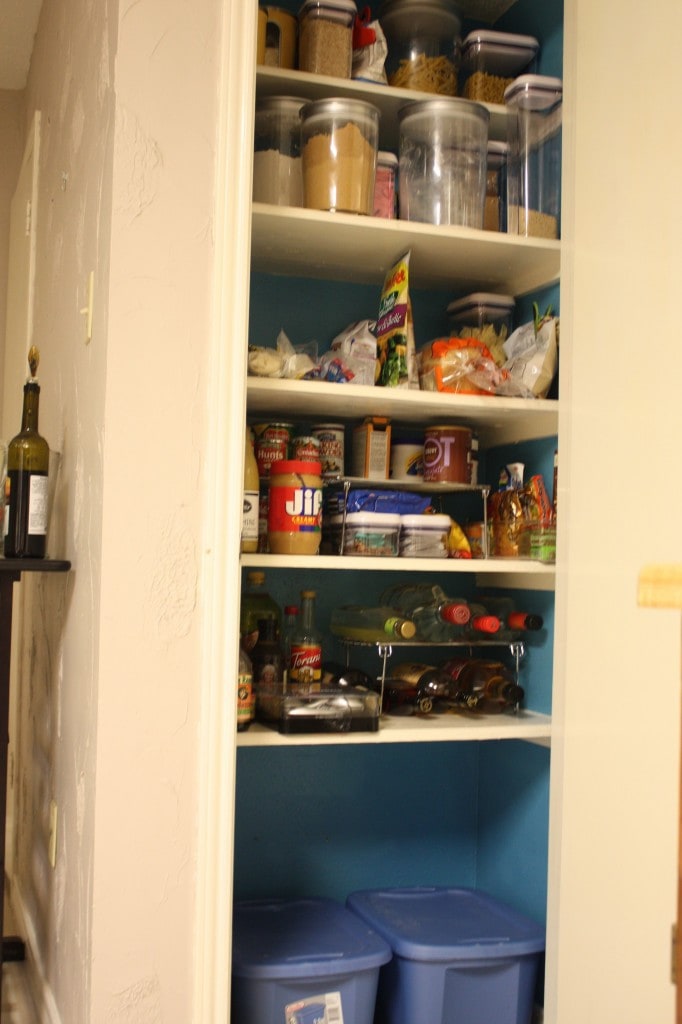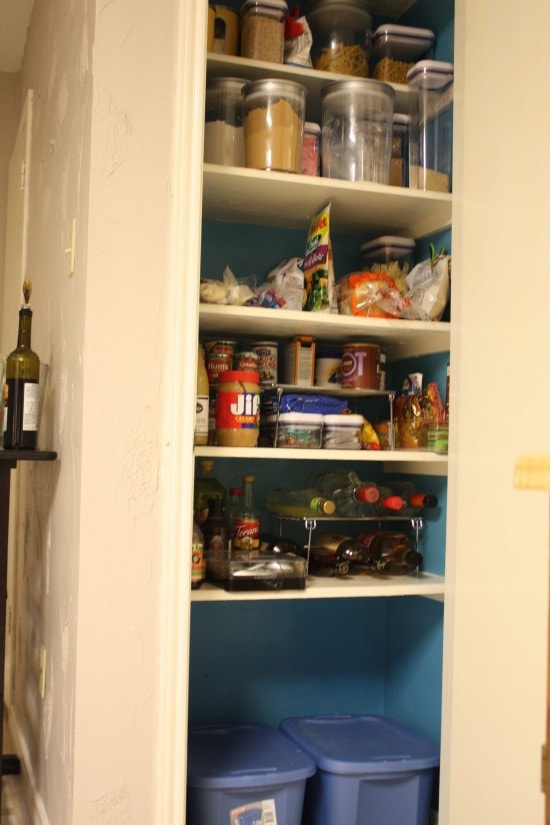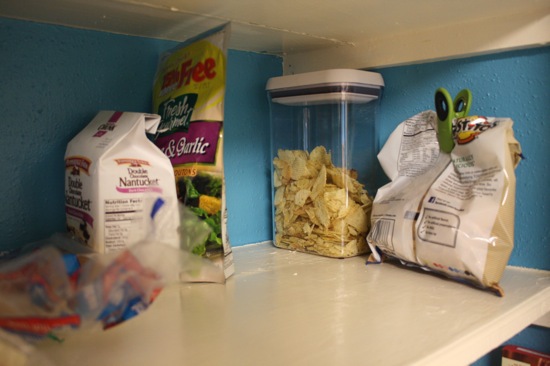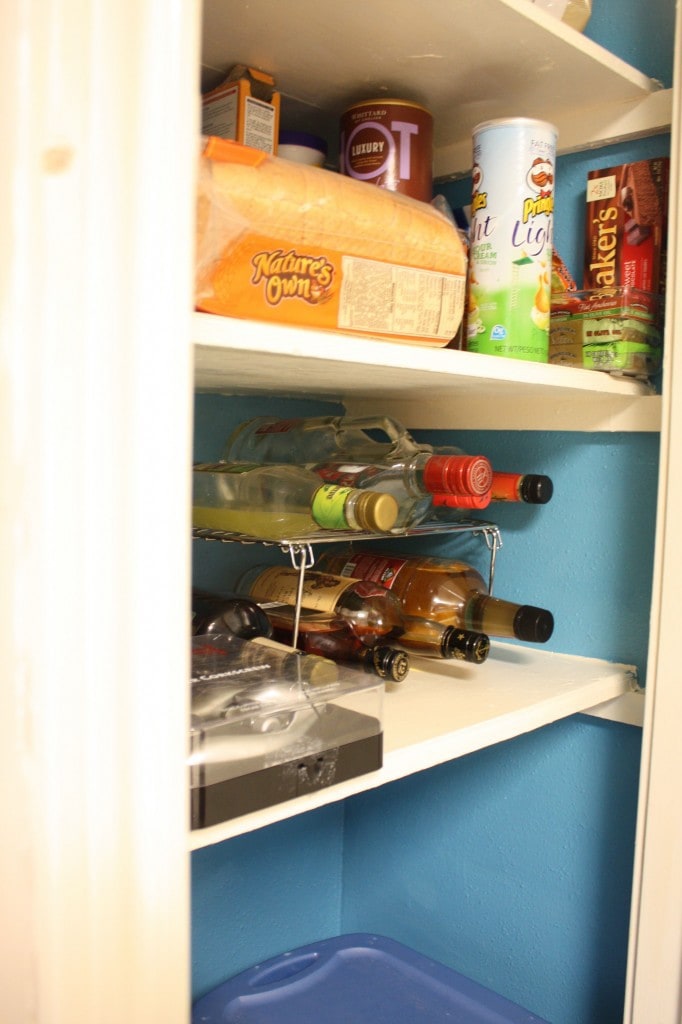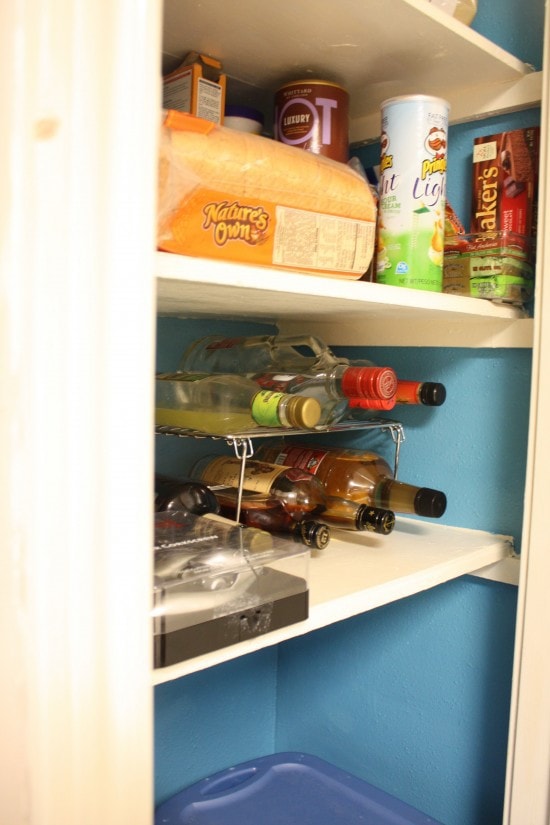 It still needs a lot of work – I want to get some more baskets and containers to corral the random stuff floating around, and I'd like to do something with the inside of the door – chalkboard paint? A shoe organizer to keep smaller items? We'll see.
But for now, I'm happy with our much less ugly, but still not quiet pretty, pantry. Every time I open it, it's like a small pop of happiness and personalization in our otherwise boring and lifeless kitchen.
Have you ever painted an unexpected spot in your house?