You know that room in your house that you really want to take care of and make beautiful first but somehow or another it ends up last on your list and every other room in the house is looking pretty okay but the most important one is still looking like a dang trainwreck?
For most of us, it's the master bedroom.
Yup. Us too. We had great intentions of getting this room taken care of right away after we moved in, but we've lived in this house for about five and a half years and our bedroom is still a cluttered, jumbled, not-styled-at-all mess. We've got a few elements in there that I really, truly love but the vast majority of it is messy and cluttered and not at all what you want your bedroom to look like. I mean, I can clean it up and take an okay picture but on a day to day basis? We aren't loving it.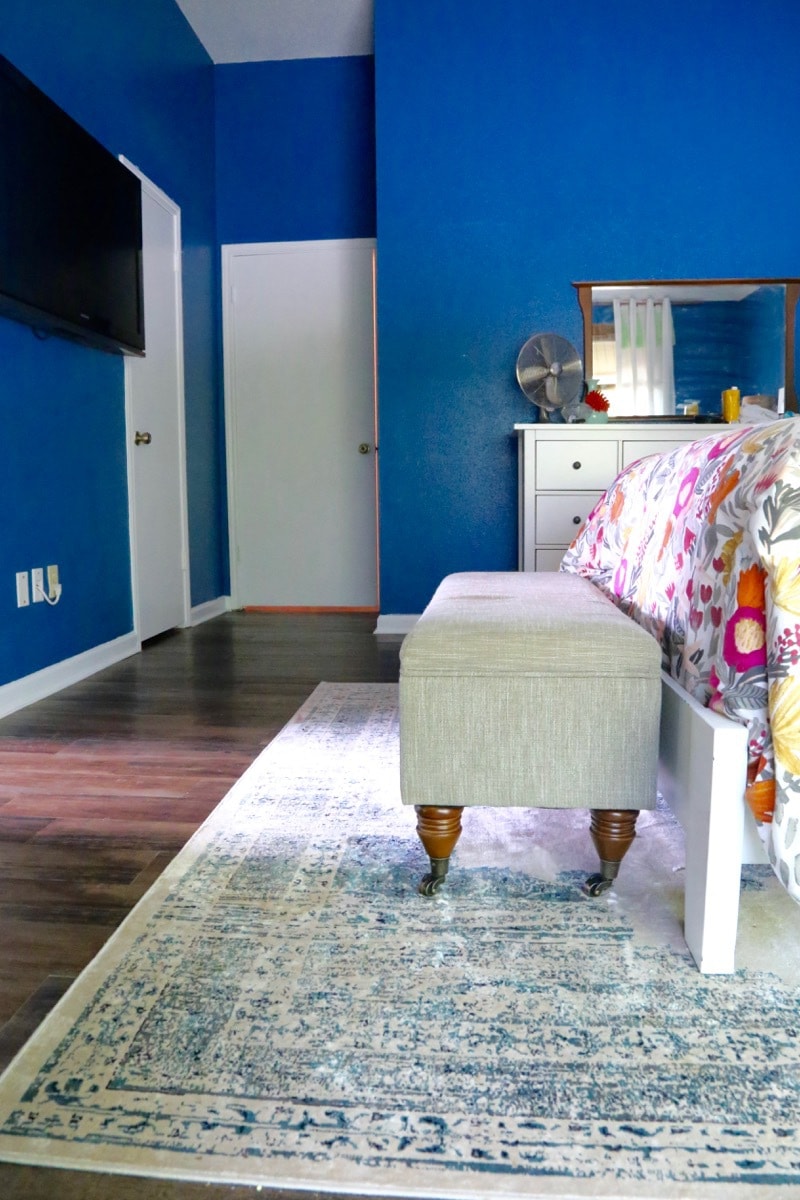 One thing I want to focus on this year is getting our bedroom a little more organized and setting up some systems to help us keep it clean. Between Jackson constantly bringing toys in there and Corey constantly forgetting where the dirty clothes basket is (I love you honey, but really?), the room is in shambles most of the time. I think we'll be more motivated to keep it clean if it's decorated in a way that makes us happy, but I also think we could use a few more baskets, bins, and other things in the room to promote organization and cleaning on a regular basis!
I mentioned that we're planning on creating a good plan and a mood board for the living room when I talked about our home goals for this year, but I decided to go ahead and tackle making a solid plan for our bedroom first. This room has a solid foundation of things we love, and we knew the general direction we wanted to go already so it's a little easier (unlike the living room, which I have no idea what I want to do with). This is such a great way to organize your thoughts about a room and see what direction you want to take it – I wish I would have been more diligent about creating mood boards when we first moved into this house…maybe then we wouldn't have this problem!
I'm planning on writing up a tutorial for y'all about how I create my mood boards at some point soon – I think it's something everyone should be doing as you plan for how to decorate your home, so get excited for that.
But in the meantime…let's chat about my bedroom.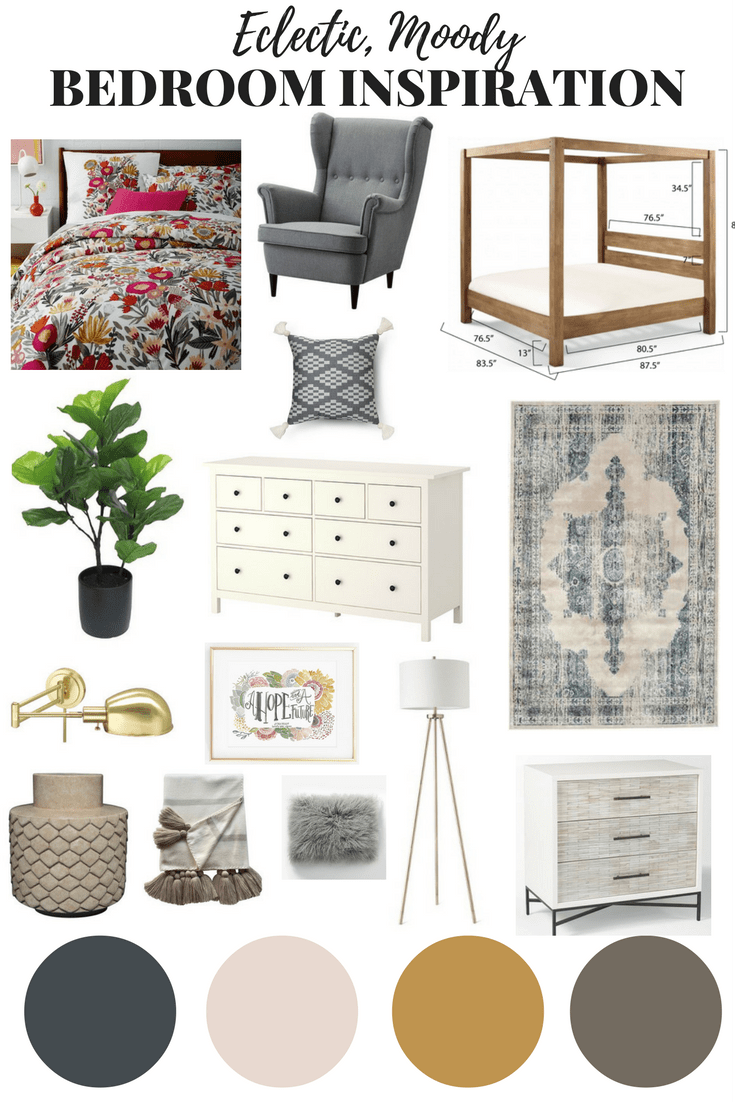 This post contains affiliate links. Click here to see my full disclosure policy.
bedding // chair // bed plans // herringbone pillow // faux fiddle leaf // dresser // rug // swing arm lamp // art // tripod floor lamp // ceramic Vase // tassel throw // mongolian fur pillow // nightstand
Just looking at all of those things together makes me feel so much more confident about the way our room is coming together, and it gives me hope that we'll actually eventually end up with a space we like! I'm telling you, friends, mood boards are the way to go.
So, let's break it all down a bit.
The bedding, chair, IKEA dresser, and rug are all things we already have. They're all large pieces that I don't feel like replacing, so they were my non-negotiables. I was a little worried at first about how I would actually help everything come together, but looking at it all in one place really gives me confidence.
A lot of the things you see here we'll be DIY-ing. Corey plans on building the bed – the one linked up there is a plan from Ana White, but I'm not 100% sold that it will be "the one". We're also considering this bed or this bed…which one do you like the best? I can't decide – we may do a mix of all three styles! We're also planning on DIY-ing the wall lamps for our bedsides, and I have an idea for the bedside tables that I'm really excited about. You may remember that a few years back Corey and I did a knockoff of this West Elm dresser, and we loved it but never really had the right space for it in our house so we ended up selling it about a year ago. I'd like to take that same basic idea and do it even better this time around for our bedside tables. Stay tuned for that one, it's going to be fun!
We'll also be repainting the room. It's not my ideal plan (we love the wall color!), but there are lots of scuffs on the walls from moving furniture over the years and a few places that need to be touched up. We tried to get the exact same paint to touch up, but it's just slightly off and when I tried to touch up some spots with it, it looked awful. So, rather than drive myself crazy trying to get them to re-create the exact right color, I'm moving on. We never intended for the walls to be quite as bright as they are (we were going for a deep navy), so I think it will be a welcome change.
And finally, we'll be bringing in lots of fun accessories, cute art, a plant or two, and some shelving. Our room is one space that we've never really accessorized at all, and it's obvious that it's missing something. Once we get the basics in place, I want to spend some serious time working on making it feel a little more complete.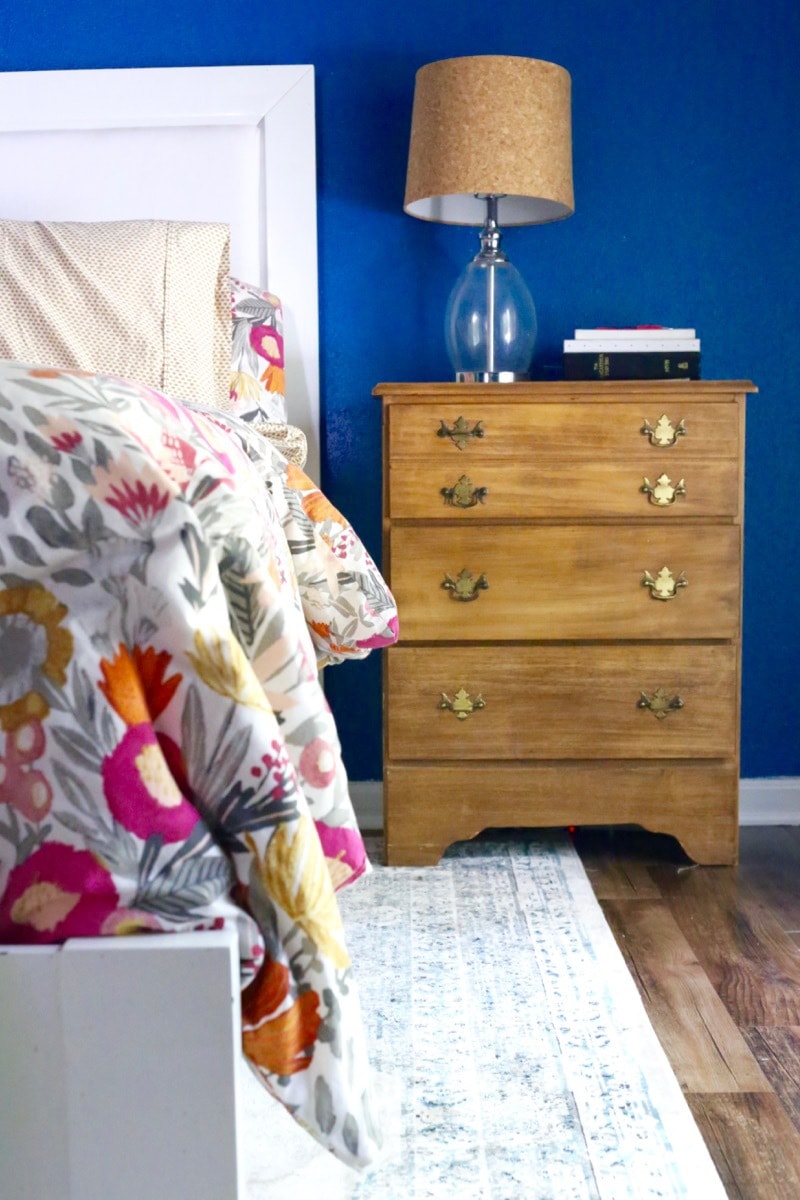 I'm excited to finally be actually diving into this project, even if we are planning on taking our time on it. I'm hoping that we'll be able to get started sooner rather than later – some of the supports on our bed broke when we brought the rug in and moved the bed, and it's so uncomfortable to sleep on now. I don't remember the last time I got a good night's sleep! So, getting our new bed built is pretty high on my priority list, and I'm hoping we can get that done as soon as possible.
I'm currently working on the art situation in the room – if you check my Instagram story today, you can see how it's going and give me some input…I'm struggling!