I recently tried out a new tool for organizing and planning my projects – it's called Milanote, and today I'm chatting about why it's the perfect tool for anyone planning a project for your home! (This post is sponsored by Milanote, but all opinions are mine alone!) 
One of the main questions I get from both my readers and real-life friends is, "How in the world do you actually plan and organize everything for your renovations?"
And honestly, I get it! Planning a whole room makeover (much less an entire house renovation) can be incredibly overwhelming. There's paint colors to remember, furniture to choose, inspiration to gather, and just when you think you've got yourself all organized with your 5 separate secret Pinterest boards, you can't remember if you pinned that idea you're looking for to the Bedroom Pinterest board or the House Ideas Pinterest board.
I can't be the only one who struggles with this.
Usually when people ask me this question, I kind of shrug and just say that I'm a hyper-organized person. When I'm planning a renovation I always have at least 1 secret Pinterest board (sometimes up to 3!), tons of to-do lists (both written and saved in my Google Drive), and a whole lotta information just rattling around in my head. That's why when the wonderful folks at Milanote reached out to see if I'd be interested in giving their app a try, I figured I had nothing to lose. I mean, my project planning system was already a hot mess, there was no way it could get any worse, right?!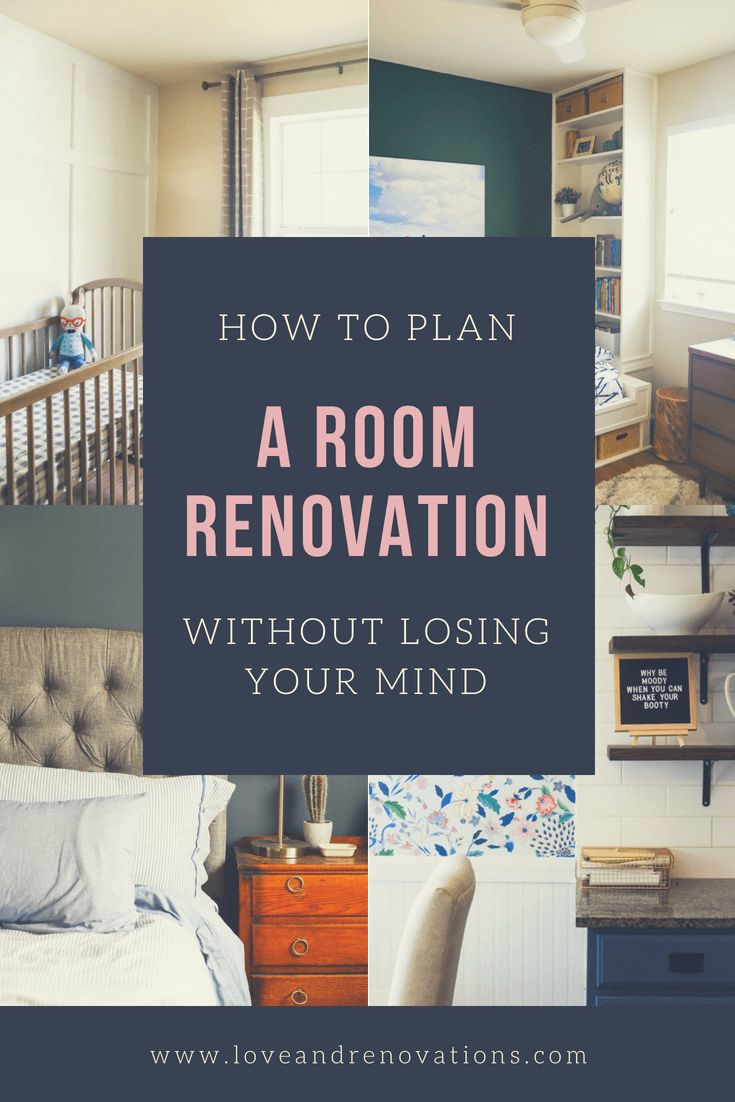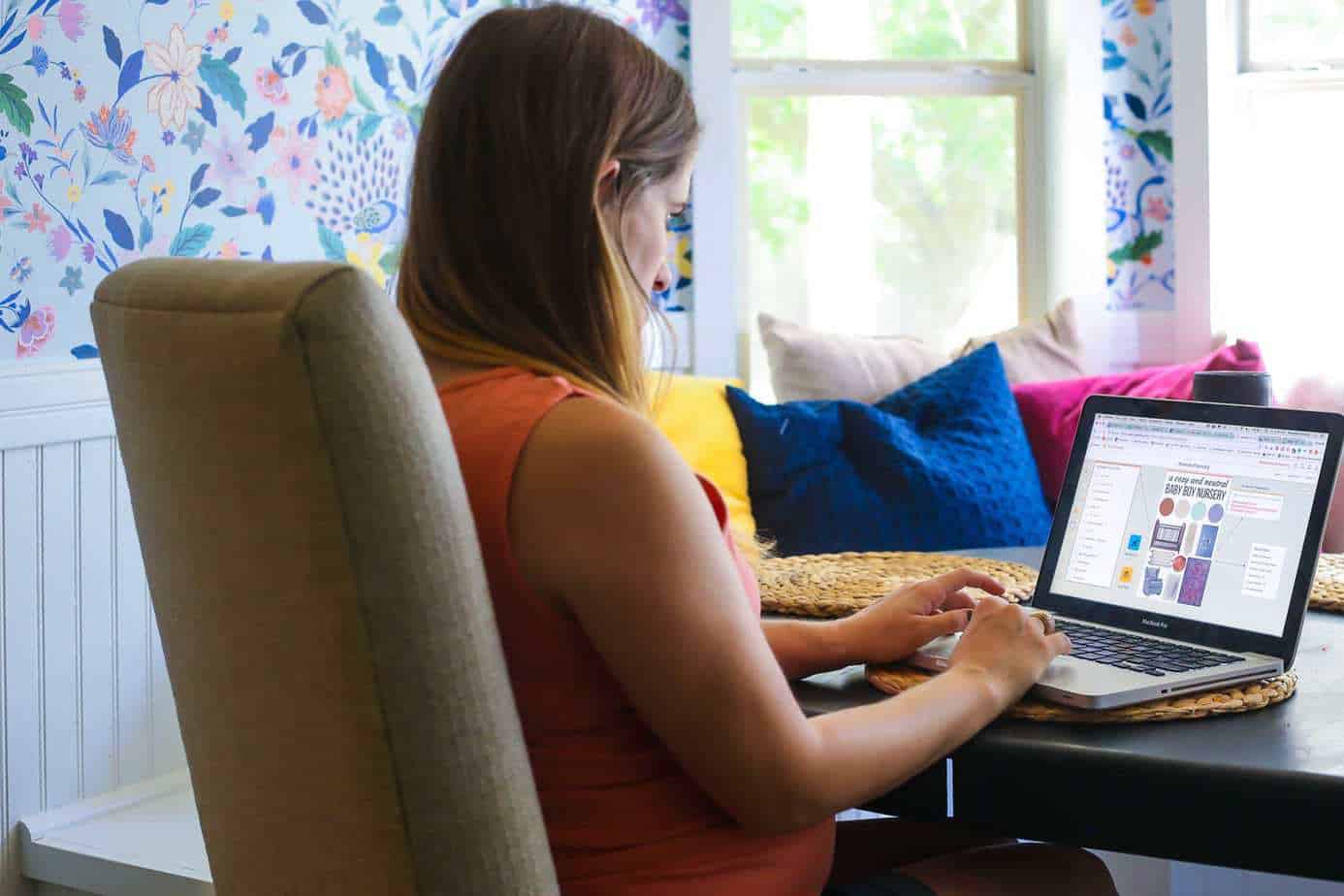 Friends, I'm officially a convert! And now, when someone asks me how I keep myself organized I'll know exactly which direction to point them in because I finally have a system that works and helps me keep everything in one place. And that's a beautiful thing for my organization-loving soul.
What is Milanote?
Milanote is a creative project planning tool. It's perfect for anyone who regularly works on creative projects that have a lot of moving parts, and it helps you take all of the thoughts, ideas, inspiration, and to-do's that are bogging you down and put them in one easy-to-find place.
I've been using Milanote over the last few weeks to help me organize my planning for our nursery renovation, and I don't know how I survived without it before! Your boards can be as simple or as complex as you want them to be, you can link between boards (which means I can keep everything nice and separate like I like it to be without making things any harder on myself), and you can add just about anything you can think of to the boards to make them 100% customized and exactly how you want them.
Another bonus is that you can export your boards as a Word Doc or PDF, so if you're using it to create a moodboard or need to share it with someone, it's super easy to do that. They even have a web extension so you can add stuff to your boards while you're surfing the internet (which has been really helpful as I've been researching baby gear!).
Basically, it's the perfect spot to brain dump all of the ideas you have for a project and have it be actually useful to you as you begin working.
It's my new best friend.
How does it work?  
Let's dive into a real-life example: my nursery board.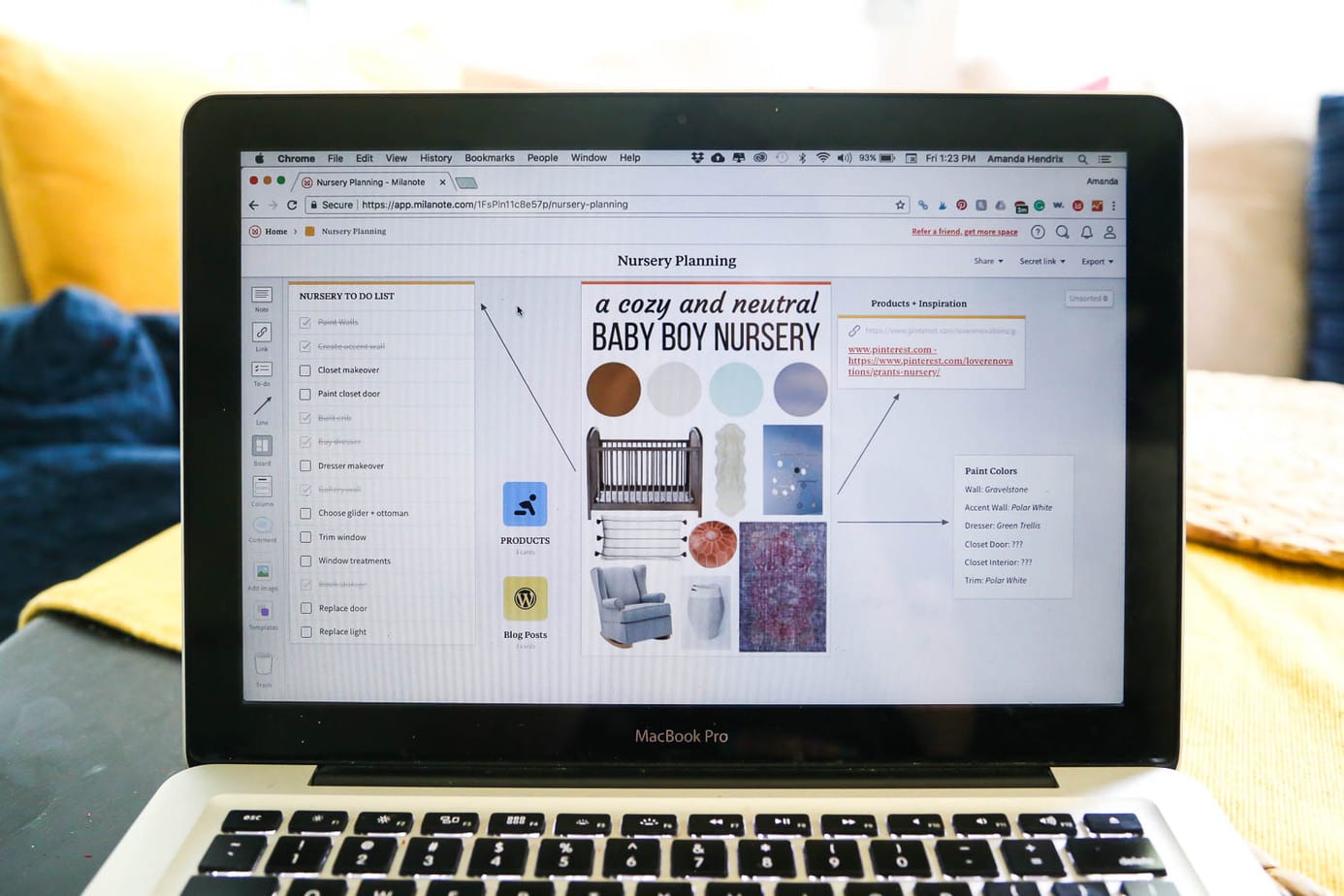 As I've been planning the nursery renovation, I've had a lot of things to keep straight in my head. Here's a quick list of everything that I wanted to include in my board (aka: all of the things that were currently scattered around in other places)
My mood board + inspiration
My Pinterest boards
Shopping lists
To-do lists
Research for baby gear I needed
Paint colors we used
A list of blog posts I need to write
Plus, I wanted plenty of room to add in other things that are bound to come up as we get further in this project. Previously, I had a few different Pinterest boards, several different to-do lists scattered around the house, and lots of ideas in my head that I was certainly going to forget if I didn't write them down somewhere.
Thankfully, all of this is no big deal for Milanote. All I had to do was start a new board and start brain dumping. As you can see above, I put our mood board, a to-do list, a link to my main secret Pinterest board, and a list of paint colors on the front page of my board. This takes all of the most-frequently-used pieces of my planning and puts them front and center in one spot. No more searching for the mood board image when I want to check something, no more to-do list contained only in my brain, no more paint swatches in my purse in case I need to reference a color we used. NO MORE!
Can I get a hallelujah?!
You can see that there are little icons on the board right next to the mood board image – those link to other boards that help contain other info. I like my inspiration boards to be nice and clean looking, so I love how easy it is to create a hierarchy within your Milanote boards so I don't have anything cluttering up my main page. I created one sub-board for all of the baby gear and nursery products that we're still researching (it includes a list of what we need to buy, plus I'm adding links to all of the products we're considering as I start researching each thing):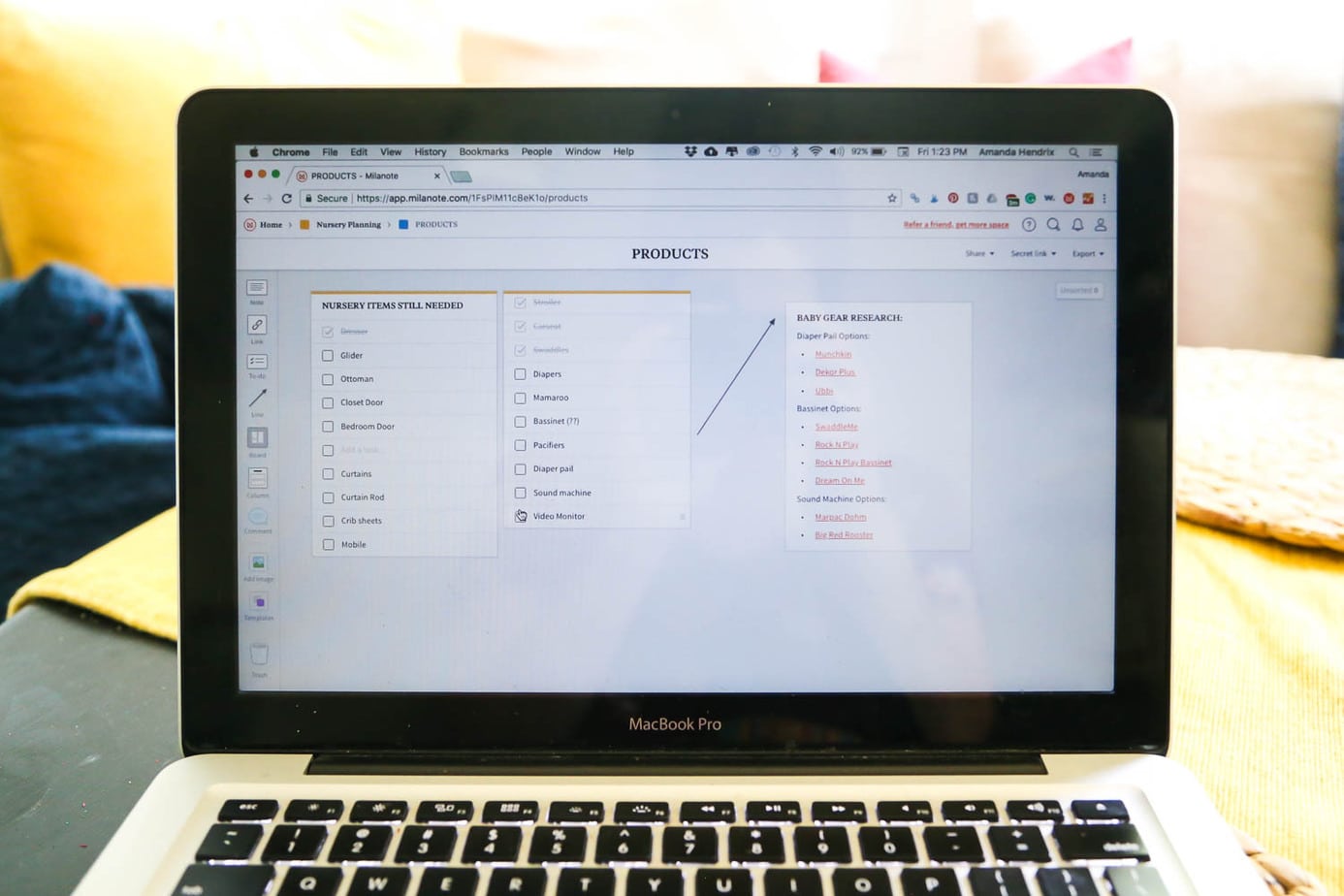 I also created another board just to help me organize the blog side of the nursery renovation. It will help me organize which posts I still need to write, gather images to share on social media, and keep track of deadlines and brands that we're working with.
SIDE NOTE: Miss any nursery-related blog posts? Here's a quick list to get you up to date: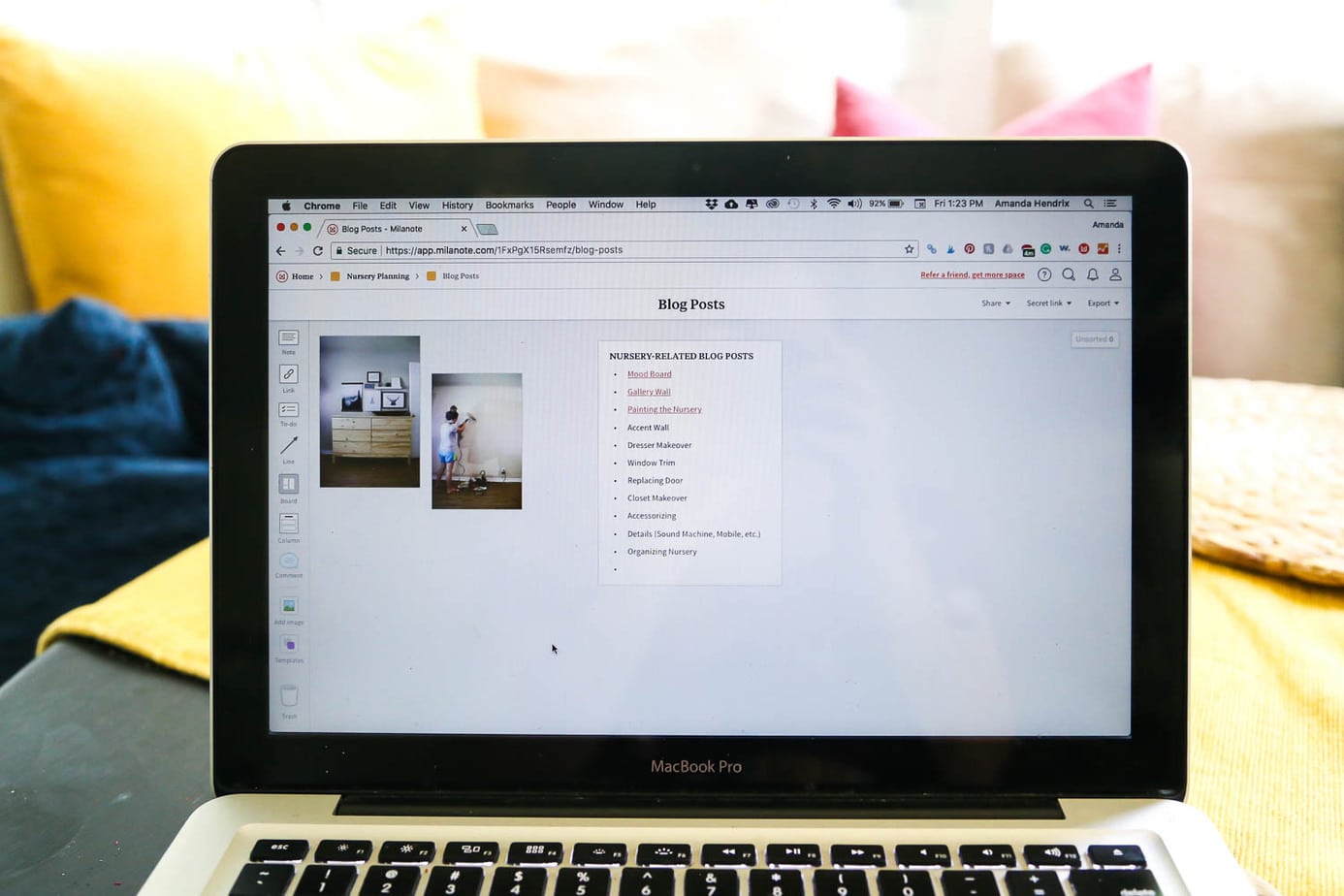 Anything that I need to organize for this project, Milanote can take care of it.
And, y'all, I can't even tell you how much easier that makes things for me!
But, it's pricey, right?! 
I know – I thought the same thing. I always see tools like this and think about how lovely it would be to use them, but I'm so cheap and stubborn that I would never pay a crazy monthly fee just to organize my projects. I'd rather keep doing what I've been doing.
But, guess what? Milanote is free! You can have unlimited boards and use up to 100 notes, images, and links (plus upload up to 10 files) for absolutely no cost. If you want to use it more extensively, you can choose the $9.99/month plan, which will allow unlimited uploads and allow you to search your boards. At this point, the free plan is absolutely perfect for me – since most of the projects I do are relatively self-contained (meaning, I won't need all of this info and organization once the nursery is complete), I can just delete boards as I finish projects to free up extra room. But, considering how obsessed I already am there's a fair chance I'll find other uses for it and eventually need to upgrade – we'll see!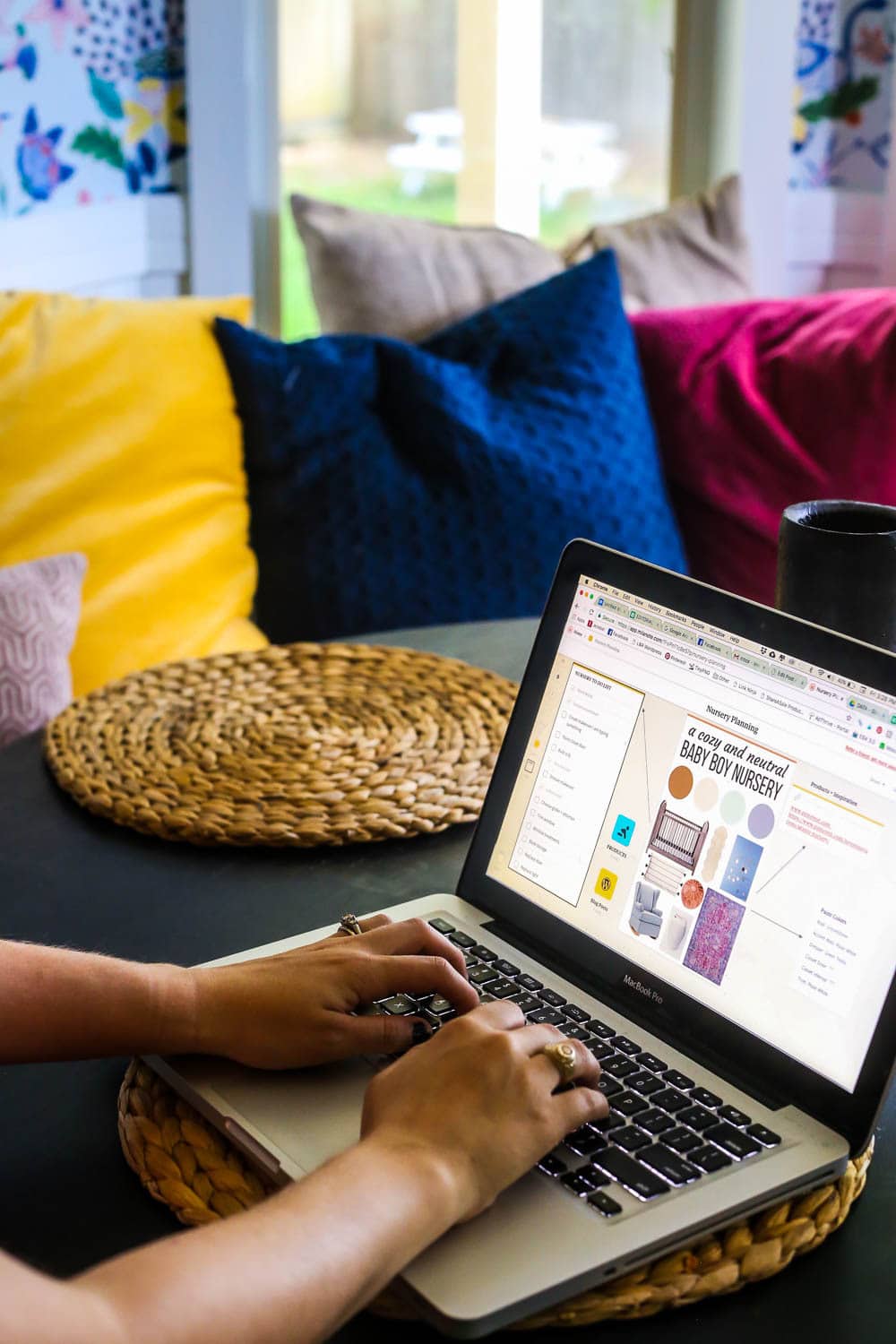 If you struggle to organize projects you have going on in your house, I highly recommend that you check out Milanote to see if it's right for you. And BONUS – if you want to go for the pro plan, you can get 20% off forever with the code amanda20. I've been so impressed with how easy it is for me to keep everything organized for the nursery renovation using Milanote, and it's made all of my research and shopping so much simpler.
How do you organize projects for your home?