Are you looking for a way to make your dinner table a little more colorful and fun? We recently swapped out our plain white plates for a mismatched place setting thanks to our new Anthropologie plates.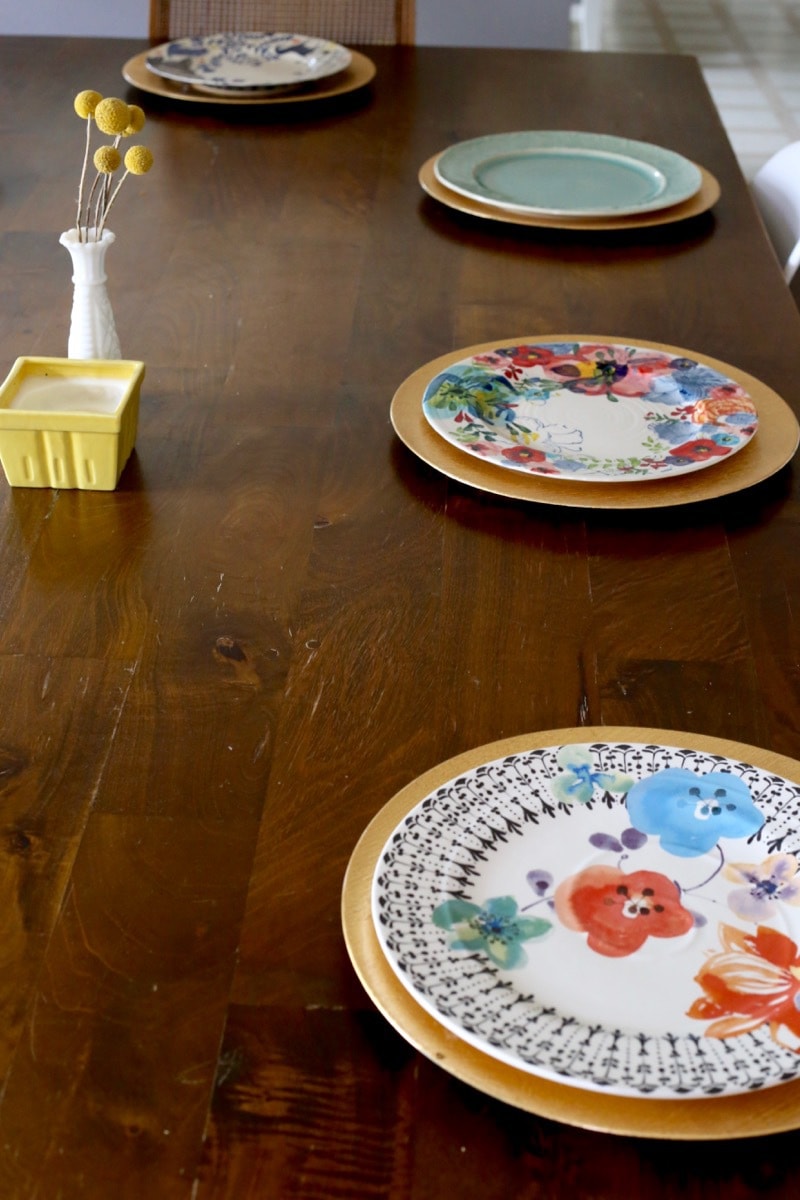 There's this small plates restaurant in Austin that Corey and I love and go to every chance we get. They have a really eclectic, homey vibe, and all of their plates are totally mismatched and random. Corey fell in love with the look from the very first time we went, and he's been talking about collecting some mismatched plates for our home for a little over a year now.
Originally our plan was to find a collection of random vintage plates from various thrift stores, but one day we were browsing in Anthropologie (a lot of bad decisions start with that sentence, amiright?) and it hit us that they have basically our dream plates, and they're all the same style so they coordinate really nicely.
Light bulb moment!
Of course, let me preface this with the reminder that we are not normally the type to just waltz into Anthro and drop a couple hundred bucks on new plates. We waffled back and forth on this for months and months before making a decision, but one day we went in and they were having a major sale on everything in the store (which almost never happens!) so we decided to go for it.
Gulp.
Our Anthropologie Plates: What We Think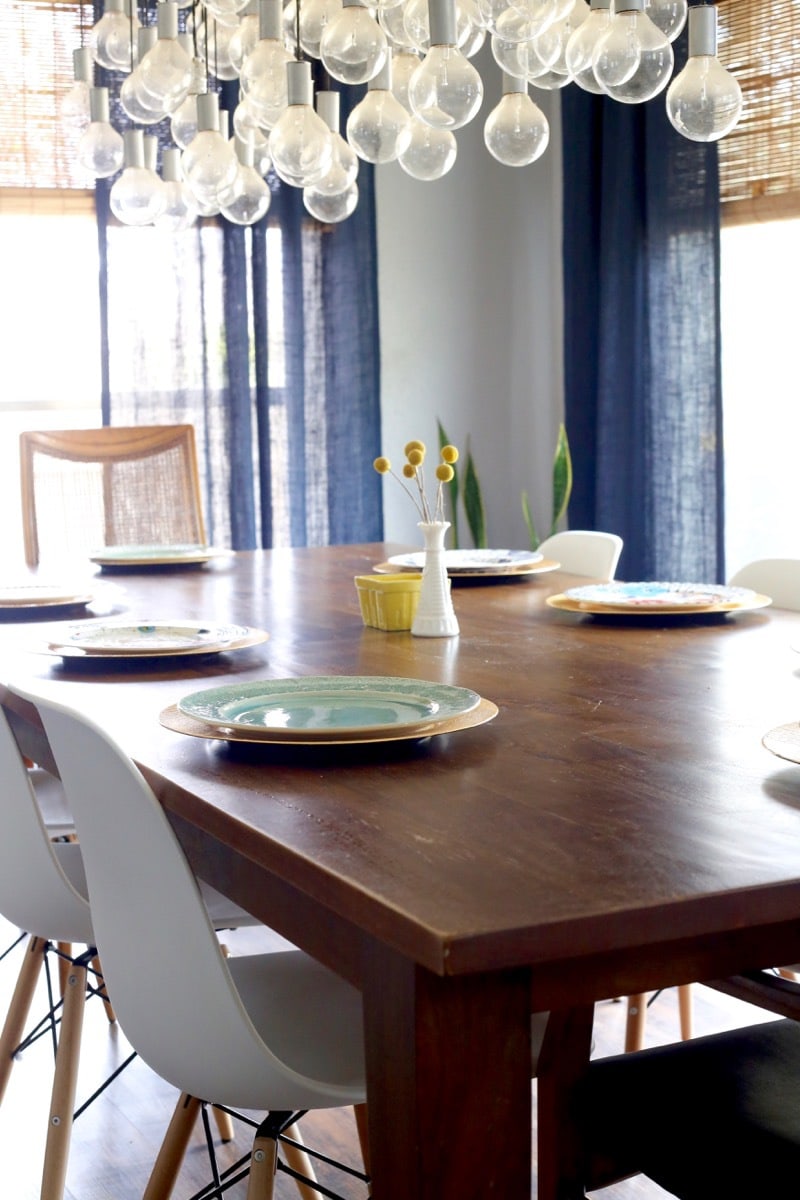 (This post contains affiliate links)
It was way more money than we normally spend on something like this for our home, but a nice splurge is good for you every once in a while! We figured that since we've been thinking about it for so long, we'd regret it if we let the opportunity slip by – plus, we knew it wasn't a hasty decision so we probably wouldn't end up wishing we hadn't done it.
And so far, we totally don't regret it. Seriously, how can you regret these beauties?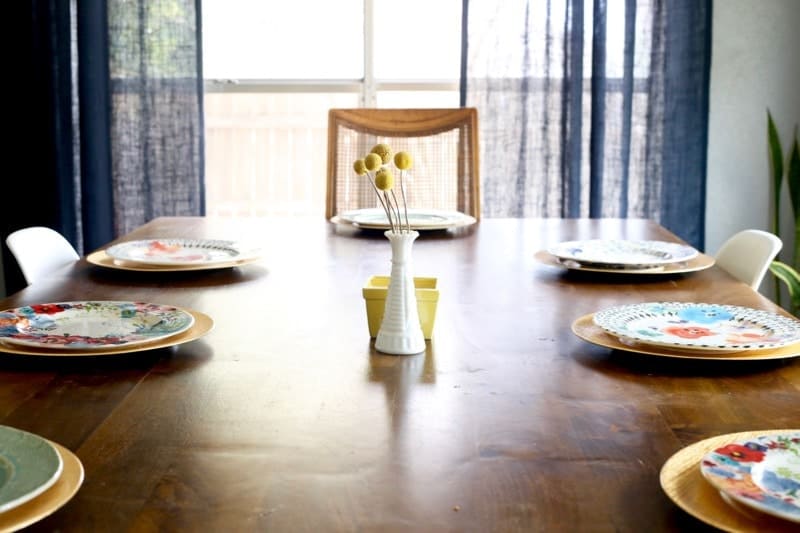 We snatched these up without much of a plan about what we would actually do with them. We still have our full set of plain white plates from Crate & Barrel that we registered for, and we love them, but we want to put these into regular rotation in our home and we want to show 'em off as much as we can. We don't like to keep our table set all the time (we've tried it before and it made us crazy), so what we'll probably do is put these out on the open shelving in our kitchen and store the white plates elsewhere.
I mean…I can't pass up this pretty pop of color on the shelves!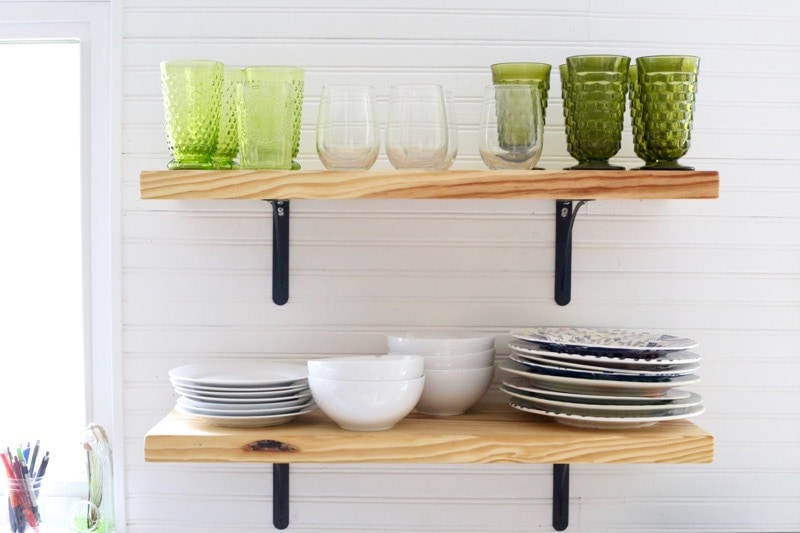 The only thing we've got to figure out from here is what the rest of our "typical" place setting might look like. When we have people over (and sometimes even when we don't) we like to set the table all fancy-like, with salad plates, pretty napkins, etc. Our normal placemats definitely don't work with these plates, and our plain white salad plates look pretty pathetic.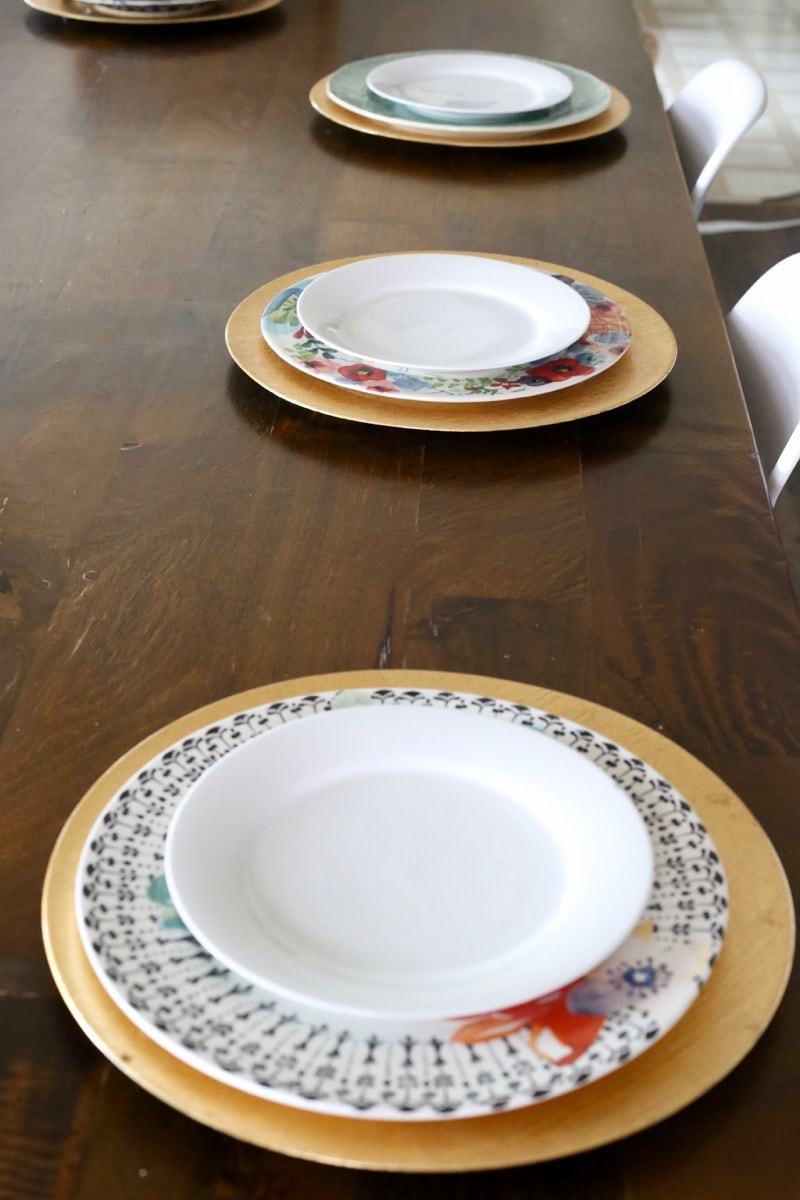 We've talked about buying the matching set of salad plates for each of these plates and mixing + matching them on the table as well, but I haven't decided for sure. We could try to find some vintage plates that coordinate, but that would probably take forever. We could just skip the salad plates, but then I feel like the place setting looks like it's missing something. Am I overthinking this?!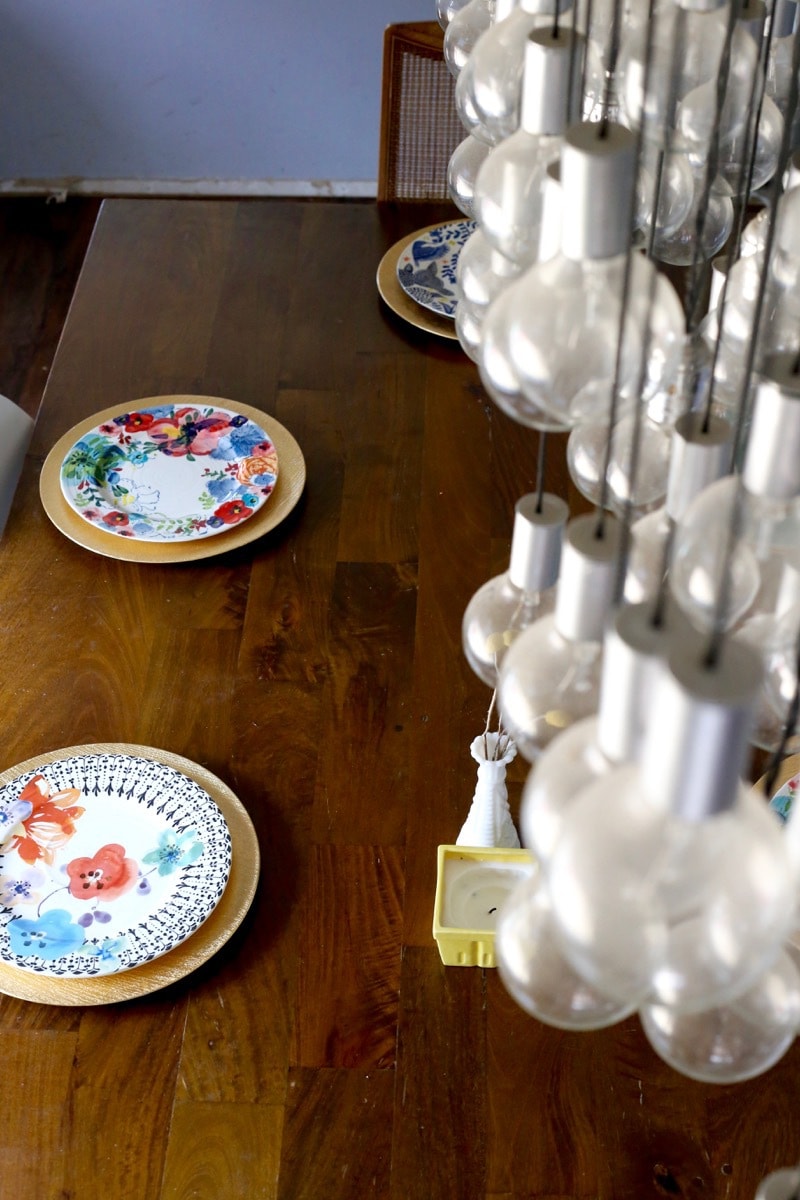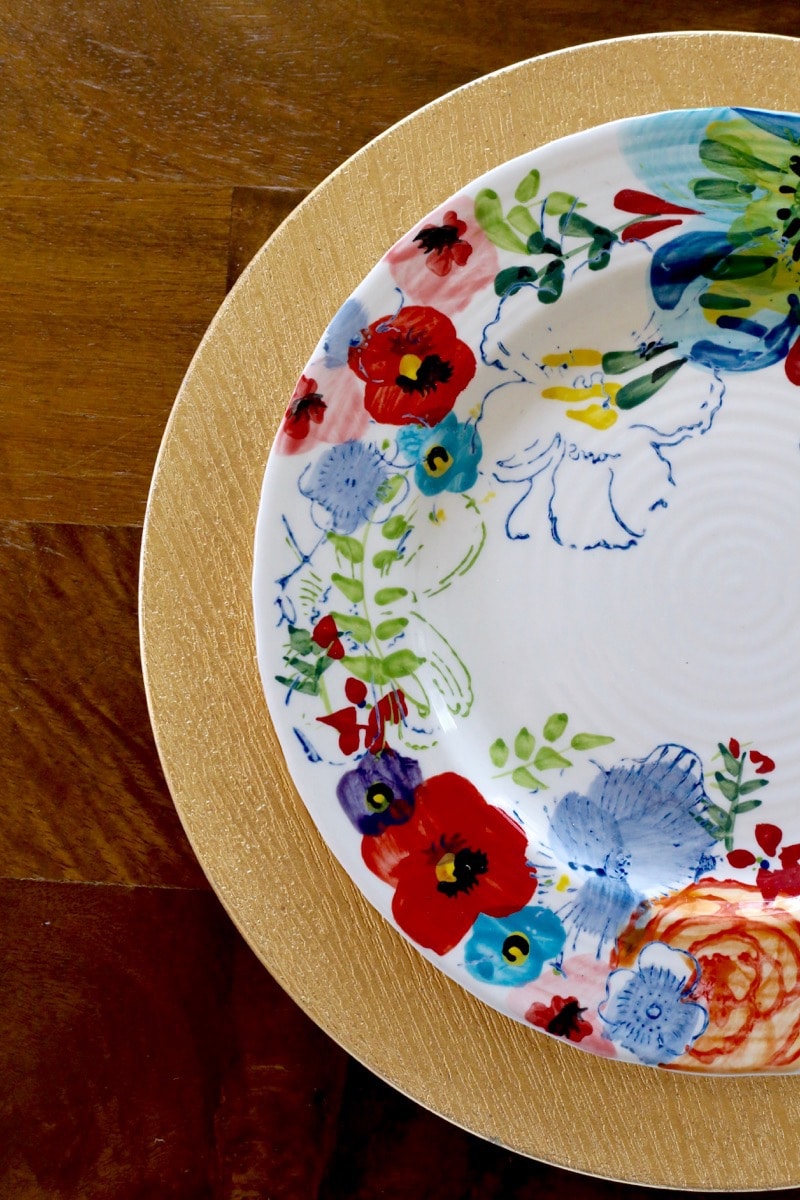 I'm so excited that we have the plates now, and I love how pretty they look on our table. I really want to be better about not leaving the table completely blank on a day-to-day basis, so this has really inspired me to start gathering some things like a runner and a centerpiece so that my table looks nice even when it's not in use. Who knows, maybe I'll try leaving it set again…after all, these plates are much more fun to look at than my plain white ones!
How to Get the Mismatched Place Setting Look
If you want to get the same look for your table, here are the plates we purchased: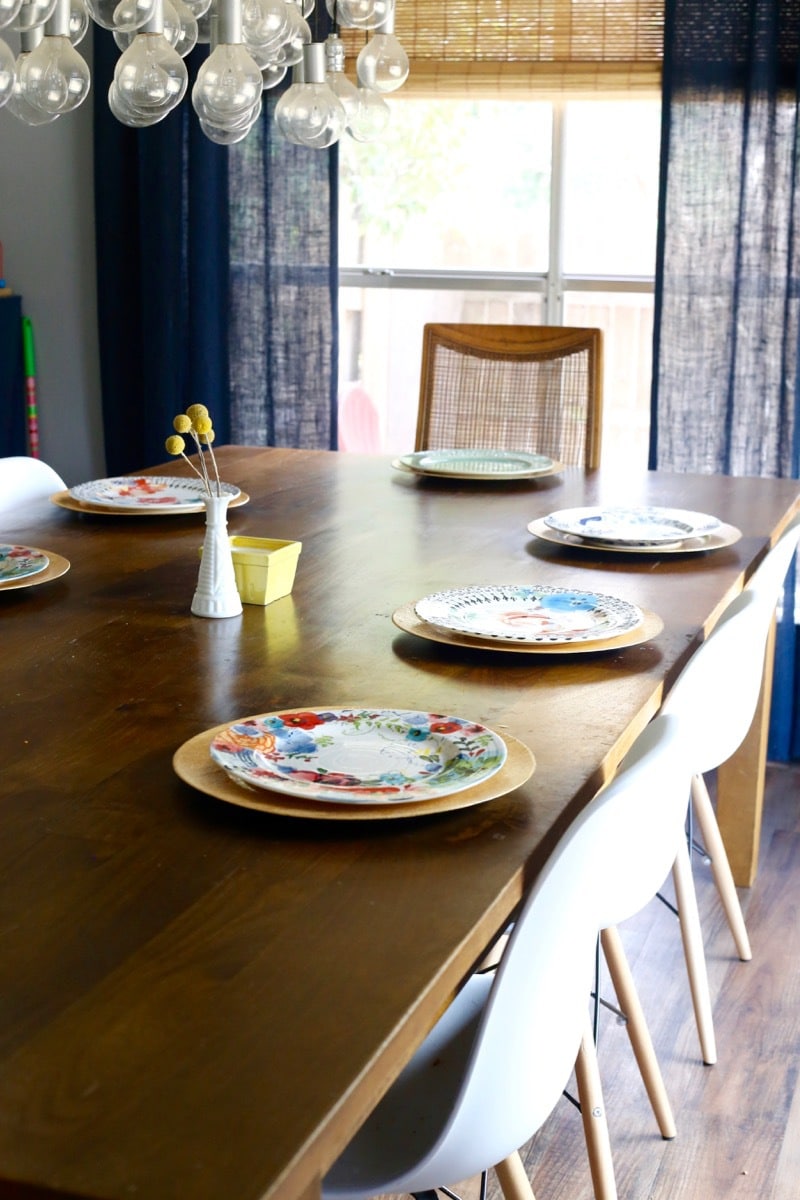 Do you have multiple types of place settings in your home or do I have a plate-collecting problem? What do you think we should do about the salad plates and the chargers?
If you want more details about anything you see here, click around below for more information!

An UPDATE: Review of Our Anthropologie Plates 2 Years Later
We've officially had these plates for two years now, and I can safely say we still LOVE them! They've held up extremely well with almost no chipping (there are a couple, but with young kiddos in the house it's just about impossible to avoid), and the colors are just as vibrant and beautiful as the day we purchased them.
I still highly recommend these plates – if you'd like to see how we style them in our new dining room (hint: it's way better than what you see above!) check out this post for a look at our gorgeous new dining room!