I'm currently tackling cleaning out my entire home using the techniques outlined in The Life-Changing Magic of Tidying Up. If you want to catch the first post in this series, you can get up to speed by clicking here to see how I cleaned out my closet using the KonMari method. 
When you're tackling cleaning out your entire house and systematically getting rid of everything you don't need, it seems almost silly not to consider having a capsule wardrobe. After all, they're all the rage right now – I feel like every time I visit Pinterest I see ten new posts about how to create them, how to stick to them, and what you should include in your capsule wardrobe. To be honest, I love it, and I don't really tire of reading about them – I'm on a mission right now to get rid of all the necessary clutter in my life, and simplifying my wardrobe is an awesome way to accomplish that.
However, I tried the whole capsule wardrobe thing last fall and, while I was so excited to give it a shot, and I considered it pretty life-changing for me, in the end I decided not to stick with it.
Even though a strict capsule wardrobe ended up being a pretty bad idea for me, that doesn't mean that I can't take some of the principles and apply them to my own closet, right? I'm all about making things my own, so over the last few months I've worked to come up with a system that really works for me, and I thought I'd share for those of you who failed at the capsule wardrobe as well.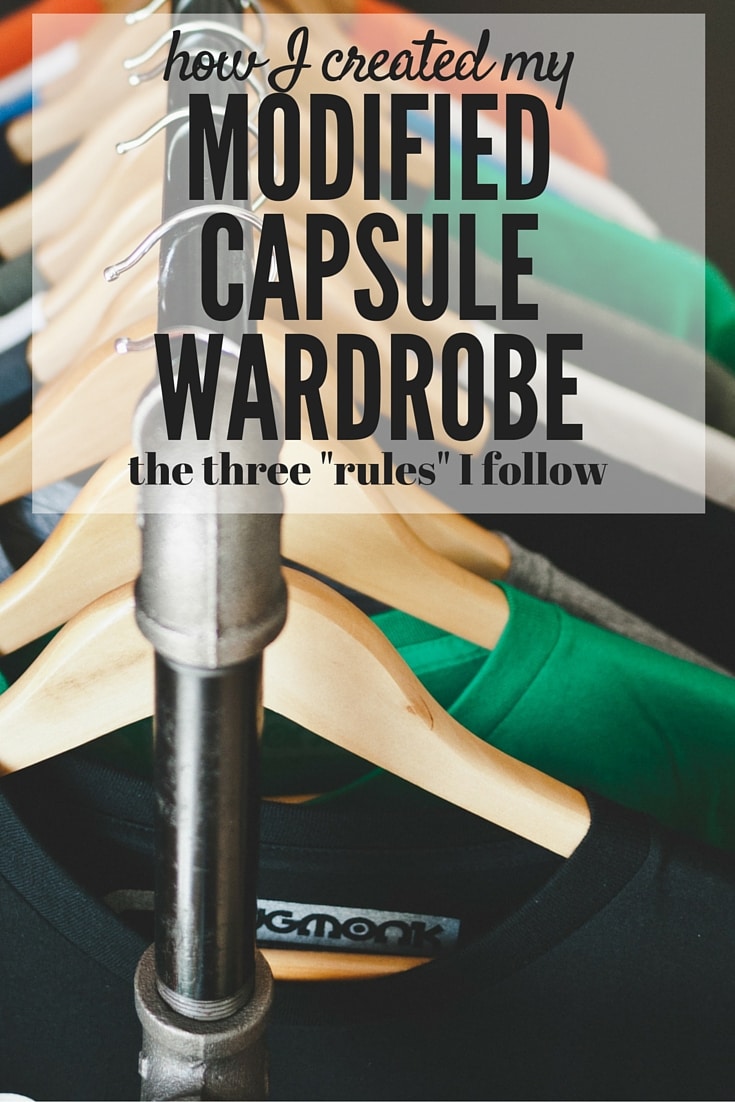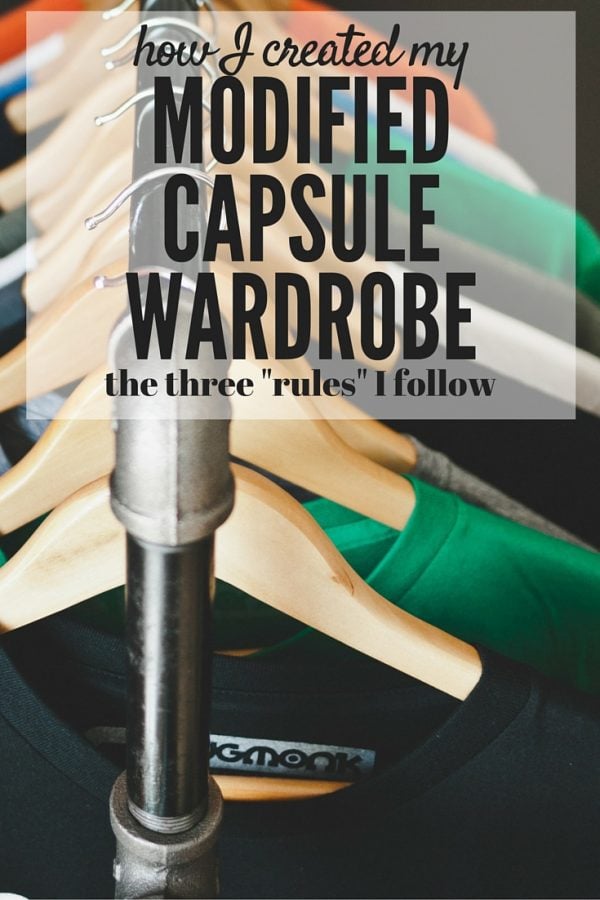 The first and foremost rule of my modified capsule wardrobe is that I don't count my clothing.
Seriously. I don't know why I ever thought it was a good idea to try to number my clothes and limit myself based on some arbitrary amount of clothing that I thought was right. It's just silly. Instead, I'm spending my time focusing on three simple things: what I need, what I want, and what makes me happy.
WHAT I NEED:
I've learned to embrace the concept of wardrobe basics and just running with your own personal style. I think that the "basics" will be different for every person, but here's what I feel like I need to have in my closet at all times (links are either what I have, or a very similar item):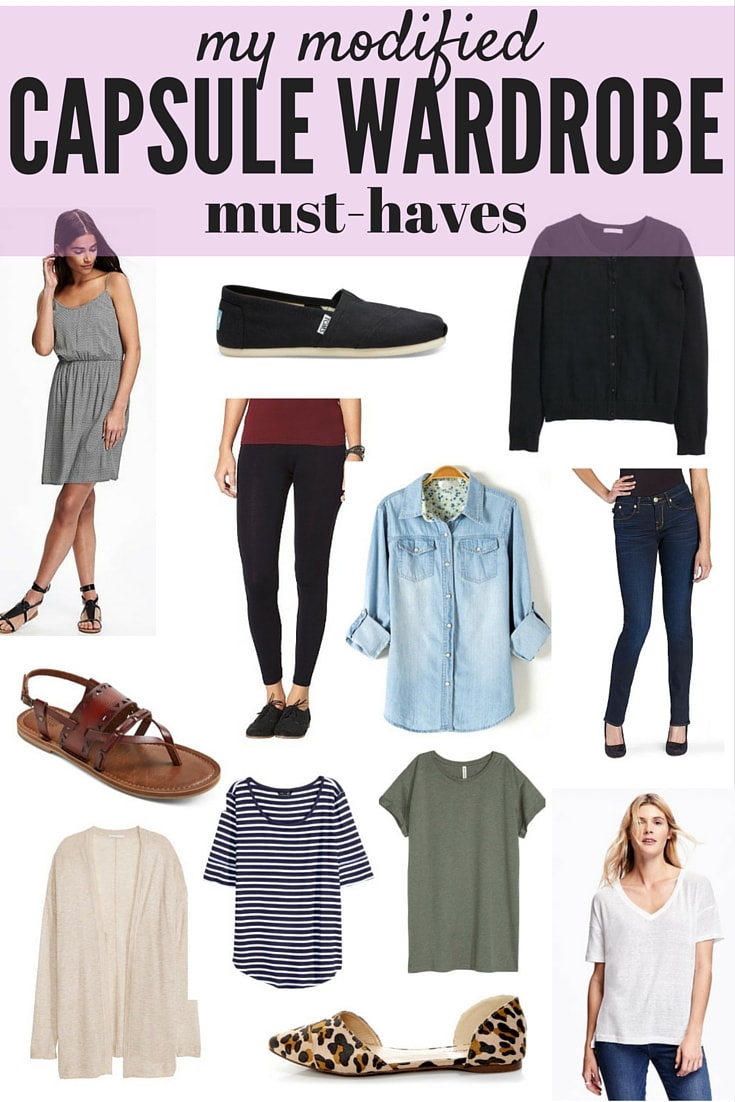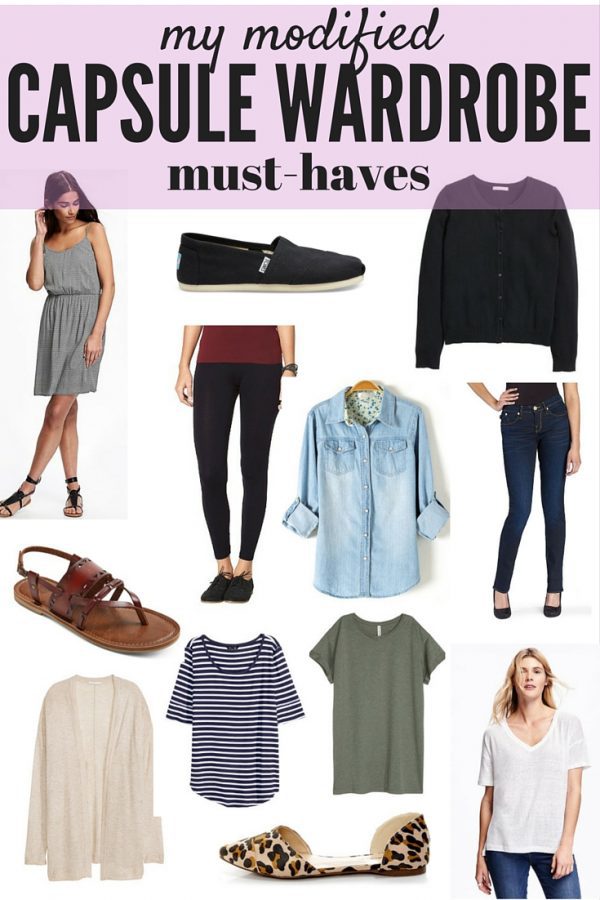 – Two pairs of comfortable jeans. I like to have one pair of fitted, dressier jeans and another more casual, distressed pair.
– A chambray shirt. It works in all seasons, for almost every occasion, and is so incredibly versatile.
– Leggings + at least 2-3 tops to wear with them. I would wear them daily if I could.
– At least 2 different casual dresses. I love to throw on a dress when the weather is warm, and I'll often layer them with cardigans and tights in the colder months.
– One black cardigan + one tan cardigan. Never underestimate the power of a good cardigan. I wear mine multiple times a week.
– A striped tee. Preferably black & white.
– A perfect, comfortable, slouchy white tee.
– A good pair of black flats or slip-ons.
– A pair of sandals.
– A pair of bright or printed flats.
No matter the season, no matter my mood, no matter what styles I'm currently loving, the above pieces are in my closet always. They're my absolute must-haves, the items that I wouldn't feel like myself without
I used to resist the idea of wearing the same few things over and over, but I've since realized that there's no reason to. I'm the only one who really remembers what I wear each day, and no one is going to mind if I rotate the same four or five shirts every day. I've given myself permission to wear the things I love a little more frequently, and that has been so freeing to me.
WHAT I WANT:
Just because I have my basics, that doesn't mean I don't run with the trends sometimes. Once I pared down my wardrobe (by a lot) and got a better understanding of what my true style is, I was able to really hone in on the things that I want to add to my wardrobe. This is different from how I used to do things – I would just purchase whatever caught my eye in the store, often without really thinking about if it was something that would work with my closet or my lifestyle. Now, I don't buy anything unless it's on my mental list of items to add to my closet, which means impulse purchases are way down and my satisfaction with my new clothes has skyrocketed.
Here's what's currently on my "to purchase" list:
– The perfect pair of brown ankle boots (these are my dream ones but I just ordered these as a substitute, so I guess I can cross this off the list!)
– A slouchy, lightweight cardigan that will go with anything
– A sassy graphic tee (like this one)
– A lightweight casual button-down
– The ever-elusive perfect pair of black pants
– A pair of oxfords or dressy sneakers (these are on my wish list right now!)
WHAT MAKES ME HAPPY:
The last thing I take into account when I'm working on planning out my wardrobe is the stuff that, for some inexplicable reason, just makes me smile. The stuff that sparks joy, if you will. These items aren't necessarily super on-trend or fashionable, but I love them nonetheless and they're often the things I wear more than anything else.
Currently in my wardrobe, I've got several items that aren't necessarily well-made and aren't particularly beautiful, but they're comfortable and they make me incredibly happy. So they stay.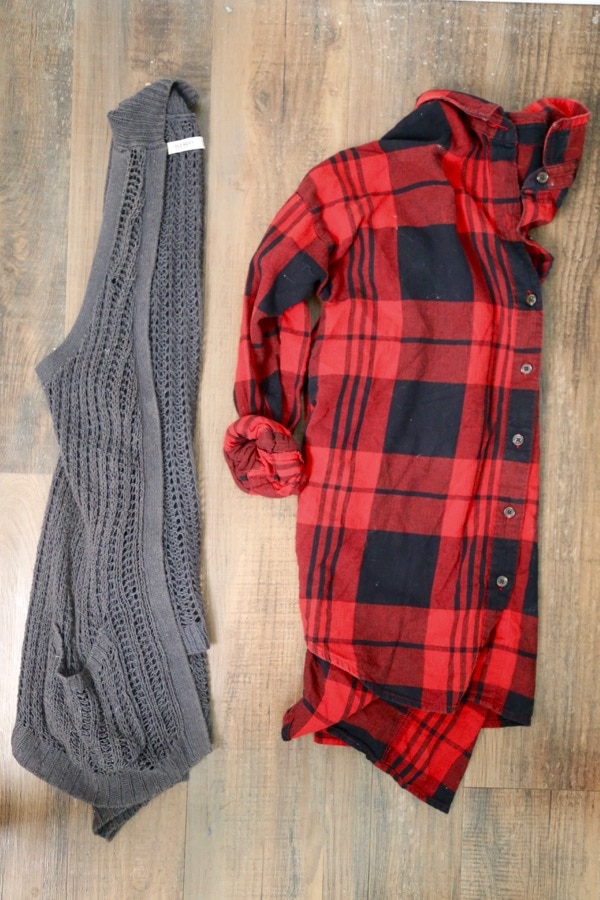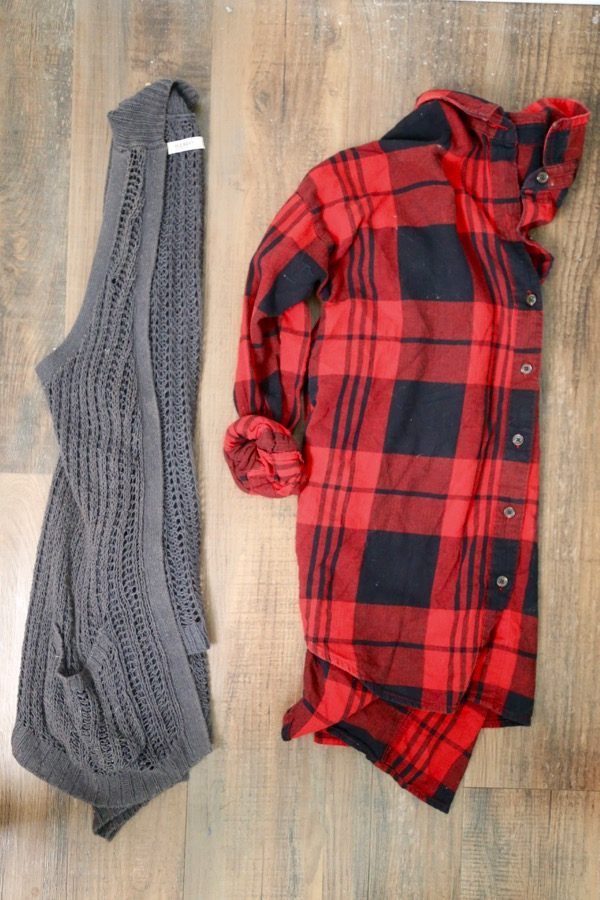 Here are my current "make me happy" items;
– The knit vest that I've had for years and that I wear almost constantly.
– The crazy-cozy paid boyfriend shirt (I have two!) that I wear in a size up so I can pair it with leggings.
– A black maxi skirt that I know isn't super flattering on my small frame, but that I continue to wear on the regular anyways.
* * * * * * * * * *
This new approach to looking at my wardrobe has been pretty revolutionary for me. If a piece doesn't fit into the need, want, or happy category, then I just don't keep it! It's made shopping much easier, because I've already got a predetermined list in my head of what I'm looking for, and unless I just see something that makes me incredibly happy, I don't ever stray from the list.
I found that this was also a great way for me to clear out my closet when I was cleaning out my clothes using the KonMari method – asking those few questions of myself meant that I was able to make decisions quickly and efficiently, and I'm left with only things that really work for me in my closet .
What's your approach to keeping your wardrobe under control? Any great suggestions for any of the things on my wish list?