Well, let's start with this – no, I'm not pregnant, but I do have some seriously exciting news for you today. If you subscribe to my newsletter, you'll already know this, but for those of you who don't…here we go:
Wednesday was my last day of working as a teacher.
Like….last day, last day.
I am officially blogging full time.
Blogging! Full time! Can you even believe it?!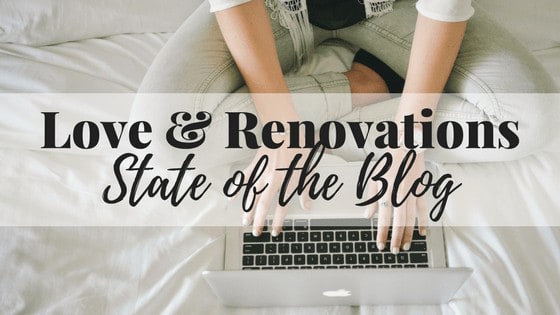 I have no words to tell you how excited I am about this situation, how genuinely grateful I am to you for showing up in my little corner of the internet, and how much I love having all of you as my internet BFFs. I seriously still feel like pinching myself every single day that I'm actually going to be able to take this leap and pursue my dreams, and it wouldn't be possible if y'all weren't so supportive and wonderful. So, thank you for that.
So, what does that mean for the blog?
Well, I'm hoping it'll mean even more awesome content, brand collaborations, and a general expansion of what we do here at Love & Renovations. I've talked about my dream of opening an Etsy shop, and my goal is still to make that happen by the end of the summer. I want to be more available to you guys to answer questions, give you inspiration, and help you feel empowered to take on projects in your home that you have never tried before. I want to do more videos, more Facebook Lives, and spend more time emailing with you guys.
As I've prepared for this transition, I've been spending a lot of time over on my social media channels working on making those spaces as awesome as they can be. It's so fun to connect with y'all on those platforms and see your smiling faces (profile photos?), and you can expect to see me over there even more in the coming months. Speaking of – if you don't already, be sure to follow me on Facebook, Instagram, and Pinterest!
I'm also hoping to up my posting schedule a bit – I've been toying around with adding a weekend post for a while now, and we're going to try it out this summer. So, from now on be sure to pop in while you have your Saturday morning coffee to see a fresh new post! I have a few different series I want to try out, but you know I always love your input, so be sure to let me know if you think of something you want to see!
Overall, I hope that this change leads to bigger and better things for Love & Renovations as a whole. This site is my baby, it's my favorite corner of the internet, and it's the place where I get to connect with some of my very favorite people in the entire world (that's you!). I want nothing but wonderful things for this space, and I hope that I can keep providing content that makes you want to come back for more. I'll admit that this transition is a little bit incredibly intimidating and scary – I think what I've been feeling over the last few weeks is probably not unlike the feeling people get when they jump out of a plane. Terror. Excitement. I'm-gonna-throw-up. Curiosity at what's to come. Complete and utter awe that this is actually happening. Did I mention terror?
Thankfully, you guys are basically the best, most supportive parachute ever and I know that I'll land on the ground after a bit of a free-fall and feel absolutely fabulous and ready to take on the world.
Have I said thank you yet for being so awesome? Because you are. And I appreciate it.
Here we go!