Corey and I lead pretty busy lives. I just recently started a new full time job that leaves me absolutely exhausted at the end of the day, and he's in his last semester of college and working about 20 hours a week on top of that.
Needless to say, we don't have a ton of time together during the week, and the time that we do have together is usually spent lounging on the couch in silence, both of us absorbed in our own computers.
We really have to put a concerted effort into actually spending quality time with one another, and one way that we did that before the wedding was to have weekly at-home date nights. We'd plan a special meal, cook it together, and eat it while watching a movie from Netflix and cuddling. No cell phones or computers allowed. It isn't the most glamourous date night, but it's exactly what we need – a chance to reconnect and spend time together focusing on nothing but each other!
Since we got back from the honeymoon, we've been so busy between my new job and his schoolwork that date night has kind of fallen off the radar. BUT, after a particularly rough week we decided that last night was the night. We needed a date night, and we needed it ASAP!
We hadn't planned ahead, so dinner wasn't anything special, but we had a bottle of wine and I made some delicious brownies for dessert.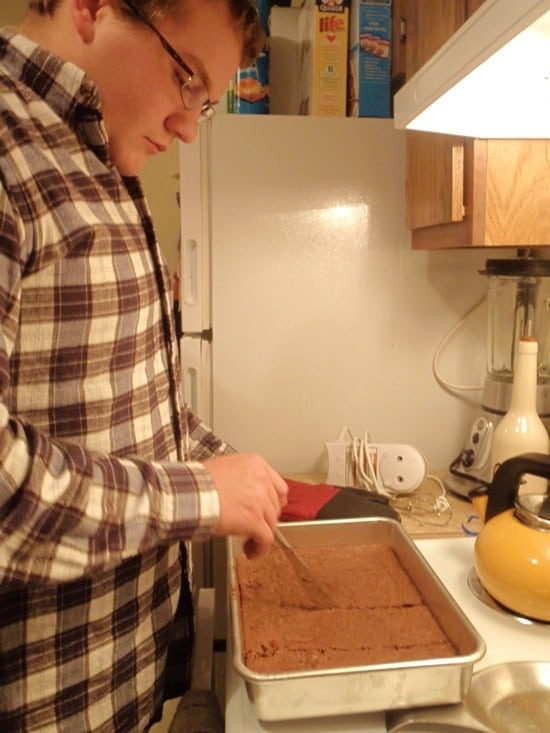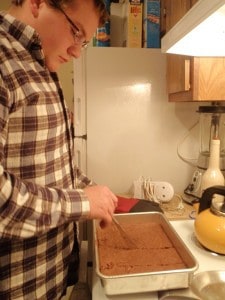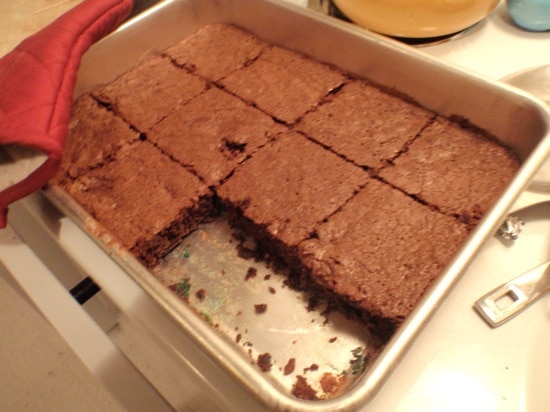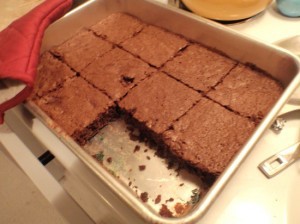 Yes, I know there are green specks in the bottom of the pan. There are M&Ms in there!
We poured ourselves a couple of glasses of milk…
And settled into our super cozy couch to watch The Lovely Bones.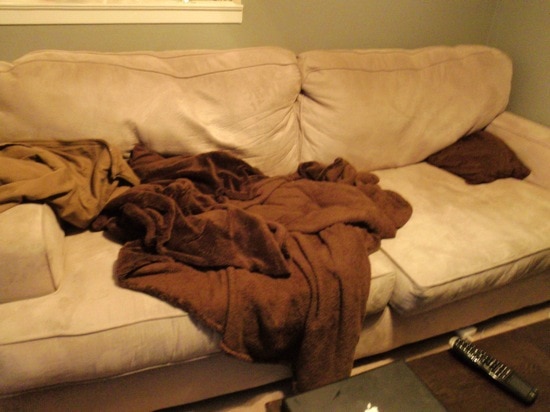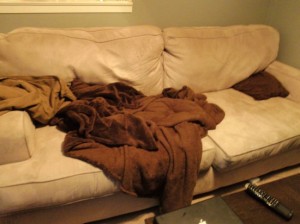 Doesn't it just look like it's begging you to lie down on it? It's a very seductive couch, I tell you.
I can't even tell you how much those couple of hours did to help me feel better about my week. Something about spending two hours curled up on the couch with my husband just makes everything seem better!
I am absolutely determined that we aren't going to let date night fall down on the priority list again. It makes my whole world seem a little brighter, and I need it every single week – and next week I plan to make it extra special, because we'll be celebrating our one month marriage anniversary!
Do you have a planned date night? Do dates make you feel as good as they make me feel?!