This might be my favorite project that Corey and I have taken on so far.
Of course, I feel that way pretty much every time we take on a new project, so that probably won't be the case for long. But we'll just go with it for now.
Corey and I have recently taken to visiting thrift stores and antique stores obsessively. We don't have many here in town, but we love to go to the ones we do have – most of the stuff is embarrassingly overpriced and not that great to begin with. But, if nothing else, we like to make fun of the ridiculous stuff we find.
A few weeks ago we had a day with nothing to do, so we decided to fill it up with our new favorite hobby. I think we may have visited every thrift or antique store within a 20 mile radius.
After about 5 stores we were starting to feel a bit burned out and disappointed. We hadn't found much of interest, and anything we had found that we liked was insanely expensive (like the $300 vintage fan that we spend some time drooling over). We were on our way back home and we saw a new antique store that had popped up right by our house. We figured we had nothing to lose and popped in for one last stop.
And ohmygoodness I'm so glad we did. Because we found this beauty for a mere 20 bucks.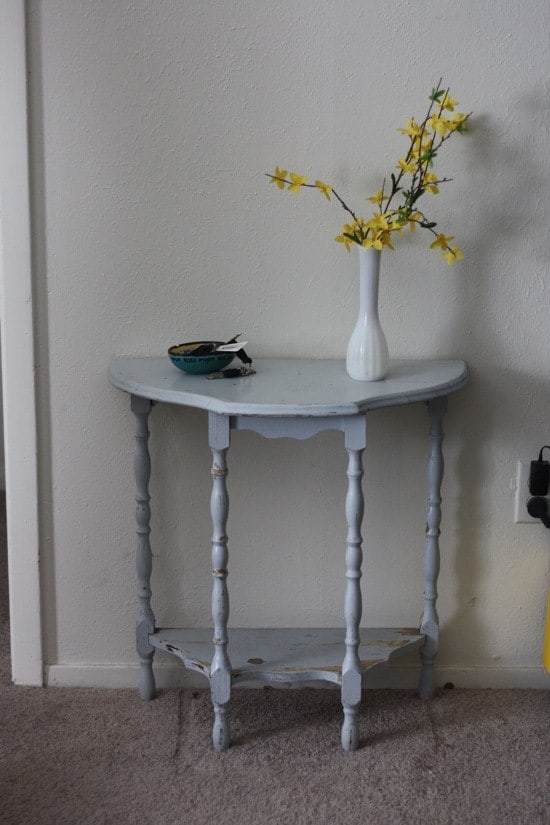 We fell in love with it in the store (even though it was obvious it could use some seriously love), and we knew it had to come home with us. When we first bought it, we actually had no idea where it would go or what we would do with it. All we knew is that we wanted to paint it a bright color and stick it somewhere where it would make an impact.
Once we got it back to the house, though, we realized that our house is, um, TINY, and there was no way it was going to fit anywhere unless it was replacing something.
Lucky for me, it ended up replacing something I've been itching to get rid of for a long, long time. Let me give you a hint. Here's a photo of the spot pictured above before we got the table: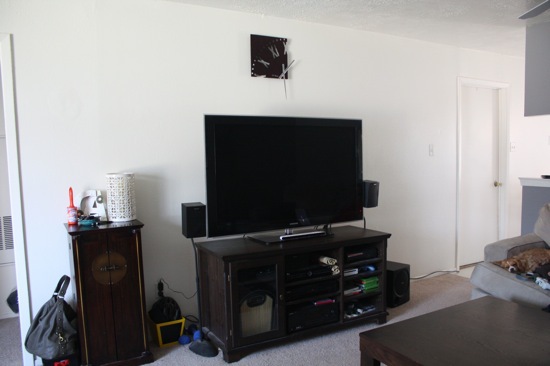 See that tall, bulky cabinet? It's a cd tower and the only reason we even had it was because Corey and I owned an absolutely ridiculous amount of cds and had never gotten around to getting rid of them.
Corey was reluctant, but I finally convinced him that if we backed up all of the cds and made sure we had them in our computers, we could sell all of the cds to Half Price Books. It was the only way this table was fitting anywhere in our house, and who really needs two hundred cds in their cases floating around the house? Definitely not me.
(Of course, there were a few cds that we just couldn't get rid of, so we each picked one band that we would keep the cds from. In case you're curious, Corey chose Counting Crows, and I kindly informed him that if he even thought about throwing away my Dashboard Confessional cds I would murder him in his sleep.)
Anyways, back to the table.
We got rid of the cds and proudly placed the table in its new home.
But, not until we had given it a serious makeover!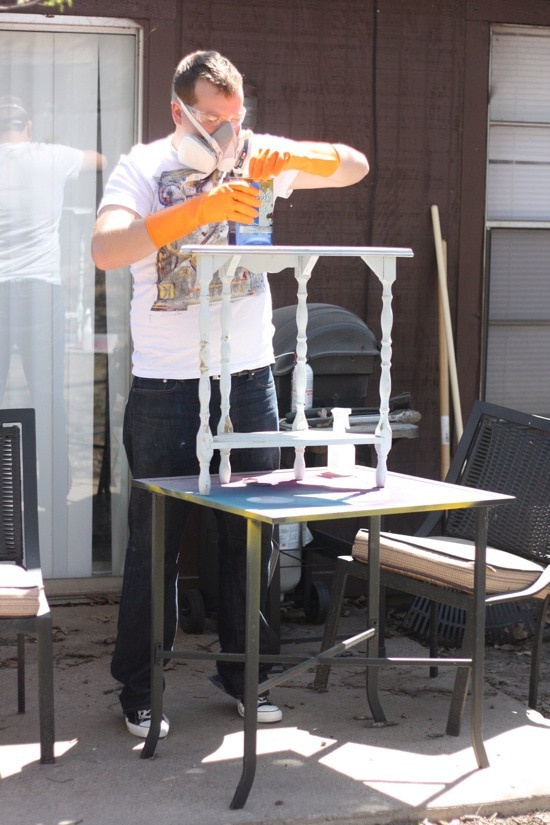 Corey spent some quality time outside with his protective gear and some seriously toxic paint stripper.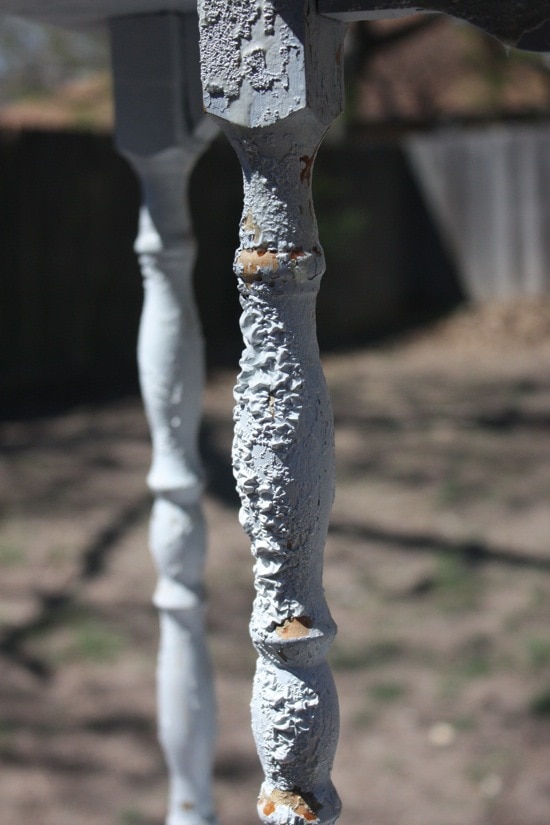 This is what started happening seconds after he sprayed the stripper on the table. Scary, no?
As he got to scraping, we quickly realized that we weren't the only ones who had the idea to paint the table something bright over its life.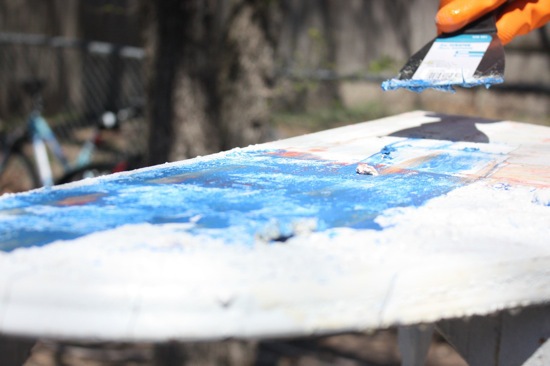 Although the pale blue was the only color visible at first, once we got to stripping it was obvious that the table had a couple of previous lives – one as a bright blue table and one as a red table!
Once Corey finished up outside with the stripper (hah!), it was my turn! And boy was I ever excited to get my hands on that table!
Do you get frustrated when you don't find anything good at the thrift store?