A couple of weeks ago, my friend (and fellow Weddingbee blogger!) Tabitha posted about personal mantras. It got me thinking about what mine is, and I have to say I had a hard time with it.
However, when she described a mantra as a "simple thought, phrase, or belief that runs through your mind and shapes how you approach life," I knew exactly what mine is.
Now, before I share it, I will say that I feel like my mantra changes as I go through different stages of life. Right now, I'm in a phase of my life that is very uncertain. We're moving in just a few short months, and I have no idea where we'll be living, what we'll be doing, or if I'll even have a job.
I'm not gonna lie, it terrifies me.
So, because of all the crazy feelings I've been having about the impending move, I started repeating something to myself.
It's a Bible verse, actually. This blog is about my life and my home, so don't worry – I'm not going to get all preachy on you anytime soon. But, my faith is an integral part of who I am, and this verse immediately popped into my head when I was looking for something to cheer me up about my current situation.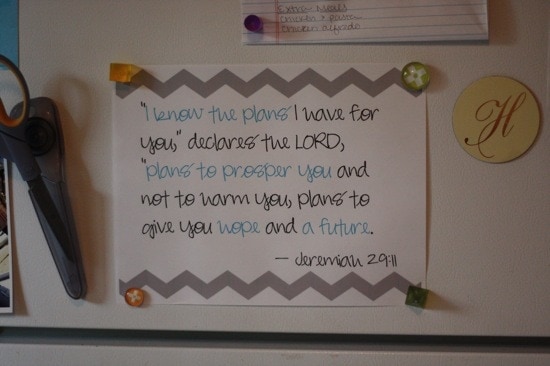 That's right. I even printed it up and stuck it on the fridge – so I see it daily and am constantly reminded that even if I don't know what's going to happen in a few months, someone does.
And that makes all the difference in the world as to how I feel about the move.
Do you have a personal mantra? Tell me about it!