New Years Resolutions.
It's that time of year, right? Everyone is talking about resolutions – they're feeling committed and excited to the changes they want to make in the new year.
People are visiting the gym.
They're eating healthy.
They're avoiding alcohol.
You know, the usual.
But how long does it last? Not very, typically.
If you haven't guessed, I'm not a fan of the traditional resolutions for the new year…no one (including me) ever keeps them, and they're promptly forgotten about come February. So instead, this year I decided to take a different approach. I spent some time thinking about the things I need more of in my life, as well as the things I need less of.
Isn't that what a resolution boils down to, anyways?
More of the good habits and less of the bad habits.
My resolutions aren't things that are very measurable or tangible. I likely won't have anything to prove that I've accomplished them…but I'll know.
Really, they're less resolutions and more life changes I want to make.
Here's what I'm committing to this year: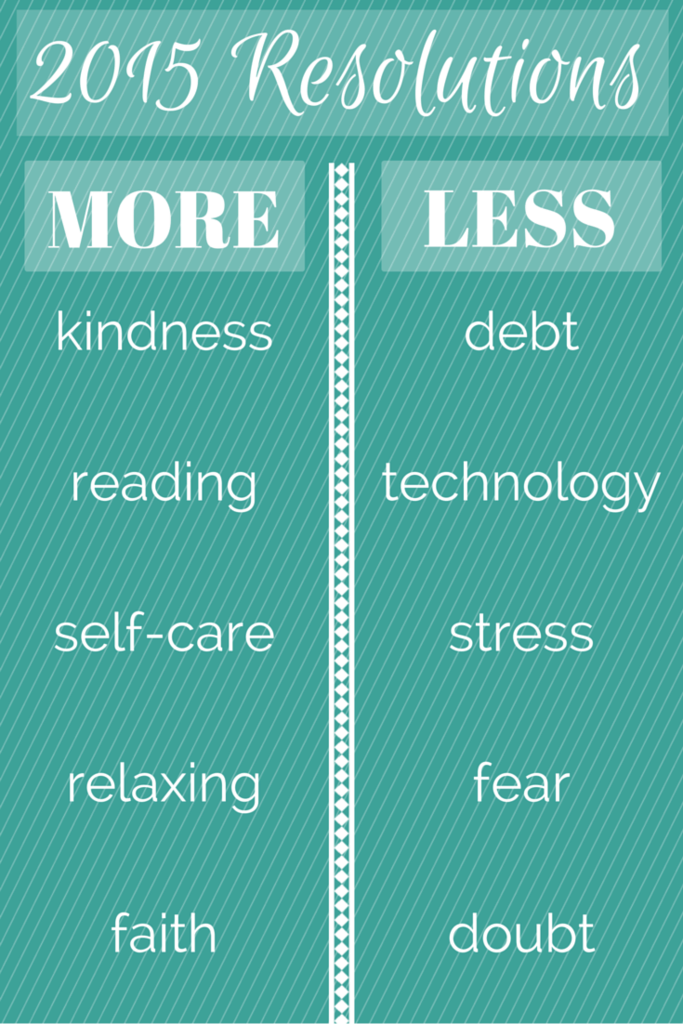 MORE kindness // I want actively look for opportunities to spread joy this year.
MORE reading // I have been neglecting my books. I miss them dearly.
MORE self-care // I spend very little time taking care of myself. It's time to fix that.
MORE relaxing // The dishes can wait. So can the laundry. The couch is waiting!
MORE faith // I want need to trust God fully and completely this year.
LESS debt // We've had it for far too long. We've made progress, but we're not done yet.
LESS technology // I want to constantly strive to be more hands free in my daily life.
LESS stress // There are plenty of things I worry about that I shouldn't. Time to let it go.
LESS fear // Ask myself "what's the worst that can happen?" and then jump.
LESS doubt // I don't trust myself enough. I'm capable of more than I think I am.
What do you need more of in your life this year? How about less?