If you've been reading here for any length of time, you know that Corey and I are big board game nerds. We absolutely adore playing board games together and it's our favorite way to spend an evening with friends. I've written a few roundups before of some of the games we love to play (and I have another one in the works, because you guys always seem to love them!) and today I'm super excited to have the opportunity to highlight a new game that we tried recently.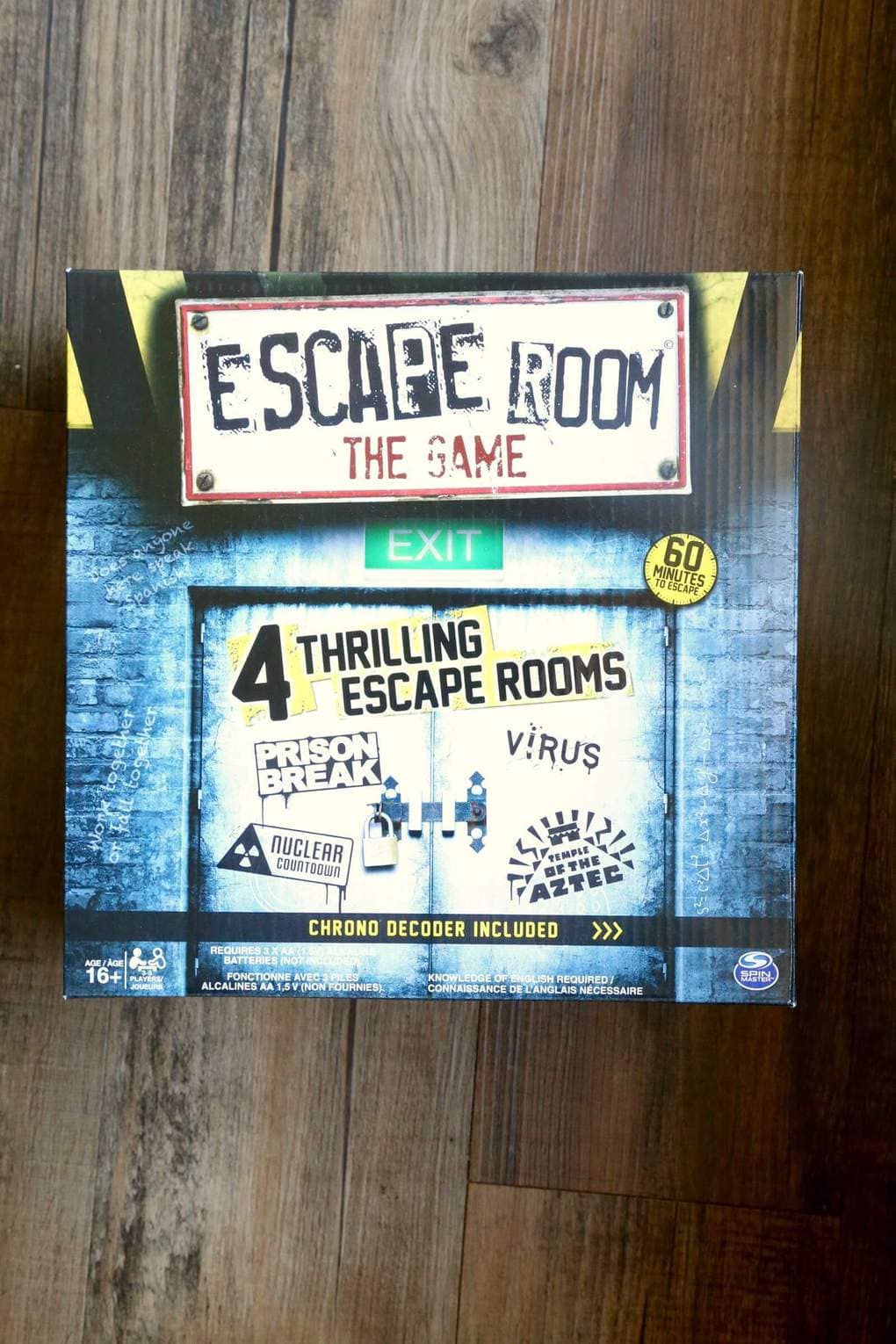 This game is called Escape Room: The Game and the idea is that it basically turns your house into one of those cool escape room experiences. It's been on our to-do list for a long time to go do an escape room, so I was seriously excited to get to try this game out. I love solving puzzles, and games that require some serious thinking are my favorite kind. I love games that really require me to dig in and focus, and I'm a sucker for a good brain teaser, so this game was right up my alley!
We invited my sister and her family over to try it out with us and we had a blast. We spent the whole night giggling and shouting and making faces like this: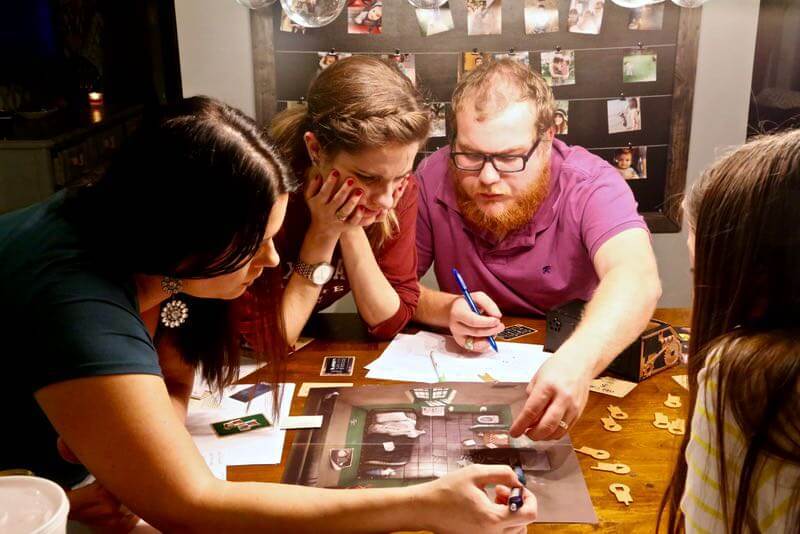 It's my thinking face. Don't judge.
The game comes with four different themed puzzles – we tried the Prison Break one, but we also have Nuclear Countdown, Virus, and Temple of the Aztec. I'm thinking we'll give another one of them a shot sometime this week while we're on Thanksgiving break! Basically, you read a little blurb to introduce and set up the story, and then you open the envelope that corresponds with your puzzle, pull out the materials, and start figuring it out. There's very little direction which means you really have to use your brain, but throughout the game the little timer will buzz to let you know you can look at a hint if you haven't figured it out yet.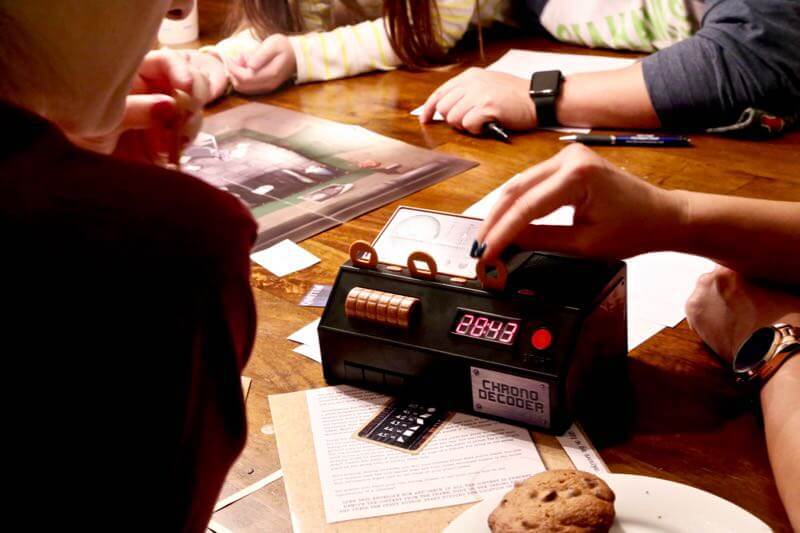 You have 60 minutes to solve a set of three puzzles – you're looking for a code to enter into Chrono Decoder with the keys. If you get it wrong, you lose a minute. The first puzzle really stumped us – we ended up having to basically get the answer from the hints, but after that we really found our footing and were ahead of the hints the rest of the game. We finished with something like 7 minutes left and our dogs probably thought we had all lost our minds with how much cheering was happening.
One thing Corey and I really appreciated about the game is that there are enough clues and materials that everyone really feels like they get to participate in the game and no one is just sitting there waiting on someone to be done with a piece. We were all pretty engaged throughout the game and we were constantly passing clues back and forth so we could get a fresh set of eyes on them. It was also hilarious to notice how a couple of us would be pouring over something for several minutes trying to figure it out with no luck, and then someone else would just glance over and point something out that so obviously was exactly the information we needed.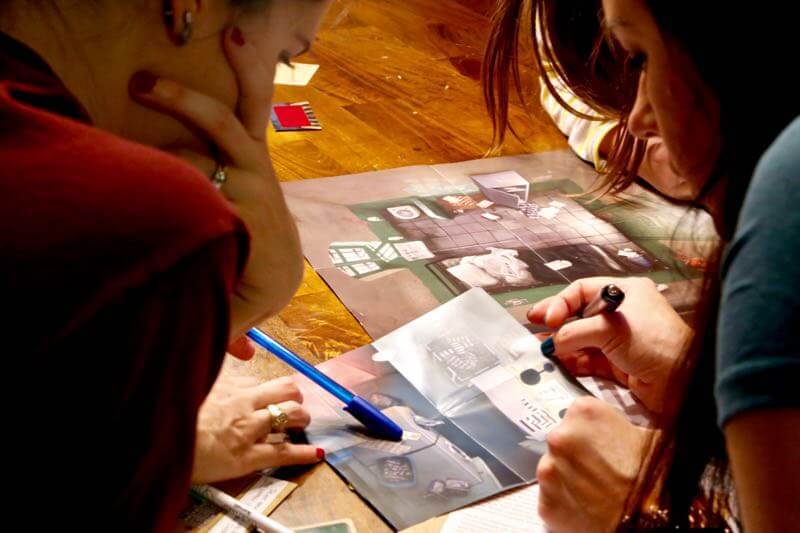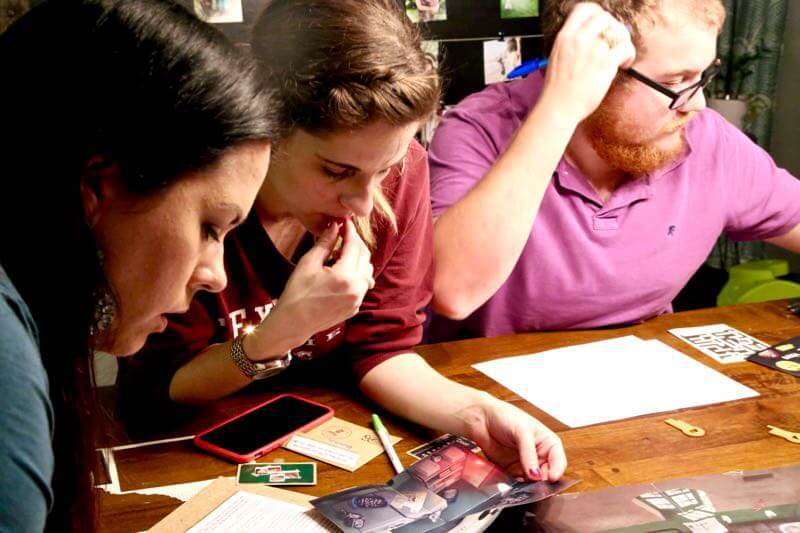 Corey and I are picky when it comes to board games, so I don't take it lightly when I say that this is a really fantastic game and that we'll definitely be keeping an eye out for the expansion packs in the future. We really enjoyed the unique experience, and it was the perfect difficulty level – easy enough to figure out but not so easy that it was boring. You've still got time to grab this game in time for your Thanksgiving gathering – it would be a perfect way to distract your family from all those conversations about politics!
Have you ever been to an escape room before? Do you love puzzle games too?
I was selected for this opportunity as a member of CLEVER and the content and opinions expressed here are all my own.