A few months ago I started talking about some of the board games that Corey and I like to play. Our friends got us into tabletop gaming earlier this year and we are completely and totally hooked. I'm not exaggerating when I say that Corey sold everything in our house that he could get his hands on this summer (that we no longer needed, of course) to buy more games. He has been spending all of his personal money for the last few months on new games for us, and we've quickly amassed quite the collection…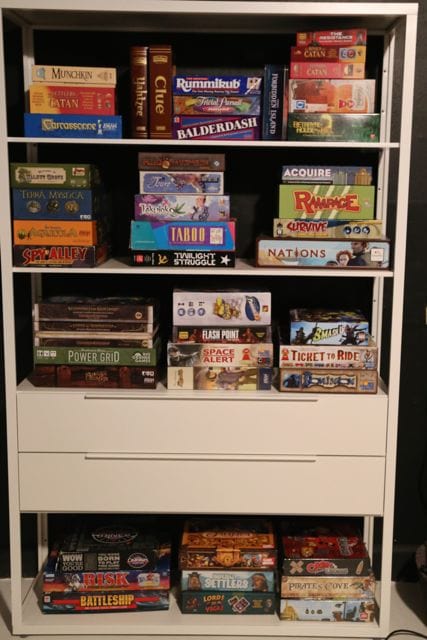 Yeah. We have a problem. So, since we've got so many new ones and there are quite a few of you out there who are fellow gamers, I thought I'd share my new favorites.
This game is completely silly, totally ridiculous, and a blast. It's based on the old arcade game, and you're playing monsters who are trying to destroy a city. You get to actually interact with the board by dropping your monster to destroy buildings, throwing cars at buildings, and eating the little people in the town. It's so much fun to play and it's unlike any other game I've ever played before!
This is one that I shied away from at first because it looks so nerdy (and is part of the "Dungeons and Dragons" world, which upgrades the nerd factor by 7 million) but it's such a fantastic game. It's a worker placement game, meaning you have a few different "people" at your disposal and you can place them around the board to accomplish different things. It's quick to learn and so much fun to play. We love that this one works well for just the two of us but is also really fun with a crowd – we've bought one of the expansions so we can play with 6 people, and it's great playing with everyone!
This game is pretty adorable, and also a ton of fun. It's great for two players but also works for up to four…and it's a great game for when you have younger kids playing – we haven't had the chance to play this one with my nieces yet, but they're dying to try it! In this game, you and the other players are both controlling a panda and a gardener in a bamboo garden, and you score different points for completing goals (for example, the panda wants to eat certain colors of bamboo while the gardener wants to grow them). It's pretty simple to learn and it's a fun, light game…and I can't get over how dang cute it is!
This game is a very quick two-player only game. It's a puzzle game where you are trying to strategize more efficiently than the other person, and it can be HARD! Corey and I like this one for when we're in the mood for something fast, and it is one that makes us think! We hear the full version of the game is a lot of fun too, so we may have to get that eventually as well!
This one is a party game, and is perfect for a big crowd of people – up to 10 can play! We played this recently with my entire family and we laughed so hard. The idea of this game is that the entire group is playing as a group of people forming an uprising and they're going on missions to overthrow a corrupt government…but there are spies in the group who are trying to sabotage the efforts. It's really fun to accuse each other of being spies (and to try and hide it if you are one!) and it's another one that's very easy to teach. It's hard to find games that are good for a lot of people, so we love having ones like this as an option!
We're still playing and buying new games regularly around here (we just recently tried Survive and loved that, and we've gotten into some heftier games like Twilight Struggle and Nations as well), and just about anytime anyone comes over to hang out we rope them into playing with us. Our plan is to convert all of our friends and family to being as obsessed as we are (or, you know, close)! With how many games we've been getting these days, I have a feeling we'll need another bookshelf soon!
What games have you been playing lately? We're particularly looking for some good family games that  can be played with a lot of people (when my family comes over, there are 8 of us!). I love getting your suggestions – we bought Dominion thanks to you guys last time I posted about this, and we LOVE it!