I had so much fun participating in the One Room Challenge for the first time ever over the last six weeks. Our bathroom turned out better than I ever could have dreamed, and I'm so obsessed with being in there all the time now.
Of course, one of the most fun parts of participating in the challenge is following along with what everyone else does! I thought it would be fun to round up a few of my favorites from the challenge today to share the inspiration with you. These rooms are incredible, y'all. Be sure to head on over to the link-up page to see all of the renovations – there are over 200 room reveals for you to drool over!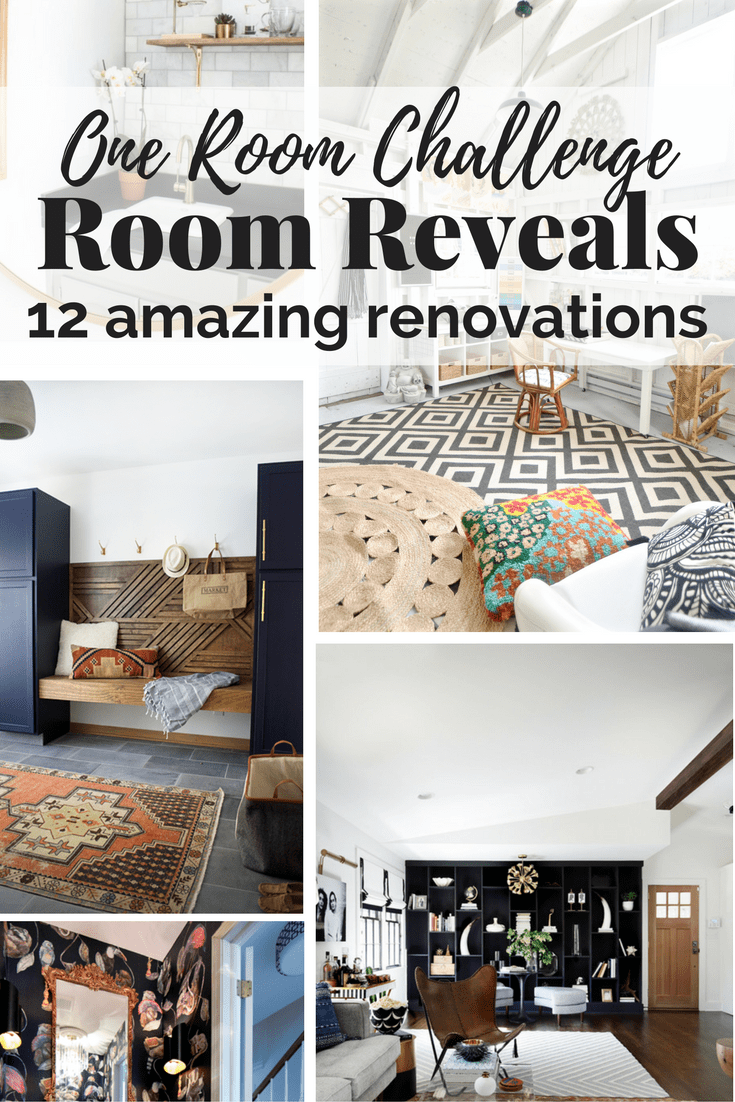 (Please pin individual rooms from the original sources!)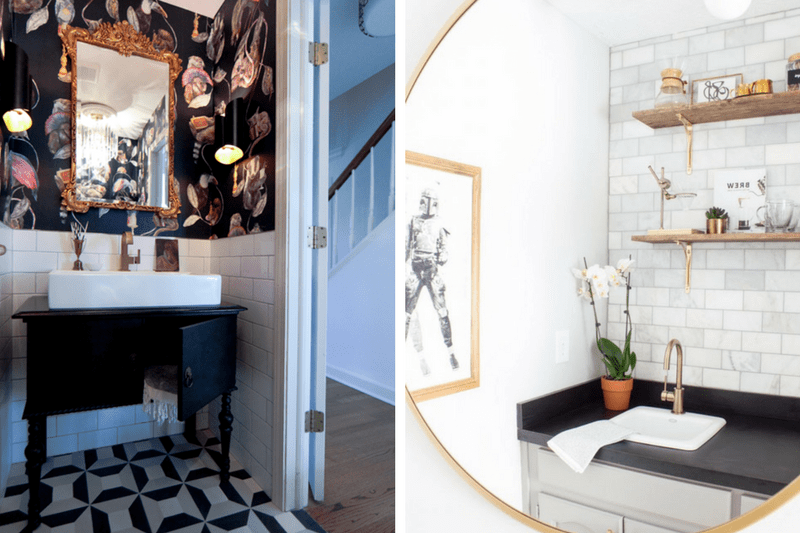 Powder Room via House of Hipsters // Coffee Bar via Erin Spain
I knew that House of Hipster's renovation was going to be one of my very favorites from week one – there are so many fun elements to the room, and it's so bold and graphic. That wallpaper is incredible. And the tile? I'm drooling. This may be a tiny room but it packs a major punch and I love it! I let out an audible gasp when I saw the coffee bar from Erin Spain – it's so stunning and I'm so jealous of that space! How amazing would it be to have a whole little room dedicated to a wet bar like that?! I'm in love. She totally nailed it.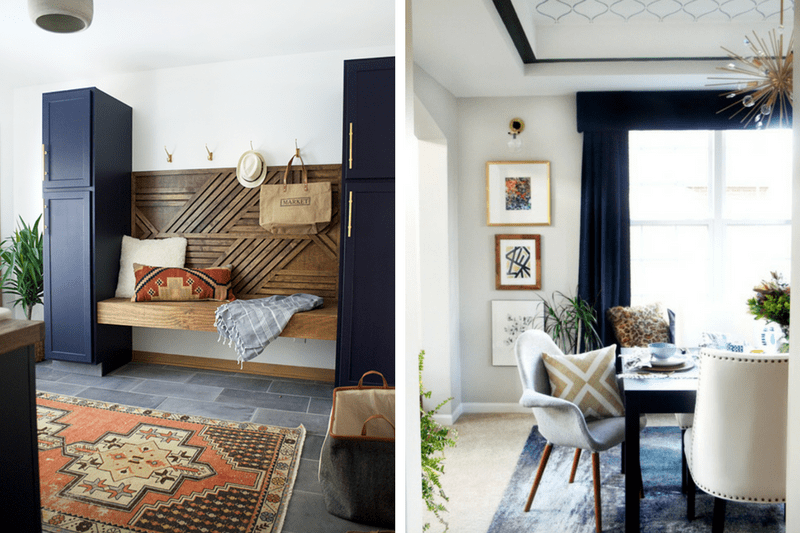 Laundry Room via BrePurposed // Dining Room via This is Our Bliss
That is a laundry room, y'all. I would be fighting Corey to be the one to do the laundry if that was in my house. I cannot even handle that wood wall treatment, and the navy cabinets + rug are perfect too. I'd kill for that room, and I'm totally inspired to try a wood wall treatment like that! The dining room from This is our Bliss is so incredibly well-styled. It really makes me want to spend some more time on our dining room to make it feel more complete! I love the art on either side of the window, and the chairs are just perfect.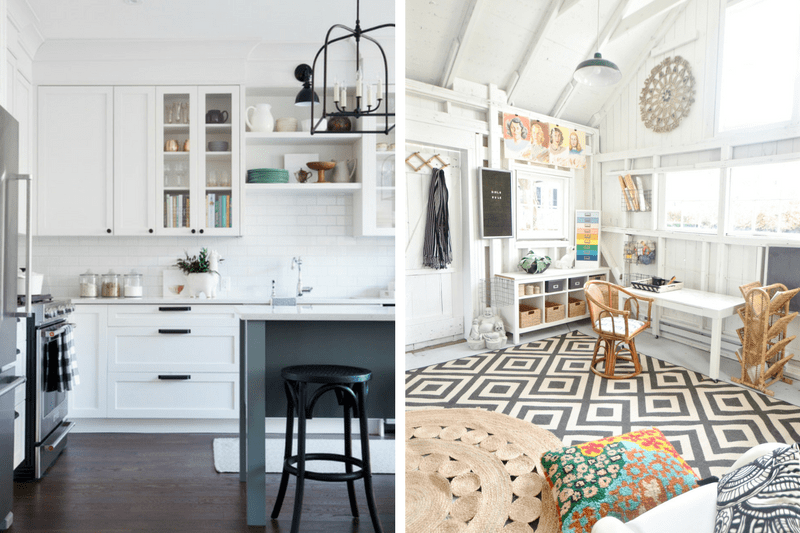 Kitchen via Vanessa Francis // Backyard Dream Shed via Ciburbanity
This kitchen! You guys! It's so gorgeous! I love the color of the island so much, and the little details of the room are perfect. The lighting is stunning, and the room has such a fabulous neutral palette that will make it so much fun to decorate throughout the year. I'm in love. And can you even handle the shed that Charlotte from Ciburbanity did? It's so beyond gorgeous and I would die if I had a space like that to hang out in. I love the light, airy feel to it and the mix of patterns is perfect.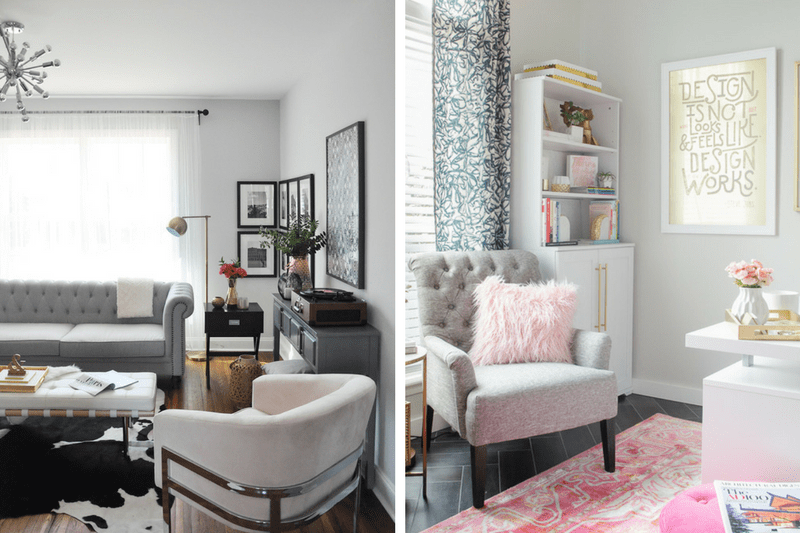 Living Room via Foxy Oxie // Home Office via Polished Habitat
That sofa is just gorgeous – and I love the cow hide rug, too! One of my favorite little touches of that living room is the gallery wall that turns the corner – such a cool little touch! The office from Polished Habitat is another one I knew I would love from week one, and she definitely didn't disappoint. I have been longing for more office space lately, and this room definitely added some fuel to that fire! The colors are stunning, and the art is beautiful (that piece you see in the photo is custom designed by her husband!).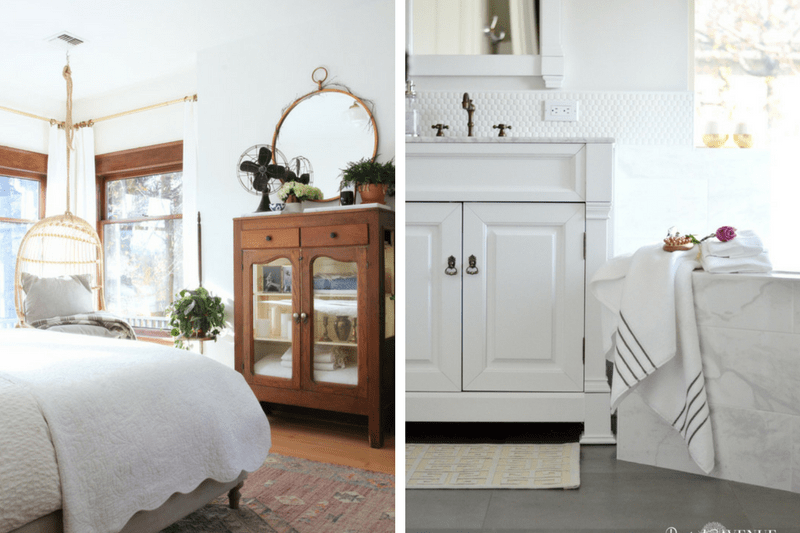 Master Bedroom via The Grit & Polish // Master Bathroom via Remington Avenue
I have a major thing for hanging rattan chairs, and I never thought about putting one in our master bedroom! This has seriously got the wheels in my brain turning and I think this might be perfect for our awkward corner! I love this room and how it is styled, so beautiful. And the master bathroom? SO stunning and relaxing! I love all of the tile they used, and I think I might like this one almost as much as I love my own!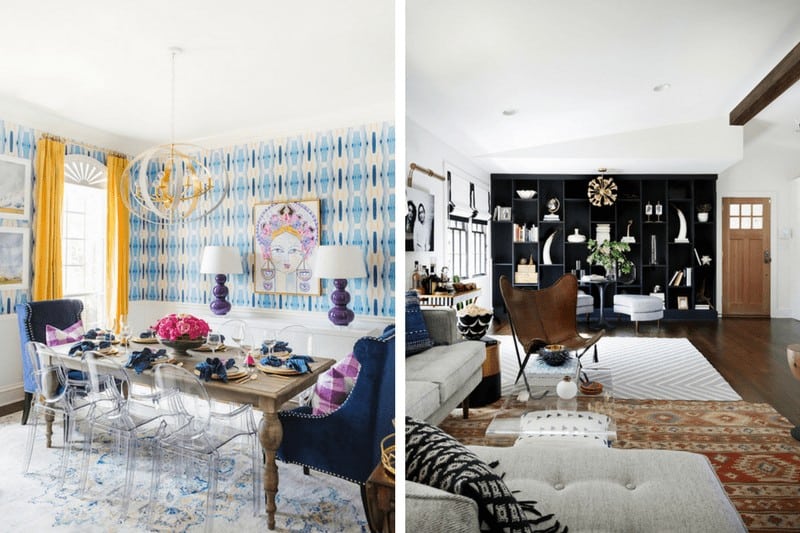 Dining Room via Hi Sugarplum // Living Room via Hunted Interior
I can't talk about the One Room Challenge without mentioning at least some of the main bloggers participating! I was beyond obsessed with Cassie's living room last year when she did it, so I was eagerly awaiting the reveal of her dining room and it absolutely didn't disappoint. I love everything about this room and I so wish I was bold enough to design something like this for our house! And, of course, Hunted Interior always knocks it out of the park and this room is no exception. Those built-ins were a last-minute addition to her design and I feel like they absolutely make the room! So incredibly stunning.
I'm so glad we decided to participate in the One Room Challenge this year, and we're already starting to plan and prepare for the April challenge! I can't believe we waited this long to dive in and participate in this little challenge, and I have absolutely loved getting to watch everyone transform their homes too! Any guesses on which room we're planning on tackling next time around?!
Did you follow the One Room Challenge this year? I'd love to know which room reveals were your favorite!