Traditions are my favorite. I absolutely love having certain rituals and experiences that are the same from year to year, and it only gets more special for me each time we do it. Some things this time of year are an obvious tradition (no one is going to pass up on a photo with Santa!) but some things have slowly crept in year after year and suddenly it doesn't feel like Christmas if we don't do them. We've added in a few new traditions as Jackson has gotten older (and there will only be more as he continues to grow!), so here are my 10 favorite Christmas traditions that are also toddler-friendly.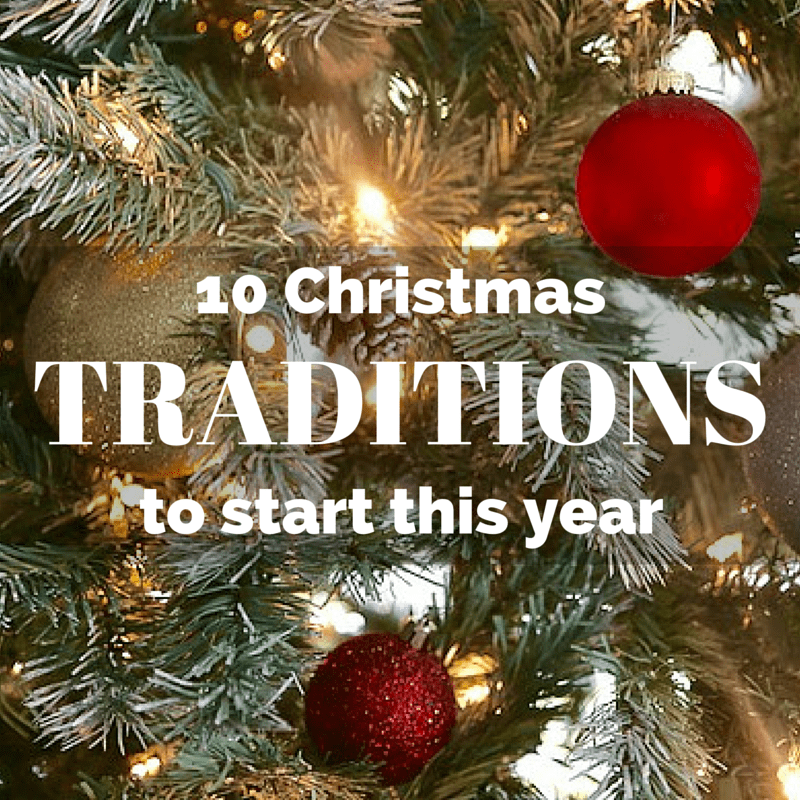 The bucket list. I shared this already, but my goodness this is so much fun. We love creating a little list each year of all the fun things we want to make sure to do. It's a great way to help us focus on having fun as a family and really embracing the holiday. It's also fun to come up with new things as Jackson gets older and we can do more!
Cheesy Christmas movies. As soon as Thanksgiving is over, Corey and I go a little bit crazy with Christmas movies. Sure, we watch all the classics like The Grinch, Elf, and Love, Actually. But what about the Christmas classic, The Mistle-Tones? Or another personal favorite, Holiday in Handcuffs? We believe that no Christmas movie should go unwatched and sometimes the most ridiculous ones are the most fun to watch. We don't discriminate when it comes to Christmas movies, and I think we tend to average a movie every single day in the month of December. Maybe two on the weekends. We have a problem.
No Technology Day. This is one of my personal favorites. We always try to spend a full day right around Christmas staying away from any technology (like phones, laptops, and televisions) and just focusing on being together. We are both pretty bad about pulling out our phones and getting distracted when we're home on the weekends, and so this day is a perfect way for us to set that aside for a day and just enjoy one another's company.  We usually go out and run errands and spend the day staying busy, and we always play games in the evening before bed!
Christmas pajamas. Growing up, Corey always opened all of his presents (except "Santa" presents) on Christmas Eve, and I opened mine Christmas Day. Our first Christmas together, we had to figure out how we were going to navigate it because we were both dead set on keeping our traditions. We landed on a compromise – one gift on Christmas Eve, the rest on Christmas Day. We always exchange pajamas Christmas Eve, and we'll usually add in one other small present as well. It's a sweet tradition that  I look forward to every year, and we both love getting new pjs!
Gingerbread houses. Every year since we moved back to the Austin area, my sister and her family have come over sometime around Christmas to build gingerbread houses with us. We spread out all over our dining room table, listen to Christmas music, and make a gigantic mess have a lot of fun being creative as a family. Our houses usually turn out pretty questionable (at least, mine and Corey's does), but it's always a blast! This year, Jackson got very into it, and even yelled at me when I tried to add to the house after he was finished with it!
Carols on Christmas Eve. Ever since I was a little kid, my family has insisted on singing Christmas carols as a family together on Christmas Eve. We always used to exchange gifts with our extended family on Christmas Eve, and when I was a child it was almost physically painful to have to sit through 20 minutes of singing before I could tear into my presents. Now? It's one of the most special moments of the entire holiday for me.
Stockings with our extended family. We used to always have Christmas Eve dinner and celebrations at my grandmother's house, and we always had stockings for each member of the family. We drew names to exchange Christmas gifts but everyone got stocking gifts for everyone else – $5 and under. As the family grew, so did our stocking collection. The dining room walls were full of stockings and it made my heart full every time I looked at it. We don't celebrate there anymore, but we all took our stockings home and I'm hoping we'll carry on the tradition with my immediate family. Who wouldn't want two stockings every year?
Dinner on our last day of work. Corey and I have started a tradition in the last few years of going out to eat on our last day of work before our break begins. We're always a little giddy at the prospect of two whole weeks off of work, and it feels so much more special than any other random dinner out together. We always go to the same restaurant, and we typically don't visit it any other time of year, so it feels like a wonderful treat.
Reading Luke 2 as a family. This is another special Christmas Eve tradition – right after singing Christmas carols, we would read the story of Jesus' birth in Luke. The grandkids would all read a few verses each as we passed my grandparents' Bible around the room. It's a tradition that takes no more than 5 minutes, but it helps us all refocus on why we are celebrating and it gives me chills every time.
Baking Christmas cookies. Of course! We go a little Christmas cookie crazy around here – Corey and I always bake some to give away to coworkers, and we do several batches to have around the house for family gatherings, parties, etc. We always end up with more cookies than we could ever eat, but the process of making them is so fun that I don't have the heart to cut down on how much we make!
**********
What are your favorite Christmas traditions?