Do you ever have those projects that you swear this will be the year that you get them done, and then life happens and you don't do a dang thing about it, and then the next year you promise yourself that this will be your time to shine and you'll finally get it done, but then you don't, and the cycle just continues on forever and ever and ever and ever?
Becuase that's the dang story of my life.
Corey and I are really great about declaring that we're going to get something done, but we're not always so great at actually executing said things. Case in point? Our backyard. When we first moved into this house, I bragged about how awesome the yard was and how we were going to take advantage of that right away and make it our little oasis.
But we didn't.
And then every summer since then, I've sworn we'd finally do something about our yard. And we never did.
Last year, I even went so far as to declare publicly on the blog that "this would be the year"
(It wasn't.)
I've mentioned a few times here and there that Corey and I are planning a big backyard makeover this year. Again. Who's surprised? Not me.
But this time, I'm thinking we're actually going to get it done. There are solid plans. Budgets. Collaborations with brands. It's happening.
FINALLY.
But, before we can get started I have to thoroughly embarrass myself and show you what we're working with right now. I'll warn you – it's not pretty.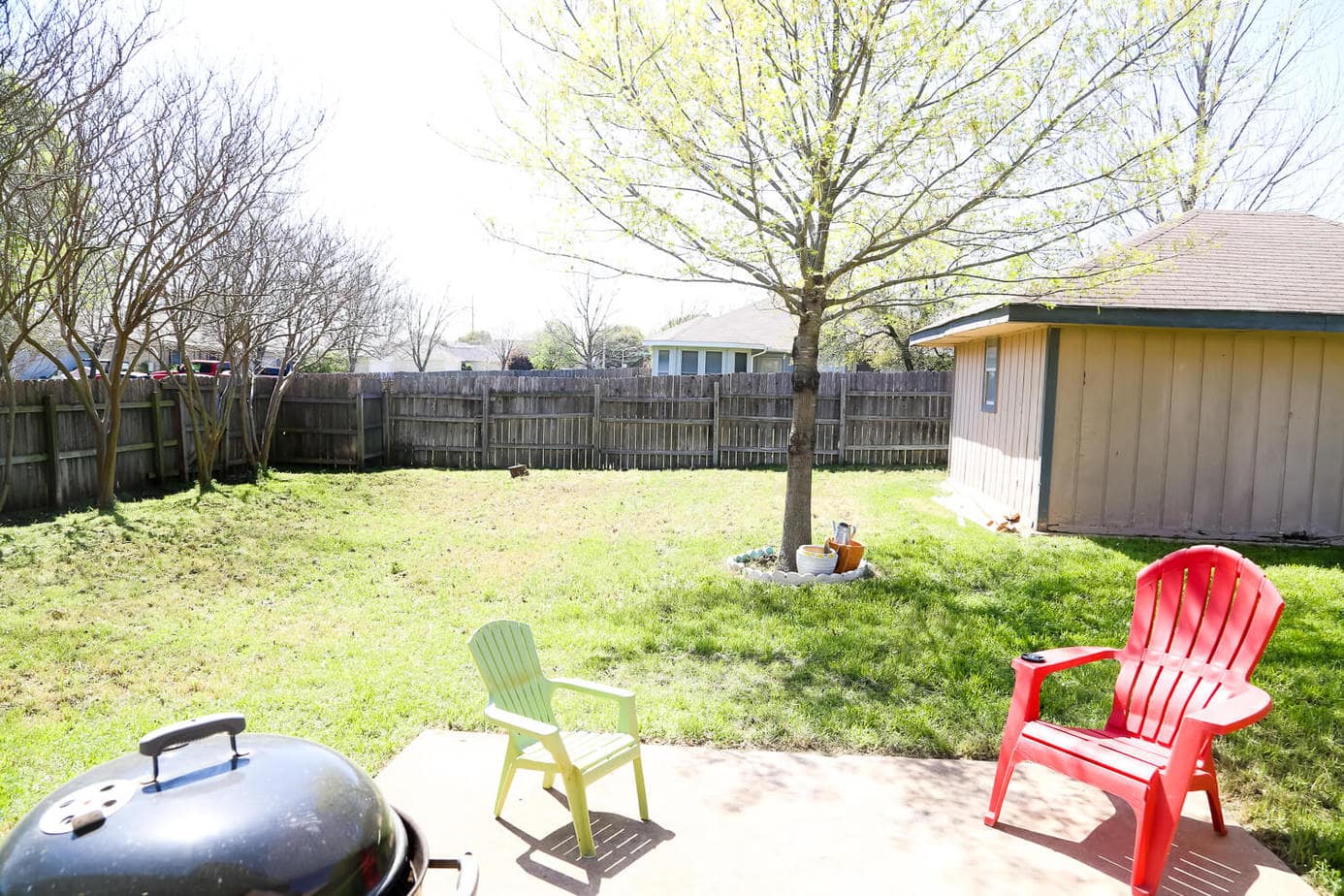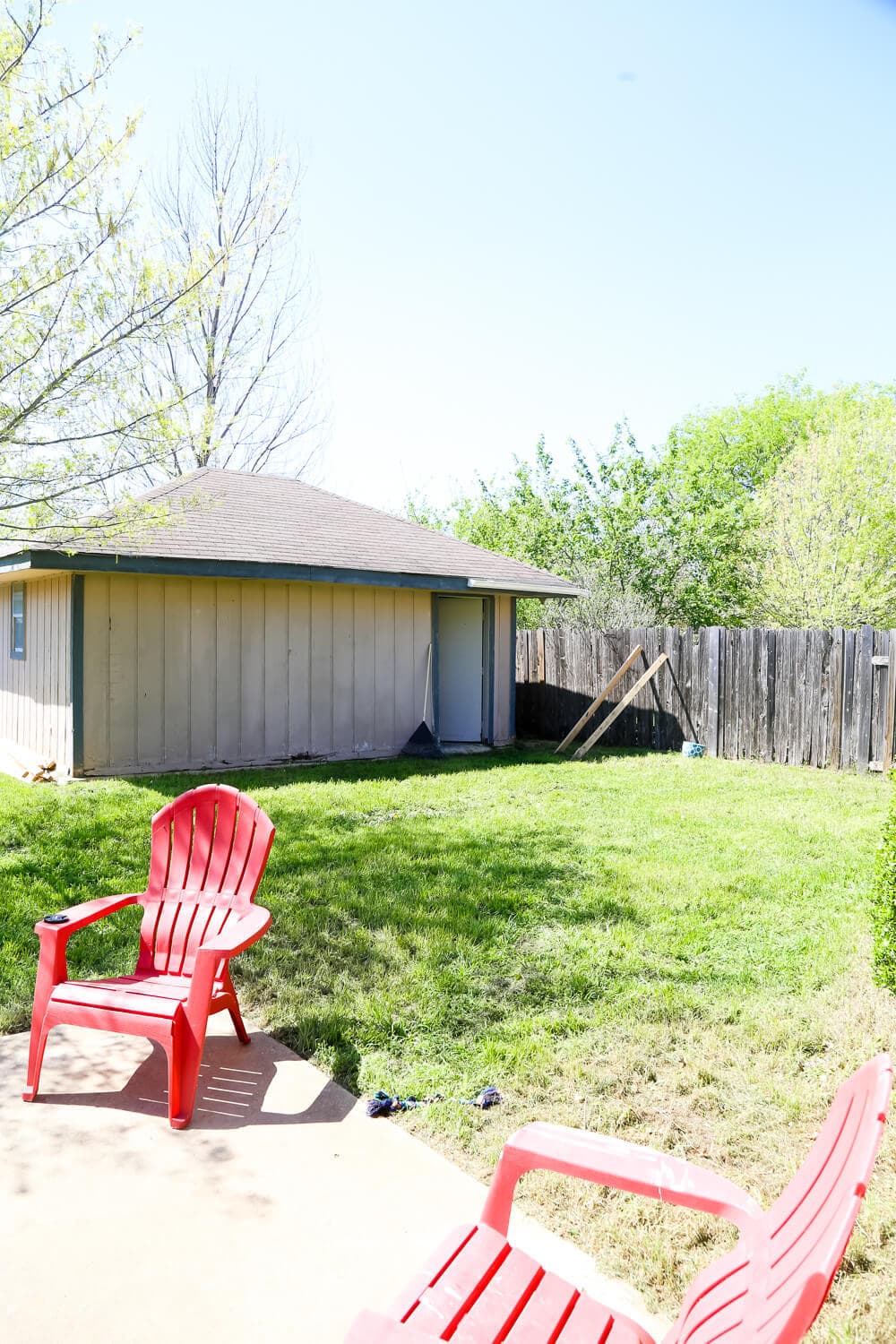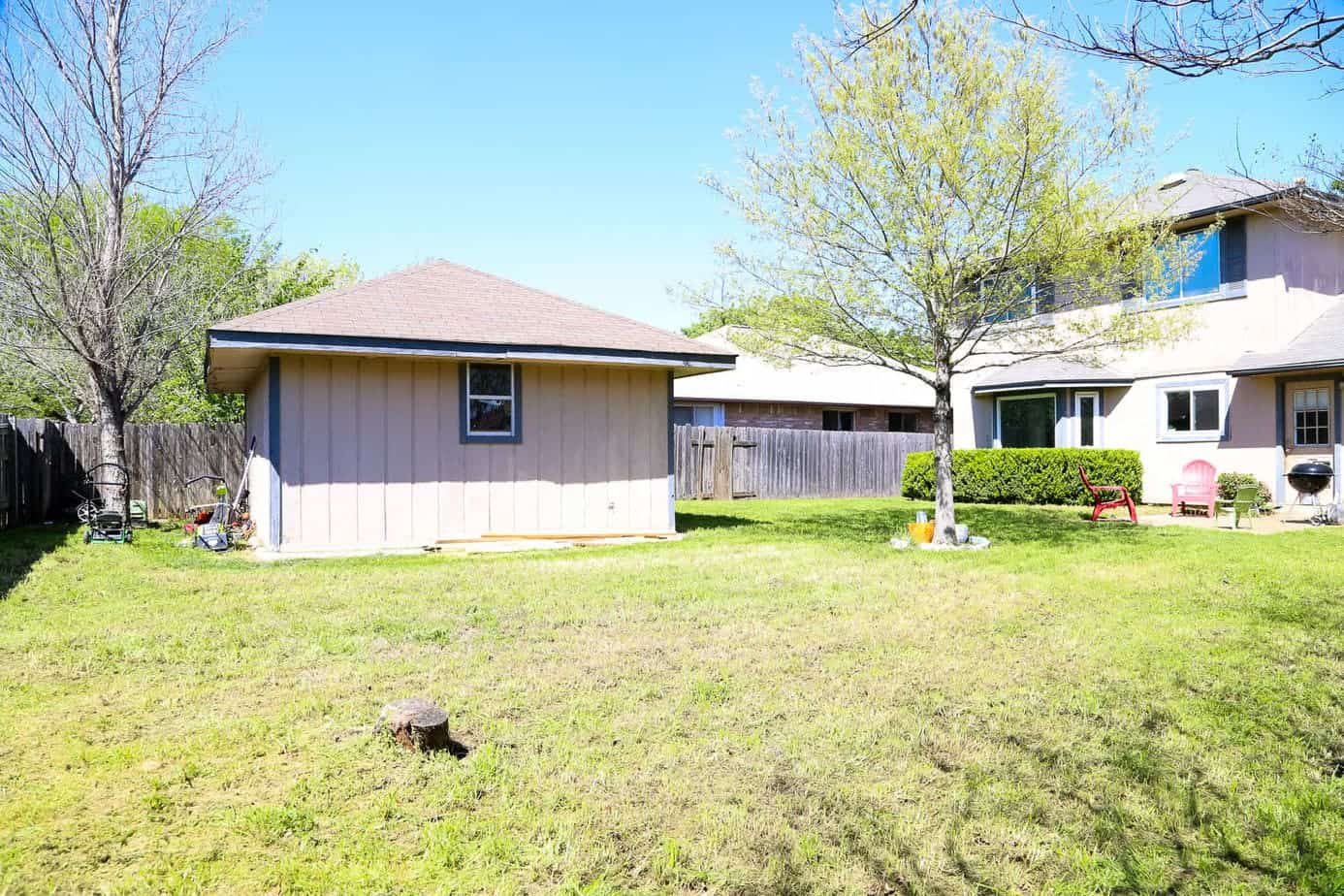 I know it doesn't look that bad here, but that's because we've already taken care of the worst of it. And yes, those boards leaning up against the fence are literally holding the fence up. We have problems. I couldn't even force myself to take photos of what it looked like before we mowed. Corey has been struggling with some health issues over the last few months and I've been struggling just to keep up with cleaning/work/parenting, and yard care fell to the very bottom of our (overstuffed) list. Which means it had been months since we mowed. Which means our backyard looked like a literal jungle and for the last few weeks I haven't even been allowing Jackson to play outside because I was slightly worried that a wild animal was living in our yard and would eat him. That, or the grass would swallow him whole and we'd never see him again.
It was bad.
But, we finally got the yard all mowed, trimmed some bushes, and got things mostly cleaned up. Which means that instead of a thoroughly embarrassing space we're just starting with a pretty boring one with plants that are desperately in need of a good pruning (how does one even do that? Come teach me?).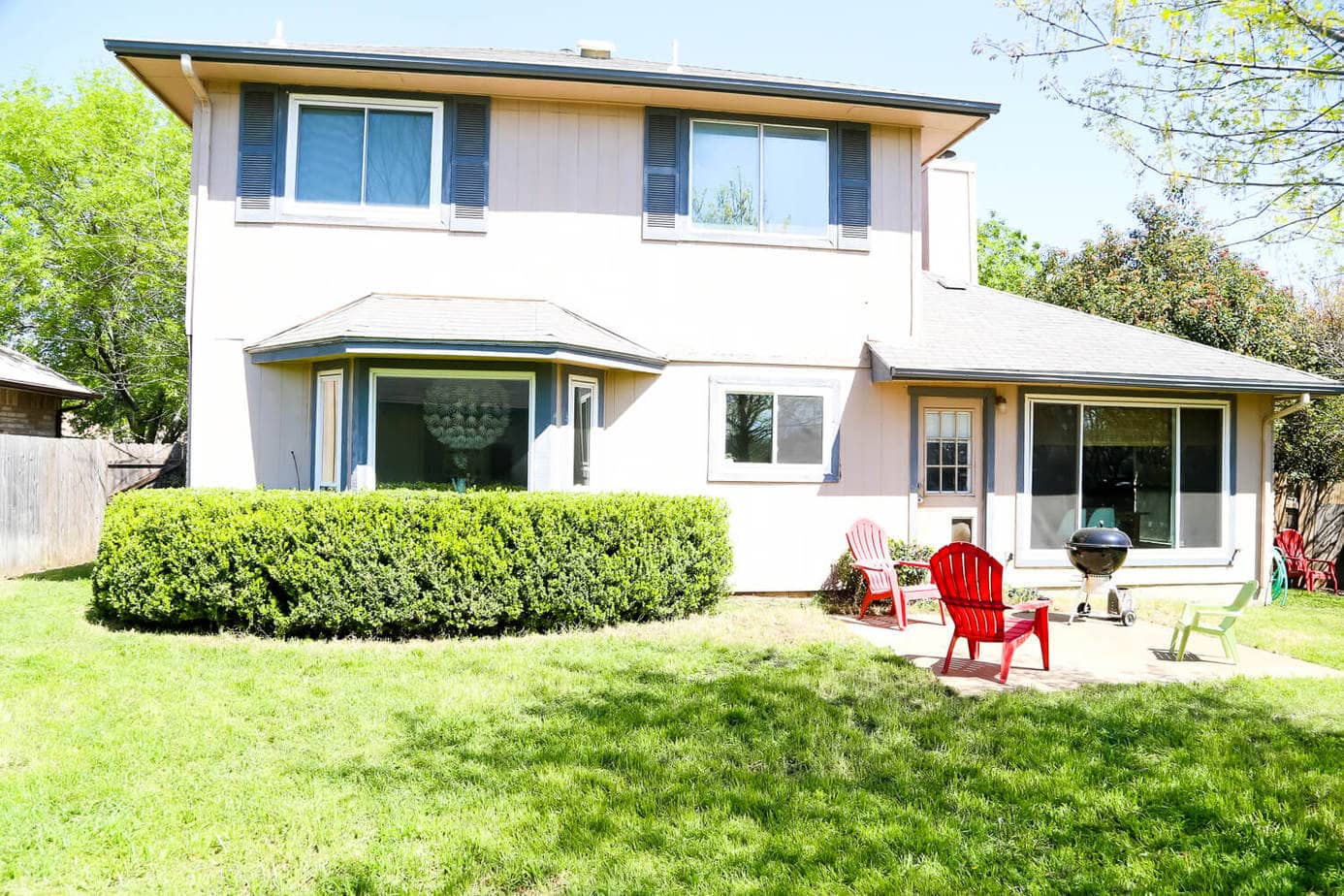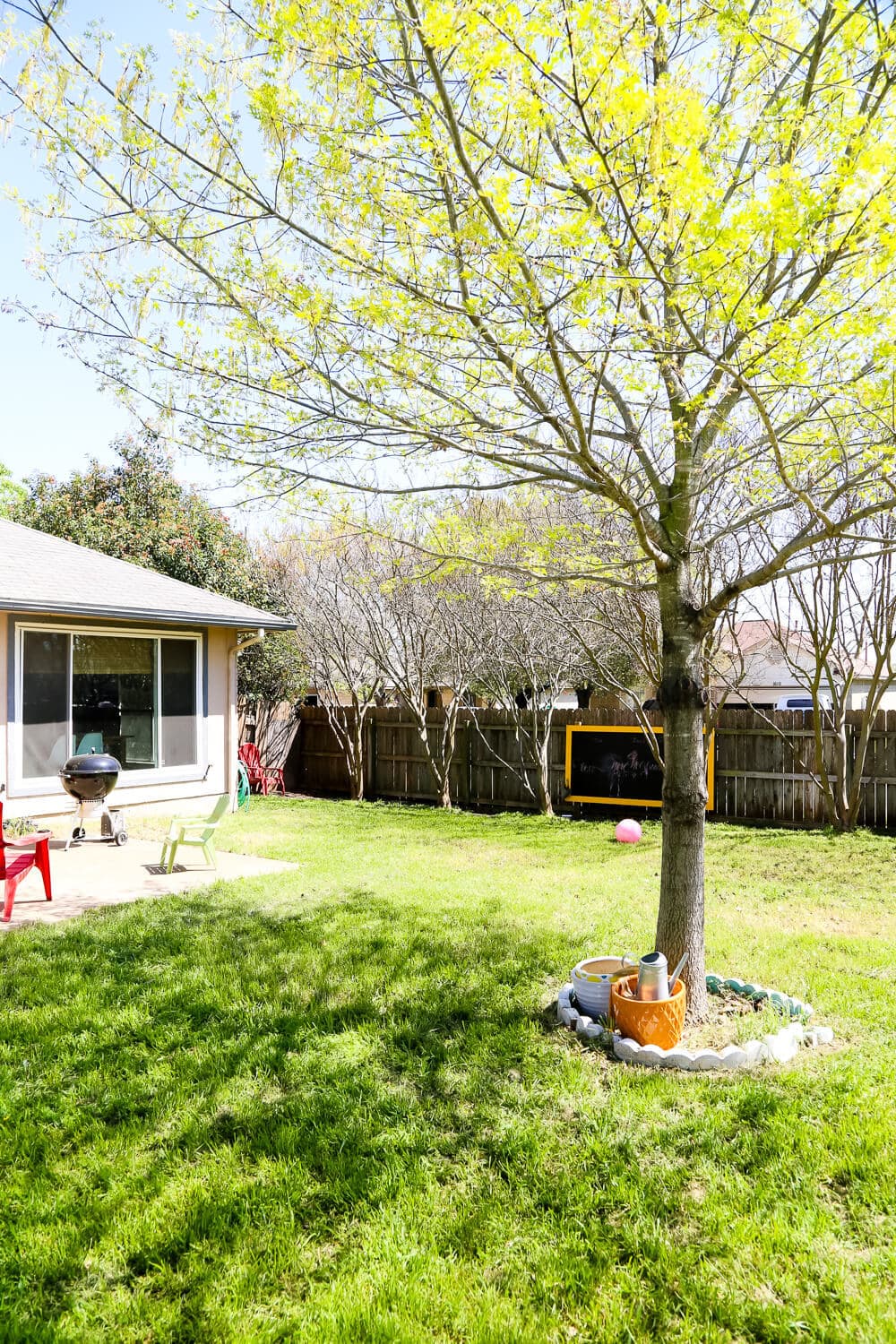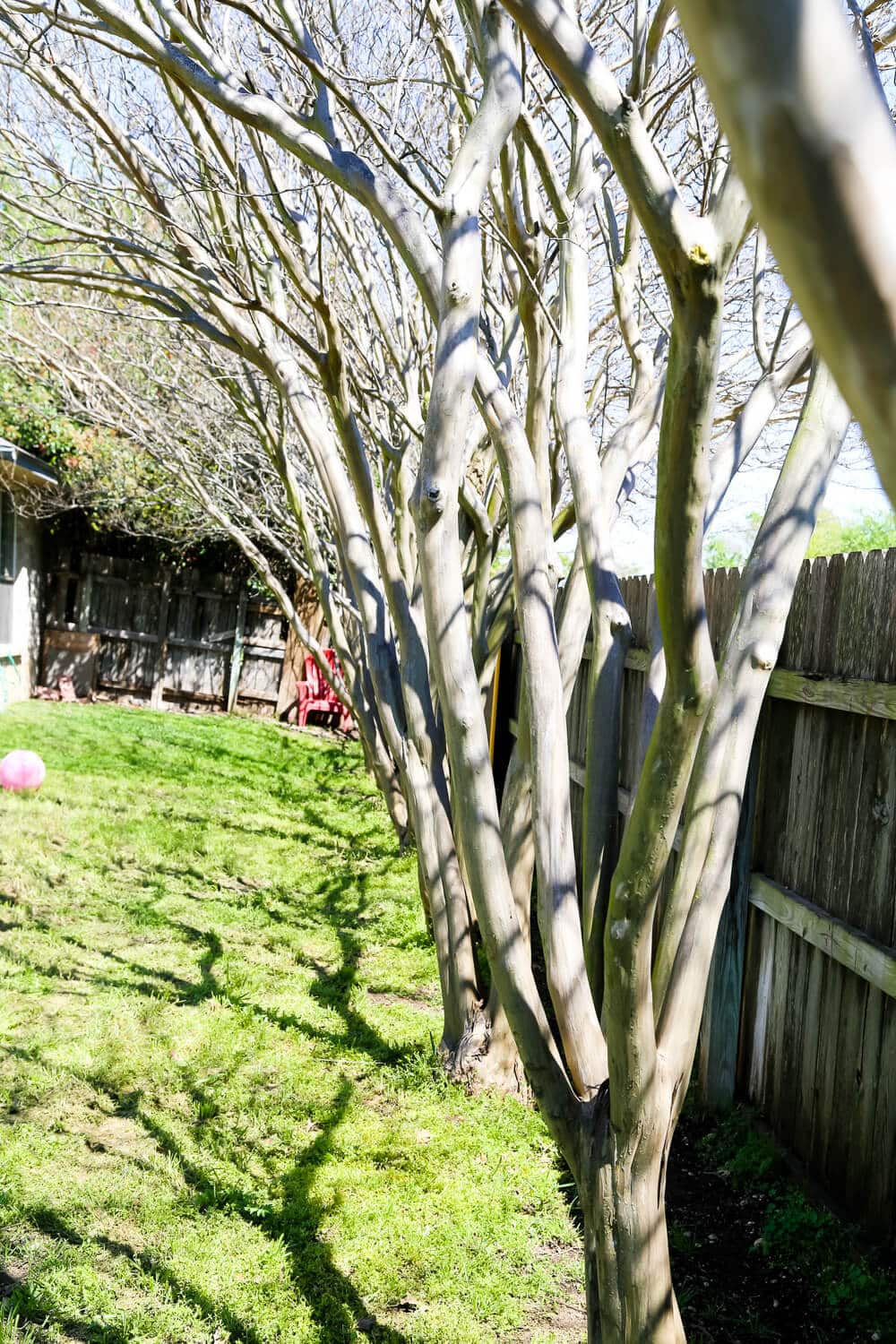 We are lucky to have a seriously big yard (it's bigger than most in our neighborhood, I don't know how we managed that!) and it really does have some great features. The workshop is amazing, we've got some gorgeous trees, and despite a total lack of effort on our part the grass is green and (relatively) lush. It really just needs a little bit of love to get to a point where we enjoy being out here a little more – because no one wants to hang out in a yard with no seating, nothing to do, and nothing to look at.
(Please note: What I'm sharing below isn't necessarily what we are purchasing for the space – most of what we're doing will be DIY versions inspired by what you see below. This is just to give you an idea of the direction we're heading!)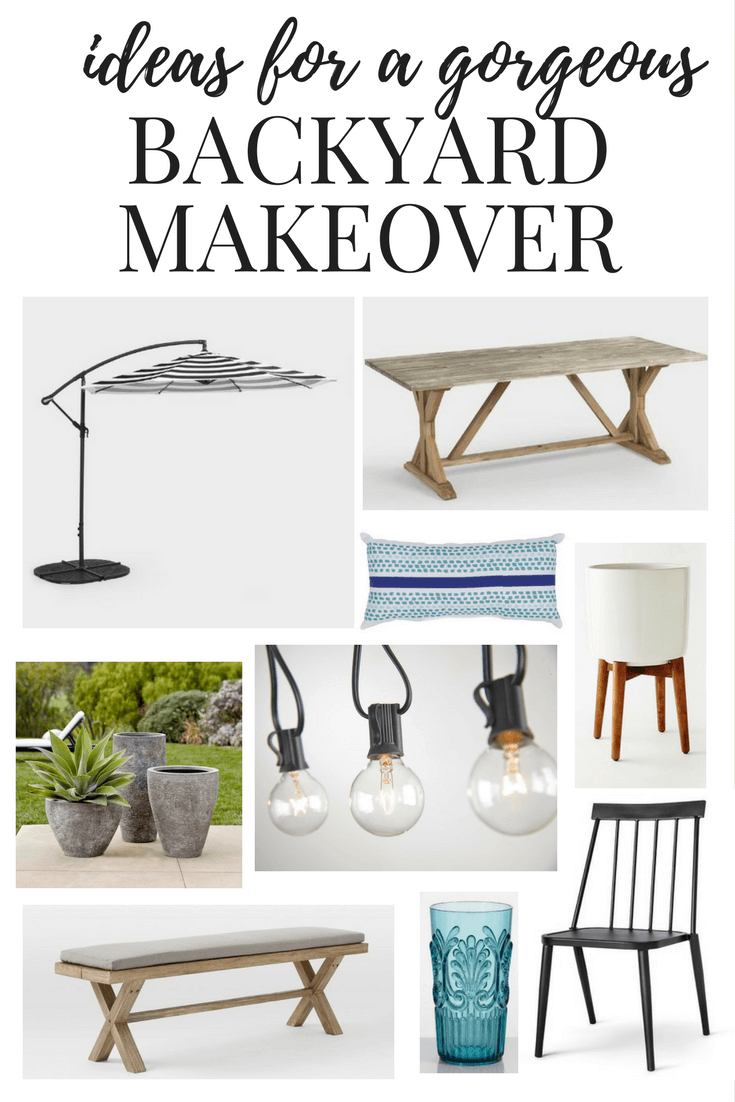 So, what are the plans?
We're going to paint the workshop. We hope to eventually paint the exterior of our house, but we wanted to get our feet wet with a (much) smaller project first. We're going to use this as an opportunity to try out the color scheme we want to use on the house, and as a bonus, it'll make the backyard look a lot nicer. I'd be lying if I said I wasn't terribly nervous about giving this a shot, but I'm equally excited to see how it turns out.
Create an outdoor dining space. Corey is going to try his hand at building a dining table, and we're going to turn our small little patio into an extra dining space. I'm so excited to finally have a place where we can gather and relax outside, and I think it'll make us want to be in our yard way more frequently. Plus, I've already ordered a super cute outdoor umbrella that I cannot wait to set up.
We're making a play area for Jackson. We have a little corner of our backyard that's really well shaded, totally empty, and the perfect size for some toddler toys. We're going to set up the area for Jackson with his toys, a play structure, and maybe even a kid-sized table so he has a dedicated space to hang out back here (and so we have an easy way to store his outdoor toys and keep him busy when we're playing out there).
We're going to do some serious planting. I've been wanting to learn how to actually garden like a real adult for a long time now, and this is my chance. I'm hoping to spend a lot of time this summer working on learning the ins and outs of keeping plants alive, and it will make for a totally gorgeous backyard, too. My goal is to start with some pretty easy-to-care-for plants and then move to a small herb garden. Once I know I can keep that going, I'll hopefully be able to start a real vegetable garden. Fingers crossed.
And, of course, we'll add some accessories and other small DIYs. I've got a long list of things I want to do in the yard, and I'm so pumped to dive in and get started.
We're hoping to take on the workshop and the dining area first in the next couple of weeks, and then go from there. My ideal timeline would be to have most of the projects done by the beginning of summer but it's probably more realistic to say we'll be done by the end.
Hopefully.
We'll see.
Send help?