I'm not around this week to do a new Friday Finds for you guys, but I thought this might be a fun opportunity for me to round up all of the things that we currently have in our home that we bought off of Craigslist. Most of what we have has already been made over, but we do have a couple of things in the house that are still waiting their extreme makeover: furniture edition, so there is a sneak peek of an upcoming project in here!
Let's start in the living room.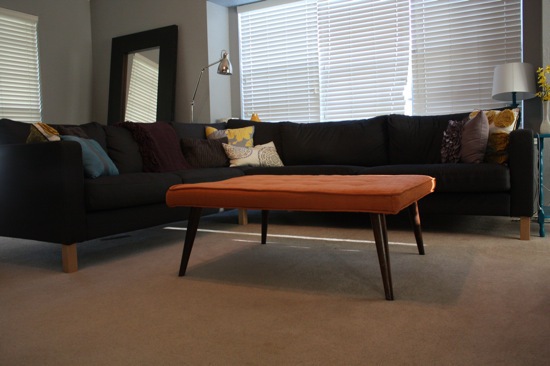 (This is an old, pre-curtain, photo)
This ottoman wasn't technically bought off of Craiglist, but the coffee table that we made it from was, so I'm counting it! We bought this baby way back when we lived in College Station, and it lived as a stained mid-century coffee table before we ripped it apart and turned it into an ottoman!
Next up we have what's probably both of our favorite Craigslist piece: our dresser-turned-entertainment-center.
It still looks a little funny on this wall because of the gray-on-gray, but we have big plans to make it pop someday when we have the time and the money, so just be patient with us! We also, of course, plan on hiding those television cords one of these days!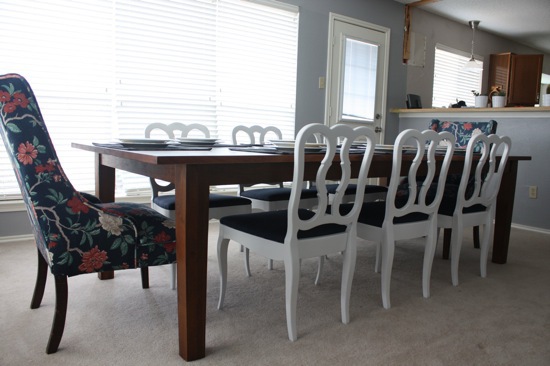 Moving into the dining room we have every single chair at our dining room table. We bought the 6 smaller chairs for something like $10 each, and we lived with them in a crazy, 80s-inspired state until we finally got around to painting and reupholstering them a few months ago.
In our bedroom we have two mid-century style dressers that we picked up a few days after we moved into this house.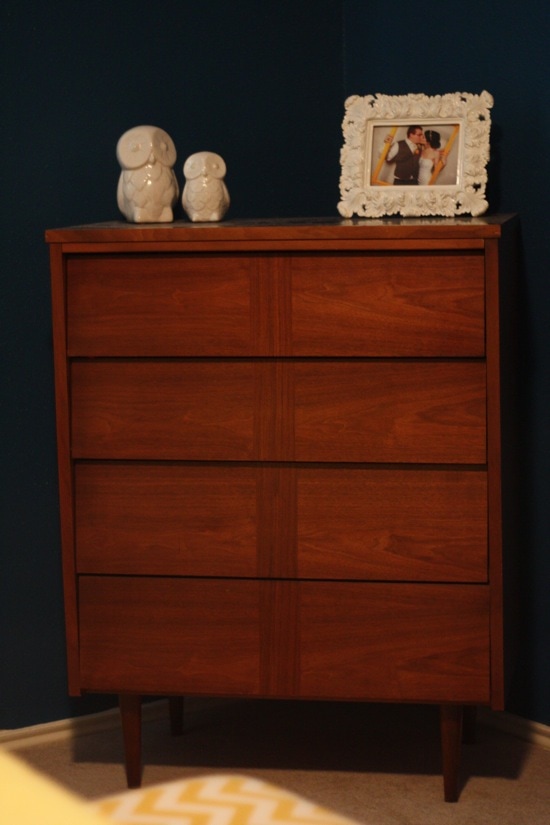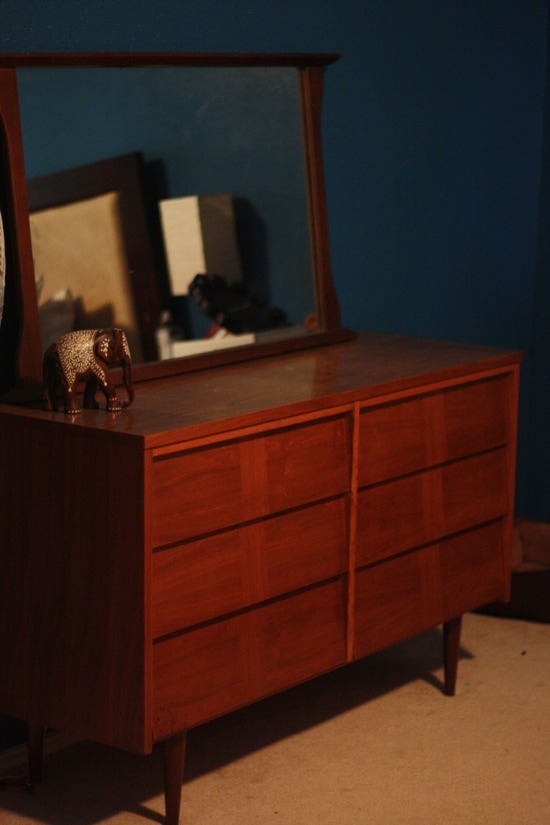 We didn't do a single thing to them, and we love them like crazy. Neither of the dressers will probably stay in our room long-term, but we definitely won't be getting rid of them anytime soon – we have plans to reuse them in other places throughout the house, because there's no way we could let these beauties go!
Also in our bedroom, we have our beloved bench. We used this guy as a perch for the dogs back in College Station, and Ranger still naps on it on a daily basis!
The desk in our guest bedroom was one of the first items we ever bought on Craiglist. It's served us well over the last few years and we both absolutely love it – it's probably actually going to be sold pretty soon in order to make room for something that fits into this room a little better, but we'll definitely be sad to see it go!
And finally, in the kitchen we've got a little sneak peek of an item we recently bought but haven't had a change to change up. We bought this (soon to be) beautiful china cabinet on Craigslist a couple of weeks ago for a measly $40 – can you believe it?!
We've also got an elliptical we bought on Craigslist, as well as a lamp and a few other odds and ends, but those are all of our furniture scores. We have a few other things that we've been scouting for over the last few months, so hopefully soon we'll have some new pieces to add to our list of Craigslisted stuff!
What all have you bought on Craigslist?