I haven't talked too much about our dogs here on the blog yet, and today I'm going to change that. Let me introduce you to our two dogs, Cullen and Ranger.
Cullen is our 2 1/2 year old cocker spaniel/chihuahua mix.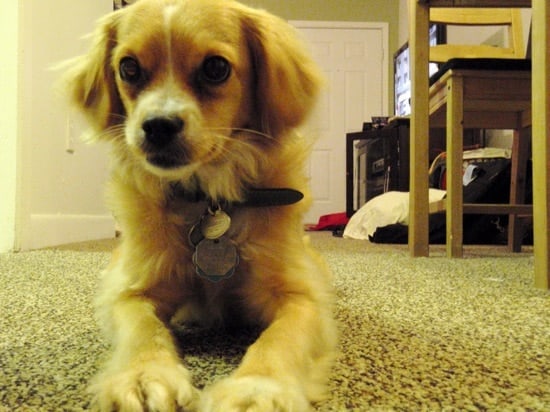 And yes, since everyone always asks, he is named after the Cullens. I'm a nerd and my husband indulges my whims.
Cullen is a slightly spastic and extremely awkward social butterfly. He loves people and other dogs and immediately decides that anyone who enters our house is his new best friend. He loves to cuddle and nothing makes him happier than running laps around the house with his brother chasing him.
And then there's Ranger. He is our 1 year old lab/german shepherd mix.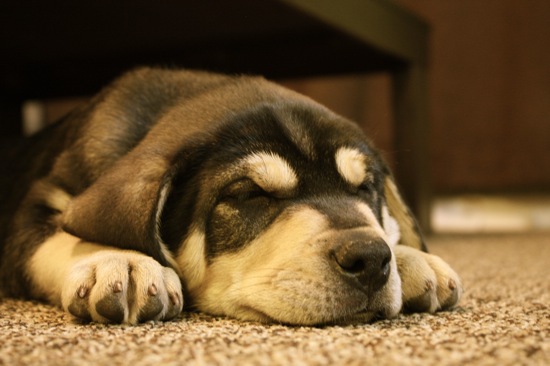 Okay, it's totally obvious that this picture is NOT recent, right? I can't resist. It's my favorite photo ever taken of him – we took it on the day we brought him home when he was 7 1/2 weeks old. Adorbs.
Ranger is the dog that this post title is referencing. We've had him for most of his life and are confident that he was never abused or anything, but he is the most anxious dog I have ever seen in my life. When we are at home on a normal day with no new people around, he's fine. He loves his family and he's a very playful and loving dog. However, he absolutely freaks out when he is introduced to new people. He barks, runs, and shakes. He's never become aggressive, but he makes it very clear that he does not like unfamiliar people or situations, and he's terrified the entire time he's around said new people.
We've tried to help Ranger overcome his anxiety, but it's difficult. We are both very busy between work and school, and we don't have a ton of time to take our dog out into new situations. Also, Ranger is BIG. Like, 65 pounds and quickly gaining every day. It's not exactly reassuring when we tell people that he's harmless and won't hurt them. He's scary looking. And strong, which means when he tries to bolt it isn't fun for anyone.
All of that being said, I'll get to the point of this post. In an effort to help Ranger come out of his shell, Corey and I decided to take him to the dog park this weekend. He had been a couple of times when he was younger, but we hadn't taken him since he was about 4 months old and still in his incredibly clumsy phase – he tripped when running and got a pretty bad scrape on his eye.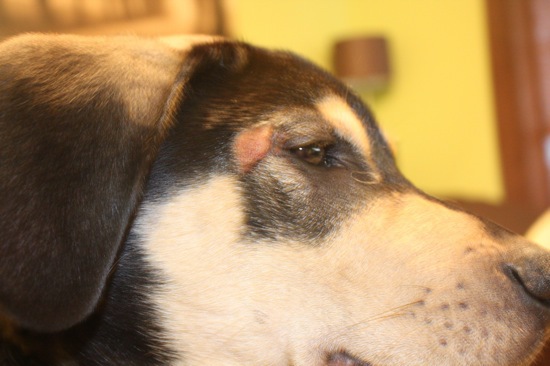 Ouch!
But, we figured it had been long enough and we were going to try again. Ranger LOVES the idea of going to the dog park (and it's Cullen's favorite place ever) so we were all pretty excited to get out of the house and have some fun.
I hooked Ranger's gentle leader on so that he wouldn't pull my arm out of my socket as we got close to the park…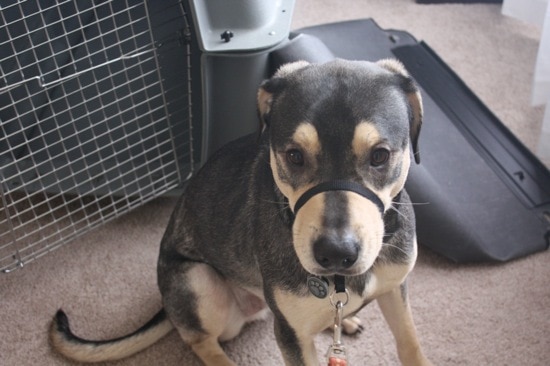 He is NOT a fan of the gentle leader!
…and we were off. Both dogs started freaking out when they realized where we were going and Corey and I felt like we were going to have an awesome time. The second we got into the park, Ranger ran off to make friends with another dog who was playing fetch, and things seemed to be going great.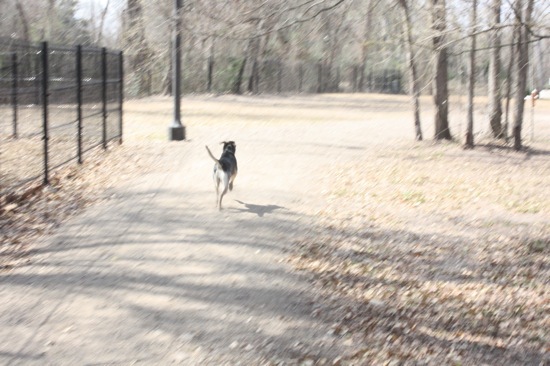 Ranger even found his absolute favorite part of the park – the pond!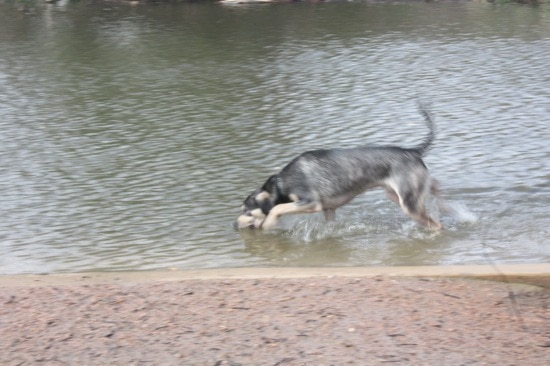 Yes, he is trying to eat the water. He's a strange one.
And then.
(isn't there always an "and then"?)
Another dog at the park decided he was fascinated with Ranger. As in, would not leave his side.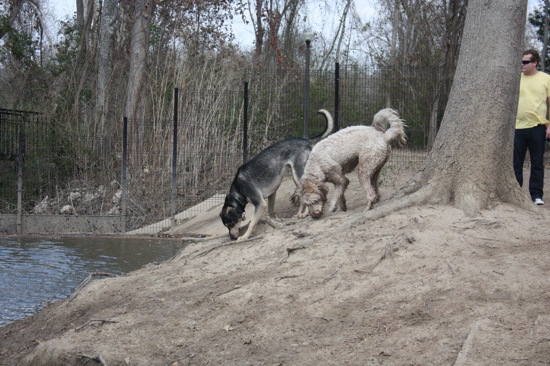 Ranger seemed fine with this dog at first, but I quickly noticed that he had decided he didn't really want to play with it. He didn't mind being chased by the dog, but as soon as the dog tried to actually play, Ranger got a bit testy. He didn't actually do anything beyond barking and a small warning snap, but I knew the situation could escalate quickly. I could also tell that the dog's owner was very nervous about Ranger and didn't really want him around her dog.
On a side note, I feel like that's slightly unfair. I mean, my dog doesn't want to play with your dog, so he tells him that in the way that dogs communicate with one another. How else do you expect him to communicate that? It's not Ranger's fault your dog was annoyingly persistent.
The same cycle happened several times – Ranger would find a spot to play, that dog would come running after him, Ranger would try to run away, the dog would catch him and try to play, Ranger would bark/snap. Ranger was very patient and never actually got aggressive but I was very worried that he would, so Corey and I made the tough decision to leave after only being there for about 10 minutes.
I almost burst into tears on our walk back to the car.
It seems silly, but it is incredibly difficult to have a dog who is so socially anxious. We could both tell that the only reason Ranger was getting grumpy was because it was a new environment with a ton of new dogs and people, and he wanted to just be left alone. But, it makes me so sad to know that he is just not the type of dog that I can take to the dog park. Or over to friend's houses. Or our to Petsmart or Home Depot. It's just too stressful for all of us.
On the ride home, Corey mentioned that maybe part of the reason Ranger was so stressed was because he remembered what happened the last time he was there and connected that incident to the dog park. I thought that might be a good point, and once we got home, I found something that justified Ranger's response even further. I was about to take him to get a bath when I noticed some blood on his neck…and I found this: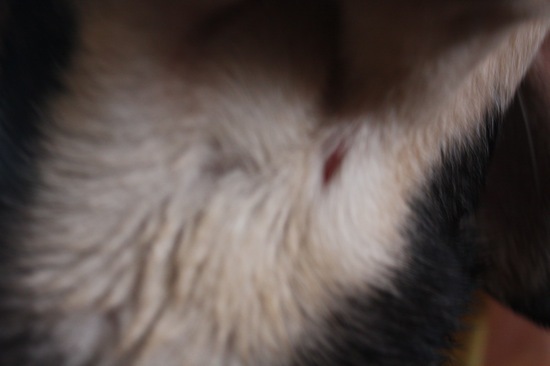 It doesn't look like much, but my guess is that the first time that dog tried to play with him he accidentally bit down and got Ranger in the neck. And then after that, Ranger was done playing with him. My poor dog – I think something is trying to tell me that maybe the dog park just isn't the right place for him.
So, that's the story of my socially anxious dog. I know that this particular incident is pretty understandable for him to react this way, but Corey and I really struggle when it comes to other social situations. We don't know what to do to help him realize that people are nice and not out to hurt him. It makes me really sad to see him so needlessly stressed out, but I'm hoping that it's something he'll get over in time.
Do you have dogs with any unusual quirks like Ranger's? Tell me about them – make me feel better!