If you're looking for creative ways to display family photos in your home, look no further! This post is full of photo display ideas to help you fill your home with family memories in a way that will fit right in with your decor.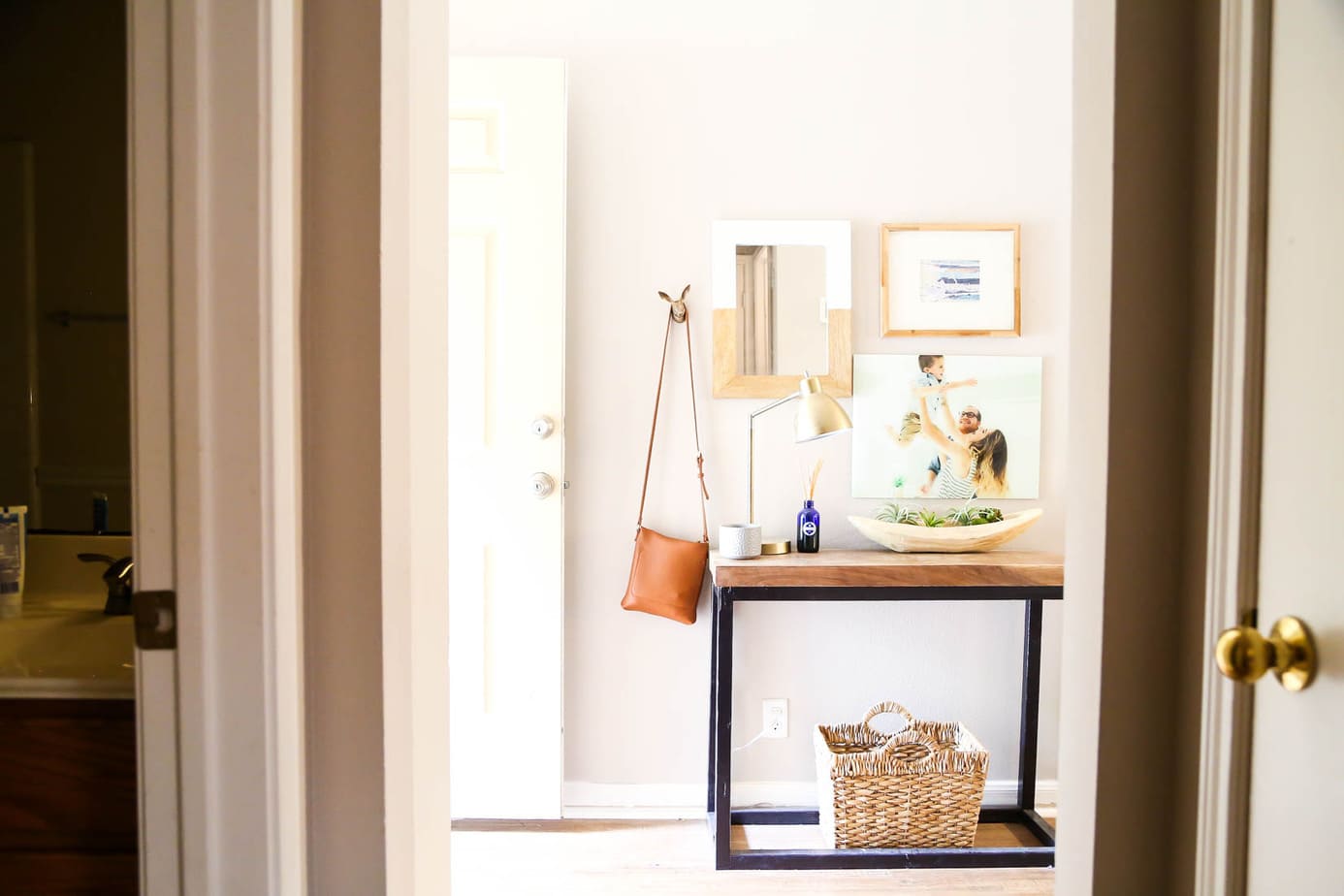 This post is sponsored by Fracture, but all opinions are 100% mine. Thanks for supporting the brands that support Love & Renovations! 
I shared our little entryway refresh a few months ago when we finished building our console table, but to be honest I still kind of cringed every time I walked past it. The mirror was the wrong scale for the space, it was hung much too low, and the lamp was so big that it made the already-small entry feel even more cramped.
Our refresh needed a refresh.
So, when Fracture reached out and asked if I wanted to try out their glass prints in our home, I jumped at the opportunity. We haven't added much art to the walls in our home yet, and it's high time we get started. We had a family photo shoot last year before we moved out of the old house, and while I adore the images, it was bothering me a bit that we hadn't actually done anything with them. So, this seemed like the perfect chance to display a few of our favorites from our photo shoot and try out this fun new product.
And, oh man, I'm so glad I did!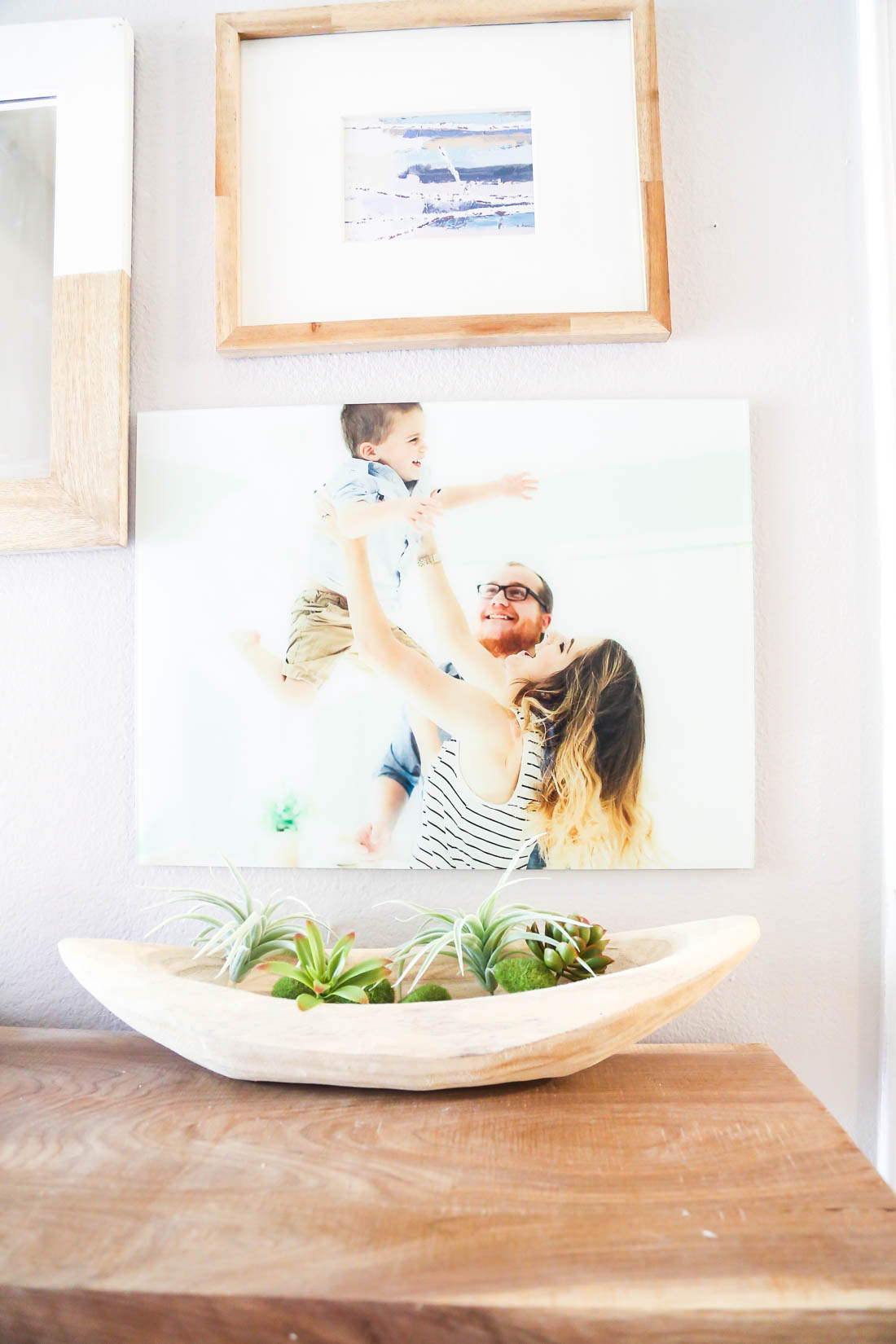 I wasn't sure what to expect when I ordered these glass prints, but I am so pleased with how they turned out. Fracture prints your photos directly onto glass and has a very streamlined and clean look. I love the modern feel, and the print quality is fabulous. And, bonus! Fracture is offering 15% off for Love & Renovations readers using the code LOVEANDRENOVATIONS – so, if you want to try them out, be sure to use our coupon code! 
Basically, I'm obsessed with this print and, as a result, the entire entryway area now. This little gallery wall makes my heart happy and I'm so glad I don't have to cringe when I walk in my door anymore.
I know it can be tough to figure out good ways to display your family photos in your house, so I thought I'd round up a few ideas for you today to get you started.
Family Photo Display Ideas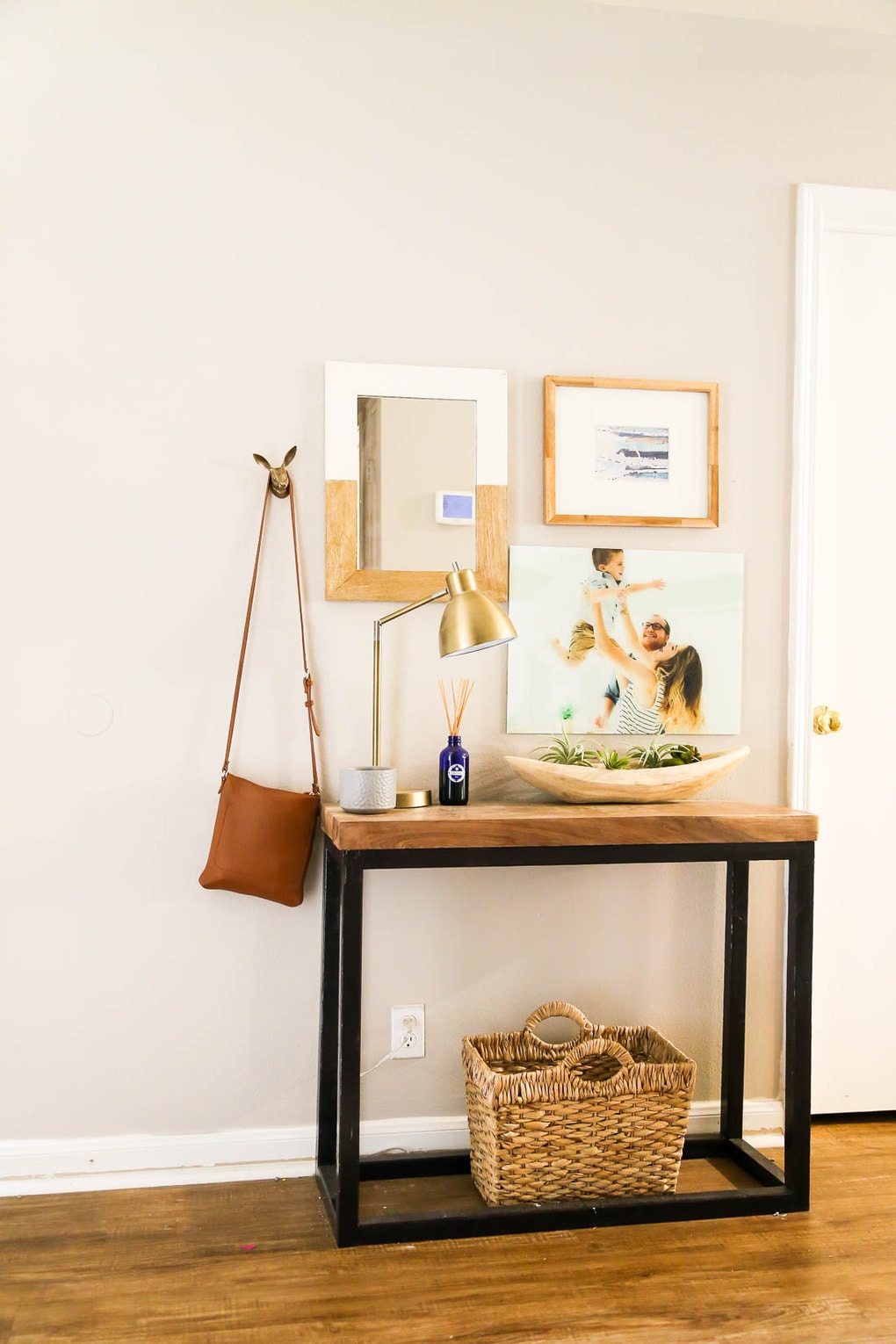 Take a unique approach. Rather than just having a photo printed and framing it, I love the different feel that our Fracture print brings to this little gallery (this image is the large size). Sure, the classic option is always a great way to go, but if you want your family photos to feel a little more special, make them special. Not only will the photo stand out a little more, it'll likely be something you actually notice in your home instead of just walking by it and ignoring it because it looks like everything else on the walls.
Keep it casual. My favorite way to display family photos in our old house was on this giant photo display that we built for our dining room. It was easy to make and made a huge impact. The best part is that it was incredibly simple to swap out the photos on a regular basis – we just got a new round printed and clipped 'em up! We also made a smaller version of this display as a gift for my mom, so if you don't have as much space, this could be a good option.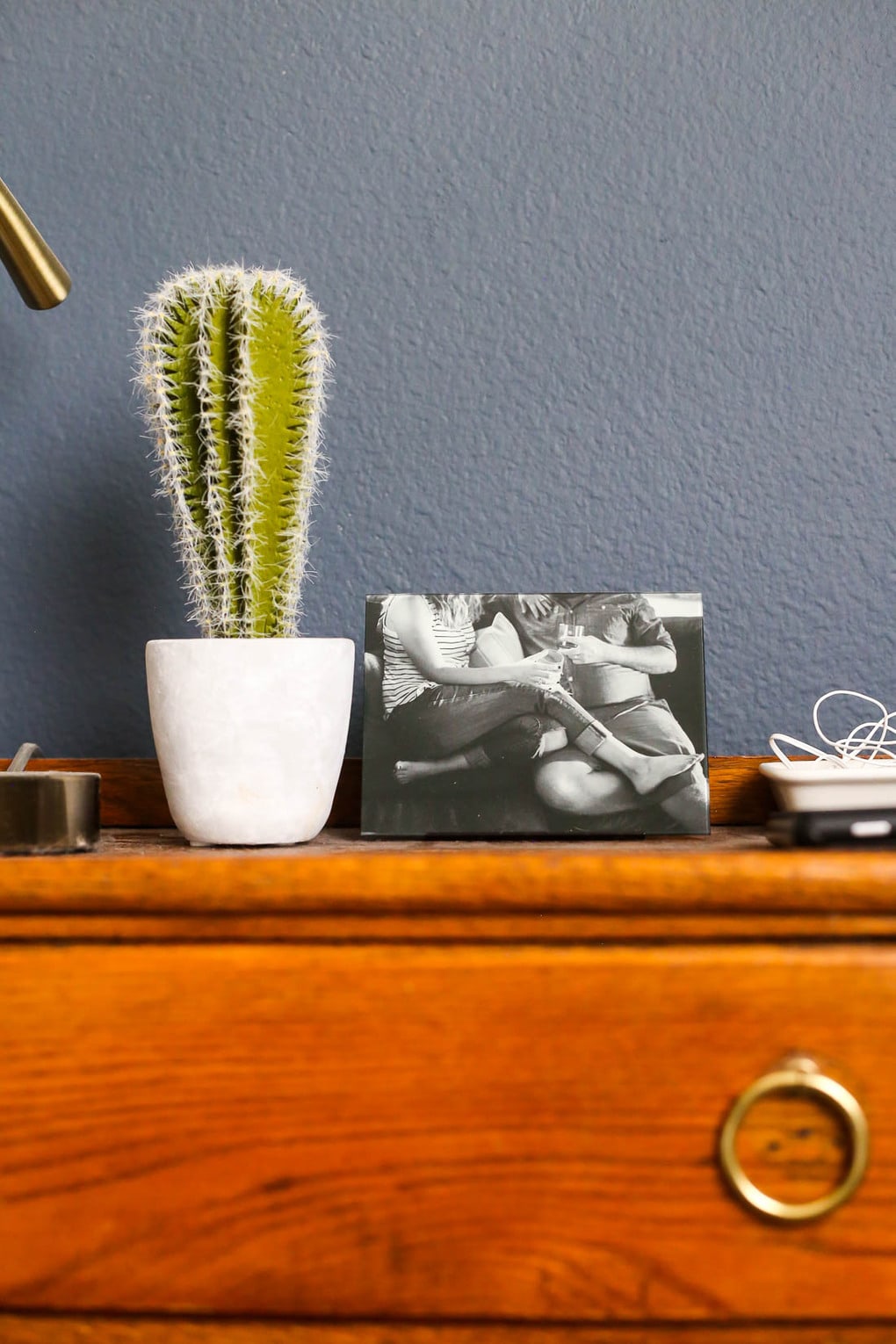 Display your photo books. We have family yearbooks printed every year, and we love to look back at them. If you don't want to have your photos displayed on your walls, why not toss them on the coffee table? I find that when we have our photo books sitting out, not only do we look at them more often but so do our guests! Jackson loves to sit with his grandparents or other extended family and flip through the books, and it makes my heart full to see him remembering all of the fun things our family has done over the years.
Create a photo basket. The one downfall to having a large photo display for family photos is that when you change them out you end up with a ton of printed photos and no clue what to do with them. That's when a photo basket comes in! I love to grab a small, skinny basket and put it on a side table, a shelf, or even on the coffee table and then toss all of our printed photos in it. Jackson loves looking through them, and it's another great way to have family photos around without physically hanging them up.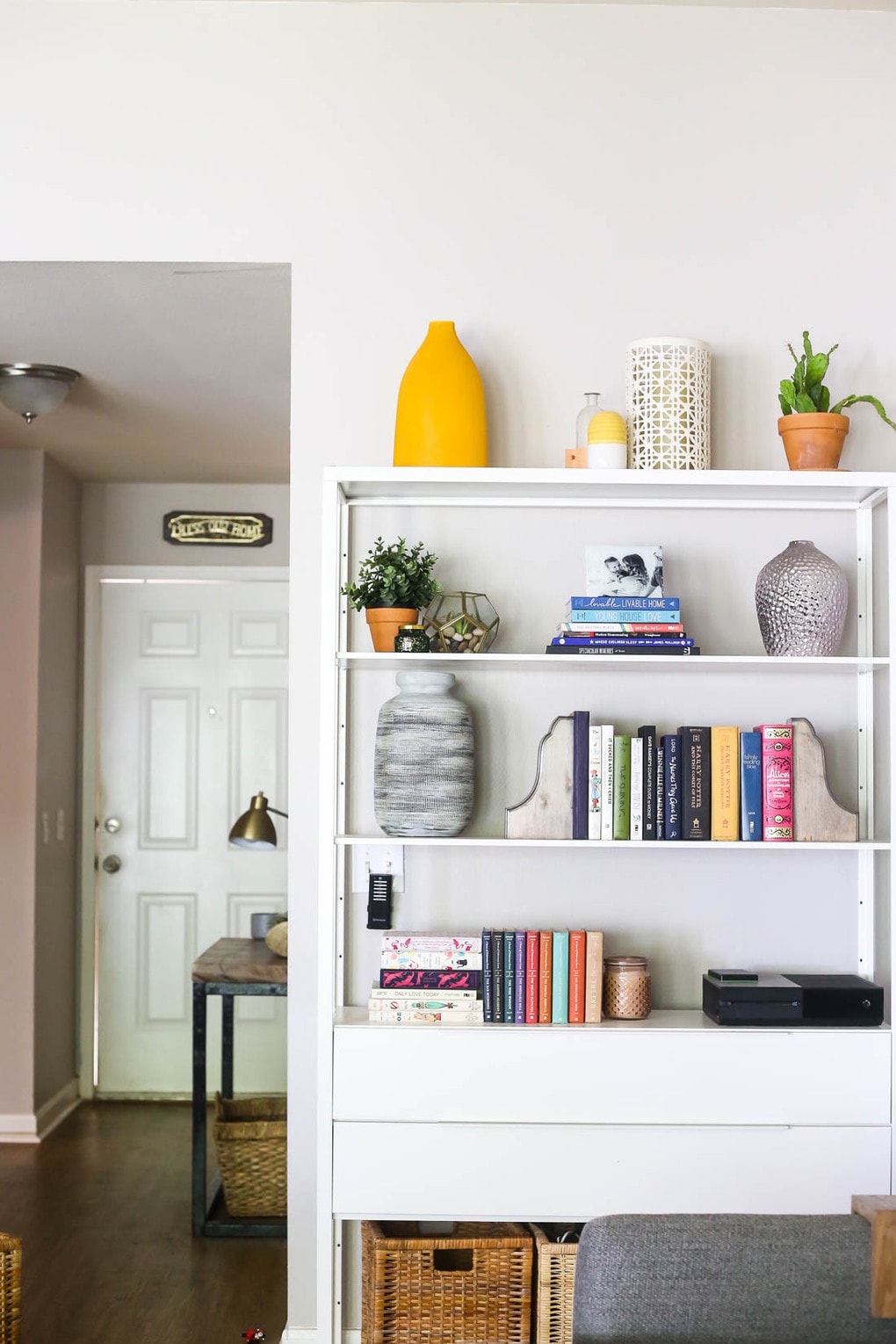 Put them where they matter. In addition to the Fracture print we hung in our entryway, we also grabbed few smaller ones to place around the house. I chose to have them printed in black and white so that they feel a little more special (something about a black and white photograph just makes me happy) and we put one on each of our nightstands, plus one on the bookshelves in the living room. You can add on a metal stand to your Fracture order for just a few dollars per photo, and it is a really minimal look that allows you to display your photos somewhere other than the walls. It feels like the perfect touch – I catch little glimpses of our sweet family as I'm moving through the house, but it's not right in my face all the time. Oh, and perhaps my most important tip:
Don't go for the cheesy, smiling-at-the-camera photos. Now, this is a personal preference but I think that if you want to absolutely love the family photos you've displayed in your home, you need to choose the photos where you aren't all sitting still and smiling for the camera. We chose to print the more intimate moments from our family photo shoot, and they make me so happy because they perfectly capture the regular moments with our sweet little family. The ones that happen day after day. The ones that I want to remember.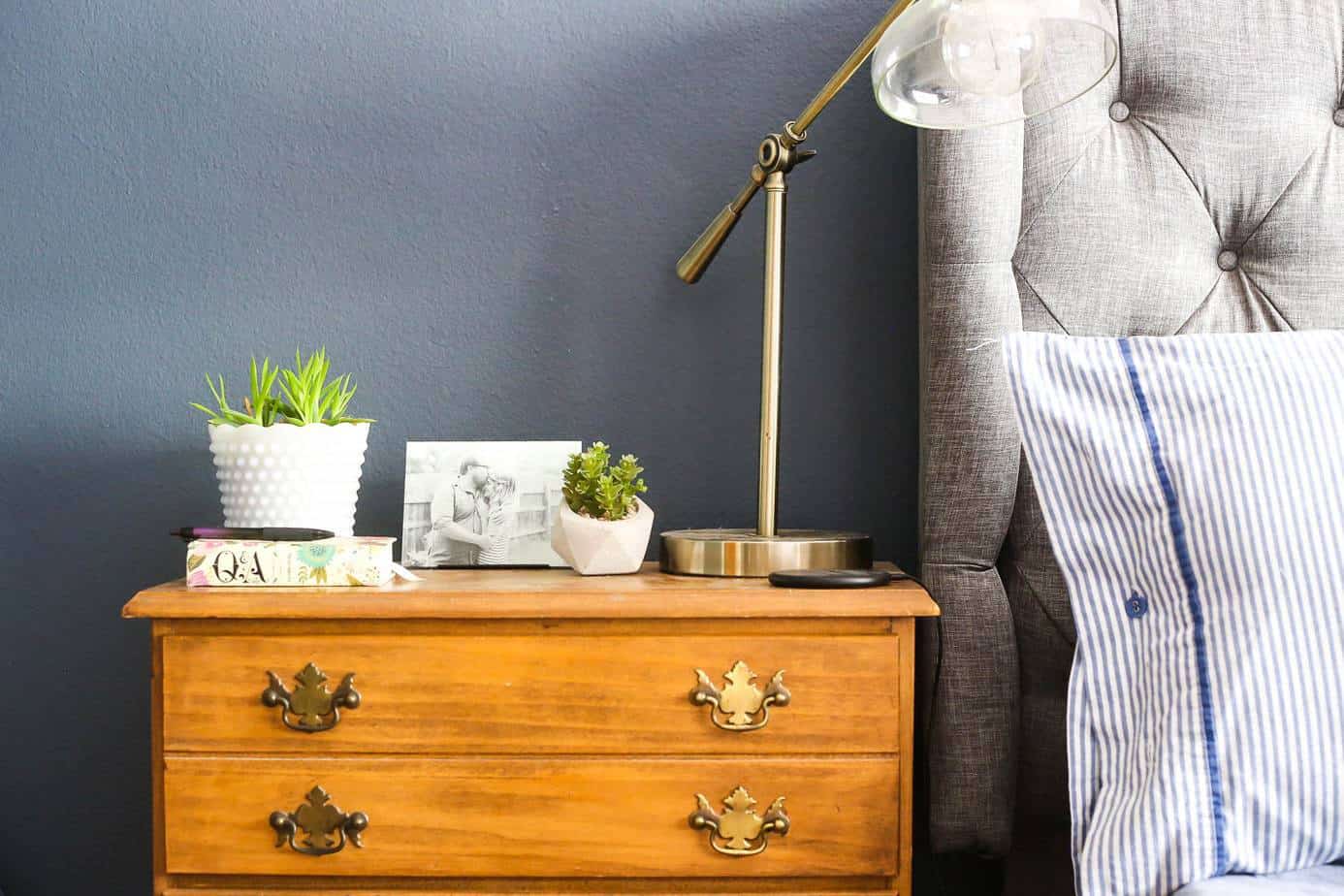 I'm so happy to finally have a few of our favorite photos displayed, and this has me motivated to get even more things hung up on our walls soon!
If you're curious about Fracture prints and want to check them out for yourself, be sure to head over to their website (and use the code LOVEANDRENOVATIONS at checkout for 15% off!). I was surprised at how affordable they are and this would make a great gift idea or a really fun gallery wall in your home!