It's that time again – time for Katie & Sherry's seasonal Pinterest Challenge. Haven't heard of it? Basically, how it works is that you pick something you've pinned on Pinterest and instead of just staring longingly at it, you DO it!
Sounds easy enough, right?
I've wanted to participate in a Pinterest challenge ever since their first one last summer, but so far something has happened each round that has prevented me from participating. So, you can imagine how excited I was when I realized that the winter challenge just so happened to fall right in the middle of spring break, so I would finally be able to take part (the perks of being a teacher)!
Corey and I have been talking for a while about wanting to include some silhouettes of our little family in the guest room, and now that we've finally started to work on it a bit I figured this was the perfect opportunity.
I'll get more into the DIY instructions later (I promise, a full tutorial is coming on Monday morning!) but for now let's just look at the results, shall we?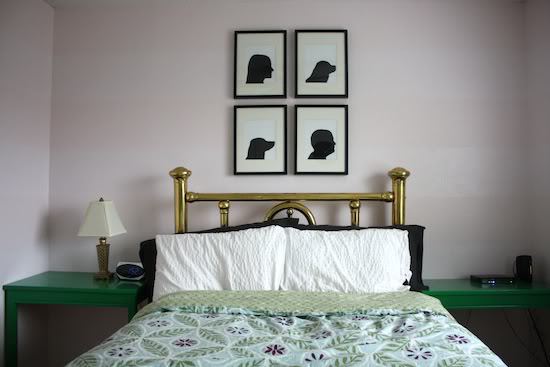 I love them. So much. I was surprised by how simple it was to actually make them, and I think the finished product makes a huge impact on the room.
Isn't it just amazing that these photos…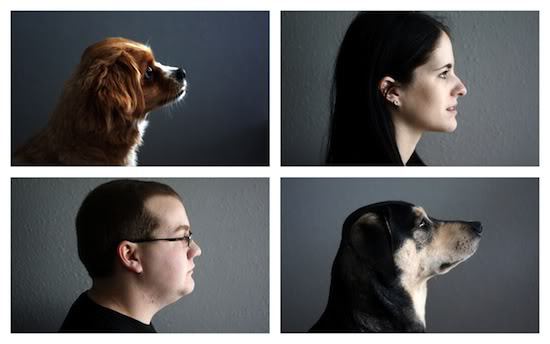 …can turn into THIS?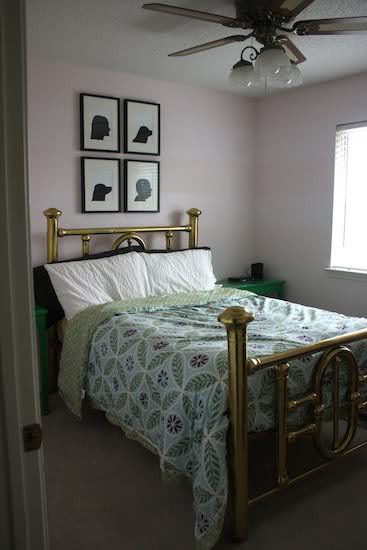 I'm so happy with the project, and I'm grateful to Sherry and Katie for motivating me to actually get it done! This is a huge step in the right direction, but this room is still desperately in need of a lot of help – for starters, that bedding has got to GO as soon as possible! And that fan? Don't even get me started.
As promised, I'll be back on Monday with a full explanation of how you can do this yourself (I swear, it's easy!). I kind of want to turn every photo I own into a silhouette now – it's so much fun!
Be sure to check out the projects of all of the hosts of the challenge (Sherry, Katie, Cassie, and Erin) as well, because they've got some fantastic stuff posted!
Are you participating in the Pinterest challenge? What have you actually made from Pinterest lately?