If you would have told me four or five years ago that I'd be writing an entire blog post about adding a portable greenhouse to our back patio, I'd certainly have laughed at you. I couldn't even keep one plant alive, much less enough to fill an entire greenhouse!
But, here we are.
This weekend, I added a portable outdoor greenhouse to the patio and I'm just a little bit in love with it.
I mean, it's not the prettiest addition to the backyard – it looks a little utilitarian and it's stuffed so full of plants you can barely access them. But, it's (hopefully) going to keep my plants happy and warm all winter long, so I'm not complaining!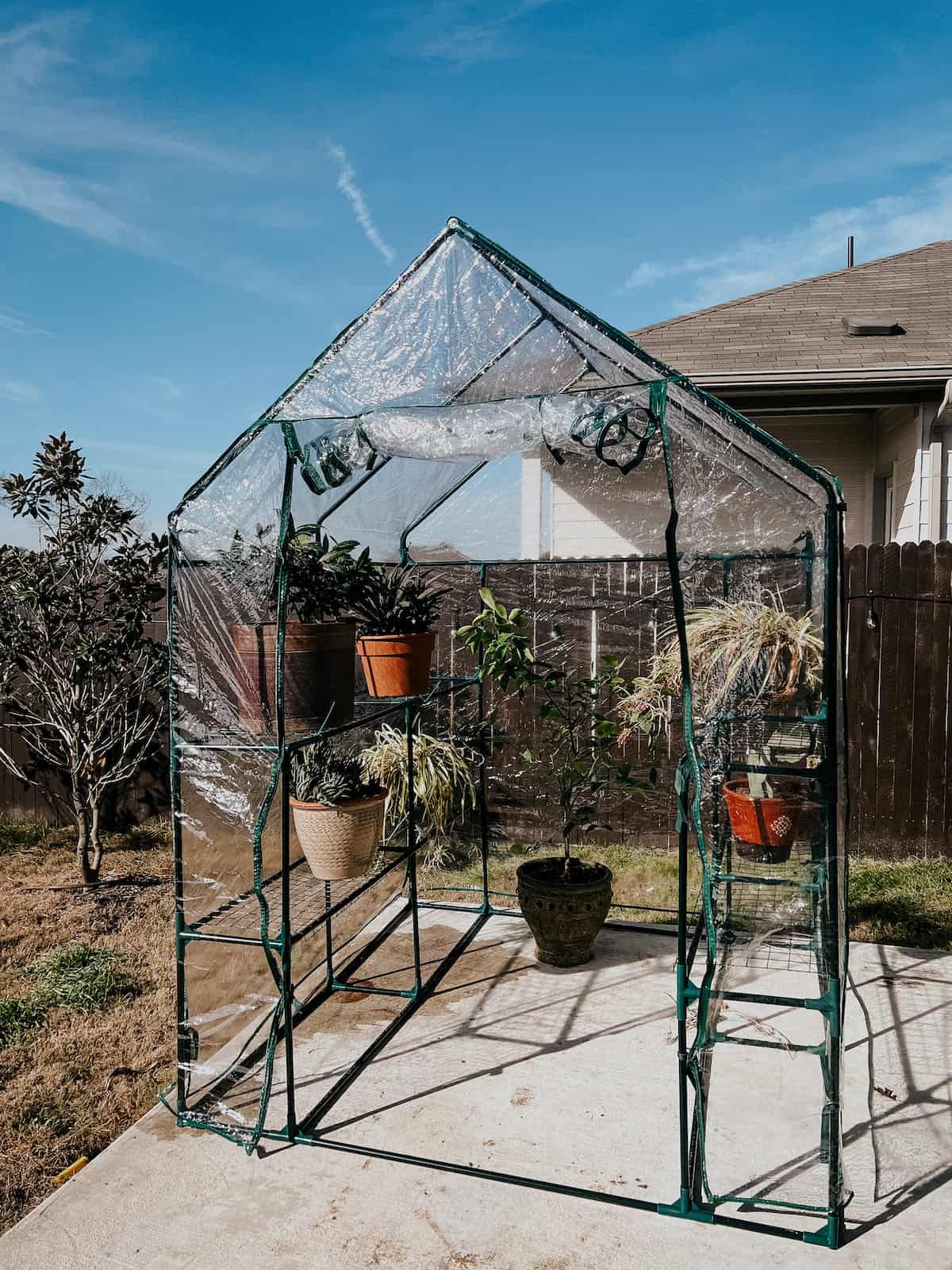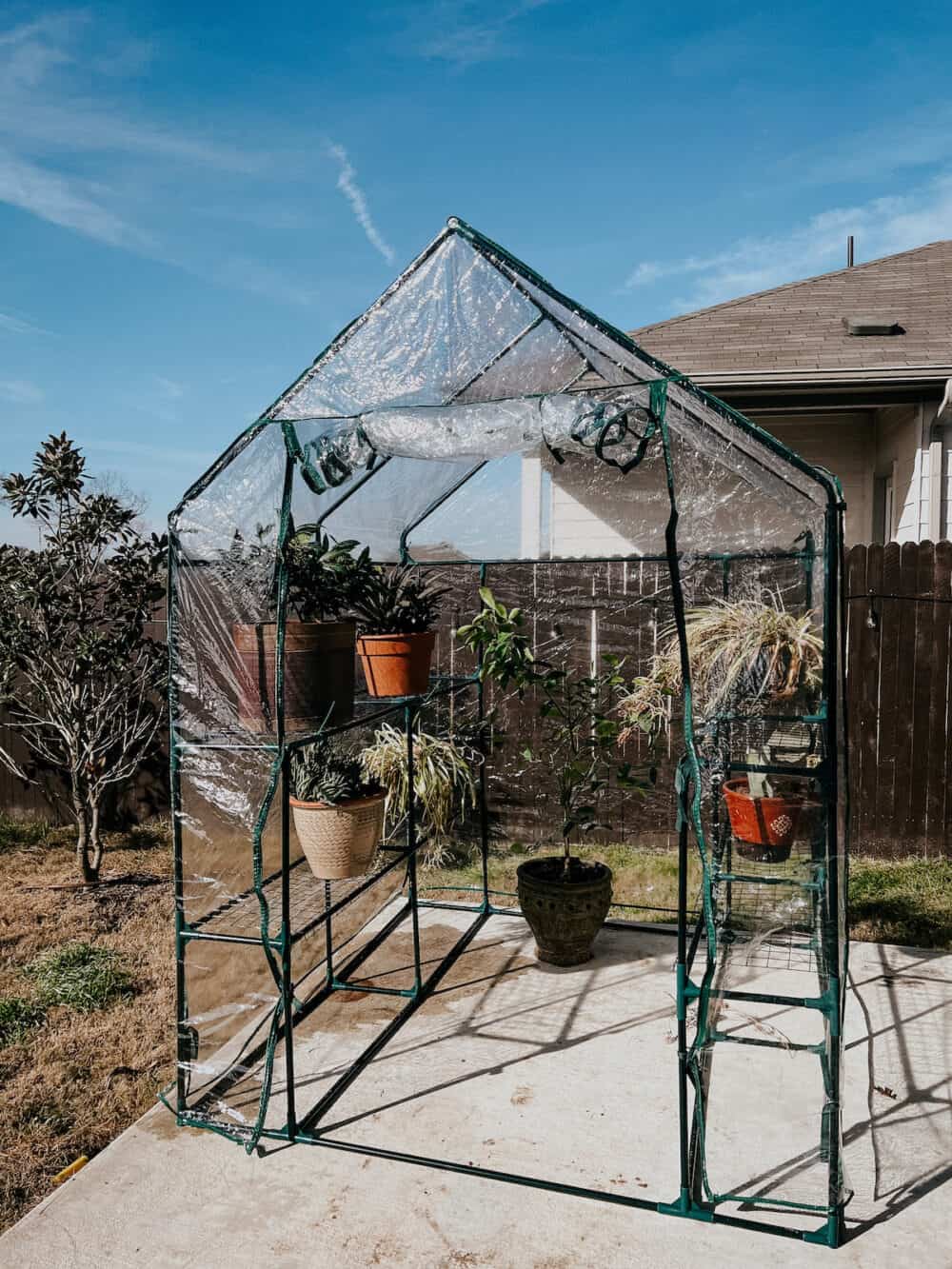 Our new portable greenhouse
You might remember that I added a DIY plant window shelf in our dining room last year to help hold some of our outdoor plants when the cooler months come around. But, I quickly realized this only solves part of the problem. I have several larger plants that just won't fit up there – what was I supposed to do with them? Bring them all inside and squeeze them into every corner of the house? Let them freeze and hope for the best?!
I decided to do a bit of research and discovered that a small portable greenhouse was a really affordable and logical solution. I can take it down and store it when winter is over, and a 4×4 greenhouse can hold all of my larger outdoor plants easily. It allows them to get plenty of sunlight and UV rays and gives a more consistent climate for them. And it makes it a lot less likely they'll freeze to death on me.
I decided on this one from Amazon. It certainly isn't the highest-quality option out there, and I'm not positive about its durability. But, it was really affordable and I'll be thrilled if it gets us through a couple of winters. I didn't want to splurge on anything too much nicer until we know for sure that this is a solution that will work for us. If we love it, maaaaybe I'll build something a little more permanent out in the yard?!
I snapped the photo above when I was only partway finished with filling it up – below is a more accurate representation of what it looks like.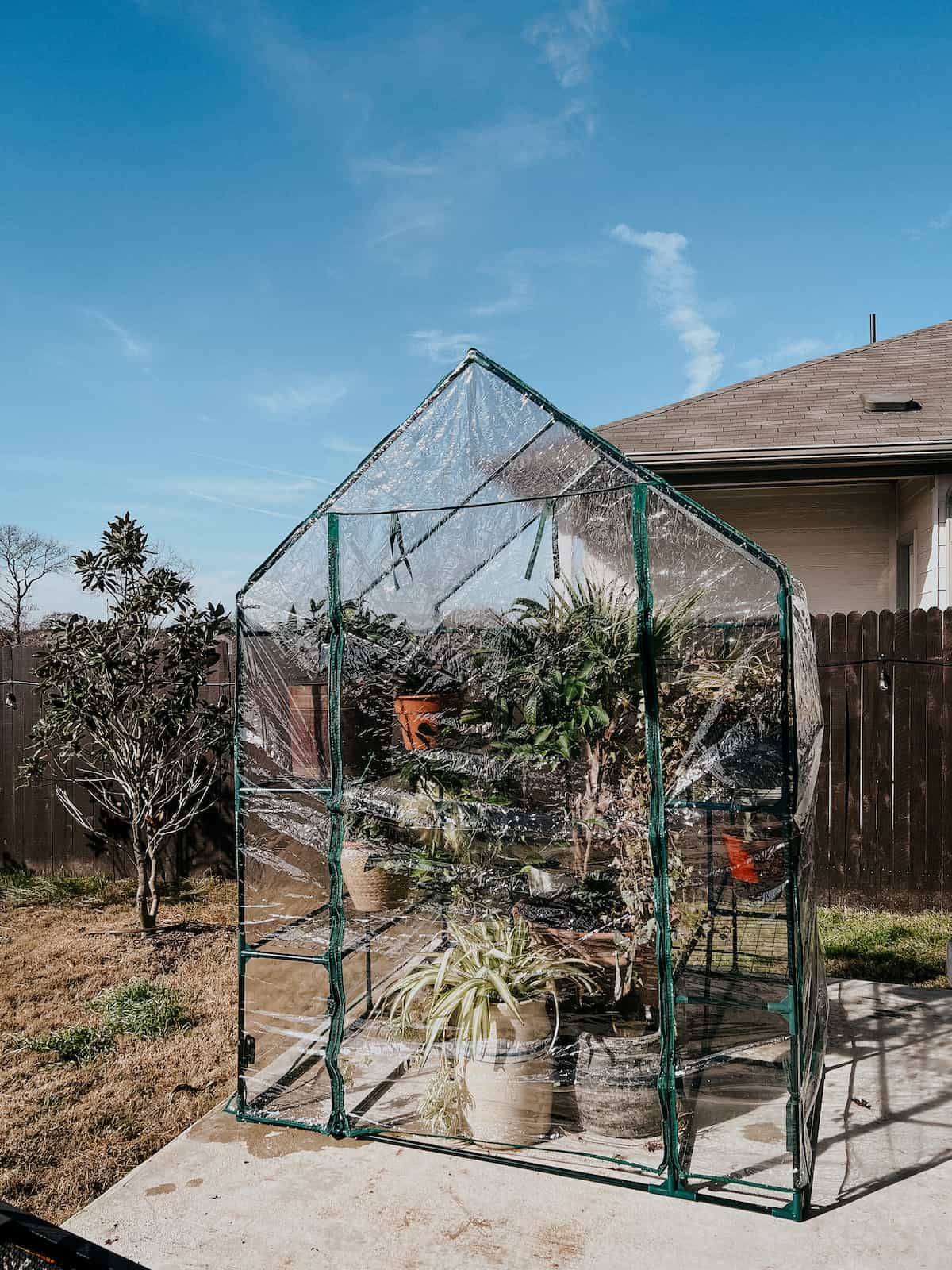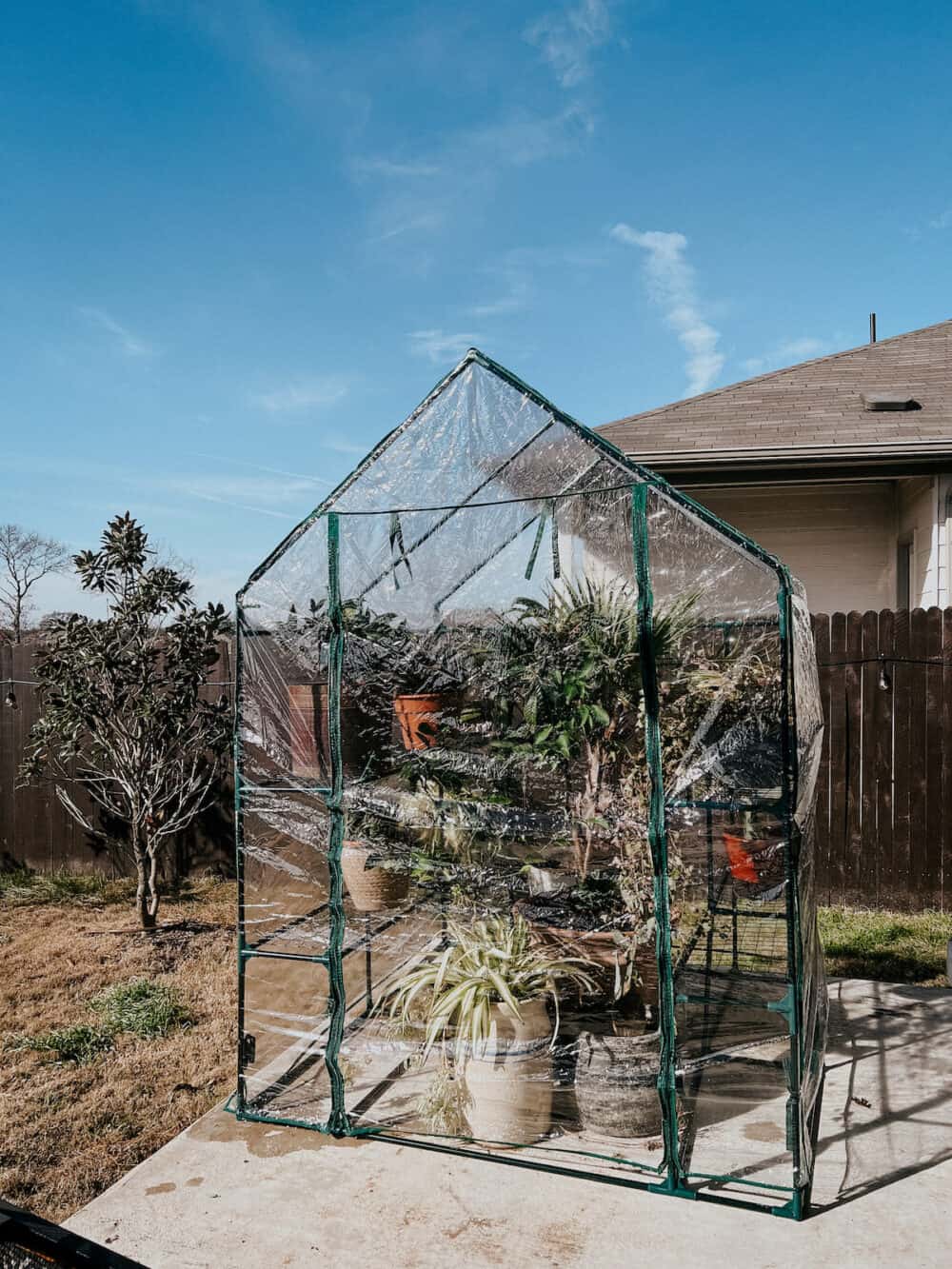 As you can see, it's pretty full, especially in the middle, but there's actually plenty of room left for a few smaller plants if I end up finding others I want to put in here! It's currently holding my 5-ish-foot Mexican Palm, a Loquat tree, and a small Meyer lemon tree. And that's in addition to a few other medium-sized plants on the ground. Plus, there are obviously also several plants on the shelves. Needless to say, I'm really impressed with the capacity!
It took me about 45 minutes from start to finish to put the greenhouse together. I only needed a second set of hands when it came to putting the cover on it.
It easily fits all of my outdoor plants that were too large to bring inside for the winter. And I've got room to spare!
If you think a portable greenhouse could also be a good solution for your plants this winter, let me share a bit of what I learned about them in my research!
Types of Portable Greenhouses
Portable Walk-In Greenhouse
This is what I went with. It's a lightweight, portable greenhouse that's large enough for you to physically stand in. But, it's not so large that you can't easily move it around the yard. There's no bottom to the greenhouse, just walls and a roof. Typically, these are constructed out of some sort of plastic framing with a PVC cover that slips around it. Many have built-in shelving, which makes storing plants of all sizes really easy. These generally have a zippered door with roll-up panels that give really easy access to the plants for watering or letting in some airflow.
There are also more permanent, heavy-duty walk-in greenhouse options that are sturdier, more expensive, and harder to put up and take down. These will likely have a steel frame instead of plastic. This is what you might do if you'd like to keep your greenhouse up year-round but still want the option to not have a fully permanent structure.
Pop-Up Greenhouse
These are similar to what I chose, but with a few less frills. But, this type of portable greenhouse is a lot easier to put up and take down! They are really great options if you know you'll be moving it a lot. One downside to these is that they won't have shelves built into them. So, if you want to put any of your plants on a shelf, you'll have to get something separate.
Vertical Mini Greenhouse
This type of portable greenhouse generally looks like a bookshelf with a cover on top of it. They come in several sizes, but the idea is that these are intended for smaller plants that can fit on a shelf. They're great for smaller outdoor decks or balconies, or for anyone who doesn't need to keep a large floor plant or tree safe during the winter!
Horizontal Mini Greenhouse
These portable greenhouses are long and lower to the ground. These are perfect for slipping on top of a bed with fruits and vegetables. They usually zip open from the top for watering access. This is less an option you might use on a patio and more something you'd use to keep in-ground plants happy and safe and allow you to extend the growing season a bit.
Tabletop Greenhouse
And finally, a tabletop greenhouse is a great option if you've got just a few small plants you want to keep warm. Or, if you have some seedlings you need to keep safe! These tiny greenhouses will only hold a few small plants, but they're perfect for a beginner plant lover who is just hoping their little baby plants will survive the winter!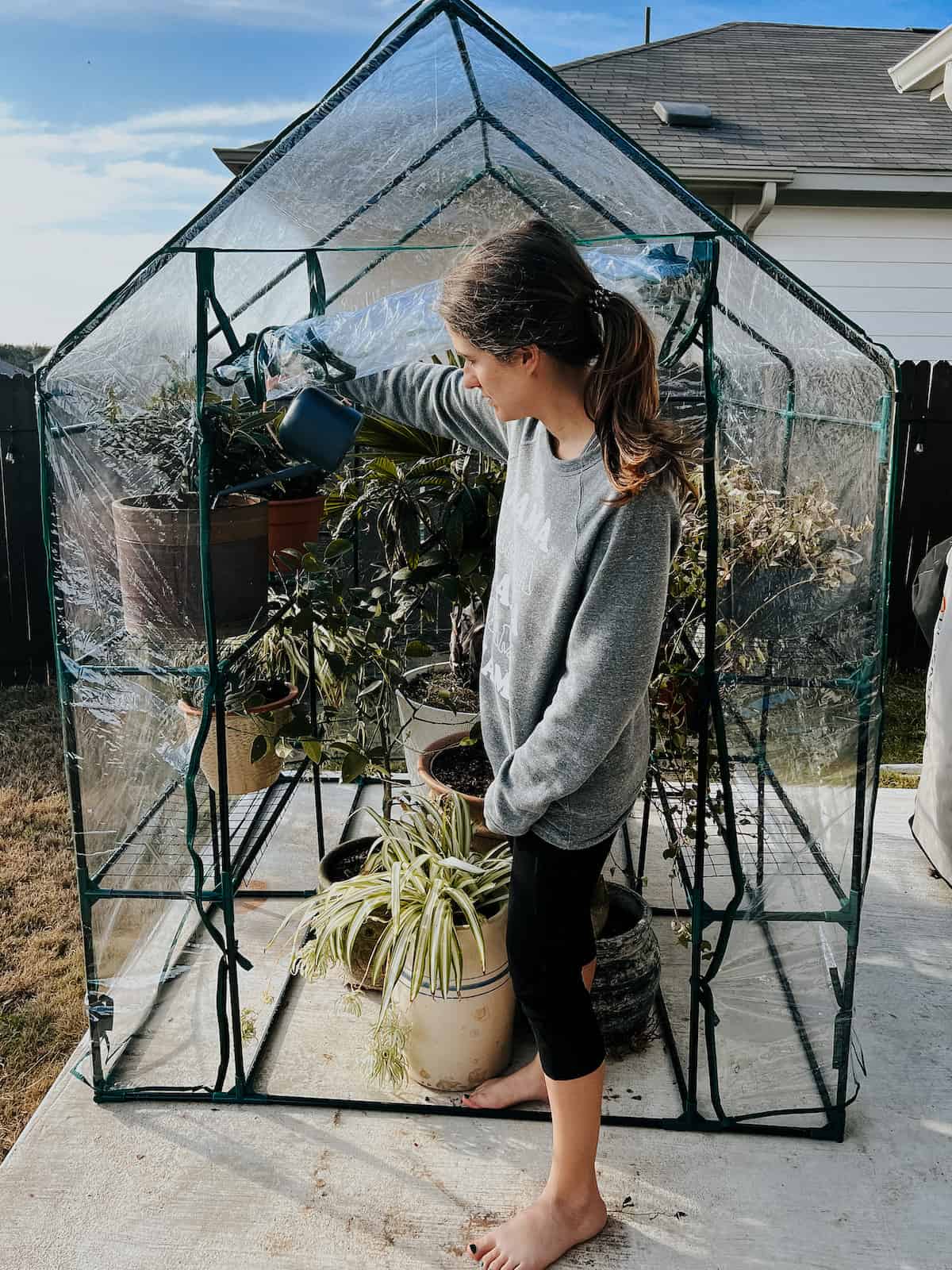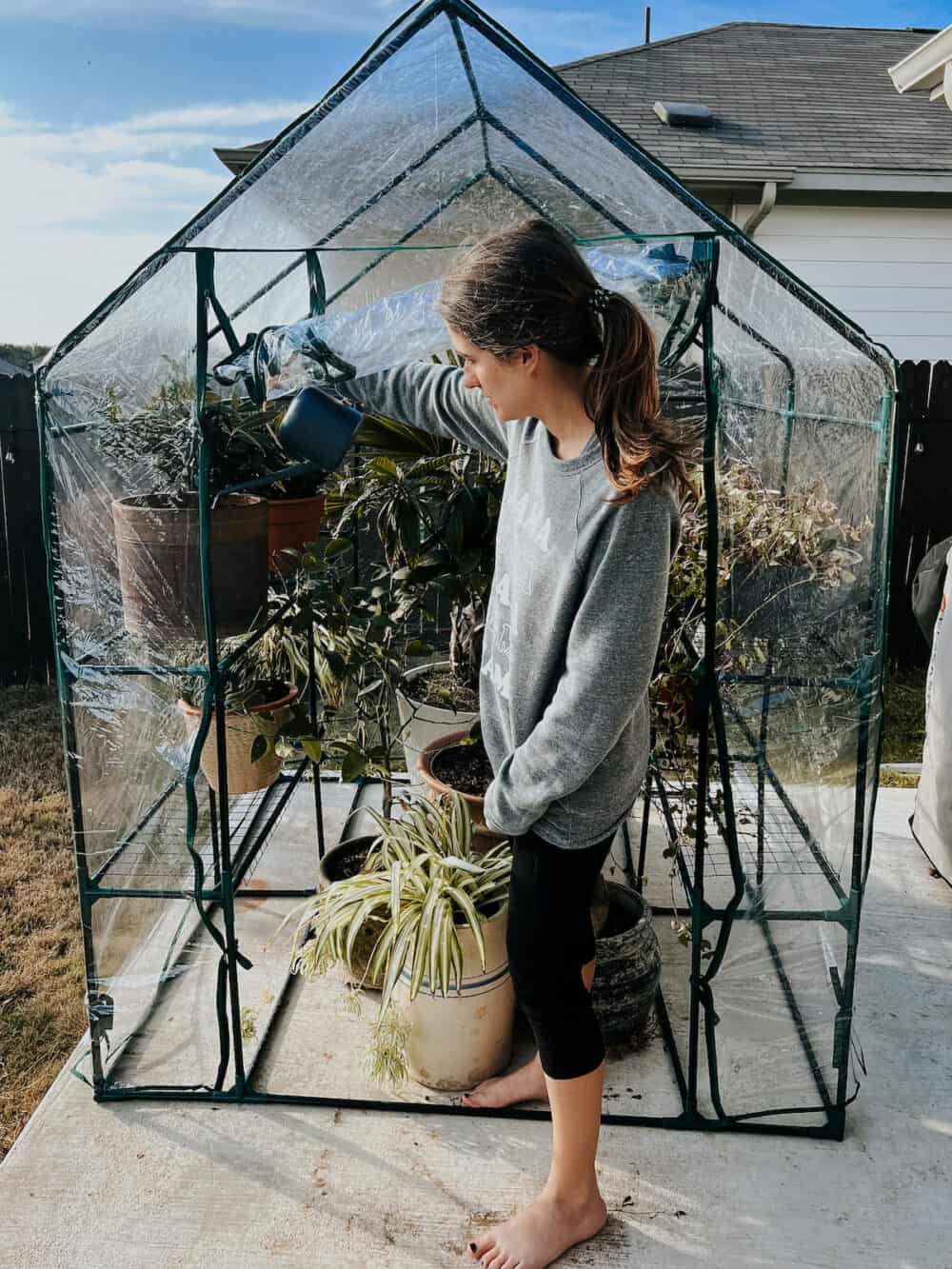 Choosing a portable greenhouse
When it came time to choose ours, here are the factors that I considered most heavily:
Size. I needed something small enough to fit on my patio but large enough to hold a few larger pots. The one I chose is 4′ square and it's the perfect size for us!
Stability. Of course, I wanted something I could trust to stay put if we have any high winds or harsh weather conditions. The fact that this portable greenhouse has shelves means the plants will automatically help hold it down! it also comes with stakes that you can insert in the ground to help keep things even more stable. So far, I feel confident this guy won't go flying across the yard, but we'll see.
Price. I really didn't want to break the bank on a portable greenhouse kit without knowing if it was going to work for us. Eventually, I would love to have a large greenhouse with a metal frame. But, this portable mini greenhouse is a great way to try things out and make sure it works for us!
Best Portable Greenhouses
Here are a few recommendations from the options I considered when I was shopping for our backyard greenhouse. I tried to include options in every category, so you can hopefully find something that fits your needs!
I'm feeling really hopeful about my plants' chance at survival this winter with the little portable greenhouse!
I'll still need to take a couple of extra precautions on nights where our weather will dip well below freezing. But, since that's a rarity here in Texas, it shouldn't be too bad! You know I'll keep you updated on how they all do – many of those updates happen over on Instagram stories, so keep an eye out for that if you're curious!
Related Posts