Over the years, I've shared lots of quick and easy woodworking & DIY guides for beginners. I wanted to compile it all into one spot, so this is the hub for all of my best DIY tutorials for newbies!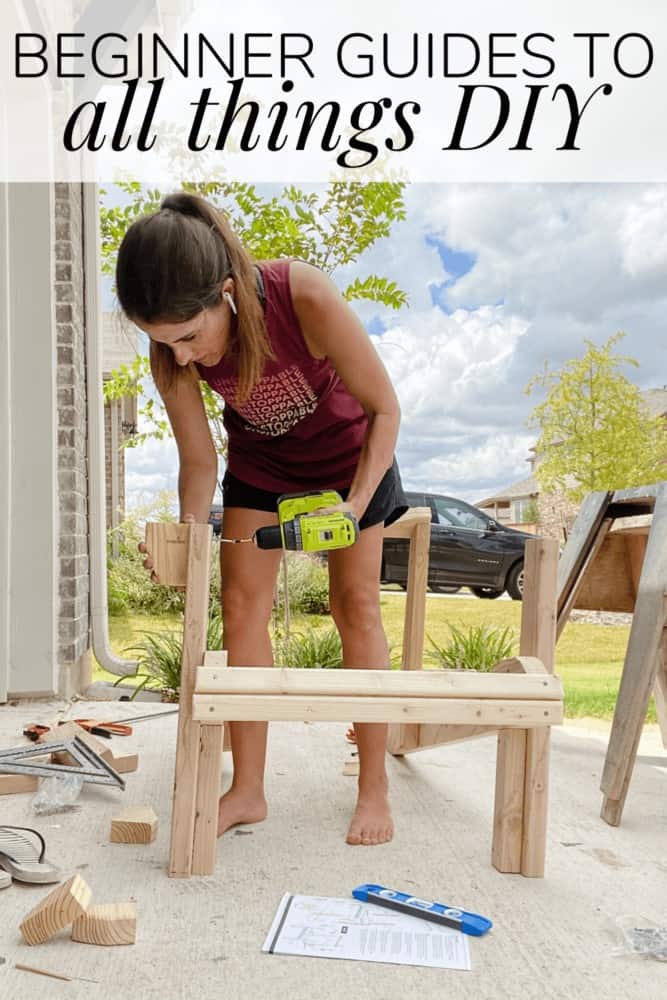 Have you ever wanted to try DIY or woodworking but have no idea where to start?
I'm here to help.
I know that it can be scary to try your hand at using power tools or altering your home if it's not something you've ever had a chance to do before. I was pretty terrified the first time I stepped up to the miter saw! But now? I'm comfortable with our entire workshop full of tools and I've built more than I ever dreamed possible.
I'm passionate about helping beginner DIYers gain the confidence to try new things – and I'm a big believer that no question is too simple! So, here you'll find all of my resource guides on beginner DIY, covering everything from how to paint a room to how to use a miter saw.
Woodworking for Beginners: How to Use Power Tools
Obligatory disclaimer: I am not a professional. I'm simply a self-taught DIYer who loves to learn new things. You should always take proper safety precautions when using power tools, and don't forget the safety equipment!
Here's a quick roundup of all of the posts I've written so far in the power tools for beginners series. Each post includes a detailed overview of the tool, what it does, and usually also a video that demonstrates exactly how to use it. Most of the posts also have a great DIY idea linked to them that help you get an idea of how you can try the project out on your own.
I'm continually adding to these resources, and you can check this page anytime to see if a new tool has been updated.
Beginner Guides to DIY
I'm a big believer that you'll never build the confidence to make the home you want if you don't just jump in and start trying things. I've learned everything I know through a lot of trial and error (emphasis on the error), and I'm still learning more every day! With DIY, the only way to get better at it is to get in there and get your hands dirty – and hopefully these guides will help you feel ready to do exactly that!