This post is sponsored by STAINMASTER. All opinions (and disgusting stories) are 100% mine. 
You guys, my house is messy.
I'm not alone in that, right? You have a messy house too? Because sometimes I feel like no matter how hard I try to keep up with the insanity that is my household, there is just no way to keep it clean all the time. Between a toddler, two dogs (three now, since Corey's dad and his dog are currently living with us), and a husband (come on, you know they're just as bad as the toddler sometimes), I feel like it's just about impossible to have a clean home.
Sigh. At least we can revel in the fact that we aren't alone…right?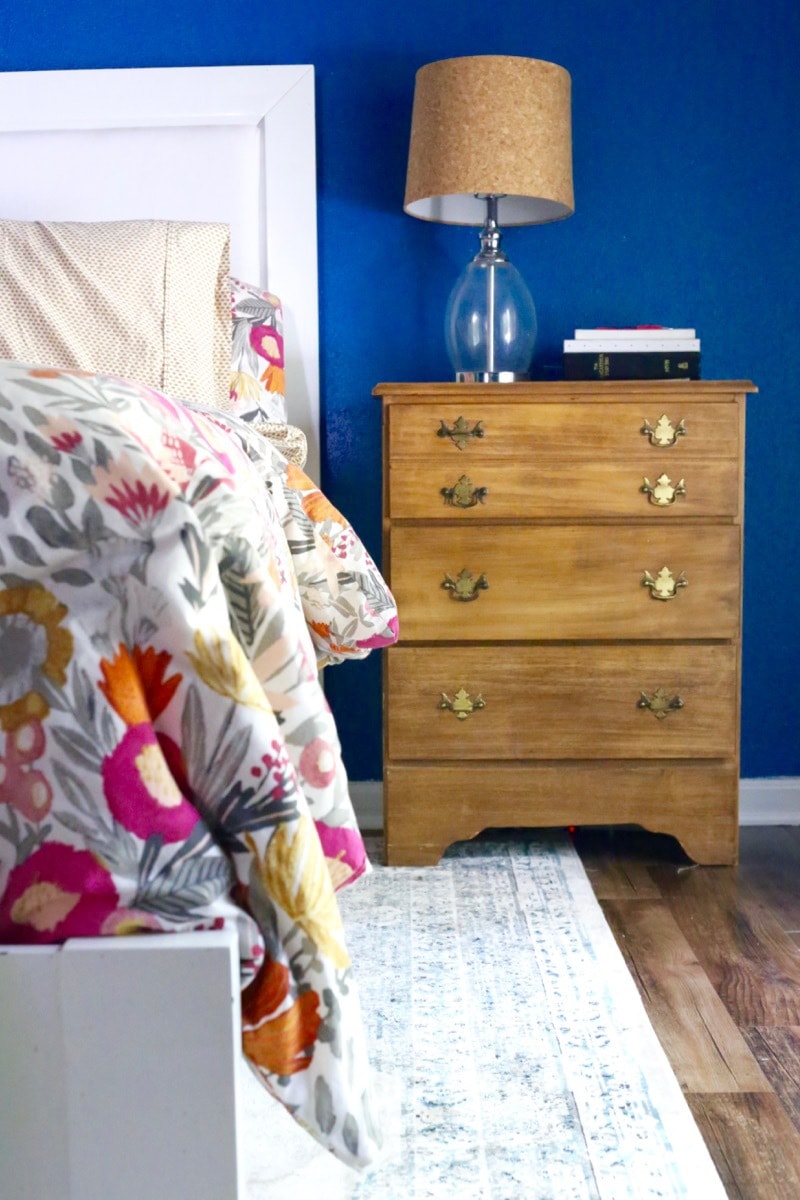 I really do put a lot of effort into keeping our home clean and organized – it's just hard sometimes, especially when certain other humans/dogs in my house are actively working against me. So, when Stainmaster asked me to partner with them to share about their new STAINMASTER Carpet Care line, I was all in. The line promises to start cleaning even the toughest stains on contact, and it leaves an invisible shield to help protect your carpet even after it's done cleaning. We might not have a ton of carpet in our home anymore but we do have rugs and they are dirty and I feel like I spend entirely too much time working to keep them clean. And since Hadley had already made a humongous stain on the brand new rug in our bedroom, I figured it was the perfect opportunity to take care of it.
Since we're chatting dirt today, want to hear my favorite stain story?
Settle in and make sure you don't have any food. It's not pleasant.
A couple of years ago I came home from work one afternoon and noticed a smell in our house.
You know, one of those smells that just about bowls you over the second you walk in the door and immediately terrifies you because you know something horrible is coming your way.
I walked into the garage where our dogs, Ranger (who ran away a little over a year ago) and Hadley were waiting for me in their kennels, and the smell got worse. I didn't even know it was possible.
As I got closer to Ranger's kennel, I heard a kind of splash-y sound as he wiggled around with excitement waiting for me to let him out.
(Do you know where this is headed?)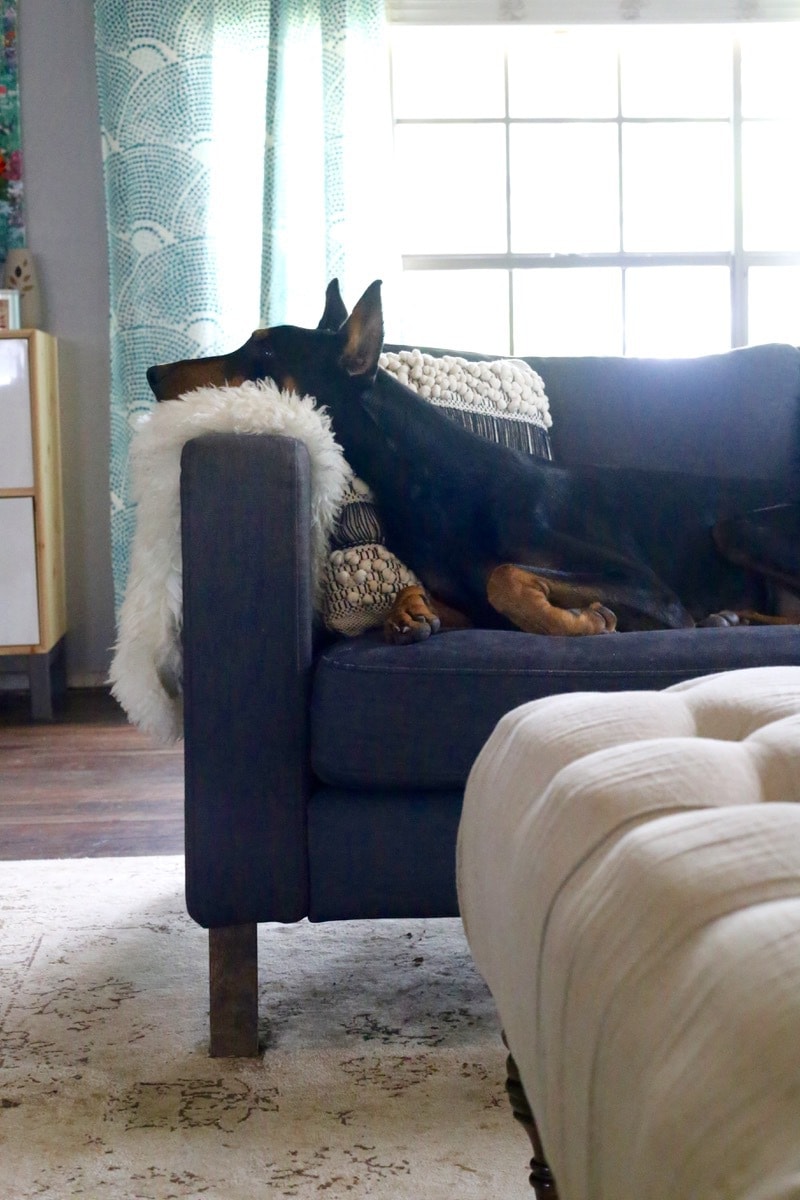 I opened his kennel and he barreled out and I saw it. The, um, let's just say it, poop. I don't even know if that's the right word for what it was – it was liquid, y'all.
He was covered. Head to toe. There was, I kid you not, a full half inch of liquid-y disgustingness in his massive kennel. And before I even knew what was happening, he was running into my kitchen. I thought it was going to be okay until he paused.
And shook.
If you haven't been reading my blog very long, it's probably a good time for me to inform you that Ranger was a Lab/German Shepherd mix. He was about 65 pounds with a tail like a whip. So, you can only imagine what happened when he stood in the middle of my kitchen and shook his whole body for a good 20 seconds.
There was poop on my ceiling, you guys.
He then ran through the rest of the house (just for good measure) before heading out the doggy door while I stood dumbfounded in the midst of a poop-covered home.
Oh, and did I mention I was pregnant at the time?
It took me hours upon hours to get the kitchen, the carpet, and the ceiling (?!) cleaned up. It was exhausting, horrifying, disgusting, and just plain terrible.
And then? About two months later?
It happened again.
No, I'm not joking. Exact same song, exact same dance. It happened again.
I almost just burned the house down and moved.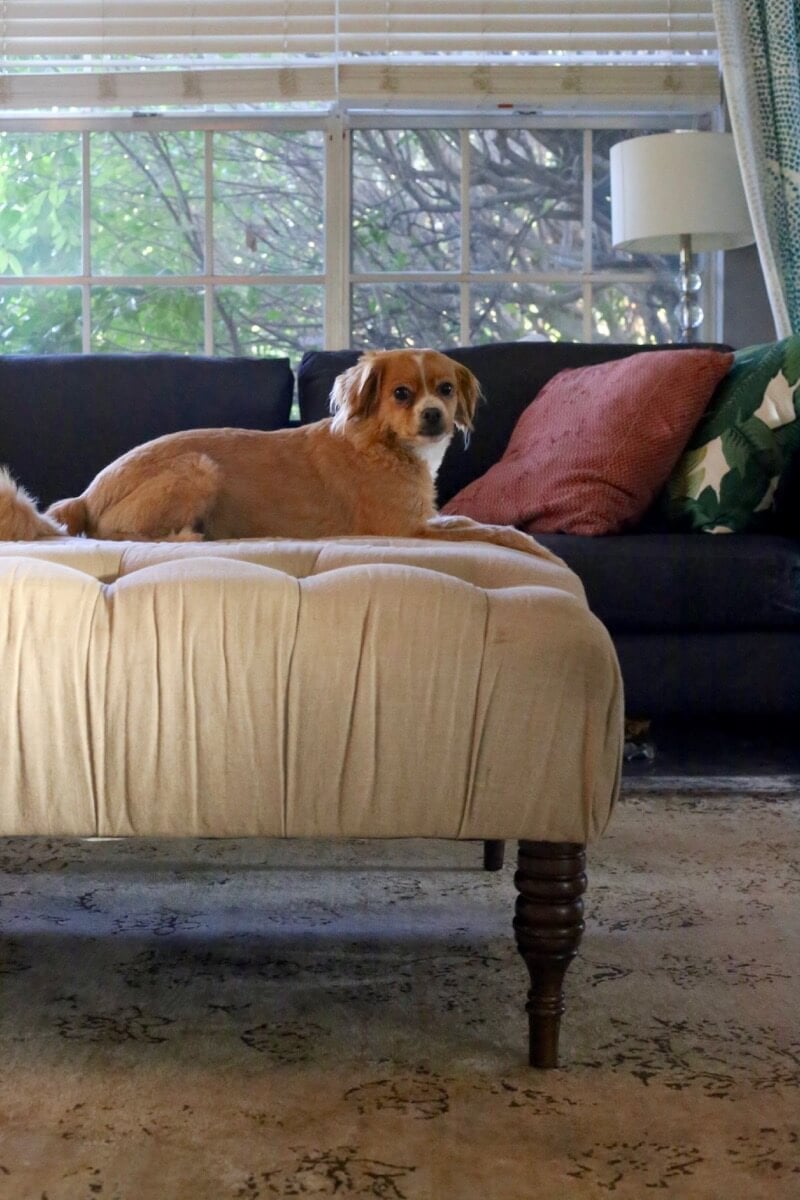 So, now that you know what kind of messes we're dealing with in my house, you know that whatever cleaner we use is going to have to be pretty serious. I mean, not every carpet cleaner can handle poopslosions, right?
I mentioned that the brand new rug in our bedroom has been in our house for only a few weeks now and it's already been fully welcomed to the home by our dogs. I think we had only had it for a few days when Hadley, our Doberman, got into something in the backyard and starting throwing up in the middle of the night.
On the rug, natch.
Maybe she heard I was working with Stainmaster and wanted to make sure I had a really good stain to show off what it can do?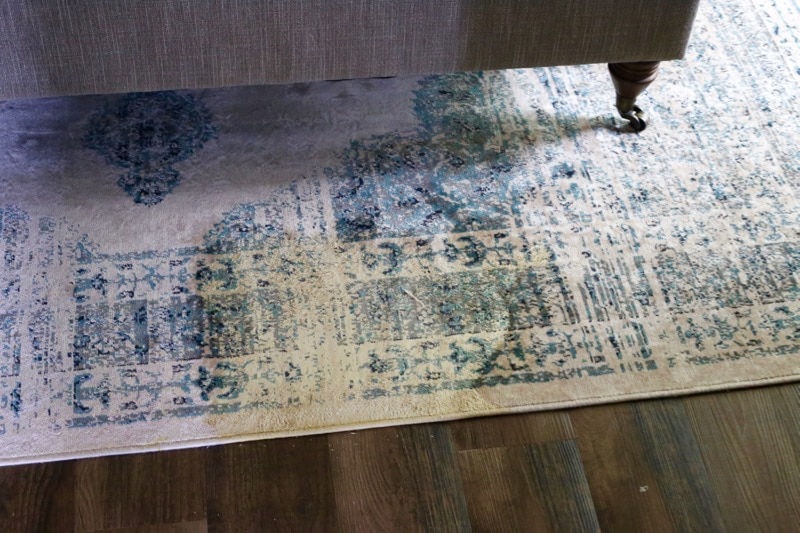 It's hard to capture in photos, but it was AWFUL, y'all.
I'll admit, I was skeptical about what this Stainmaster stuff could do – I haven't had good luck with carpet cleaners in the past (which is a large part of the reason we decided to just rip a lot of our carpet out…it was impossible to keep clean!) and some of these stains have lasted through several rounds of attempted cleaning with other products. Our living room rug doesn't look too terribly dirty because I chose wisely and picked one that hides dirt very well, but I legitimately thought my brand new rug was absolutely ruined.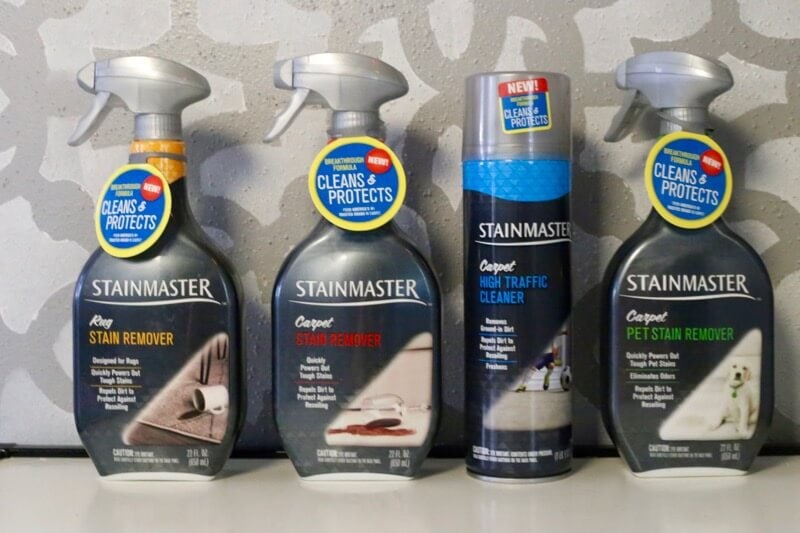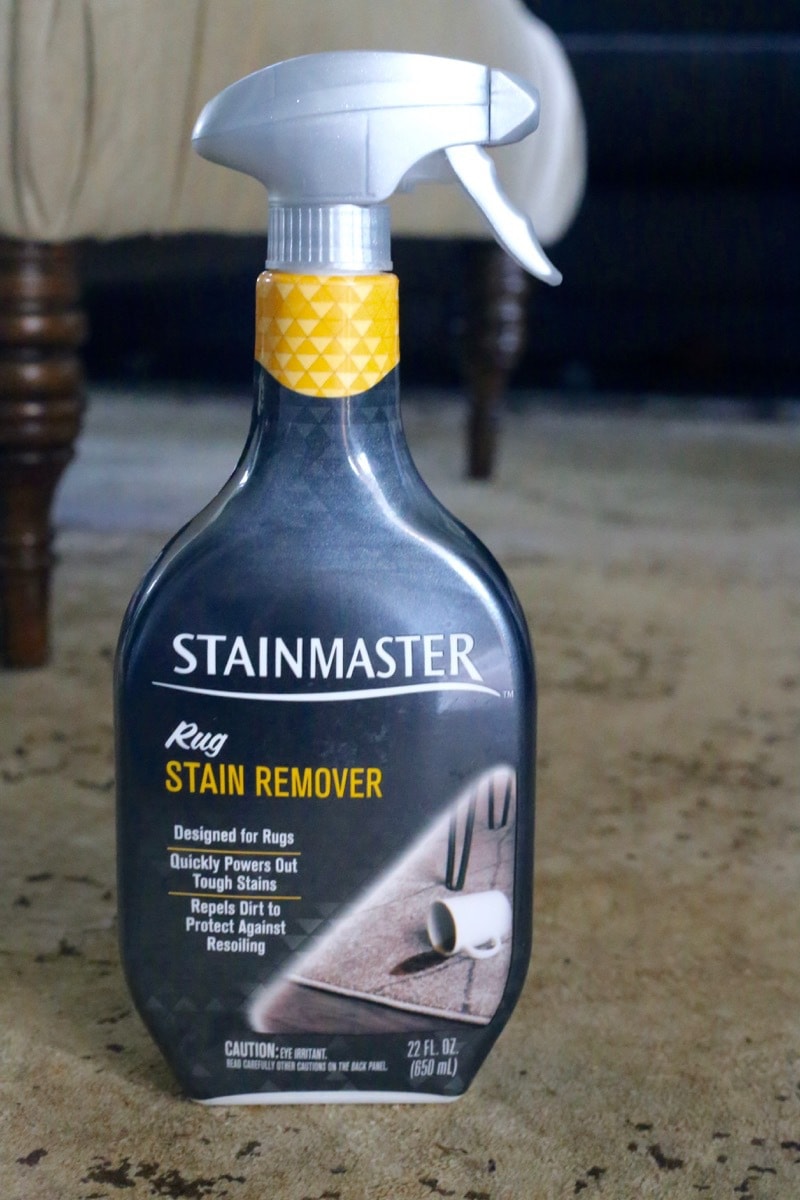 I crossed my fingers, prayed that the Stainmaster could handle this mega stain, and got to work. Usually I'm a scrubber when it comes to cleaning up a stain on a rug, but this product recommends spraying it on and allowing it to sit a few minutes, then wetting the area with water and dabbing it with a clean towel. It has a great, light scent (some of the other cleaners we've tried have a really intense smell!) and I could see the stain start to go away almost immediately.
It took two rounds of cleaning to get the stain up completely but…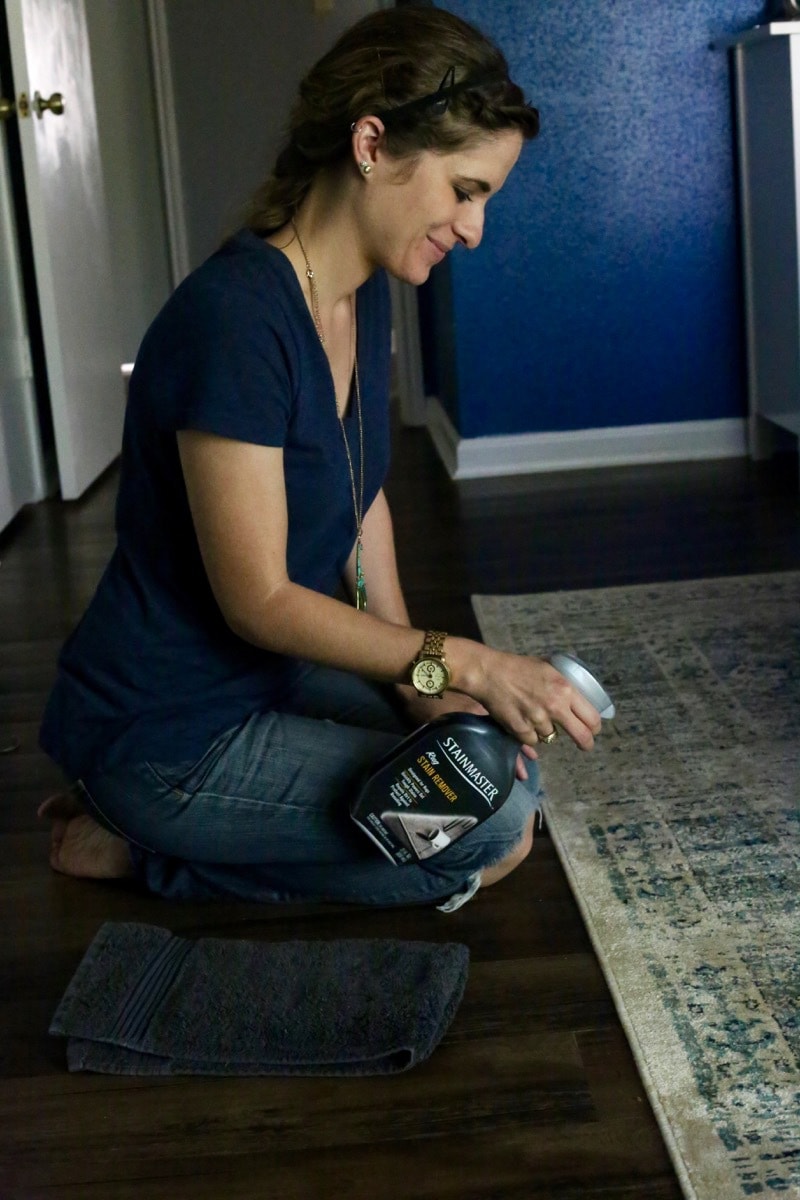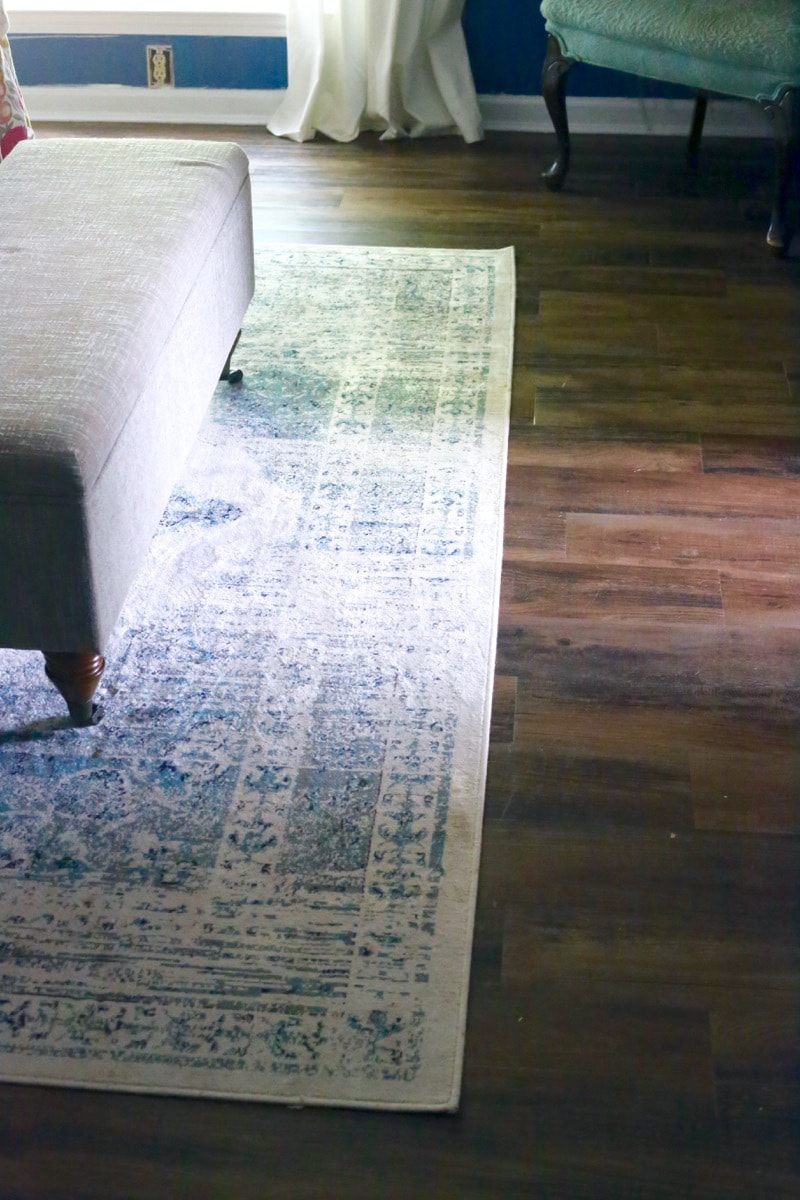 It's gone, y'all! Halleluiah!
I was pretty amazed that there was absolutely no sign of the stain left after I cleaned it, and I did a little happy dance when I realized that my rug was clean again. I always worry a little bit when I'm using a new product on my rugs, because I'm always terrified of destroying the colors or leaving a sticky, stiff residue behind. Thankfully, that wasn't an issue here – it was gentle enough to keep my rug's beautiful colors intact and after the rug had a chance to dry it was just as soft as before. Plus, it leaves behind an invisible shield that helps repel stains in the future – which has a 100% chance of happening again in my house.
I also used this on basically our entire living room rug because it rained for three days straight and someone who lives in my home thought it was perfectly fine to leave the doggy door open while it was raining and the rug turned brown. But all it took was a little bit of dabbing and a lot of patience and it was looking as good as new! I love that it's so quick and simple to use and I don't have to spend an hour cleaning up after a major mess (which happens on the regular in this house) – I have more time to spend with the family and actually enjoying my life because I'm not always so worried about scrubbing the stupid rugs clean.
I can't tell you how happy I am that we discovered this rug cleaner – we spend a lot of time dealing with messes in our home, so anything that makes that a little easier is a winner in my book. If you know me at all you know I take keeping my home clean very seriously, so I don't recommend a cleaning product lightly – and I love this stuff.
I highly encourage you to check out their website and the new line of carpet cleaners – they've also got a high-traffic cleaner, a pet stain remover, and a general carpet stain remover. I am not exaggerating when I say I don't plan to buy any other line of carpet/rug cleaner ever again.
Okay, your turn – tell me your grossest/most hilarious carpet stain story!