You may not know this, but I am still a total newbie when it comes to styling my home. I had never in my life decorated for fall at all until last year, and I basically left all of my decor in the exact spot it landed when it first entered my home. There was no playing around, no switching it up, no fun.
But, no more. Now that the styling but has bitten me, I have a ton of fun changing up my decor for the seasons and I'm learning how to actually style my house like a grown up.
It only took living here for 6 years to figure it out. I'm a slow learner.
Anyways. This month, the theme of our Back to Basics series is styling a coffee table. Only, our coffee table is an ottoman and I leave it empty all the time, so we're chatting about our entry table instead.
Don't know what Back to Basics is? Let me explain – each month a few of my blogging friends and I get together to share our best tips and tricks related to a specific topic. We've shared our favorite summer table setting ideas and chatted about back to school organization. And, as I've said, this month we're talking about how to style an entry table (or coffee table).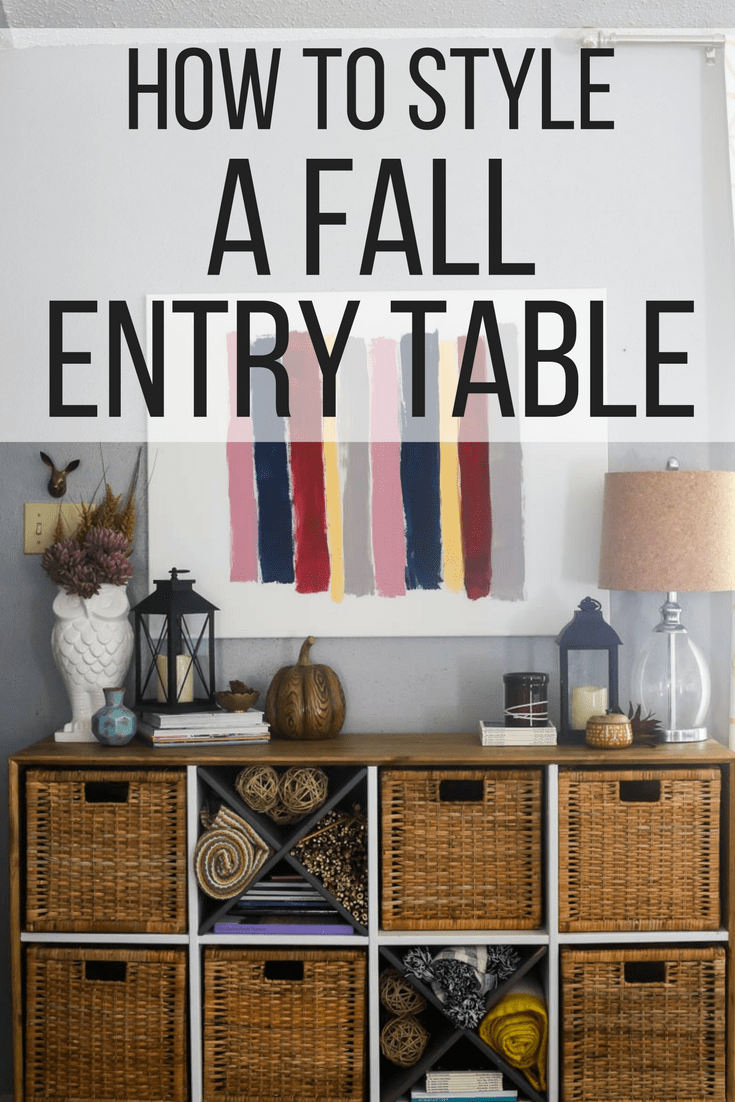 How to Style an Entry Table
Now, obviously, when it comes to styling an entry table, there are no hard and fast rules. This isn't complicated and there's no right or wrong way to do it. But, there are a few guidelines that might help make it a little easier for you. Let's chat about it.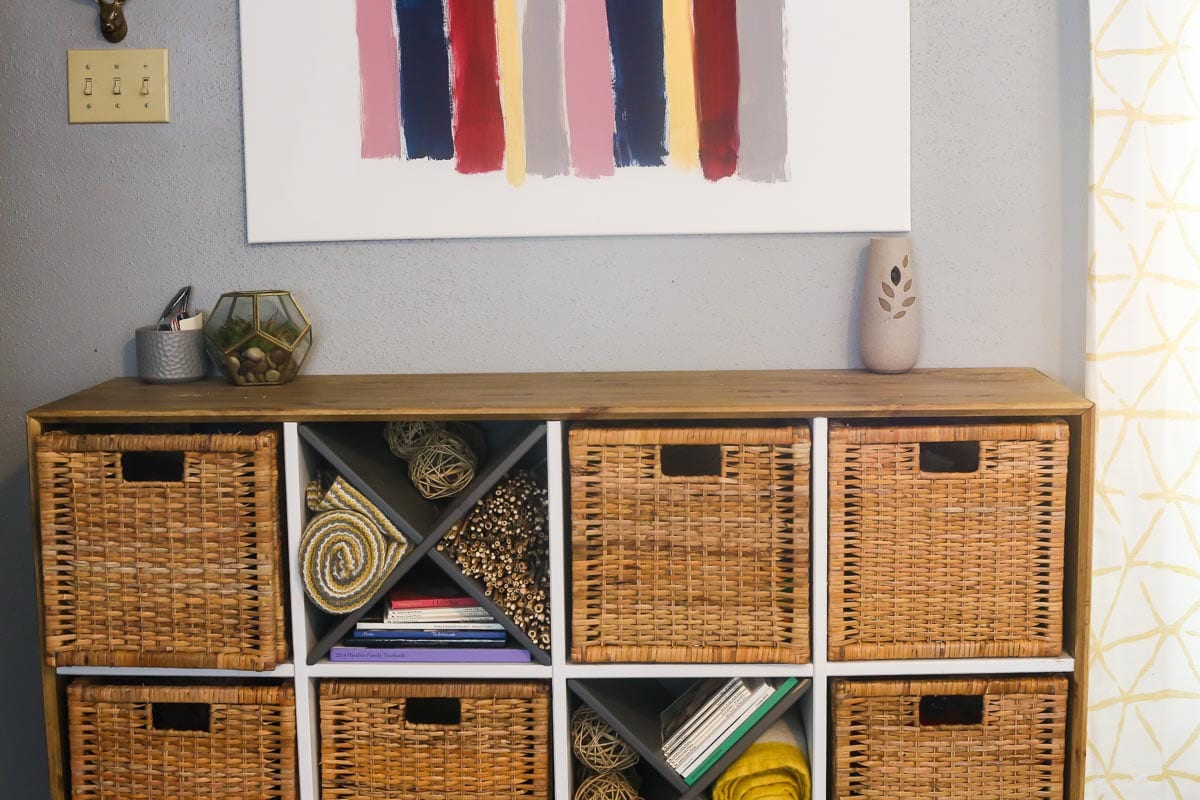 Start with a blank slate – I'm always tempted to just work with what I've got already in the space, and that's great, but it's going to be a lot easier on you if you pull everything off the table and start fresh. My table was looking pretty boring to begin with, so I was looking forward to freshening things up.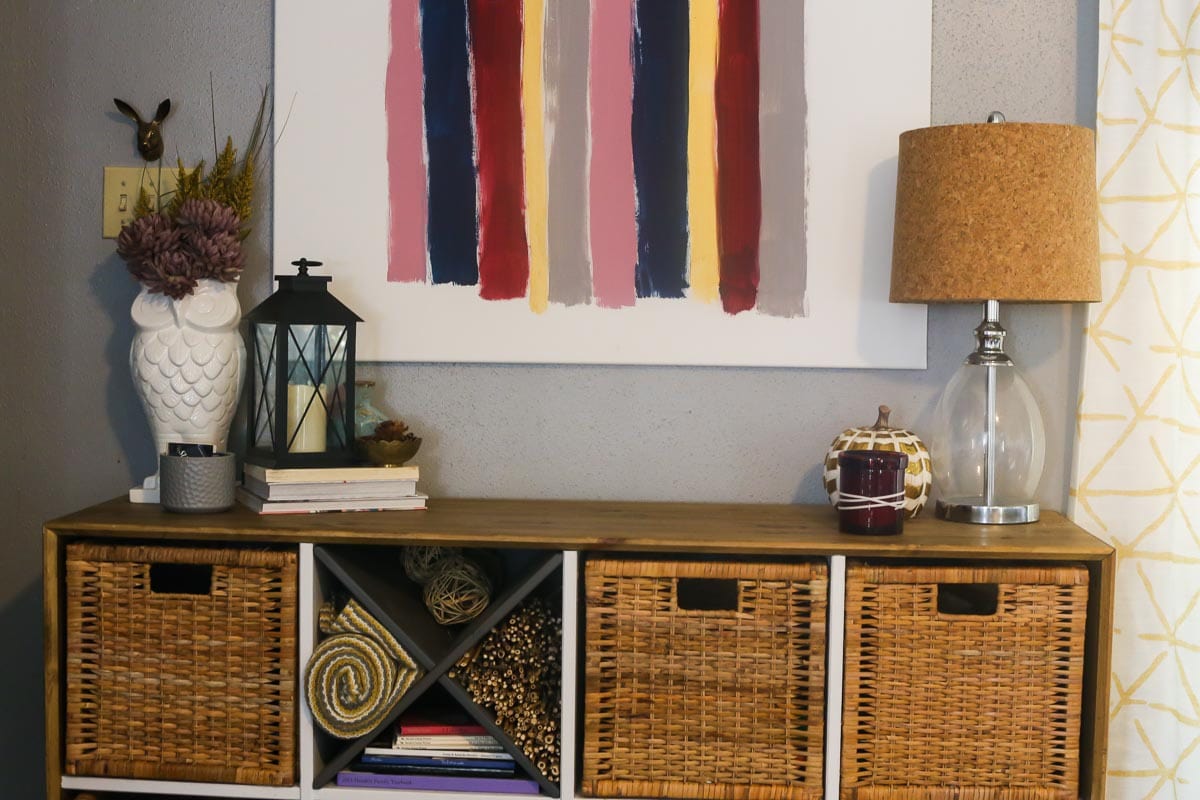 Anchor the table with large pieces – When styling an entry table, I find it works best if you start off with a couple of large, tall pieces on either side of the table (I like symmetry!). They don't have to be matching, but a pair of lamps flanking a table always looks great! I was determined to use things I already had around the house, so I put a lamp on one side of the table and a tall vase with some faux flowers on the other.
Play around with height – You want a solid variety of heights in your vignette. It helps to step back every few minutes and look at how it all looks together. If you need to add some height to something small, toss a stack of books under it! I used two different stacks of books on my table – one is just some random books I had laying around that I turned backwards so that the pages showed (so the color and text on the spine didn't add visual clutter), and the other is a stack of small family photo books.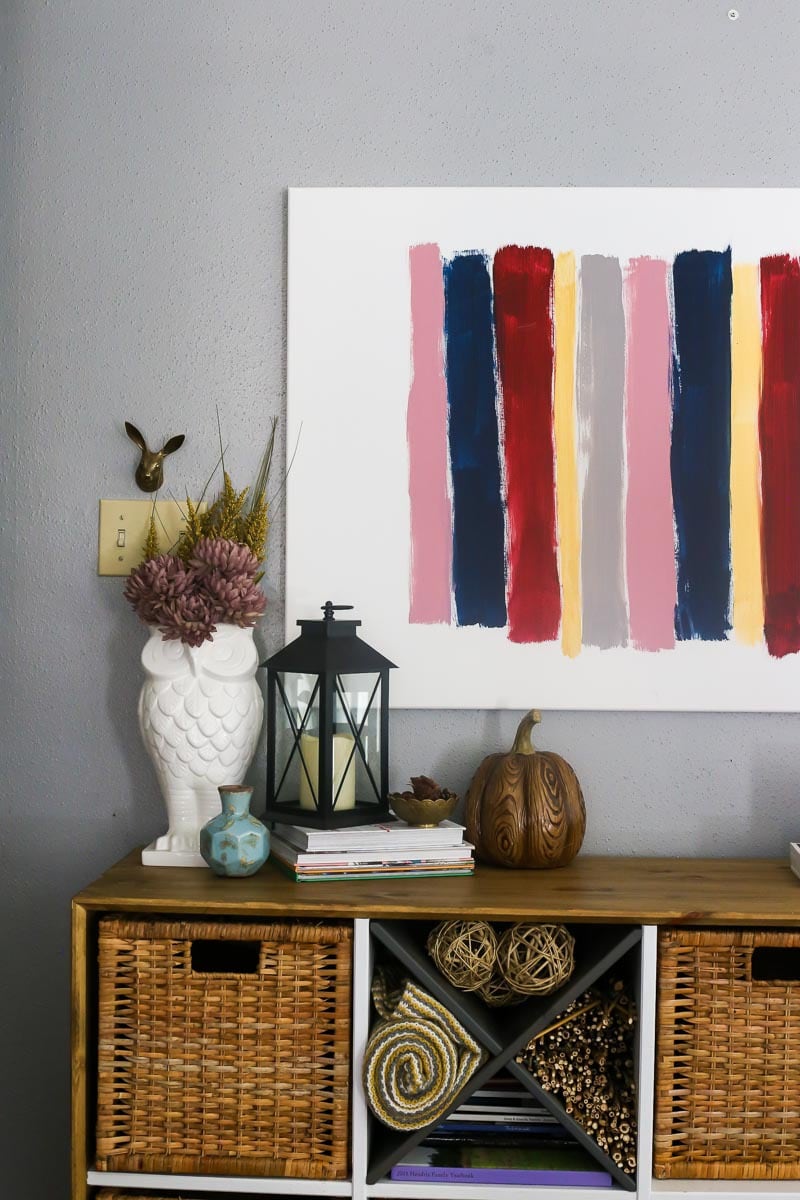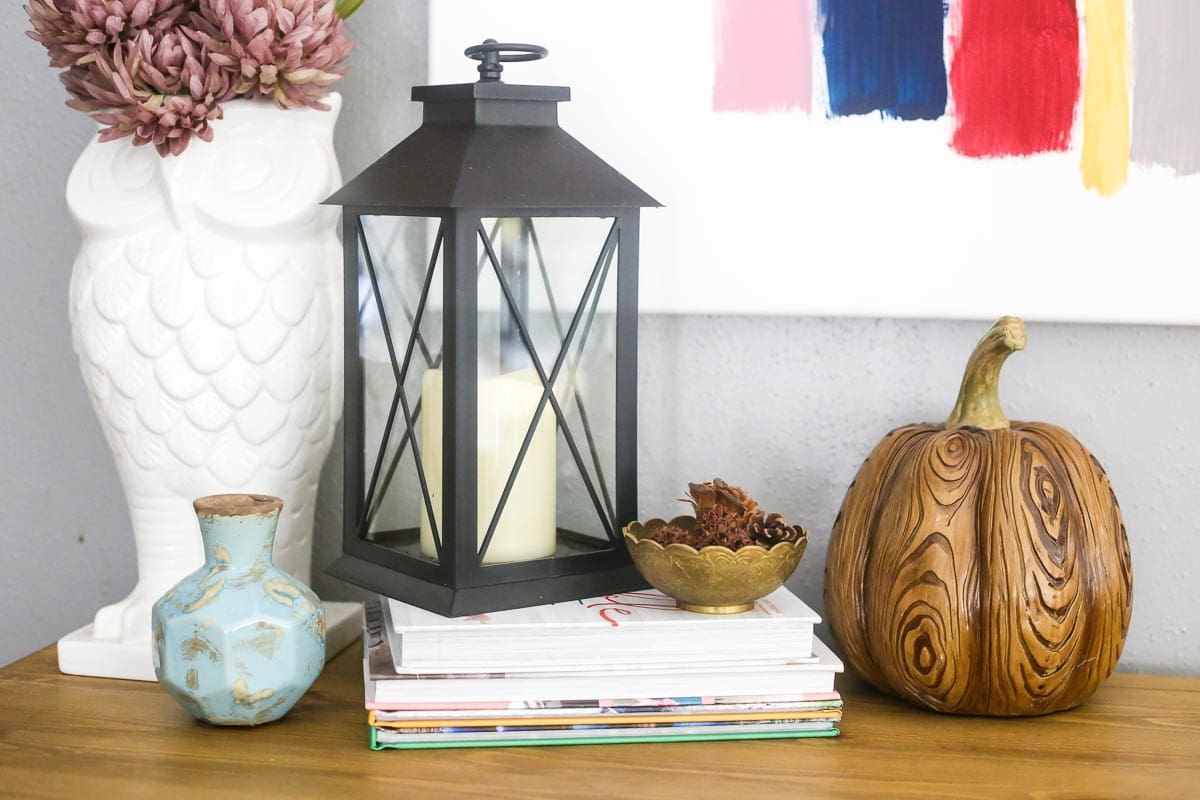 Add lots of texture – Especially when you're decorating for fall, texture is key. I kept the colors of my table pretty simple, so I focused more on the textures within the vignette – the lamp has a cork lampshade, the pumpkin has some great rustic texture on it, and even the vase has lots of dimension to it.
Think outside the box – I wanted my table to have a fall feel to it, but I don't have a ton of "official" fall decor. But, even neutral decor pieces can feel like fall when they're paired correctly. I grabbed some lanterns that we had on our outdoor table all summer long, and suddenly instead of feeling like a summer piece, they paired perfectly with the pumpkins!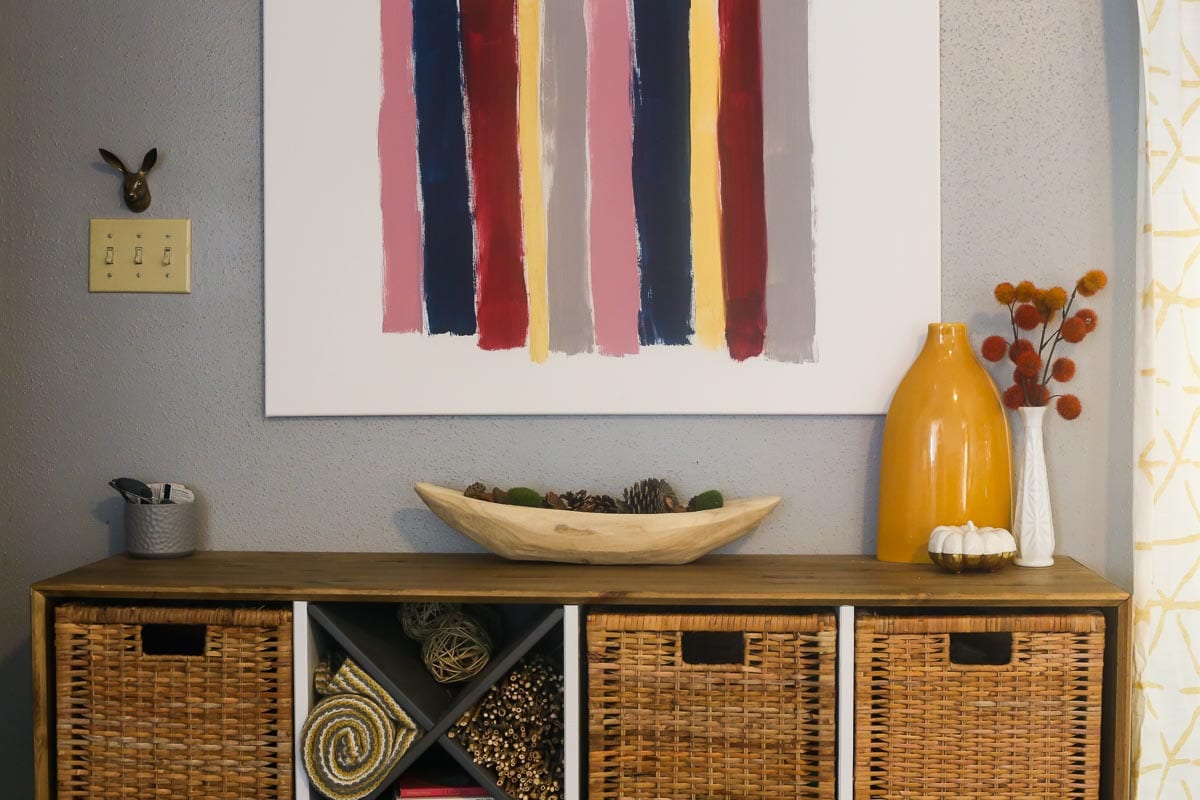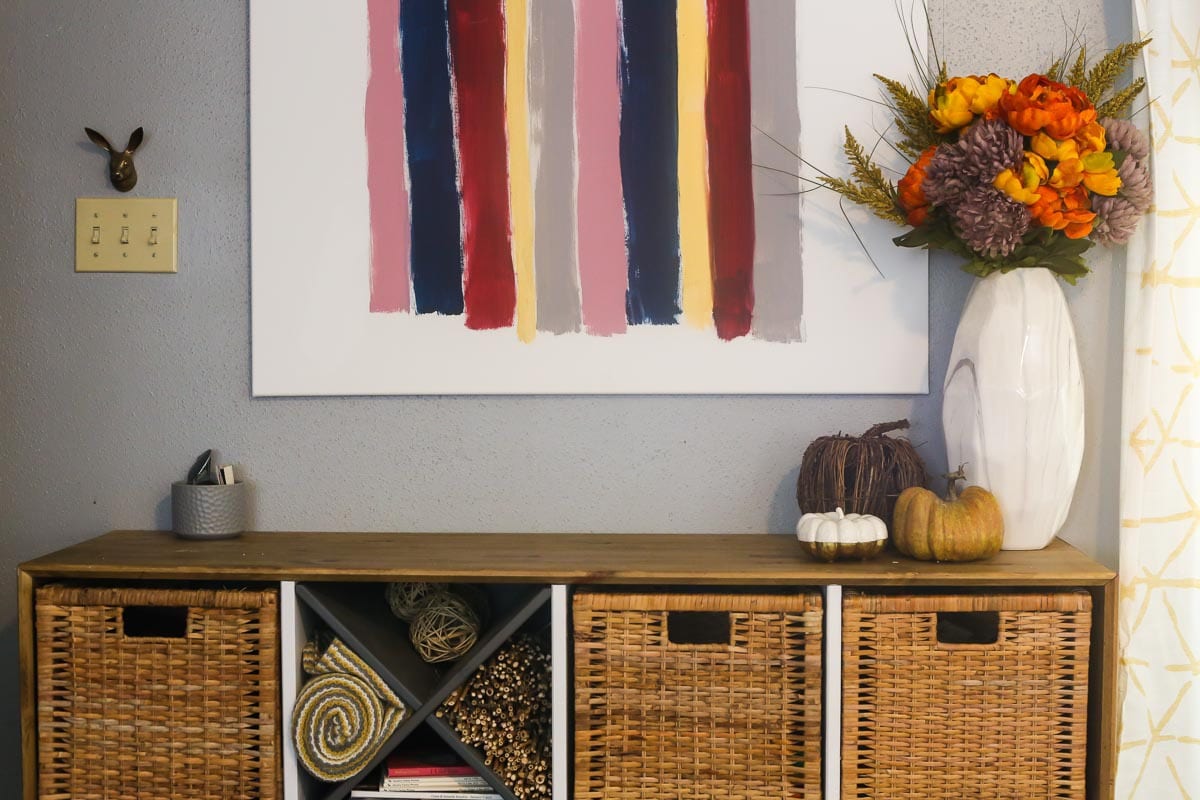 Remember that it will take some trial and error – I always struggle to get started when I'm styling the entry table. It never looks good the first few rounds, and I usually feel like giving up about halfway through. In fact, when I was working on the styling for this post I tried a few times and then I got so annoyed with the whole thing that I had to walk away for a few hours. Sometimes I find that browsing Pinterest to look at styling for similar tables can be really helpful – that's how I got the idea to bring the lanterns in, and it inspired me to grab the lamp. It also helped me realize that my main problem the first few tries was that I wasn't using enough stuff – once I made my design a little more full, it suddenly looked a lot better.
When in doubt, snap a photo – My favorite tip for when you're working on styling and aren't sure if it's working or not is to grab your camera and take a quick photo. For some reason, your eye will pick up on things in the photo that you'd never notice in real life, and it's a really great way to tell if something is missing or out of place. The photos above are a perfect example of that – I was mid-design and stepped back to photograph it, and I realized it wasn't working for me so I changed direction. I step back and take photos frequently when I'm working on styling, and I find that it really helps me figure out how to tweak things.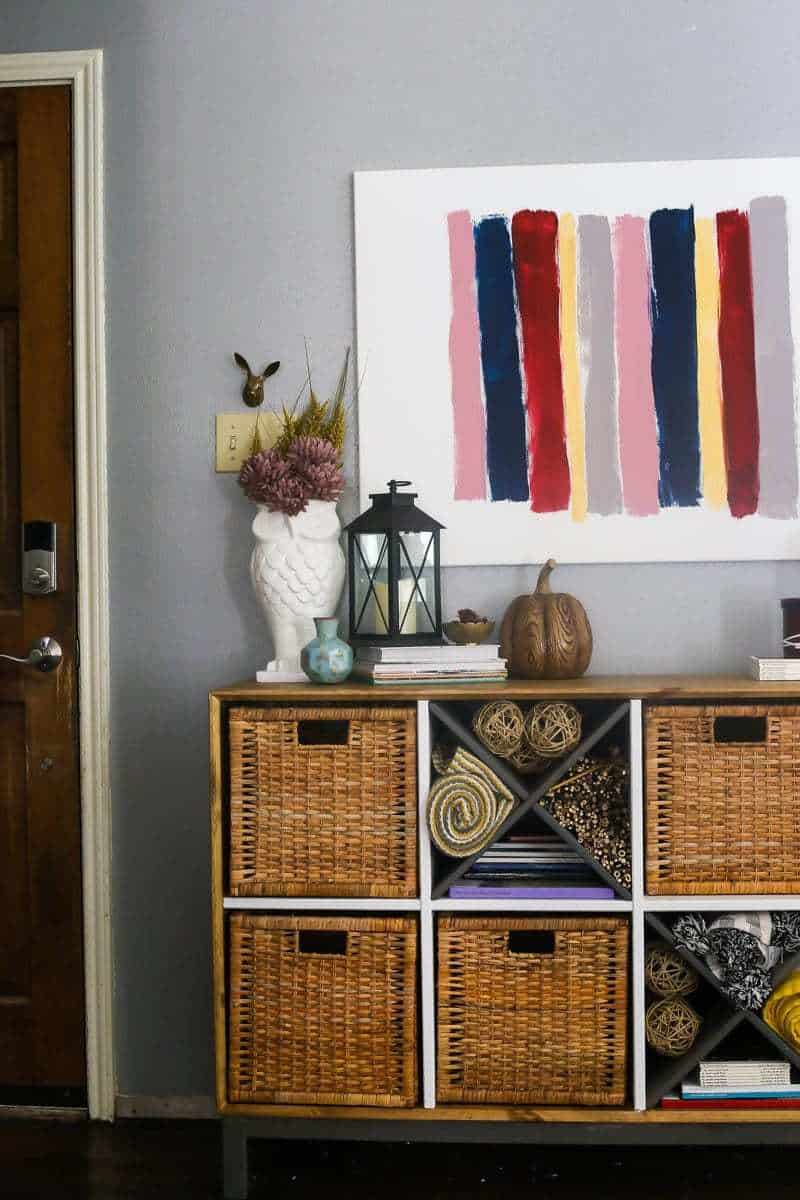 It feels good to finally have some fall decor up in our house! We're currently wrapping up our fireplace makeover, so hopefully, as soon as that's done I can decorate the rest of the house (it's hard to do much when your living room is basically a construction zone). My next step after getting our fall decor up is to do some serious editing around the rest of the house so we can prepare it to be listed. Can't believe that in a month or so our house could actually be on the market!
If you like anything above, I've linked a few similar items below! Most of my stuff is pretty old (or thrifted), but I found some great options that have the same feel!

If you want to see the rest of the posts for this month, click around below – there are some great tips!