1. Most summers, I'm super productive around the house. I'm completing projects right and left, and I'm always looking for things I can do. This summer? I'm LAZY, people. I have hardly done anything around the house because I've been too busy watching Desperate Housewives, sleeping, and going to the pool. I'm just being honest. Hopefully I'll get some energy back soon and start getting some projects done, or the blog is going to be in trouble!
2. How long do you hold out on a plant before giving up and proclaiming it dead? I ask because our beloved fiddle leaf fig looks like this: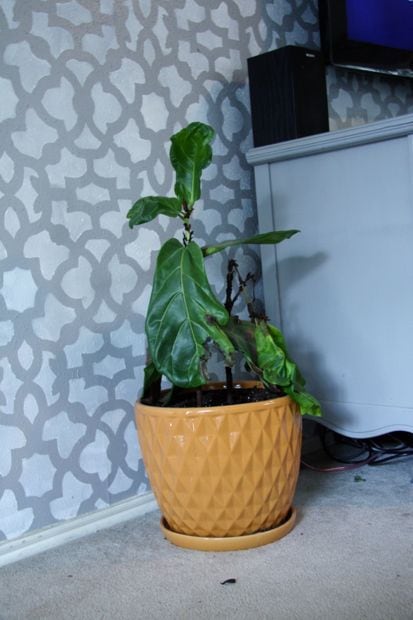 That's not good, right? I've heard they can lose all of their leaves and they may still grow back, so I've been faithfully watering it once a week or so and eagerly watching to see if it grows at all, but it's just looking sad. I shouldn't be allowed to own plants anymore, but I want so desperately to be good at it!
3. On the other hand, I've got a plant on the other side of the television that's been going strong for close to a year now. It's one of those awesome plants that thrives on neglect – I seriously only water it once a month or so, it gets almost no sunlight, and it is just generally ignored…but it still looks just as good as the day we bought it!
4. I've been reading a ton of books lately (you know, in addition to all the lounging and Desperate-Housewives-watching) and I'm on a huge Gillian Flynn kick – she wrote Gone Girl (which I'm obsessed with) and has two other novels that are also fantastic. I'm almost done with the third one, and I'm already wondering when she's going to write a new book so I can inhale it like I have the others.
5. Am I the only one completely and utterly obsessed with summer television? True Blood and Dexter are like, the best thing that's ever happened to me. We've been watching True Blood every week at my sister's house, but I'm going to have to figure out how we'll watch Dexter since we don't have cable anymore. Maybe I can buy it on iTunes?
6. Ranger escaped from our backyard the other day. I was working out and someone rang our doorbell and when I answered it I discovered a (very annoyed) lady who was trying to go for a run with her dog but couldn't because Ranger was running circles around them (and while he's harmless, I'll admit he looks pretty scary). How'd he manage it? Apparently there was a section of fence in the corner that was messed up and there was a pretty big hole…and he discovered it. I'm assuming that's how he got out because I sincerely doubt he's capable of jumping the fence. Thankfully, I got him back inside very easily and he was totally fine. And I immediately sent Corey to Lowe's to buy some wood to patch the hole. So now, there's a corner of our fence that looks like this: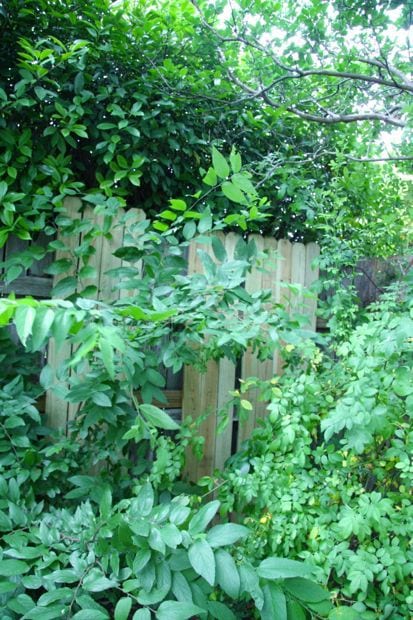 Not very attractive, but it works!
7. Speaking of our backyard, the crepe myrtles have finally bloomed (ours always seem to bloom late, but when they do they are stunning!) and Corey pruned the tree in the middle of our yard, so things are looking nice and polished. Except for the not-yet-weed-whacked section of grass right around the tree. Whoops.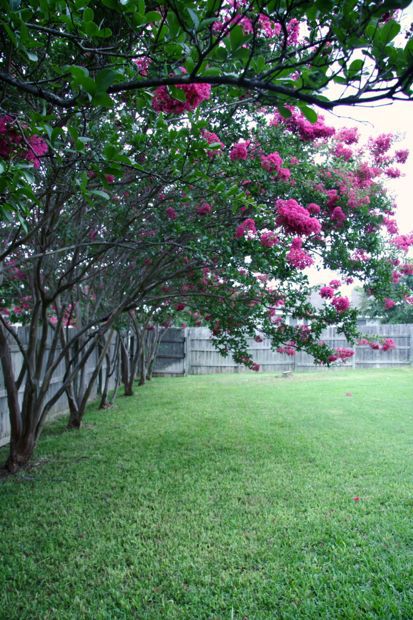 I love how our yard looks in the summer, and I can't wait until we can build a patio so we'll spend a little more time out there!
8. Did you guys know Old Navy had a huge sale this weekend? Yeah, I didn't either until we were sitting on the couch Saturday night and saw a commercial for it. The next thing I knew we were rushing out the door and spending an embarrassing amount of money there. I have an addiction to summer clothes – there's just something that comes over me every summer and I can't have enough new clothes. Plus, $1 flip flops? Who can say no to that?!
9. Speaking of $1 flip flops, I saw all over Twitter that people had insane lines going out the door of their Old Navy for the flip flop sale. I was kind of nervous to go because of that, but our store was no more busy than usual. We didn't go until about an hour and a half before they closed and we still managed to find three pairs to buy (and could have easily found more if we'd needed them). So, the lesson here is either that Old Navy stores in Austin are superior or that you should just wait until the afternoon rush is over and there will still be options available. All I know is I wasn't going to wait in a 50-person line for some dollar flip flops.
10. Just a heads up, there won't be a post on Wednesday. I know 4th of July isn't until Thursday, but I'm starting my holiday early this year!
What's been on your mind lately?