One of my very favorite staples in my refrigerator each summer is a big ol' batch of strawberry lemonade! I wanted to share my strawberry lemonade recipe with you because it's so delicious, and perfect for your next summer gathering!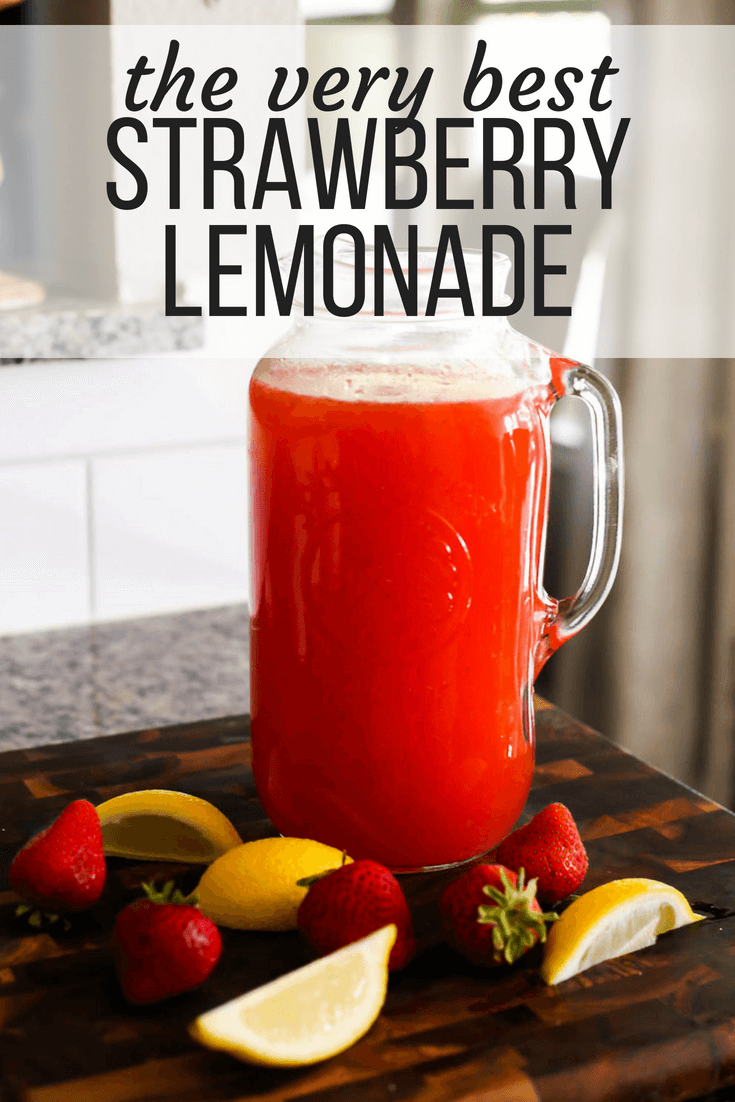 A few weeks back, I re-shared my very favorite easy sangria recipe from the archives. It's a recipe I loved dearly, but many of you hadn't seen it (I don't post recipes often!) and I wanted to be sure you had the chance to learn how to make that delicious drink. Well, I've got another one for you today. So many of you have mentioned how much you love the sangria, so I figured it was high time I re-shared the other amazing drink recipe in my archives that never gets seen: my strawberry lemonade recipe.
Note: I'm currently on maternity leave and am re-sharing some old favorite posts. This is one that I don't feel like I originally did a great job at, so I  freshened it up, took some new photos, and am sharing it with you again today! Enjoy! 
Strawberry lemonade might just be one of my very favorite drinks of all time. I love the mixture of tart and sweet, and it's just so refreshing on a hot summer day. This is a recipe that Corey and I make often throughout the warmer months, and it never lasts very long in our house. It does require a bit more effort (and makes a bigger mess!) than the sangria recipe, but I can promise you this drink is worth every bit of effort that it requires!
I don't know about you, but I think everything tastes a little bit better when you have to put some extra effort in.
I first tried this particular recipe at a friend's house, and it was one of those recipes that was just so good I had to know how to make it myself immediately. It has been an absolute must in our house each summer ever since. I will say that my only complaint about this recipe is that there's never enough! I often end up doubling it when I make it because Corey and I can go through an entire batch in just a day or two if left to our own devices.
Trust me, this stuff is so good you won't be able to stop yourself.
Anyways! Enough babbling – let's get to the recipe, shall we?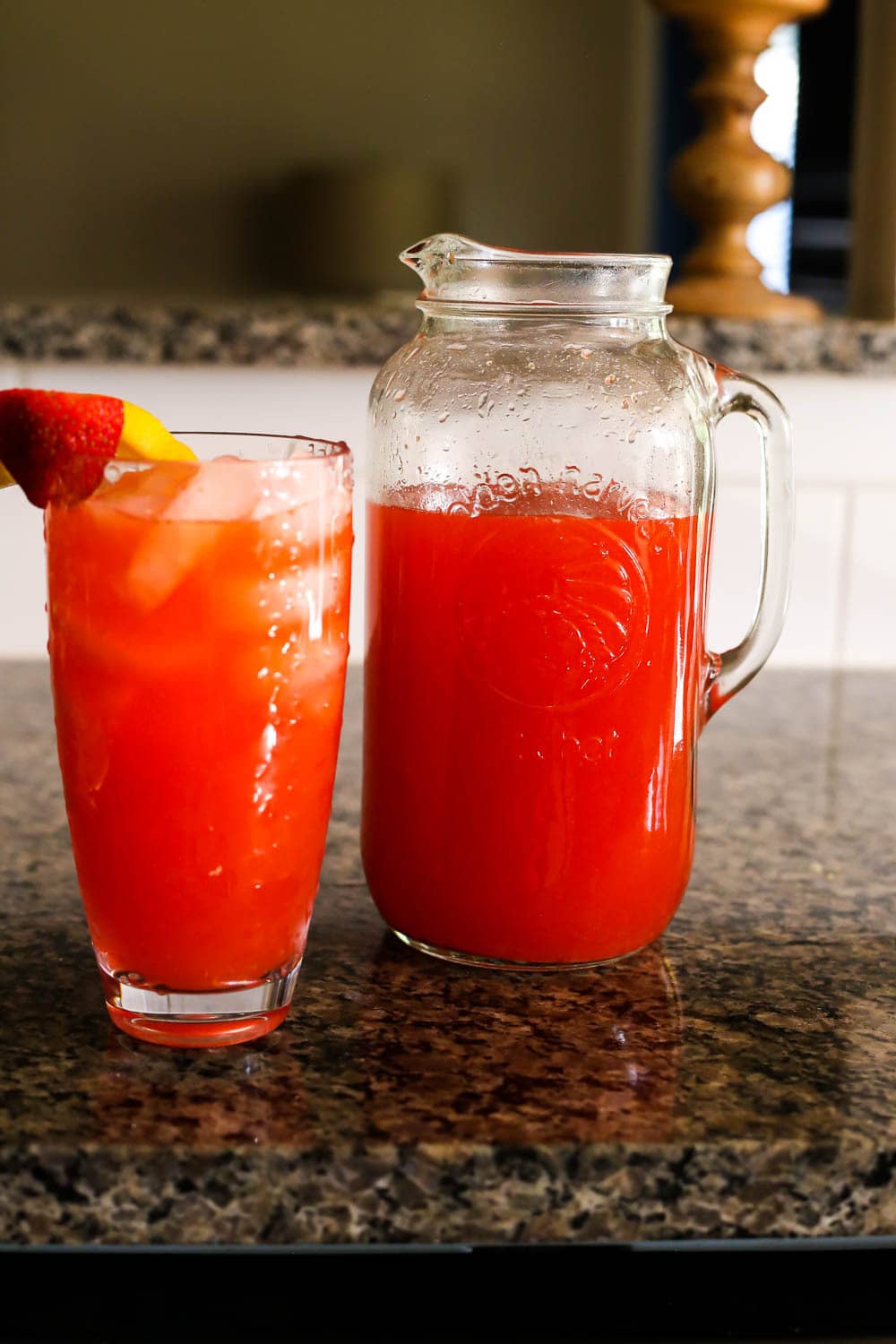 How to Make Strawberry Lemonade
Ingredients:
– 1 pint of strawberries
– 1 1/2 cups of sugar
– 4 cups of water
– 1 tablespoon of lemon zest
– 1 cup of lemon juice (I usually use a 2-lb bag of lemons)
Instructions:
(Recipe adapted from Better Homes & Gardens)
Add 1 cup of the sugar and 1 cup of the water to a small saucepan and heat it up over about medium heat until the sugar dissolves, making a simple syrup.
While the simple syrup is working, toss the rest of the water and sugar into your blender, cut the tops off of the strawberries, and add them in too. Blend it all up until it's nice and smooth (I use the "liquefy" setting on my blender).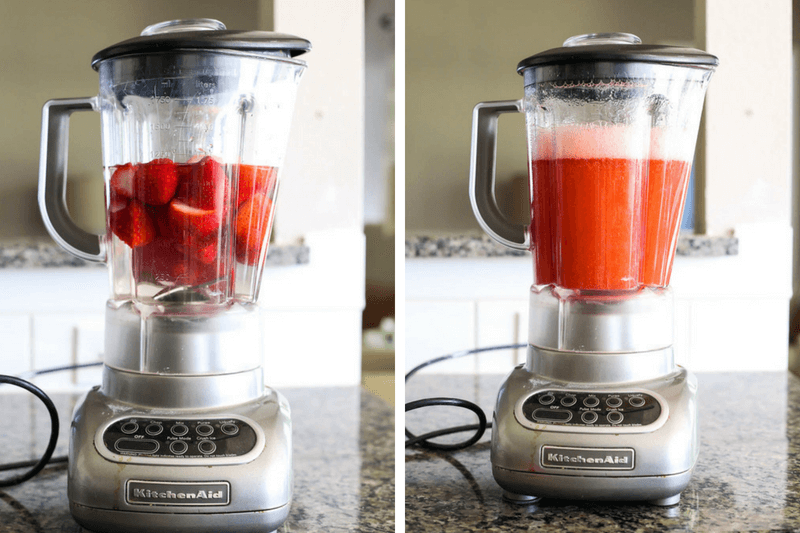 Grab a strainer and run your strawberry mixture through it and into a bowl or your pitcher. This step isn't 100% necessary, but it makes for a much smoother finished product – without straining, the texture will be a bit like pulpy orange juice.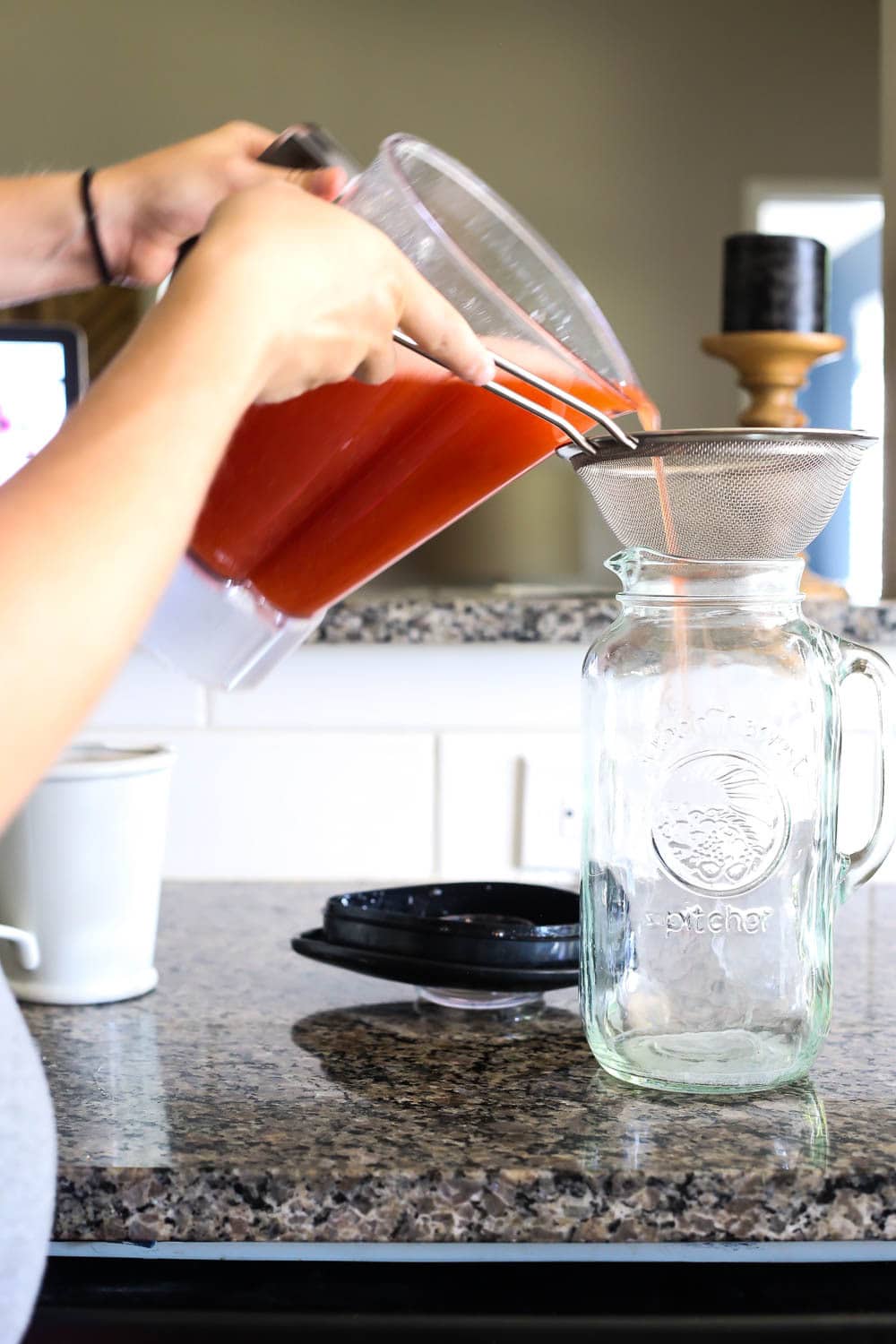 Add in your lemon juice and lemon zest, then toss in the simple syrup.
Toss it in the fridge long enough to get nice and cold and you're good to go!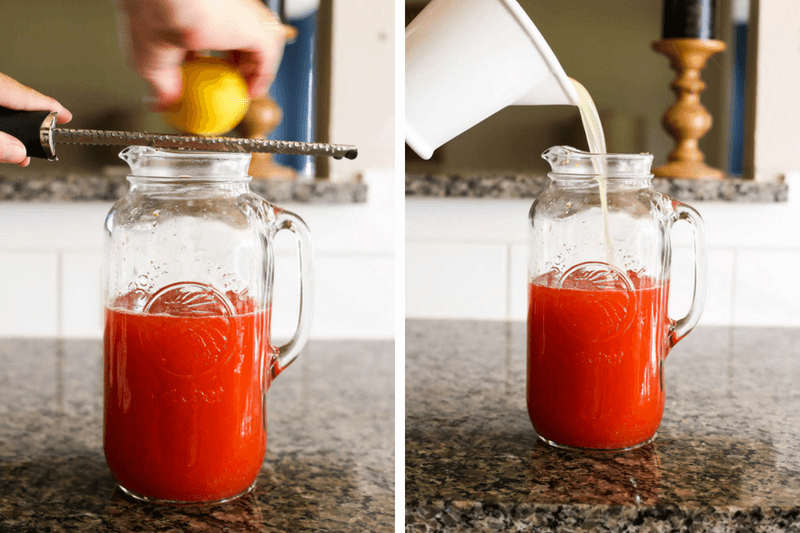 I'd guesstimate that this will last 3-4 days in the fridge, if you're able to keep yourself from downing the entire pitcher in 24 hours. Typically, in our house, it doesn't last more than 2 days because we're all a little bit obsessed with it.
If you want an added kick, grab a few sprigs of basil and add them to the mixture – because basil + strawberries might just be the best combination ever, if you ask me.
Well, right behind basil and tomatoes. Or basil turned into pesto.
I just really like basil, okay? Try it.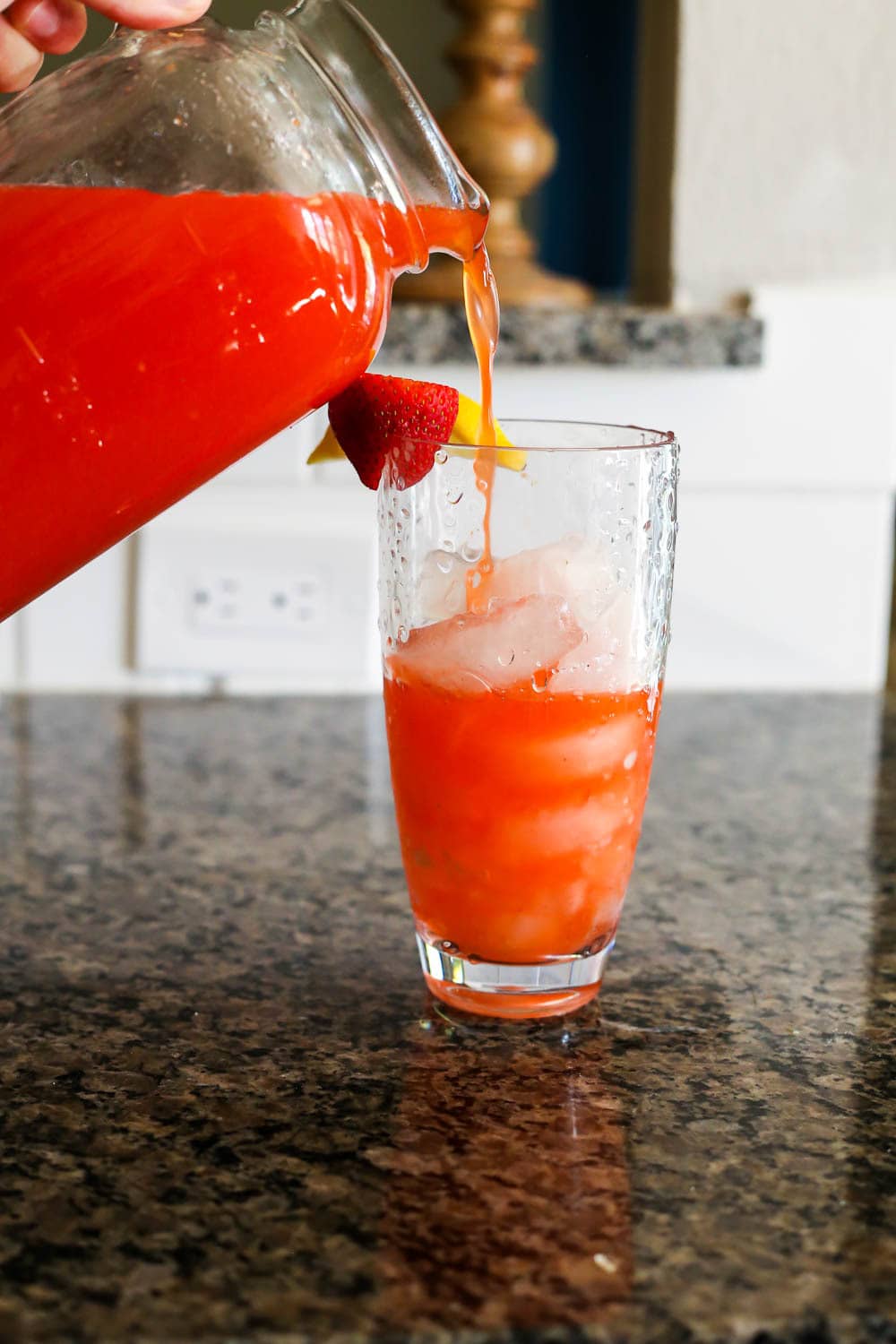 I'd love to hear from you if you try this recipe out! It's been a family favorite for us for many years, and I think it'll probably be one of those drinks our kids grow up and associate with the freedom of summer because I just can't get enough of it when it's hot outside!