Alternate title: Are We Crazy For Thinking We Can Keep White Bedding Clean?!
You may have noticed over the years that Corey and I swap out our bedding pretty often. We haven't ever really landed on anything that feels great in the long term, and while we always love what we pick initially, the fun wears off quickly and then we're ready for something new.
For the last few years, I've really been wanting to just call the whole thing off and get all white bedding. I love the classic, clean look and there's just something about white bedding that makes the entire room feel cozy and welcoming.
The only problem? We have two dogs. And kids. And, let's be honest, my husband isn't the cleanest person in the world, either.
Love you honey!
Psst: Be sure to read this whole post for a giveaway that you won't want to miss!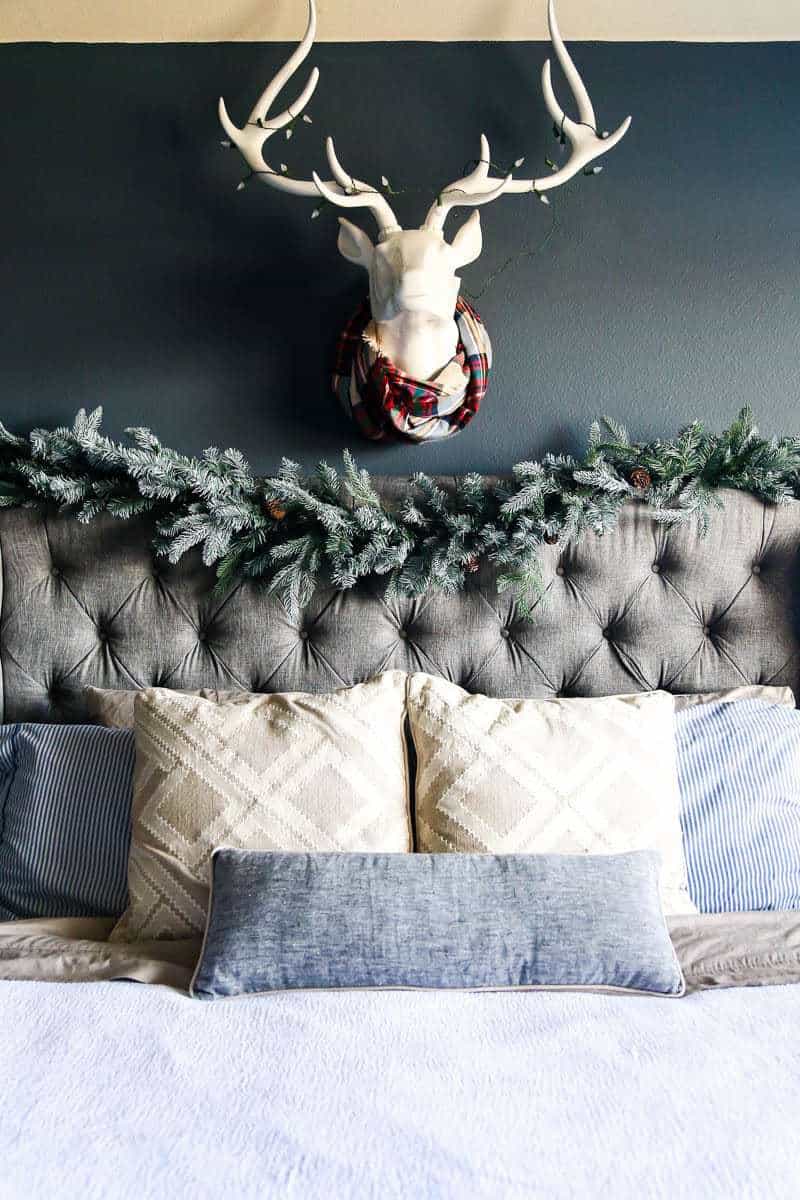 This post is sponsored by Tempur-Pedic
Despite our reservations about getting a white duvet, we've always heard from friends (and other bloggers) that white is actually the easiest color to keep clean. Most people with white bedding or sofas swear up and down that it's a breeze to keep it looking bright white and clean with a few simple tricks.
So, we decided to give it a go.
I won't lie – I'm a little nervous about how easy it will be to keep our new white bedding looking clean, but I've been doing my research and I've gathered a few tips and tricks that I'm going to be trying out to help me stay on top of any potential white bedding disasters.
I'll share those in just a minute, but first, can we talk about our new pillows?!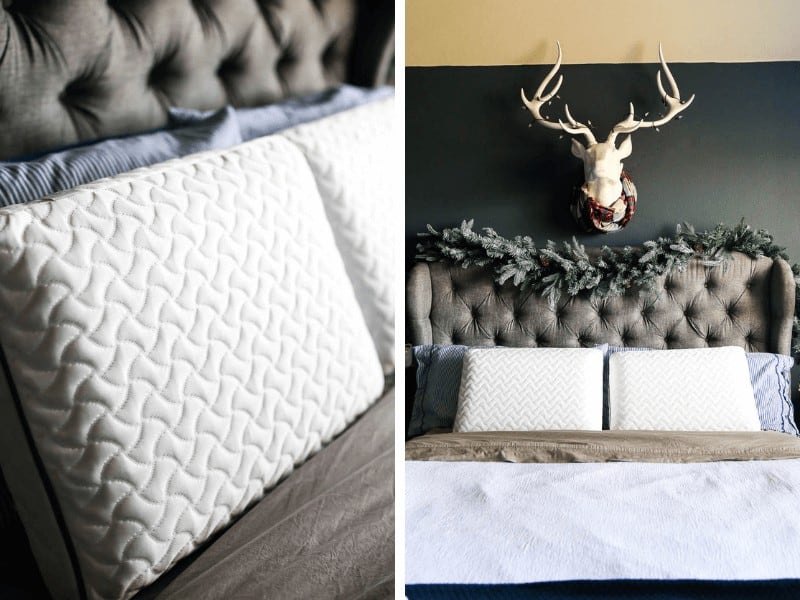 Tempur-Pedic Pillow Review
Corey has been looking for a new pillow for quite some time now – we've always just grabbed whatever felt good in the store, but over time the pillows fall flat, they never feel as good on your neck as you think they will, and Corey's back problems never fail to flare back up and affect his sleep again.
We've been planning on splurging on nice bed pillows to see if it makes a difference, but we just hadn't decided which ones we wanted to try yet. So, when Tempur-Pedic reached out to ask if we were interested in trying out their TEMPUR-CLOUD Pillows, we jumped at the chance. We've been sleeping on them for a couple of weeks now and, y'all, I am in love.
I can't believe we didn't discover these sooner. They're so soft, they contour perfectly to your head (and still manage to bounce right back once you get up), and we're both sleeping much better now that we're using them.
The best part is that they offered to send us one extra pillow that we can give away to one of you! So, keep reading to the end of the post to see how you can win your own TEMPUR-CLOUD Pillow – I promise, you want one.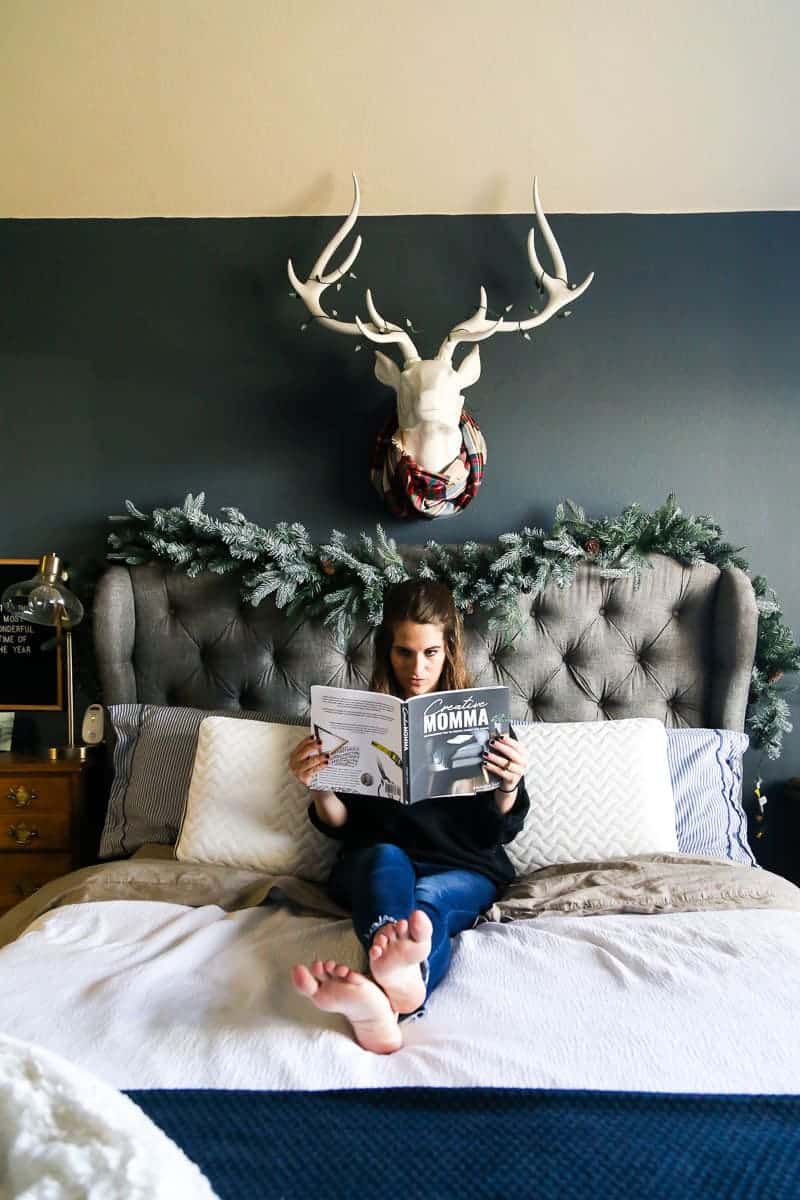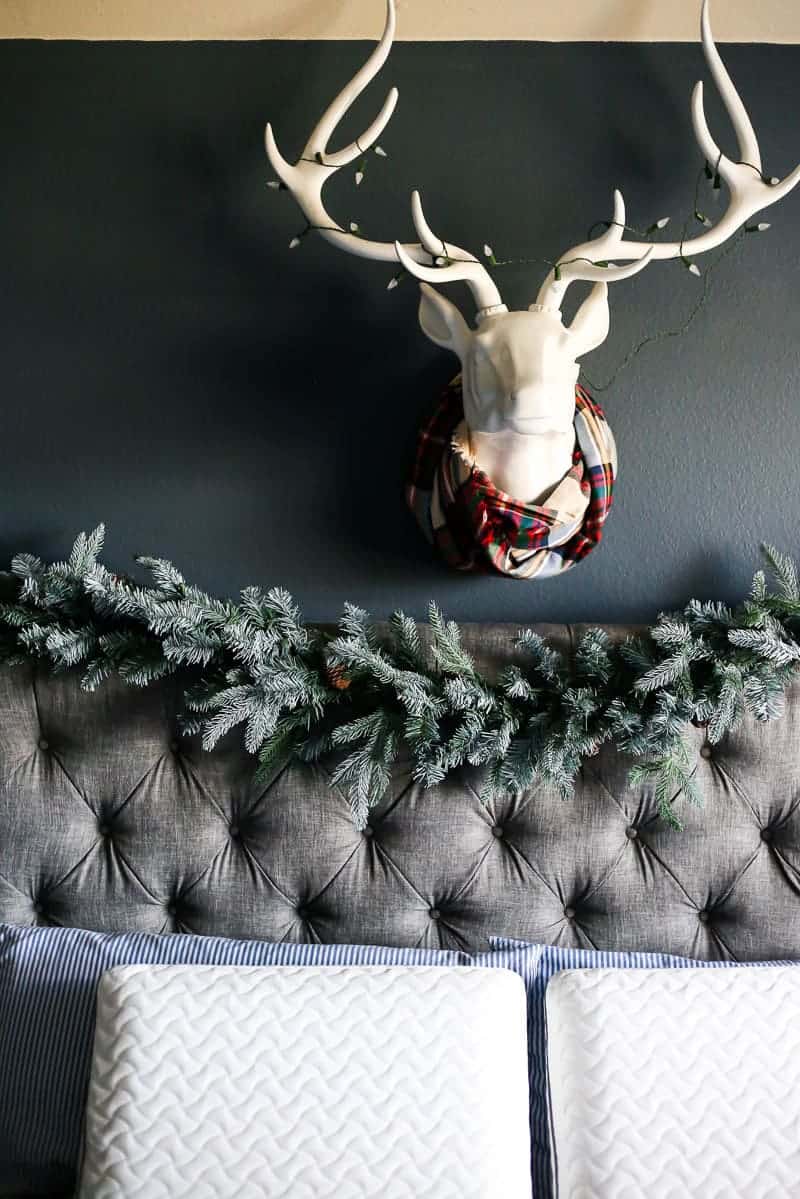 White Bedding Tips & Tricks
Before we get to the giveaway, I want to share what I've learned so far about white bedding and how I plan on keeping ours clean. I can do an update in a few months to let you know if any of this actually works, but for now, this is what I'm planning.
Take care of them! The first rule is also the most obvious. Remove your makeup before bed, don't eat in bed, and if you manage to spill something be sure to take care of it right away. We also always make sure to wipe the dogs' paws off before letting them inside if it's wet or muddy outside!
Dish soap is your friend. I read over and over that if you do get anything on your sheets, you should get a rag wet with dish soap and use that to treat it (immediately)! If you can't wash it right away, you can just dab with a warm, wet cloth to get any excess soap off.
Don't bleach them! Okay, I'll admit, I was a little confused about this one. I thought the whole point of white bedding was that bleach made it easier to clean, but apparently bleach can make things worse over time. Who knew? Instead, you should opt for lemon juice, baking soda, and vinegar to help keep your whites bright.
Wash it regularly. I'm great about washing my sheets every week or so, but I'm not always as consistent with my duvet cover. Now that I have a white duvet, though, I'm going to make an effort to wash it every other week. Hopefully that will go a long way to keeping things looking great!
You can find even more white bedding tips here (it's where I got a lot of my info!), and I also loved these tips.
Wish me luck here, friends. I'm excited about our white bedding but I'm still a little apprehensive about actually being able to take proper care of it all!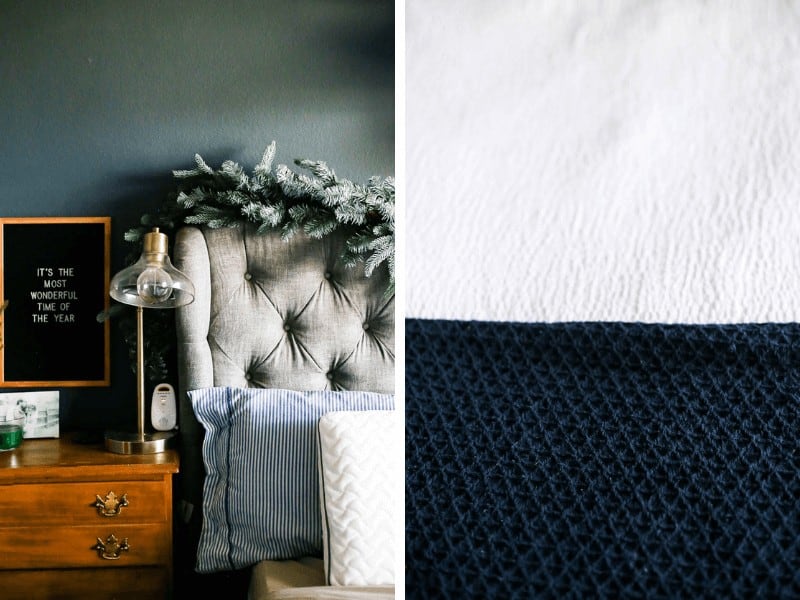 I also still want to make a few small tweaks – I'd like to bring in some color with some different king pillowcases, and maybe a different blanket for the foot of the bed. We'll see where we land, but I just love that the white bedding makes such a great blank slate to add all sorts of different accessories.
Plus, my room kind of feels like a hotel. And I can't ever complain about that.
Alright, are you ready for a giveaway?
Click here to learn more about the TEMPUR-CLOUD pillow, then you can use the entry form below to enter. The giveaway will end on 12/26 at midnight. Sorry, this contest is only open to entrants in the continental US.
SHOP THE POST