Hospital bags – is it just me or does everyone become obsessed with them almost as soon as they find out they're pregnant? Because I think I may have started researching what I should pack in my bag a week after getting that double line. I think it's the excitement of knowing that hospital bag is the last bag you will ever pack before your child enters the world. There's something very final and incredibly exciting about it!
I was terrified that I would do a bad job of packing my bag. Everyone on the internet makes it sound as if it's a life-or-death matter, and it kind of felt like this was my first major challenge as a parent: pack the perfect hospital bag or you're doomed to be a horrible mom.
Yes, sometimes I'm a little dramatic. Also, pregnancy hormones.
So, I packed my hospital bags right around 36 weeks. I started researching way before then (seriously, maybe like 14 weeks?), and worked on making a list around 35 weeks, but I forced myself to wait as long as I possibly could before actually packing so the bags weren't sitting there for too long, just taunting me.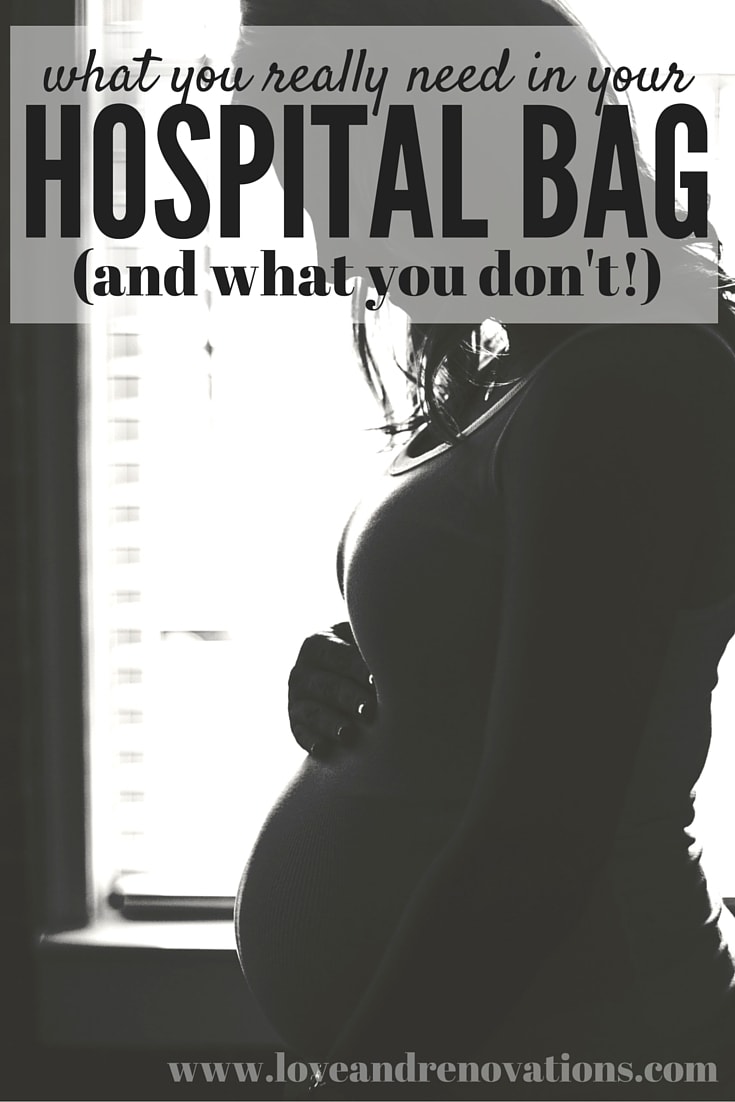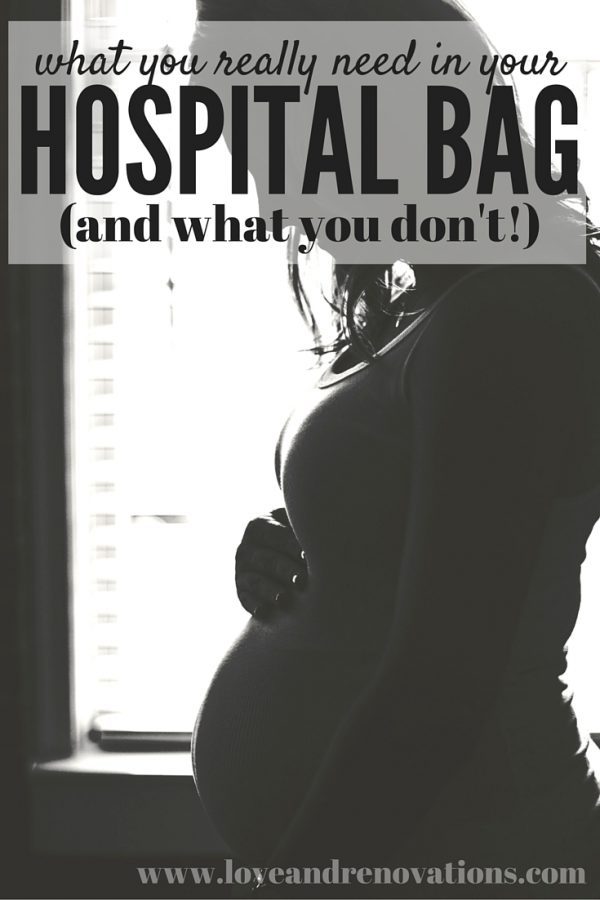 MY HOSPITAL BAG
HERE'S WHAT I PACKED AND USED:
– Sleep shirts & leggings: I packed some cozy flannel sleep shirts that were long enough to wear without leggings when it was just me and Corey, and I tossed on some leggings when we had guests. It was the perfect postpartum outfit and I can't recommend it enough. I was comfortable, I looked (relatively) put-together, and I brought two of them so I basically wore the same outfit the whole time we were there. Bonus tip: try to find sleep shirts that have buttons if you plan to breastfeed. It makes those stressful first few feedings a little easier!
– A maternity tank top: I had a stretchy black maternity tank that I wore into the hospital and ended up wearing under my sleep shirts for most of my time there. It was nice to feel a little more covered up when we had visitors, and I actually put it on almost immediately after having him, so that I could get out of that hospital gown as quickly as possible!
– Toiletries (shampoo/conditioner, body wash, lotion, toothbrush/toothpaste, face wash, chapstick, dry shampoo, deodorant): I think this is a given. You're going to want to clean up after childbirth. Promise.
– Makeup: I felt a little silly packing makeup and other grooming supplies, but I cannot exaggerate how wonderful it felt the morning after giving birth to go into the bathroom and take care of myself a bit. I felt so gross, bloated, exhausted, and tired, but putting a little effort into my appearance made me feel semi-human again. It was wonderful.
– Cozy socks: I'm a barefoot girl (yes, even in the hospital – ours was very clean-feeling!), but in the hours after giving birth I was cold and shaky. It was so nice to have some nice fuzzy socks to put on to help warm me back up. I also had some comfortable slippers for walking around in when I did get out of bed.
– Boppy or other breastfeeding pillow: A lot of hospitals (including ours) can provide these, but I was told by a nurse that they don't have many and are always grateful when people bring their own. It was also nice to get to practice with the actual pillow I'd be using every day at home, rather than potentially getting comfortable with a different brand at the hospital and having to learn all over how to use mine at home.
– Nursing bras: These are comfortable and easy to wear if you plan to breastfeed. I wore mine the entire time in the hospital, even to sleep.
– Going home outfit. Yoga pants, a tank top, and a sweatshirt on top. Comfy, semi-put together, and simple. It was definitely the way to go.
– Pillow: Yes, I brought my own pillow from home and I'm so glad I did. I didn't end up using it, but Corey did and I was so glad I had it because they didn't really have enough pillows in the room for him. Next time, we'll actually probably bring two or three!
– Towels: If you bring nothing else, bring a towel. This is the one item on this list that you absolutely must not forget. I promise. Hospital towels are approximately the size of a postage stamp and I can't even tell you how grateful I was to have a towel of my own to use after showering. The little luxuries in life are a big deal right after giving birth.
HERE'S WHAT I PACKED AND DIDN'T USE:
– Lots of hair ties, headbands, and bobby pins. I really only ended up using the hair tie that I had come in with, and one of the headbands. I'm all for being prepared, but I think one extra hair tie is more than enough.
– Flip flops. I brought them in case the shower was disgusting (I've heard horror stories!) but I'm not terribly squeamish and ours was perfectly fine. I didn't even touch these.
– Lanolin & breast pads. I packed these just in case, but the hospital provided it all. No need!
– Granny panties. I brought them in case I hated the mesh underwear, but, you guys, that mesh underwear is the best thing in the world. Seriously. Steal a pair or twelve because they are awesome.
– Snacks. This may be a great thing to pack if you don't have much family in town, but we had a near-constant stream of visitors and they were practically offended if we didn't take them up on their offer to bring food! We had more than we possibly could have wanted.
HIS HOSPITAL BAG
HERE'S WHAT WAS IN COREY'S BAG:
– A few changes of clothes
– Pajamas and slippers
– Toiletries and an extra towel
– A pillow and blanket
Simple, to-the-point, and basically exactly what he'd bring for a weekend away anywhere else.
THE BABY'S BAG
I used Jackson's diaper bag to pack a few things for him – in the end, a lot of it was unnecessary, but it was nice to have our own things just in case we needed them!
HERE'S WHAT WAS IN JACKSON'S BAG:
– A pair of pajamas. I packed a cute little pajama set just in case I wanted to put him in some clothes of his own, and he ended up wearing them for an entire day while we were there! It was nice to be able to put him in something other than the standard-issue t-shirt, and he looked adorable for photos.
– A going-home outfit. I packed one in a newborn size and one in a 0-3 size, just in case. If you're a first-time parent, I recommend packing something easy to put on, because that tiny little baby will feel oh so fragile.
– Pacifier: We didn't really need this, but I had it in the bag just in case. Our hospital provided them if we decided we wanted it.
– A nursing cover. This was just frustrating to me as a first-time mom because I had a hard time getting the hang of breastfeeding – however, it's definitely something I'll pack (and use) the next time around!
– A receiving blanket. We used it a few times in the room when he was just hanging out, and on the car ride home.
– A hat and socks. We used the hat on the way home (it was winter), and the socks ended up being too big, but it was nice to have those things just in case he needed them – those tiny little babies have a hard time regulating their temperature!
LAST-MINUTE ITEMS
Of course, there are also a few last-minute things that you can't pack ahead of time. I'm a bit anal about preparing for these sorts of things, so the bags and everything I mentioned above were already packed and loaded up in the car well before I went into labor. Then, I made a list and taped it to our front door with last minute things we would need, as well as where to find them.
This ended up being one of the best things I did to prepare for our hospital trip – when we were leaving for the hospital, I was in too much pain to think straight, and Corey wasn't sure where everything was located so it was really easy for him to grab the list and run around the house to finish up.
Also, the list would have come in very handy if I had gone into labor while we were at work and we hadn't had time to run back to the house – any of our family or friends could have gotten into the house, grabbed the list, and known exactly where to find everything we needed them to bring us. Can't recommend this enough!
HERE'S WHAT IS ON THE LAST-MINUTE LIST:
– Body pillow. I can't sleep without one and was so glad to have it in the hospital.
– Blow dryer/straightener. Another one of those little luxuries that it felt great to have the day after giving birth. May not be for everyone, but I was glad to have it.
– Computer, iPad, and chargers (plus phone chargers).
– Camera and charger
* * * * * * * * * *
And that, my friends, is everything you need to pack in your hospital bag (and what you don't need to worry about).
Remember that, no matter how much it feels like it, packing for your hospital bag is not actually a test. You may forget something, it'll be just fine. If you remember nothing else from this post, though, let me leave you with the most important tips: bring your own towel, and make a last-minute list.
You do those two things? You'll definitely pass the test.