GUESS WHAT? It's the first day of voting for the FINAL ROUND of Creating With the Stars (sorry for all of the caps, but this is a Big Deal, people!). The projects are, as usual, amazing and the competition is seriously stiff. Go check it out and vote for your favorite – I'd love it if you'd use your psychic powers to try and pick ours…I sure would like to win this thing! 
So, there's this corner (well, really it's just an area – not an actual corner) of our master bedroom that has been woefully neglected since the day we moved in.
You've only seen it once or twice because I avoid photographing it as much as possible (though I'm sure you can't possibly guess why). I'm not even exaggerating when I tell you that we plopped down that little table there on the day we moved in because we didn't have a better place for it, shoved a box underneath (that happens to be filled with my N64…because I'm still 12, apparently) and haven't touched it since. Like, the box is still unpacked, over a year and a half later. We hung the television shortly after moving in, but it was hung entirely too high, and the cords were all over the place.
Basically, it was not a good look.
But we're making progress.
Corey's parents got a new television and so we got their old one, which is significantly larger than the one we had here before. Since we were already having to re-hang everything, Corey took some time to hang it lower (thank goodness), and he also hid the cords and components for me. It's basically the exact same system we have in our dresser downstairs (that's a seriously vintage post right there, but it'll get you the info you need!), except that instead of hiding the components in the drawers of a dresser we hid them in the linen closet in our master bathroom (which happens to be right behind that wall), and it makes things look oh so much better.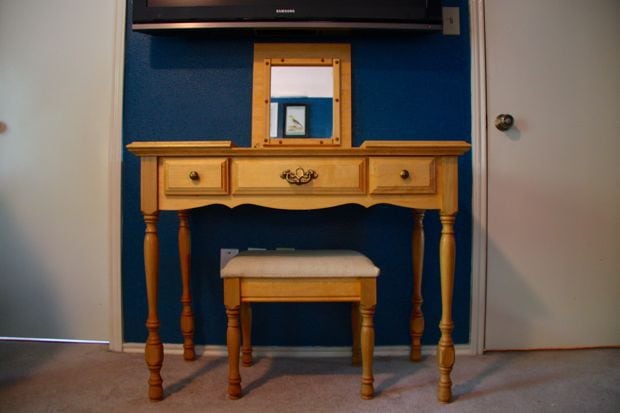 (Please ignore the random splotches of darker colored paint. There were a few parts on the wall that needed a touch-up and we used the sample tin of our paint, thinking it was exactly the same…apparently it was not. Still need to fix that. Awkward.)
Look! No cords!
We also recently snagged this gorgeous vanity from Craigslist – I've been wanting a vanity for forever but up until now I hadn't seen anything I really liked. This one is the perfect size for this space. We needed something narrow because it's right next to the door entering our room, and this fits the bill perfectly.
Obviously, we haven't done anything to it yet. We've been a little bit busy with this whole competition thing. But, we've been tossing around a few ideas for what we can do with it, and we're excited to transform it into something a little more modern and fun.
Of course, I'm so used to doing my makeup in the bathroom, it's going to be a major adjustment for me to change things up and get ready in here. I'm a creature of habit, so disrupting my morning routine is going to be a challenge – but I'm so excited to use this thing that I may have no problem jumping right in and using it instead. It'll sure be nice to be able to sit down while I'm doing my makeup…can you say lazy?! 
I promise to keep you updated on where we land with this guy – we're hoping to tackle it pretty soon.
Since we haven't decided anything for sure, I'd love to hear your thoughts – what color do you think we should paint it? Anyone else have a vanity where you get ready in the mornings?