Ever since I made the announcement that I'm pregnant, I've had a ton of people tell me they can't wait to see what we do with the nursery. I always (half) jokingly tell them I can't either. Corey and I have had so many ideas floating around in our heads since the beginning, it's been a little overwhelming. To be completely honest, up until this past week we had no clue what direction we were going to go in for Monster's room.
But! We finally decided to jump right in and start doing things, and the plans are starting to come together. So, I figured it'd be a good time to chat a little about what we plan on doing, and share what we've completed so far.
Before I get into talking about the nursery specifically, though, there's some backstory that you need to understand how we got to where we are. When Corey and I were participating in Creating With the Stars and decided to tackle our (then) office and turn it into a reading room, there was a bit of contention over what color we would use on the walls. We knew we wanted to choose something that would carry us through having a baby, but that was all we had.
Now, something you should know about my husband is that he is a fan of bold colors. Anything bright, saturated, and in-your-face is right up his alley. I think if he had his way, every room in our house would contain every color of the rainbow – it can be hard for me to reign him in sometimes! I, on the other hand, would be happy with an almost completely neutral home, with small pops of color here and there.
Basically, we're complete opposites on this issue.
We've learned a lot about compromising with one another in the past two years of living here, but there are still times when we end up making a decision that one of us isn't in love with. The color in the reading room was one such situation – Corey pushed hard for the hunter green color, and it wasn't my favorite. I think it turned out looking great in the room, but it definitely wasn't what I would have chosen, and it wasn't something I was looking forward to styling around once we turned the room into a nursery.
Well, we recently decided to start tackling projects in the nursery. Our first plan was to take on the ceiling – we hate the popcorn ceiling and were dying to get rid of it, so from the beginning we had planned on putting up wood planks and painting them white for a pretty, planked ceiling.
But then we got started…
And we quickly realized that in order to take down the crown molding (so we could run the planks under it), we would have to destroy every piece of it – there was no way to keep the pieces intact and re-use them. And that instantly doubled the cost of the project. We weren't willing to go there.
So, we took a quick break to regroup and figure out what we could do instead. The next logical step for us was to scrape the popcorn and paint the ceiling a pretty color. It would save us a ton of money (especially since we could return all the wood planks that were already sitting in our living room), and should still be relatively simple – especially since the room is so small.
We were feeling enthusiastic about this new idea…until we started trying to scrape the ceiling. Before we even had the chance to wet down the first section of ceiling, we realized that the ceiling had been painted at one point. It was pretty obvious thanks to the different color underneath the ceiling fan (which for some reason isn't fully attached – I'm not sure why?) and the paint splattered on the air vent. We had done our research and knew that it is next to impossible to remove popcorn ceilings that have been painted over, and the project was suddenly looking a whole lot less simple than we thought.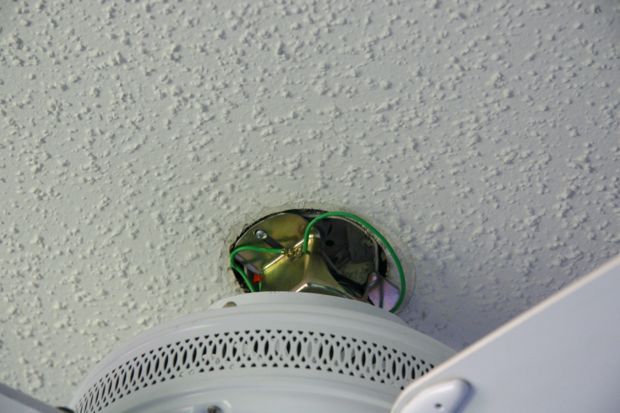 So we regrouped again.
We could have pushed through and found a way to remove the popcorn. But we knew there was no guarantee we could keep the ceilings in good condition while we did it, and we don't trust our DIY prowess enough to feel confident that we could fix any errors and keep it looking good – ceilings are hard to make perfect! So, we decided to skip the popcorn removal and just embrace the dang textured ceilings. It wasn't worth it to us to make a huge deal out of getting rid of it, and in the end how awful is it really to have some bumps on the ceiling? It goes through the rest of our house, so it's not like this room is any different.
SO! A good couple of hours after we started working on this project (and with absolutely zero progress being made), we landed on the final, super simple solution:
We would paint the ceiling.
The end, done. Adding more paint to a painted textured ceiling helps minimize the texture at least a little bit, and adding a pretty color will make it not so much of an eyesore. Plus, I've always wanted a painted ceiling somewhere in my house!
So at this point, we have a super saturated wall color (that I'm not in love with) and we've decided to paint the ceiling. We knew we needed something mild that wouldn't compete with the walls, and we had planned on doing shades of green as a color scheme in the room (anything else would compete with the walls, and make the room feel chaotic), so we landed on a nice, light mint green.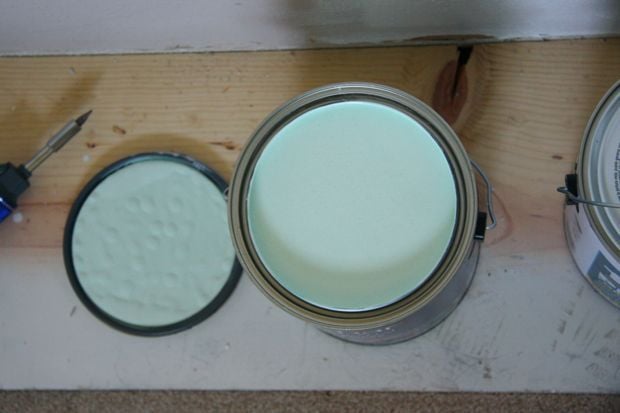 We got to Lowe's to pick out the color and immediately ran into a problem. I was gathering up a few different greens for a sample of a pretty color scheme to use, and I could tell Corey wasn't super happy with the palette. I asked what he was thinking, and he immediately said he wanted more color.
I pointed out that it was, in fact, quite a bit of color, but he said that he didn't want to do shades of green – he wanted more variety of color, and (as I should have known) he wasn't super thrilled with being limited in his color choices and wanted the ability to bring different colors into the room.
Awesome. So we're back at the starting point. Really, we're BEFORE the starting point, because at the beginning we at least had a wall color.
I was determined to leave Lowe's with a color for the ceiling, so I told Corey to go look around while I sat in the paint section and did some thinking. After pulling together a few different options for color palettes, I quickly realized that just about any color scheme we used would work well with the pretty mint green.
I didn't save the samples that I gathered, but I put together three different color palettes that were very different from one another, and each used mint green. No matter what direction we went in (for the most part), we'd be able to make minty green work well in the room, so I voted that it stayed. Luckily, Corey quickly agreed and we grabbed some paint and headed off on our merry way.
At this point we still hadn't decided on a wall color or on colors for the rest of the room, but there was no rush. We knew we'd be repainting the walls, so I painted the ceiling while Corey primed. And oh holy cow, I never knew how painful it would be to paint a ceiling – my neck was sore for days!
…and now that I've babbled on for entirely too long about the reasoning behind the big color change, let's jump to the pretty pictures, shall we? The room is obviously still very much in progress and these aren't necessarily "after" photos so much as "one step later" photos, but you get the idea.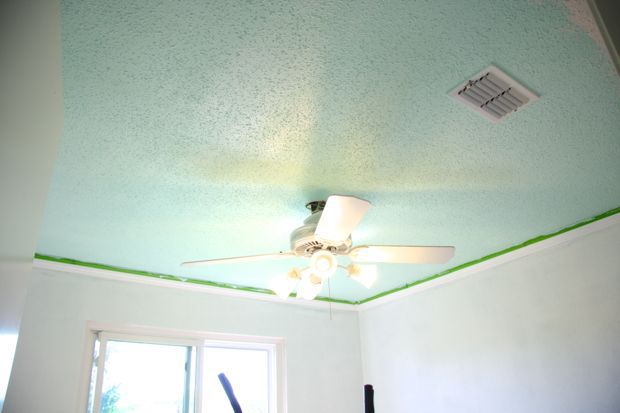 The photos don't really capture the color very well – it looks very blue here, but in person it's definitely more green, though it changes throughout the day. It's one of those fabulous colors that looks a little different as the light outside changes – sometimes it's very much a mint green, and sometimes it shifts towards more of a baby blue. I love the variation, and I was shocked at how it instantly made the room feel at least two feet taller.
I'm so excited about our decision to change things up in here, and I'm loving the direction we're heading so far. We've already painted the walls (and settled on a new color scheme for the room), and I can't wait to share where we landed – it's looking amazing!
Have you ever repainted a room less than 6 months after painting it? Just us?