Ok so, like I said before, I will be building a good portion of the furniture that Amanda and I will be "buying" once we move into our new home. The main things that we are currently looking at are:
Dining table
Bed frame for our room
Coffee table
Bedside tables
Entertainment center
Various little pieces that I will share once I actually begin building
The majority of my ideas and plans will come from Ana-White.com, which is a great resource for anyone looking to get into building furniture but isn't sure exactly where to start.
Now, don't get too excited to see the progress on this anytime soon because, well, I haven't even started to begin the building process. I am merely telling y'all what to expect in the distant future. Because, I will not be able to really start building until we have a home to put these things in and that looks like it might be further out than expected (more on that later).
Enough of the boring chat – let's see some ideas, shall we?
First, I think I will be attempting to build our entertainment console. The one we have now is very traditional and Amanda and I have really moved away from that look with our current style. We are thinking that I will be building an apothecary-style console table. We like the one on Ana-White, but we are thinking that a few modifications are order.
(Scorce)
The modifications we are thinking about is either making it shorter by removing the open shelves or adding doors to them and keeping it the same height. We are going for the "hide the uglies" look, so no visible gaming consoles, DVD players, or DVRs. We want the piece to be functional, but still look awesome. If we did shorten it, we would most likely add some fun little spindle-like legs to tie in with an awesome new antiquing find that Amanda will tell you about soon.
The next thing that we are thinking we will build is probably the dining room table. We don't have any solid plans for anything other than the entertainment center, but we definitely have some ideas. The dining table we are leaning towards right now is a farmhouse style table.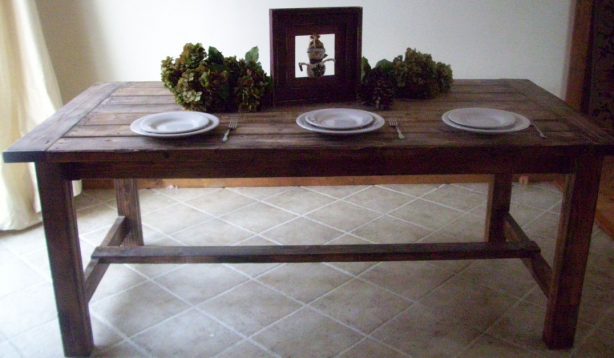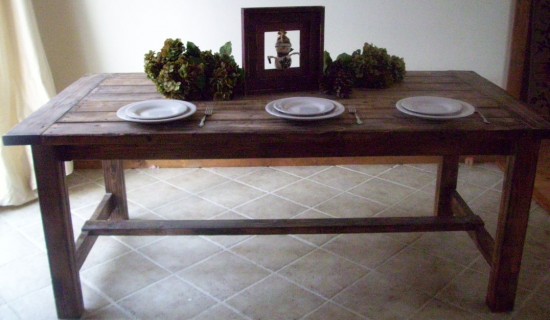 (Scorce)
Of course, Amanda and I would surround this with some really awesome chairs with either a cool print like our previous chair remodel or some really bright color to help tone down the rustic traditional look. I would also probably not go quite so crazy with the distresing to help tone it down even further. This one is a little smaller than we would like – we'd like the table to seat at least 8, preferably 10, and we're also a fan of legs that are a bit chunkier.
The rest of the the pieces are totally up in the air for now. For the bed, we have considered anything from a canopy-style bed to a rustic bed with old doors as the head board. The coffee table is going to be a either a smaller version of what we have now or a more mid-century modern styled one.
I am so excited to start building and can't wait to bring you guys along for the ride. From settling on the plans to buying the tools and materials necessary and finally showing off the finished products, I plan on telling y'all all about it.
If you could tailor one piece in your house to exactly what you wanted, what would it be and how would you make it yours?